Abstract
In this study, we examined the transcriptome of Leishmania donovani promastigotes and axenic amastigotes to identify differentially regulated mRNAs utilizing the serial analysis of gene expression (SAGE). The axenic culture of amastigotes was initiated from stationary phase promastigotes. Transformation from promastigote to amastigote occurred when cultures in Medium 199 (pH 5.5), supplemented with 20% (v/v) fetal bovine serum, were transferred from 26°C to 37°C. A total of 20,299 and 20,132 tags were generated from promastigote and amastigote libraries, respectively. The containing unique genes identified in these two SAGE libraries were 8,615 and 7,835, respectively. Characteristics of the expressed genes' frequency distribution were remarkably similar in both libraries: the most abundant tags (frequency ≥20), whose levels were equal to or >1.3% of the identified tags, constituted >23% of the total sequenced tags. Correspondingly, 75.72% or 71.65% of the genes accounted for those tags present at low abundance (frequency = 1) contributed only 32.13% or 27.89% of the total tags. A total of 968 genes (11.2% of the total genes in promastigotes and 12.4% in amastigotes) were recorded to have statistically different transcript levels between promastigotes and axenic amastigotes. Of the 968 distinct total genes, there are 326 promastigote-enriched transcripts and 642 amastigote-enriched mRNAs.
This is a preview of subscription content, log in to check access.
Access options
Buy single article
Instant access to the full article PDF.
US$ 39.95
Price includes VAT for USA
Subscribe to journal
Immediate online access to all issues from 2019. Subscription will auto renew annually.
US$ 199
This is the net price. Taxes to be calculated in checkout.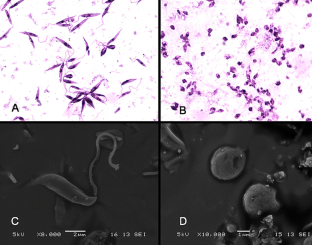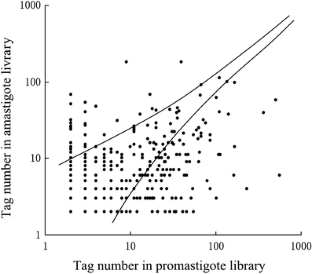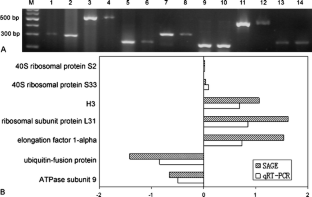 References
Alexander J, Vickerman K (1975) Fusion of host cell secondary lysosomes with the parasitophorous vacuoles of Leishmania mexicana-infected macrophages. J Protozool 22:502–508

Audic S, Claverie JM (1997) The significance of digital gene expression profiles. Genome Res 7:986–995

Balanco JM, Pral EM, da Silva S, Bijovsky AT, Mortara RA, Alfieri SC (1998) Axenic cultivation and partial characterization of Leishmania braziliensis amastigote-like stages. Parasitology 116:103–113

Bente M, Harder S, Wiesgigl M, Heukeshoven J, Gelhaus C, Krause E, Clos J, Bruchhaus I (2003) Developmentally induced changes of the proteome in the protozoan parasite Leishmania donovani. Proteomics 3:1811–1829

Chang KP, Dwyer DM (1976) Multiplication of a human parasite (Leishmania donovani) in phagolysosomes of hamster macrophages in vitro. Science 193:678–680

Chen JJ, Rowley JD, Wang SM (2000) Generation of longer cDNA fragments from serial analysis of gene expression tags for gene identification. Proc Natl Acad Sci U S A 97:349–353

Darling TN, Blum JJ (1987) In vitro reversible transformation of Leishmania braziliensis panamensis between promastigote and ellipsoidal forms. J Protozool 34:166–168

Debrabant A, Joshi MB, Pimenta PF, Dwyer DM (2004) Generation of Leishmania donovani axenic amastigotes: their growth and biological characteristics. Int J Parasitol 34:205–217

Doyle PS, Engel JC, Pimenta PF, da Silva PP, Dwyer DM (1991) Leishmania donovani: long-term culture of axenic amastigotes at 37 degrees C. Exp Parasitol 73:326–334

Hodgkinson VH, Soong L, Duboise SM, McMahon-Pratt D (1996) Leishmania amazonensis: cultivation and characterization of axenic amastigote-like organisms. Exp Parasitol 83:94–105

Holzer TR, McMaster WR, Forney JD (2006) Expression profiling by whole-genome interspecies microarray hybridization reveals differential gene expression in procyclic promastigotes, lesion-derived amastigotes, and axenic amastigotes in Leishmania mexicana. Mol Biochem Parasitol 146:198–218

Lash AE, Tolstoshev CM, Wagner L, Schuler GD, Strausberg RL, Riggins GJ, Altschul SF (2000) SAGEmap: a public gene expression resource. Genome Res 10:1051–1060

Leifso K, Cohen-Freue G, Dogra N, Murray A, McMaster WR (2007) Genomic and proteomic expression analysis of Leishmania promastigote and amastigote life stages: the Leishmania genome is constitutively expressed. Mol Biochem Parasitol 152:35–46

Pan AA (1984) Leishmania mexicana: serial cultivation of intracellular stages in a cell-free medium. Exp Parasitol 58:72–80

Rioux JA, Killick-Kendrick R, Leaney AJ, Young CJ, Turner DP, Lanotte G, Bailly M (1979) Ecology of leishmaniasis in the south of France. 11. Canine leishmaniasis: successful experimental transmission from dog to dog by the bite of Phlebotomus ariasi Tonnoir, 1921 (author's transl). Ann Parasitol Hum Comp 54:401–407

Saar Y, Ransford A, Waldman E, Mazareb S, Amin-Spector S, Plumblee J, Turco SJ, Zilberstein D (1998) Characterization of developmentally-regulated activities in axenic amastigotes of Leishmania donovani. Mol Biochem Parasitol 95:9–20

Saha S, Sparks AB, Rago C, Akmaev V, Wang CJ, Vogelstein B, Kinzler KW, Velculescu VE (2002) Using the transcriptome to annotate the genome. Nat Biotechnol 20:508–512

Singh N, Almeida R, Kothari H, Kumar P, Mandal G, Chatterjee M, Venkatachalam S, Govind MK, Mandal SK, Sundar S (2007) Differential gene expression analysis in antimony-unresponsive Indian kala azar (visceral leishmaniasis) clinical isolates by DNA microarray. Parasitology 134:777–787

Stinson S, Sommer JR, Blum JJ (1989) Morphology of Leishmania braziliensis: changes during reversible heat-induced transformation from promastigote to an ellipsoidal form. J Parasitol 75:431–440

Teixeira MC, de Jesus Santos R, Sampaio RB, Pontes-de-Carvalho L, dos-Santos WL (2002) A simple and reproducible method to obtain large numbers of axenic amastigotes of different Leishmania species. Parasitol Res 88:963–968

UNDP/WB/WHO (1989) The leishmaniasis. In tropical diseases: Progress in International Research, 1987–1988. WHO special programme for research and training in tropical diseases ninth programme report. World Health Organization, Geneva

Van den Berg A, van der Leij J, Poppema S (1999) Serial analysis of gene expression: rapid RT-PCR analysis of unknown SAGE tags. Nucleic Acids Res 27:e17

Velculescu VE, Zhang L, Vogelstein B, Kinzler KW (1995) Serial analysis of gene expression. Science 270:484–487
About this article
Cite this article
Li, Q., Zhao, Y., Ni, B. et al. Comparison of the expression profiles of promastigotes and axenic amastigotes in Leishmania donovani using serial analysis of gene expression. Parasitol Res 103, 821–828 (2008). https://doi.org/10.1007/s00436-008-1048-7
Received:

Accepted:

Published:

Issue Date:
Keywords
Leishmania Donovani

Differential mRNA Expression

Axenic Amastigotes

Amastigote Stage

Stationary Phase Promastigotes