Abstract
Infection of Trichinella spp. is common among animals in the Canadian Arctic. We determined the prevalence of Trichinella spp. infection in wolverines (Gulo gulo) from Nunavut, Canada. Diaphragms from 41 wolverines were examined by artificial digestion. Trichinella spp. larvae were detected in 36 (87.8%) examined animals. Trichinella T6 was detected in 33 (91.7%), Trichinella nativa in only one (2.8%), and a mixed Trichinella T6 and T. nativa infections were detected in two (5.6%) wolverines. This is the first report of Trichinella spp. infection in wolverines from Nunavut and the first report of sympatric Trichinella T6 and T. nativa in any host. The high prevalence of Trichinella spp. infection in combination with the natural history of wolverines suggests that the mustelid may be a key species in the natural cycle of these parasites in Arctic and Subarctic areas.
This is a preview of subscription content, log in to check access.
Access options
Buy single article
Instant access to the full article PDF.
US$ 39.95
Price includes VAT for USA
Subscribe to journal
Immediate online access to all issues from 2019. Subscription will auto renew annually.
US$ 199
This is the net price. Taxes to be calculated in checkout.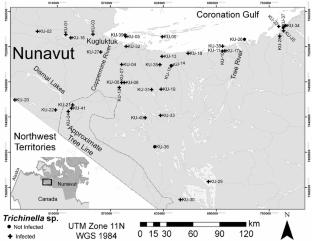 References
Addison EM, Boles B (1978) Helminth parasites of wolverine, Gulo gulo, from the District of Mackenzie, Northwest Territories. Can J Zool 56:2241–2242

Appleyard GD, Gajadhar AA (2000) A review of trichinellosis in people and wildlife in Canada. Can J Public Health 91:293–297

Britov A (1997) Trichinellosis in Kamchatka. Wiad Parazytol 43:287–288

Chadee KC, Dick TA (1982) Biological characteristics and host influence on a geographical isolate of Trichinella (Wolverine: 55°00'N, 100°00'W, 1979). J Parasitol 68:451–456

Dick TA, Pozio E (2001) Trichinella spp. and trichinosis. In: Samuel WM, Pybus MJ, Kocan AA (eds) Parasitic diseases of wild mammals, 2nd edn. Iowa State University Press, Ames, Iowa

Forbes LB (2000) The occurrence and ecology of Trichinella in marine mammals. Vet Parasit 93:321–334

Korinkova K, Pavlickova Z, Kovarcki K, Koudela B (2006) Distribution of muscle larvae and antibody dynamics in goats experimentally infected with Trichinella spiralis. Parasitol Res 99:643–647

La Rosa G, Marucci G, Zarlenga DS, Casulli A, Zarnke RL, Pozio E (2003) Molecular identification of natural hybrids between Trichinella nativa and Trichinella T6 provides evidence of gene flow and ongoing genetic divergence. Int J Parasitol 33:209–216

Mörner T, Eriksson H, Bröjer C, Nilsson K, Uhlhorn H, Ågren E, Hård af Segerstad C, Jansson DS, Gavier-Widén D (2005) Diseases and mortality in free-ranging brown bear (Ursus arctos), gray wolf (Canis lupus), and wolverine (Gulo gulo) in Sweden. J Wildl Dis 41:298–303

Pasitschniak-Arts M, Lariviere S (1995) Gulo gulo. Mammalian Species 499:1–10

Pozio E (2007) Taxonomy, biology and epidemiology of Trichinella parasites. In: Dupouy-Camet J, Murrell KD (eds) FAO/WHO/OIE guidelines for the surveillance, management, prevention and control of trichinellosis. World Organization for Animal Health, Paris, France

Pozio E, La Rosa G (2003) PCR-derived methods for the identification of Trichinella parasites from animal and human samples. Methods Mol Biol 216:299–309

Pozio E, Murrell KD (2006) Systematics and epidemiology of Trichinella. Adv Parasitol 63:368–439

Rausch R, Babero BB, Rausch RV, Schiller EL (1956) Studies on the helminth fauna of Alaska. XXVII. The occurrence of larvae of Trichinella spiralis in Alaskan mammals. J Parasitol 42:259–271

Schmitt N, Saville JM, Friis L, Stovell PL (1976) Trichinosis in British Columbia wildlife. Can J Public Health 76:21–24

Smith HJ, Snowden KE (1988) Sylvatic trichinosis in Canada. Can J Vet Res 52:488–489

Sokal RR, Rohlf FJ (1997) Biometry, 3rd edn. Freeman, New York, New York

Webster P, Maddox-Hyttel C, Nockler K, Malajauskas A, van der Giessen J, Pozio E, Boireau P, Kapel CMO (2006) Meat inspection for Trichinella in pork, horsemeat and game within the EU: available technology and its present implementation. Euro Surveill 11:50–55

Zarlenga DS, Chute MB, Martin A, Kapel CM (1999) A multiplex PCR for unequivocal differentiation of all encapsulated and nonencapsulated genotypes of Trichinella. Int J Parasitol 29:1859–1867

Zimmerman WJ, Hubbard ED, Schwarte LH, Biester HE (1962) Trichinella spiralis in Iowa wildlife during the years of 1953 to 1961. J Parasitol 48:429–432
Acknowledgments
The present study was funded in part by the Oklahoma State University Center for Veterinary Health Sciences, the Nunavut Wildlife Management Board, and the Department of Environment, Government of Nunavut. We thank the Kugluktuk Hunters' and Trappers' Organization for their support and participation with the wolverine carcass collection program, Angie Bruner and Jennifer Jane Garrett for laboratory assistance, two anonymous reviewers, and Mathieu Dumond for helpful comments. The present study complied with the laws of Canada, Italy, and the United States of America in which the experiments were conducted.
About this article
Cite this article
Reichard, M.V., Torretti, L., Snider, T.A. et al. Trichinella T6 and Trichinella nativa in Wolverines (Gulo gulo) from Nunavut, Canada. Parasitol Res 103, 657 (2008). https://doi.org/10.1007/s00436-008-1028-y
Received:

Accepted:

Published:
Keywords
Polar Bear

Grizzly Bear

Gulo

Holarctic Region

Artificial Digestion