Abstract
The pharmacokinetic (PK) behaviour and clinical efficacy of albendazole (ABZ) against hydatid cysts in mice were assessed after treatment with two different ABZ pharmaceutical formulations. BalbC mice received ABZ (0.5 mg/kg) prepared either as solution or suspension (50 μg/ml) for oral administration (PK study). Blood samples were collected up to 16 h post-treatment and processed to measure ABZ/metabolites concentrations in plasma. The clinical efficacy assessment was performed in BalbC mice infected 8 months earlier with Echinococcus granulosus protoscoleces. Infected animals were allocated into three experimental treatment groups: (a) untreated control, (b) ABZ-solution treated, (c) ABZ-suspension treated. Both treated groups received ABZ (0.5 mg/kg) administered under two different therapeutic schemes: dosing every 48 h over 30 days (regimen I) or treated every 12 h during 15 days (regimen II). Experimental mice were sacrificed 12 h after treatment, and cysts were recovered, weighed and processed for transmission electron microscopy. Enhanced ABZ sulphoxide (the main ABZ metabolite) concentration profiles were measured in animals treated with the ABZ solution. Any positive clinical response was obtained after treatment every 48 h (30 days therapy). However, consistent with the observed PK results, both ABZ formulations were clinically effective in infected mice treated with a 12-h dosing interval (15 days therapy).
This is a preview of subscription content, log in to check access.
We're sorry, something doesn't seem to be working properly.
Please try refreshing the page. If that doesn't work, please contact support so we can address the problem.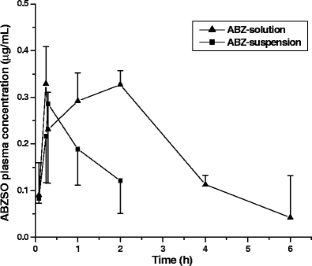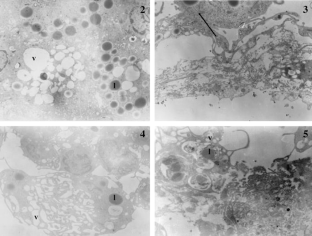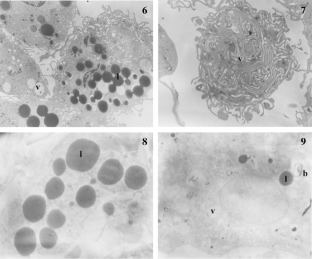 References
Ammann R, Eckert J (1995) Clinical diagnosis and treatment of echinococcosis in humans. In: Thompson RCA, Limbery AJ (eds) Echinococcus and hydatid disease. CAB International, Wallingford, UK, pp 441–463

Bartoloni C, Tricerri A, Guidi L, Gambassi G (1992) The efficacy of chemotherapy with mebendazole in human cystic echinococcosis: long-term follow-up of 52 patients. Ann Trop Med Parasitol 86:249–256

Castillo JA, Palomo-Canales J, García JJ, Lastres JL, Torrado JJ (1999) Preparation and characterization of albendazole b-cyclodextrin complexes. Drug Dev Ind Pharm 25:1241–1248

Ceballos L, Alvarez LI, Sanchez Bruni SF, Elissondo C, Dopchiz M, Denegri G, Torrado JJ, Lanusse CE (2006) Development of a cyclodextrin-based flubendazole formulation to control secondary echinococcosis: pharmacokinetics, hydatid cyst morphology and efficacy in mice. J Vet Pharmacol Ther 29:85–86

Davis A, Pawlowski ZS, Dixon H (1986) Multicenter trials of benzimidazole–carbamates in human echinococcosis. Bull World Health Organ 64:383–388

Davis A, Dixon H, Pawlowski ZS (1989) Multicentre clinical trials of benzimidazole carbamates in human cystic echinococcosis (phase 2). Bull World Health Organ 67:503–508

Dayan AD (2003) Albendazole, mebendazole and praziquantel. Review of non-clinical toxicity and pharmacokinetics. Acta Trop 86:141–159

Eckert J, Deplazes P (2004) Biological, epidemiological, and clinical aspects of echinococcosis, a zoonosis of increasing concern. Clin Microbiol Rev 17:107–135

Elissondo C, Dopchiz M, Brasesco M, Denegri G (2004) Echinococcus granulosus: first report of microcysts formation from protoscoleces of cattle origin using the in vitro vesicular culture technique. Parasite 11:415–418

Elissondo C, Ceballos L, Dopchiz M, Andresiuk V, Alvarez LI, Sánchez Bruni SF, Lanusse CE, Denegri G (2007) In vitro and in vivo effects of flubendazole on Echinococcus granulosus metacestodes. Parasitol Res 100:1003–1009

El-On J (2003) Benzimidazole treatment of cystic echinococcosis. Acta Trop 85:243–252

Evrard B, Chiap P, DeTullio P, Ghalmid F, Piela G, Van Heesa T, Crommen J, Losson B, Delattre L (2002) Oral bioavailability in sheep of albendazole from a suspensión and from a solution containing hydroxypropyl-b-cyclodextrin. J Control Release 85:45–50

García JJ, Bolás F, Torrado JJ (2003) Bioavailability and efficacy characteristics of two different oral liquid formulations of albendazole. Int J Pharm 250:351–358

Garcıa-Rodriguez J, Torrado JJ, Bolas F (2001) Improving bioavailability and anthelmintic activity of albendazole by preparing albendazole–cyclodextrin complexes. Parasite 8:188–190

Gibaldi M, Perrier D (1982) Pharmacokinetics. Marcel Dekker, New York

Horton RJ (2003) Albendazole for the treatment of echinococcosis. Fundam Clin Pharmacol 17:205–212

Jenkins DJ, Romig T, Thompson RCA (2005) Emergence/re-emergence of Echinococcus spp.—a global update. Int J Parasitol 35:1205–1219

Kohri N, Yamayoshi Y, Xin H, Iseki K, Sato N, Todo S, Miyazaki K (1999) Improving the oral bioavailability of albendazole in rabbits by the solid dispersion technique. J Pharm Pharmacol 51:159–164

Lanusse CE, Prichard RK (1993) Clinical pharmacokinetics and metabolism of benzimidazole anthelmintics in ruminants. Drug Metab Rev 25:235–279

Menezes da Silva A (2003) Hydatid cyst of the liver—criteria for the selection of appropriate treatment. Acta Trop 85:237–242

Moro P, Schantz PM (2006) Cystic echinococcosis in the Americas. Parasitol Int 55:181–186

Pawlowski ZS, Eckert J, Vuitton DA, Ammann RW, Kern P, Craig PS et al (2001) Echinococcosis in humans: clinical aspects, diagnosis and treatment. In: Eckert J, Gemmell MA, Meslin FX, Pawlowski ZS (eds) WHO/OIE manual on echinococcosis in humans and animals: a public health problem of global concern. World Organisation for Animal Health, Paris, France

Recco P, Hornus E, Frejevus J, Micheau P, Bessieres MH, Roques C, Linas MD (1984) Hydatidose pleurale disseminee et hydatidoses hepatiquesTreatment post-operatoire par flubendazole a propos de 3 cas. Bull Soc Fr Parasitol 3:115–118

Rippman K, Dietrich M, Kern P (1992) Long-term therapy of cystic liver echinococcosis with mebendazole. Medizin Klin 87:350–354

Rodrigues JM, Bories C, Emery I, Fessi H, Devissaguet JP, Liance M (1995) Development of an injectable formulation of albendazole and in vivo evaluation of its efficacy against Echinococcus multilocularis metacestode. Int J Parasitol 12:1437–1441

Shuhua X, Jiqing Y, Mingjie W, Pieying J, Fanghua G, Junjie C, Wei J, Hotez P (2002) Augmented bioavailability and cysticidal activity of albendazole reformulated in soybean emulsion in mice infected with Echinococcus granulosus or Echinococcus multilocularis. Acta Trop 82:77–84

Stettler M, Rossignol JF, Fink R, Walker M, Gottstein B, Merli M, Theurillat R, Thormann W, Dricot E, Segers R, Hemphill A (2004) Secondary and primary murine alveolar echinococcosis: combined albendazole/nitazoxanide chemotherapy exhibits profound anti-parasitic activity. Int J Parasitol 34:615–624

Teggi A, Lastilla GM, De Rosa F (1993) Therapy of human hydatid disease with mebendazole and albendazole. Antimicrob Agents Chemother 37:1679–1684

Thompson D, Geary T (1995) The structure and function of helminth surfaces. In: Harr J, Muller M (eds) Biochemistry and molecular biology of parasites. Academic, London, UK

Todorov T, Mechkov G, Georgiev P, Handjiev S, Vutova K, Petkov D et al (1998) Chemotherapy of human cystic hydatid disease: indications, effectiveness, prognosis. Mediterr J Infect Parasitic Diseases 13:89–94

World Health Organization Informal Working Group on Echinococcosis (1996) Guideline for treatment of cysts and alveolar echinococcosis in human. Bull World Health Organ. Informal Working Group on Echinococcosis 74:231–242

World Health Organization Informal Working Group of Echinococcosis (2001) Puncture, aspiration, injection, re-aspiration. An option for the treatment of cystic echinococcosis. World Health Organization, Geneva, Switzerland, pp 1–40

Xiao SH, You JQ, Yang YQ, Guo HF, Zhang CW, Chai JJ, Zhang WL (1988) Histological alterations and drug concentrations in endocysts and cysts fluid of hydatid cysts harboring in mice treated with praziquantel. Acta Pharmacol Sin 9:461–464
Acknowledgment
This work was partially supported by Consejo Nacional de Investigaciones Científicas y Técnicas (CONICET) and Agencia Nacional de Promoción Científica y Técnica (ANPCyT), both from Argentina.
About this article
Cite this article
Ceballos, L., Elissondo, C., Moreno, L. et al. Albendazole treatment in cystic echinococcosis: pharmacokinetics and clinical efficacy of two different aqueous formulations. Parasitol Res 103, 355–362 (2008). https://doi.org/10.1007/s00436-008-0980-x
Received:

Accepted:

Published:

Issue Date:
Keywords
Hydatid Cyst

Albendazole

Untreated Control Group

Cystic Echinococcosis

Echinococcus Granulosus