Abstract
The acetone, chloroform, ethyl acetate, hexane and methanol leaf extracts of Acalypha indica, Achyranthes aspera, Leucas aspera, Morinda tinctoria and Ocimum sanctum were studied against the early fourth-instar larvae of Aedes aegypti L and Culex quinquefasciatus Say. The larval mortality was observed after 24 h exposure. All extracts showed moderate larvicidal effects; however, the highest larval mortality was found in the ethyl acetate extract of A. aspera. In the present study, bioassay-guided fractionation of A. aspera led to the separation and identification of a saponin as a potential mosquito larvicidal compound, with LC50 value of 18.20 and 27.24 ppm against A. aegypti and C. quinquefasciatus, respectively. 1H NMR, 13C NMR and mass spectral data confirmed the identification of the active compound. This is the first report on the mosquito larvicidal activity of the saponin from the ethyl acetate extract of A. aspera. This study investigates the potential of crude extracts from commonly used medical herbs in India as an environmentally safe measure to control the vector of dengue and lymphatic filariasis.
This is a preview of subscription content, log in to check access.
Access options
Buy single article
Instant access to the full article PDF.
US$ 39.95
Price includes VAT for USA
Subscribe to journal
Immediate online access to all issues from 2019. Subscription will auto renew annually.
US$ 199
This is the net price. Taxes to be calculated in checkout.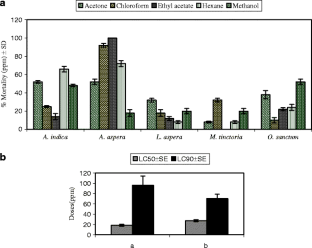 References
Amer A, Mehlhorn H (2006a) Persistency of larvicidal effects of plant oil extracts under different storage conditions. Parasitol Res 99:473–477

Amer A, Mehlhorn H (2006b) Larvicidal effects of various essential oils against Aedes, Anopheles, and Culex larvae (Diptera, Culicidae). Parasitol Res 99:466–472

Bagalwa M, Chifundera K (2007) Environmental impact evaluation of the stem bark extract of Maesa lanceolata used in Democratic Republic of Congo. J Ethnopharmacol 114:281–284

Banerji A, Chadha MS (1970) Insect moulting hormone from Achyranthes aspera Linn. Phytochemistry 9:1671

Batta SK, Santhakumari G (1970) The antifertility effect of Ocimum sanctum and Hibiscus rosa sinensis. Indian J Med Res 59:777–781

Bowers WS (1992) Biorational approaches for insect control. Korean J Appl Entomol 31:289–303

Brown AWA (1986) Insecticide resistance in mosquitoes: pragmatic review. J Am Mosq Control Assoc 2:123–140

Chakraborty A, Brantner A, Mukainaka T, Nobukuni Y, Kuchide M, Konoshima T, Tokuda H, Nishino H (2002) Cancer chemopreventive activity of Achyranthes aspera leaves on Epstein–Barr virus activation and two-stage mouse skin carcinogenesis. Cancer Lett 177:1–5

Chapagain BP, Saharan V, Wiesman Z (2008) Larvicidal activity of saponins from Balanites aegyptiaca callus against Aedes aegypti mosquito. Bioresour Technol 99(5):1165–1168

Chaubal R, Pawar PV, Hebbalkar GD, Tungikar VB, Puranik VG, Deshpande VH, Deshpande NR (2005) Larvicidal activity of Acacia nilotica extracts and isolation of D-pinitol—a bioactive carbohydrate. Chem Biodivers 2(5):684–688

Chungsamarnyart N, Jiyajinda S, Jangsawan W (1991) Larvicidal effect of plant crude extracts on the tropical cattle tick (Boophilus microplus). Kasetsert J 25:80–89

da Silva BP, de Sousa AC, Silva GM, Mendes TP, Parente JP (2002) A new bioactive steroidal saponin from Agave attenuata. Z Naturforsch [C] 57(5–6):423–428

Daniel T, Umarani S, Sakthivadivel M (1995) Insecticidal action of Ervatamia divaricata L. and Acalypha indica L. against Culex quinquefasciatus Say. Geobios New Rep 14(2):95–98

Deshmukh PB, Chavan SR, Renapurkar DM (1982) A study of insecticidal activity of twenty indigenous plants. Pesticides 12:7–10

Du SH, Liu WY, Fu TJ, Xia BG, Xia CD (2002) Isolation and identification of steroidal saponins in total saponin from Dioscorea nipponica Makino. Yao Xue Xue Bao 37(4):267–270

Girach RD, Khan ASA (1992) Ethnomedicinal uses of Achyranthes aspera leaves in Orissa (India). Int J Pharmacogn 30:113–115

Grainge M, Ahmed S, Mitchell WC, Hylin JW (1984) Plant species reportedly possessing pest-control properties—A database. Resource Systems Institute, East-West Center, Honolulu, HI, USA, p 240

Gupta SS, Bhagwat AW, Ram AK (1972) Cardiac stimulant activity of the saponin of Achyranthes aspera (Linn). Indian J Med Res 60(3):462–471

Han ST, Un CC (2003) Cardiac toxicity caused by Achyranthes aspera. Vet Hum Toxicol 45(4):212–213

Harve G, Kamath V (2004) Larvicidal activity of plant extracts used alone and in combination with known synthetic larvicidal agents against Aedes aegypti. Indian J Exp Biol 42(12):1216–1219

Huhman DV, Sumner LW (2002) Sumner metabolic profiling of saponins in Medicago sativa and Medicago truncatula using HPLC coupled to an electrospray ion-trap mass spectrometer. Phytochemistry 59:347–360

Jang YS, Jeon JH, Lee HS (2005) Mosquito larvicidal activity of active constituent derived from Chamaecyparis obtusa leaves against 3 mosquito species. J Am Mosq Control Assoc 21:400–403

Jayasinghe UL, Jayasooriya CP, Bandara BM, Ekanayake SP, Merlini L, Assante G (2002) Antimicrobial activity of some Sri Lankan Rubiaceae and Meliaceae. Fitoterapia 73(5):424–427

Katade SR, Pawar PV, Tungikar VB, Tambe AS, Kalal KM, Wakharkar RD, Deshpande NR (2006) Larvicidal activity of bis(2-ethylhexyl) benzene-1,2-dicarboxylate from Sterculia guttata seeds against two mosquito species. Chem Biodivers 3(1):49–53

Liersch BKHR (1992) Achyranthes. In: Haensel R, Keller K, Rimpler G, Schneider G (eds) Hagers Handbuch der Pharmazeutischen Praxis, V. Springer-Verlag, Berlin7, pp 54–59

Malik MS, Rafique M (1989) Effects of methanol extracts of Ocimum sanctum Linn. on jute semilooper. Indian J Entomol 51:84–89

Mathivanan N, Surendiran G, Srinivasan K, Malarvizhi K (2006) Morinda pubescens JE Smith (Morinda tinctoria Roxb) fruit extract accelerates wound healing in rats. J Med Food 9(4):591–593

Murugan K, Jeyabalan D (1999) Mosquitocidal effect of certain plants extracts on Anopheles stephensi. Curr Sci 76:631–633

Muthukrishnan J, Pushpalatha E, Kasthuribai A (1997) Biological effects of four plant extracts on Culex quinquefasciatus Say larval stages. Insect Sci Appl 17:389–394

Omena MCD, Bento ES, De Paula JE, Sant'Ana AE (2006) Larvicidal diterpenes from Pterodon polygalaeflorus. Vector Borne Zoonotic Dis 6:216–222

Pandey V, Agrawal V, Raghavendra K, Dash AP (2007) Strong larvicidal activity of three species of Spilanthes (Akarkara) against malaria (Anopheles stephensi Liston, Anopheles culicifacies, species C) and filaria vector (Culex quinquefasciatus Say). Parasitol Res 102(1):171–174

Pathak N, Mittal PK, Singh OP, Sagar V, Vasudevan P (2000) Larvicidal action of essential oils from plants against the vector mosquitoes Anopheles stephensi (Liston) Culex quinquefasciatus (Say) and Aedes aegypti (L). Int Pest Control 42:53

Pelah D, Abramovich Z, Markus A, Wiesman Z (2002) The use of commercial saponin from Quillaja saponaria bark as a natural larvicidal agent against Aedes aegypti and Culex pipiens. J Ethnopharmacol 81(3):407–409

Pizarro AP, Oliveira Filho AM, Parente JP, Melo MT, dos Santos CE, Lima PR (1999) Utilization of the waste of sisal industry in the control of mosquito larvae. Rev Soc Bras Med Trop 32(1):23–29

Pushpalatha E, Muthukrishnan J (1995) Larvicidal activity of a few plant extracts against Culex quinquefasciatus and Anopheles stephensi. Indian J Malariol 32(1):14–23

Rahuman AA, Gopalakrishnan G, Ghouse BS, Arumugam S, Himalayan B (2000) Effect of Feronia limonia on mosquito larvae. Fitoterapia 71:553–555

Rahuman AA, Gopalakrishnan G, Venkatesan P, Geetha K (2008a) Larvicidal activity of some Euphorbiaceae plant extracts against Aedes aegypti and Culex quinquefasciatus (Diptera: Culicidae). Parasitol Res 102:867–873

Rahuman AA, Gopalakrishnan G, Venkatesan P, Geetha K (2008b) Isolation and identification of mosquito larvicidal compound from Abutilon indicum (Linn.) Sweet. Parasitol Res 102:981–988

Reddy PJ, Krishna D, Murthy US, Jamil K (1992) A microcomputer FORTRAN program for rapid determination of lethal concentration of biocides in mosquito control. Comput Appl Biosci 8:209–213

Rivera-Arce E, Gattuso M, Alvarado R, Zárate E, Agüero J, Feria I, Lozoya X (2007) Pharmacognostical studies of the plant drug Mimosae tenuiflorae cortex. J Ethnopharmacol 113(3):400–408

Rongsriyam Y, Trongtokit Y, Komalamisra N, Sinchaipanich N, Apiwathnasorn C, Mitrejet A (2006) Formulation of tablets from the crude extract of Rhinacanthus nasutus (Thai local plant) against Aedes aegypti and Culex quinquefasciatus larvae: a preliminary study. Southeast Asian J Trop Med Public Health 7(2):265–271

Sharma P, Mohan L, Srivastava CN (2006) Phytoextract-induced developmental deformities in malaria vector. Bioresour Technol 97(14):1599–1604

Siddiqui BS, Gulzar T, Mahmood A, Begum S, Khan B, Afshan F (2004) New insecticidal amides from petroleum ether extract of dried Piper nigrum L. whole fruits. Chem Pharm Bull (Tokyo) 52:1349–1352

Sun HX (2006) Adjuvant effect of Achyranthes bidentata saponins on specific antibody and cellular response to ovalbumin in mice. Vaccine 24(2006):3432–3439

Taylor WG, Fields PG, Elder JL (2004a) Insecticidal components from field pea extracts: isolation and separation of peptide mixtures related to pea albumin 1b. J Agric Food Chem 52(25):7491–7498

Taylor WG, Fields PG, Sutherland DH (2004b) Insecticidal components from field pea extracts: soyasaponins and lysolecithins. J Agric Food Chem 52(25):7484–7490

Valsaraj R, Pushpangadan P, Smitt UW, Andersen A, Nyman U (1997) Antimicrobial screening of selected medicinal plants from India. J Ethnopharmacol 58:75–83

WHO (1992) Vector resistance to pesticides. Fifteenth report of the WHO Expert Committee on Vector Biology and Control. WHO Tech Rep Ser 818:1–62

WHO (1996) Report of the WHO informal consultation on the evaluation on the testing of insecticides CTD/WHO PES/IC/96.1, p 69

Wiesman Z, Chapagain BP (2006) Larvicidal activity of saponin containing extracts and fractions of fruit mesocarp of Balanites aegyptiaca. Fitoterapia 77(6):420–424

Yenesew A, Derese S, Midiwo JO, Heydenreich M, Peter MG (2003) Effect of rotenoids from the seeds of Millettia dura on larvae of Aedes aegypti. Pest Manag Sci 59(10):1159–1161
Acknowledgements
The authors are grateful to C. Abdul Hakeem College Management, Prof U. Peer, Principal, Dr Ahmed Najib, HOD of Zoology Department and Dr Sait Sahul Hameed, Reader in Zoology for their help and suggestion.
About this article
Cite this article
Bagavan, A., Rahuman, A.A., Kamaraj, C. et al. Larvicidal activity of saponin from Achyranthes aspera against Aedes aegypti and Culex quinquefasciatus (Diptera: Culicidae). Parasitol Res 103, 223–229 (2008). https://doi.org/10.1007/s00436-008-0962-z
Received:

Accepted:

Published:

Issue Date:
Keywords
Saponin

Ethyl Acetate Extract

Larvicidal Activity

Antifeedant Activity

High Larval Mortality