Abstract
Propolis (bee glue) is a natural resinous hive product, collected from various plant sources. It has attracted much attention as a useful substance applied in medicine due to its pharmacological activities. It was aimed to investigate the in vitro effects of an ethanolic extract of Adana propolis samples on the growth of Leishmania tropica. Parasite cells were treated with five concentrations (25, 50, 100, 50, 500, and 750 μg/ml) of the propolis. The number of promastigotes in each concentration was calculated using a hemocytometer slide at 24, 48, and 72 h after being harvested. In the experiments, it was determined that the concentrations up to 100 μg/ml of the propolis did not exhibit antileishmanial activity against the parasites cells. At these concentrations, there was no changes in terms of morphologically. In addition, there was no statistically significant difference in terms of cell count between control and these three groups (p > 0.05). However, in culture media containing the propolis samples at 250, 500, and 750-μg/ml concentrations, statistically significant differences in cell counts were observed, as compared to the control group (p < 0.05). Our results demonstrate that ethanolic extracts of Adana propolis samples reduce the proliferation of L. tropica parasites significantly.
This is a preview of subscription content, log in to check access.
Access options
Buy single article
Instant access to the full article PDF.
US$ 39.95
Price includes VAT for USA
Subscribe to journal
Immediate online access to all issues from 2019. Subscription will auto renew annually.
US$ 199
This is the net price. Taxes to be calculated in checkout.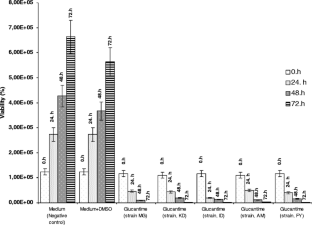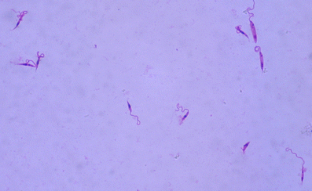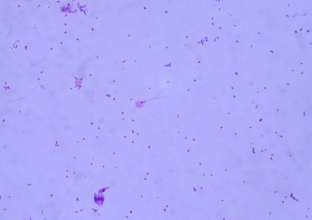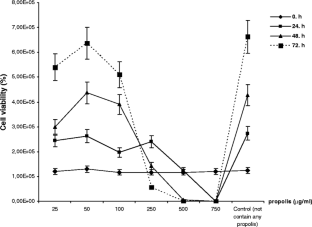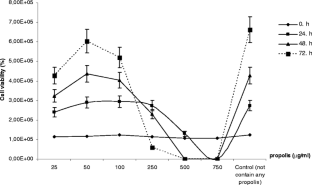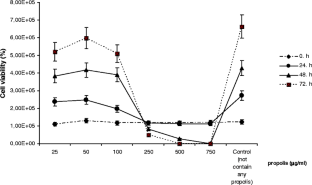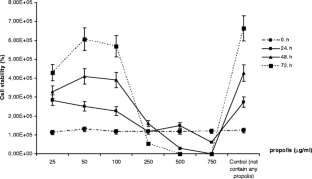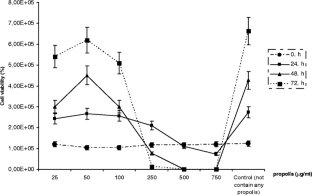 References
Aksoy A, Duran N, Koksal F (2006) In vitro and in vivo antimicrobial effects of mastic chewing gum against Streptococcus mutans and mutans streptococci. Arch Oral Biol 51:476–481

Aksoy A, Duran N, Toroglu S, Koksal F (2007) Short-term effect of mastic gum on salivary concentrations of cariogenic bacteria in orthodontic patients. Angle Orthod 77:124–128

Allahverdiyev A, Duran N, Ozguven M, Koltas S (2004) Antiviral activity of the volatile oils of Melissa officinalis L. against Herpes simplex virus type-2. Phytomed 11:657–661

Ayres DC, Marcucci MC, Giorgio S (2007) Effects of Brazilian propolis on Leishmania amazonensis. Mem Inst Oswaldo Cruz 102:215–220

Bankova V, De Castro SL, Marcucci MC (2000) Propolis: recent advances in chemistry and plant origin. Apidologie 31:3–15

Banskota AH, Tezuka Y, Kadota S (2001) Recent progress in pharmacological research of propolis. Phytother Res 15:561–571

Berman JD (2003) Current treatment approaches to leishmaniasis. Curr Opin Infect Dis 16:397–401

Croft SL, Yardley V (2002) Chemotherapy of leishmaniasis. Curr Pharm Des 8:319–342

Croft SL, Coombs GH (2003) Leishmaniasis-current chemotherapy and recent advances in the search for novel drugs. Trends Parasitol 19:502–508

Dantas AP, Salomao K, Barbosa HS, De Castro SL (2006) The effect of Bulgarian propolis against Trypanosoma cruzi and during its interaction with host cells. Mem Inst Oswaldo Cruz 101:207–211

Davis AJ, Murray HW, Handman E (2004) Drugs against leishmaniasis: a synergy of technology and partnerships. Trends Parasitol 20:73–76

Duran N, Koc A, Oksuz H et al (2006) The protective role of topical propolis on experimental keratitis via nitric oxide levels in rabbits. Mol Cell Biochem 281:153–161

Freitas SF, Shinohara L, Sforcin JM, Guimaraes S (2006) In vitro effects of propolis on Giardia duodenalis trophozoites. Phytomedicine 13:170–175

Gekker G, Hu S, Spivak M, Lokensgard JR, Peterson PK (2005) Anti-HIV-1 activity of propolis in CD4 (+) lymphocyte and microglial cell cultures. J Ethnopharmacol 102:158–163

Ghisalberti EL (1978) Propolis: a review. Bee World 60:59–84

Huleihel M, Isanu V (2002) Anti-herpes simplex virus effect of an aqueous extract of propolis. Isr Med Assoc J 4:923–927

Kujumgiev A, Tsvetkova I, Serkedjieva Y, Bankova V, Christov R, Popov S (1999) Antibacterial, antifungal and antiviral activity of propolis from different geographic origin. J Ethnopharmacol 64:235–240

Machado GM, Leon LL, De Castro SL (2007) Activity of Brazilian and Bulgarian propolis against different species of Leishmania. Mem Inst Oswaldo Cruz 102:73–77

Oksuz H, Duran N, Tamer C, Cetin M, Silici S (2005) Effect of propolis in the treatment of experimental Staphylococcus aureus keratitis in rabbits. Ophthalmic Res 37:328–334

Olliaro PL, Bryceson AD (1993) Practical progress and new drugs for changing patterns of leishmaniasis. Parasitol Today 9:323–328

Onlen Y, Tamer C, Oksuz H, Duran N, Altug ME, Yakan S (2007) Comparative trial of different anti-bacterial combinations with propolis and ciprofloxacin on Pseudomonas keratitis in rabbits. Microbiol Res 162:62–68

Prytzyk E, Dantas AP, Salomao K, Pereira AS, Bankova VS, De Castro SL et al (2003) Flavonoids and trypanocidal activity of Bulgarian propolis. J Ethnopharmacol 88:189–193

Sahinler N, Kaftanoglu O (2005) Natural product propolis: chemical composition. Nat Prod Res 19:183–188

Salomao K, Dantas AP, Borba CM et al (2004) Chemical composition and microbicidal activity of extracts from Brazilian and Bulgarian propolis. Lett Appl Microbiol 38:87–92

Sforcin JM, Fernandes A, Lopes CA, Funari SR, Bankova V (2001) Seasonal effect of Brazilian propolis on Candida albicans and Candida tropicalis. J Venomous Anim Toxins 7:139–144

Topalkara A, Vural A, Polat Z, Toker MI, Arici MK, Ozan F, Cetin A (2007) In vitro amoebicidal activity of propolis on Acanthamoeba castellanii. J Ocul Pharmacol Ther 23:40–45

Xu H, Lee SF (2001) Activity of plant flavonoids against antibiotic resistant bacteria. Phytother Res 15:39–43

World Health Organization (2007) Leishmaniasis: the disease and its epidemiology. http://www.who.int/leishmaniasis/disease_epidemiology/en/index.html. Accessed 9 July 2007
About this article
Cite this article
Duran, G., Duran, N., Culha, G. et al. In vitro antileishmanial activity of Adana propolis samples on Leishmania tropica: a preliminary study. Parasitol Res 102, 1217–1225 (2008). https://doi.org/10.1007/s00436-008-0896-5
Received:

Accepted:

Published:

Issue Date:
Keywords
Clinical Isolate

Ethanolic Extract

Leishmaniasis

Propolis

Trypanosoma Cruzi