Abstract
By light microscopy, cysts of Sarcocystis sp. (cyst type I) from the goldeneye (Bucephala clangula) seemed filamentous with a smooth and thin (<1 μm) cyst wall. Ultrastructurally, the cyst wall surface was irregular with minute undulations of the primary cyst wall. These sarcocysts had type-1 cyst wall. Cystozoites were banana-shaped and measured 7.0–8.5 μm in length. By light microscopy, cysts of Sarcocystis sp. (cyst type II) from the mallard (Anas platyrhynchos) were ribbon-shaped, very long, and thin. On the surface of the wall (up to 1.5 μm), they had palisade-like villar protrusions closely crowded together. Electron micrographs showed villar protrusions (up to 1.3 μm in length) different in size and shape. The latter had short microprojections especially obvious in the oblique sections. Cystozoites were slightly bent with blunt ends, broader at one end, and measured 13.0–16.1 × 1.8–2.5 μm. Phylogenetic analysis based on the comparison of partial 28S rRNR gene sequences of Sarcocystis sp. (cyst type II) derived from the mallard, Sarcocystis sp. (cyst type I) and Sarcocystis sp. (cyst type III) both derived from the white-fronted goose (Anser albifrons) suggested that these sequences belonged to separate Sarcocystis species.
This is a preview of subscription content, log in to check access.
Access options
Buy single article
Instant access to the full article PDF.
US$ 39.95
Price includes VAT for USA
Subscribe to journal
Immediate online access to all issues from 2019. Subscription will auto renew annually.
US$ 199
This is the net price. Taxes to be calculated in checkout.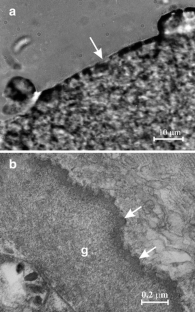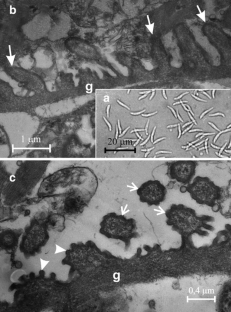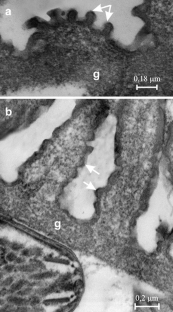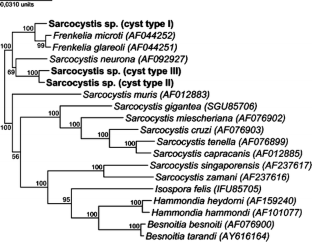 References
Aljanabi MS, Martinez I (1997) Universal and rapid Salt-extraction of high quality genomic DNA for PCR-based techniques. Nucleic Acids Res 25:1772–1773

Chabreck RH (1965) Sarcosporidiosis in ducks in Louisiana. Transactions of the Thirtieth North American Wildlife Conference, pp 174–184

Cornwell G (1963) New waterfowl host records for Sarcocystis rileyi and a review of sarcosporidiosis in birds. Avian Dis 7:212–216

Drouin TE, Mahrt JL (1979) The prevalence of Sarcocystis Lankester, 1882, in some birds species in western Canada, with notes on its life cycle. Can J Zool 57:1915–1921

Drouin TE, Mahrt JL (1980) The morphology of cysts of Sarcocystis infecting birds in western Canada. Can J Zool 58:1477–1482

Dubey JP, Speer CA, Fayer R (1989) Sarcocystosis of animals and man. CRC Press, Boca Raton, FL

Dubey JP, Cawthorn RJ, Speer CA, Wobeser GA (2003) Redescription of the sarcocysts of Sarcocystis rileyi (Apicomplexa: Sarcocystidae). J Eukaryot Microbiol 50:476–482

Fedynich AM, Pence DB (1992) Sarcocystis in mallards on the Southern High Plains of Texas. Avian Dis 36:1067–1069

Hoppe DM (1976) Prevalence of macroscopically detectable Sarcocystis in North Dakota ducks. J Wildl Dis 12:27–29

Kaiser IA, Markus MB (1983) Species of Sarcocystis in wild South African birds. Proceedings of the Electron Microscopy Society of South Africa 13:103–104

Kalisińska E, Betlejewska KM, Schmidt M, Goździcka-Jόzefiak A, Tomczyk G (2003) Protozoal macrocysts in the skeletal muscles of a mallard duck in Poland: the first recorded case. Acta Parasitol 48:1–5

Kalyakin VN, Zasukhin DN (1975) Distribution of Sarcocystis (Protozoa: Sporozoa) in vertebrates. Folia Parasitol 22:289–307

Kutkienė L, Sruoga A (2004) Sarcocystis spp. in birds of the order Anseriformes. Parasitol Res 92:171–172

Kutkienė L, Sruoga A, Butkauskas D (2006) Sarcocystis sp. from white-fronted goose (Anser albifrons): cyst morphology and life cycle studies. Parasitol Res 99:562–565

Mehlhorn H, Heydorn AO (1978) The sarcosporidia (Protozoa, Sporozoa): life cycle and fine structure. Adv Parasitol 16:43–91

Mugridge NB, Morrison DA, Johnson AM, Luton K, Dubey JP, Votýpka J, Tenter AM (1999) Phylogenetic relationships of the genus Frenkelia: a review of its history and new knowledge gained from comparison of large subunit ribosomal ribonucleic acid gene sequences. Int J Parasitol 29:957–972

Odening K (1998) The present state of species-systematics in Sarcocystis Lankester, 1882 (Protista, Sporozoa, Coccidia). Syst Parasitol 41:209–233

Spalding MG, Atkinson CT, Carleton RE (1994) Sarcocystis sp. in wading birds (Ciconiiformes) from Florida. J Wildl Dis 30:29–35

Wicht RJ (1981) Transmission of Sarcocystis rileyi to the striped skunk (Mephitis mephitis). J Wildl Dis 17:387–388

Wobeser G, Leighton FA, Cawthorn RJ (1981) Occurrence of Sarcocystis Lankester, 1882, in wild geese in Saskatchewan. Can J Zool 59:1621–1624
Acknowledgements
We would like to express our deep thanks to Professor Richard W. Ashford from the Liverpool School of Tropical Medicine for the valuable comments on an early draft of the paper and for correcting the English. The authors are grateful to Mrs. I. Žalakevičienė from the Institute of Experimental and Clinical Medicine for the help in carrying out investigations of electron microscopy.
About this article
Cite this article
Kutkienė, L., Sruoga, A. & Butkauskas, D. Sarcocystis sp. from the goldeneye (Bucephala clangula) and the mallard (Anas platyrhynchos): cyst morphology and ribosomal DNA analysis. Parasitol Res 102, 691–696 (2008). https://doi.org/10.1007/s00436-007-0813-3
Received:

Accepted:

Published:

Issue Date:
Keywords
Cyst Wall

Cyst Type

Sarcocystis Species

Southern High Plain

Wild Duck