Abstract
Two ciliated protozoa, Balantidium sinensis Nie 1935 and Balantidium andianusi n. sp., were isolated from the feces of a wild Chinese giant salamander (Andrias davidianus) captured from the mountainous area of Shiyan, Hubei Province, Central China in October 2006. It is the first report of Balantidium species inhabiting Cryptobranchoidea amphibians. The occurrence of B. sinensis in A. davidianus should be a new record because the type specimens were first discovered and named by Nie in 1935 from Rana nigromaculata and Rana plancyi. For the lack of enough descriptions of taxonomic features in the previous report, it was re-described in detail and compared with Nie's type specimens and B. giganteum to complete the morphological descriptions in the present work. B. andianusi n. sp. was considered to be a new species based on its unique morphological characteristics, especially the high length/width ratio of the vestibulum (8:1). Comparisons were also made among Balantidium species that were found from urodele amphibians.
This is a preview of subscription content, log in to check access.
Access options
Buy single article
Instant access to the full article PDF.
US$ 39.95
Price includes VAT for USA
Subscribe to journal
Immediate online access to all issues from 2019. Subscription will auto renew annually.
US$ 199
This is the net price. Taxes to be calculated in checkout.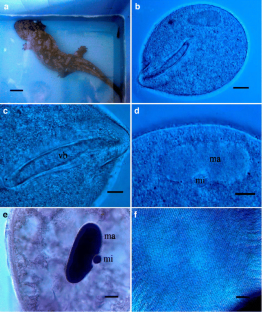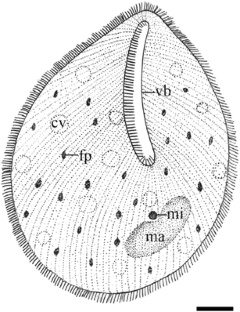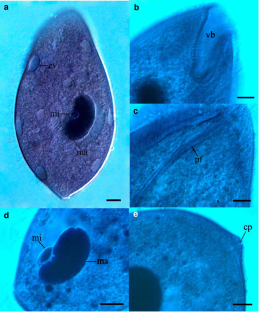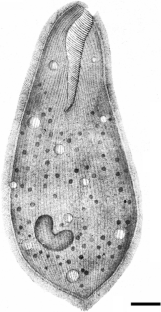 References
Bezzenberger E (1904) Über Infusorien aus asiatischen Anuren. Arch Protistenkd 3:138–174

Bhatia BL, Gulati AN (1927) On some parasitic ciliates from Indian frogs, earthworms and cockroaches. Arch Protistenkd 57:85–120

Dobell CC (1910) On some parasitic protozoa from Ceylon. Spolia Zeylan 7:65–87

Earl PR (1973) The ciliate families Balantididae, Dilleriidae n. fam. and Nathellidae. Reviste de Biologia 9(1–4):175–185

Ehrenberg CG (1838) Die infusionsthierchen als vollkommene organismen. Leopold Voss, Leipzig, p 612

Ghosh EN (1921) Infusoria from the environment of Calcutta. I. Bull. Carmichael Med. Coll. Calcutta No. II

Hou JH, Zhu BC, Dong YW, Li PQ, Liu HM, Wang XQ (2004) Research advances of Chinese giant salamander, Andrias davidianus. Sichuan Journal of Zoology 23(3):262–266

Jírovec O (1930) Über ein neues Balantidium aus dem Darmtraktus von Amblystoma tigrinum. Parasitol Res 3(1):17–21

Khan MM, Ip YK (1986) Parasites of toads from Singapore, with a description of Balantidium singaporensis sp. n. (Ciliophora: Balantidiidae). Zoological Science 3(33):543–546

Liu CC (1950) Amphibians of Western China. Fieldiana Zool Mem 2:1–400

Mahoon MS, Khan MI (1986) Entozoic protozoa of frog Rana cyanophlyctis Schneider. Biologia (Lahore) 32:383–420

Nie DS (1935) Intestinal ciliates of Amphibia of Nanking. Contr Biol Lab Sc Soc China 11(2):47–95

Pal NL, Dasgupta B (1978) Observations on 2 new species of balantidium in the indian salamander tylototriton verrucosus caudata salamandridae. Proc Zool Soc (Calcutta) 31(1–2):47–52

Puytorac PD, Grain J (1965) Structure et ultrastructure de Balantidium xenopi sp. nov. Cilié trichostome parasite du batracien Xenopus fraseri Boul. Protistologica 1:29–36

Ray H (1932) On the morphology of Balantidium sushilii n. sp., from Rana tigrina Daud. J R Microsc Soc 52:374–382

Rodriguez JM (1939) On the morphology of Balantidium kirbyi n. sp., from the Plathander. J Parasitol 25:197–201

Scott MJ (1927) Studies on the Balantidium from the guinea-pig. J Morphol 44(3):417–465

Senler NG, Yildiz I (2000) The ciliate fauna in the digestive system of Rana ridibunda (Amphibia: Anura) I: Balantidium (Balantidiidae, Trichostomatida). Turk J Zoolog 24:33–43

Shete SG, Krishnamurthy R (1984) Observations on the rectal ciliates of the genus Balantidium, Claparede and Lachman, 1858 from Indian amphibians Rana tigrina and R. cyanophlyctis. Arch Protistenkd 128:179–194

Stein FV (1867) Der organismus der infusionsthiere II. Leipzig

Walker LE (1909) Sporulation in the parasitic Ciliata. Arch Protistenkd 17:297

Zhang KJ, Wang XM, Wu W, Wang ZH, Huang S (2002) Advances in conservation biology of Chinese giant salamander. Biodiversity Science 10(3):291–29

Zhao E, Hu Q, Jiang Y, Yang Y (1998) Studies on Chinese salamanders. Society for the study of amphibians and reptiles, Oxford
Acknowledgements
We express our sincerest thanks to Prof. WS Feng for providing help in taking the photomicrographs and Prof. LX Li for the critical reading of the manuscript. We are especially grateful to Prof. JN Grim for his generous supply of information and "old" reprints. Financial support for this study was provided by the Key Science-Technology Project of Hubei Province of China under Grant No. 2007AA203A01.
About this article
Cite this article
Li, M., Wang, J., Zhang, J. et al. First report of two Balantidium species from the Chinese giant salamander, Andrias davidianus: Balantidium sinensis Nie 1935 and Balantidium andianusis n. sp.. Parasitol Res 102, 605–611 (2008). https://doi.org/10.1007/s00436-007-0795-1
Received:

Accepted:

Published:

Issue Date:
Keywords
Hubei Province

Body Dimension

Ciliated Protozoan

Contractile Vacuole

Fresh Feces