Abstract
Giardiosis is one of the major intestinal parasitic diseases of human beings as well as wild and domesticated animals. Several protective mechanisms against infection have been described. However, specific information about relationship between giardiosis and the increased proliferation of goblet cells (GC) in patients infected with Giardia intestinalis (Syn. G. duodenalis, G. lamblia) is scarce. In this work, we compare and quantify the number of GC, and have inferred their metabolic state in the small intestine of dogs parasitized with Giardia intestinalis compared to dogs without parasites. Small intestine segments were processed using routine methods for histology and electron microscopy; areas and cells were screened with an Axiovision Ver. 4.0 system. Data were analyzed by ANOVA and comparison of averages. Parasitized dogs showed higher GC numbers than nonparasitized ones. Averages were: 20 ± 0.81 GC/25 μm2 with independent mucin granules and 11 ± 1.53 GC/25 μm2 that were expelling mucus, compared to 11 ± 0.94 GC/25 μm2 and 1 ± 0.27 GC/25 μm2, respectively, in nonparasitized dogs (Tukey, p < 0.001). The increases in GC number seem to be an unspecific defensive mechanism against Giardia trophozoites. However, we found some evidence supporting that GC hyperplasia could be a prejudicial to epithelial barrier that gives rise to gates allowing for Giardia-tissue invasion.
This is a preview of subscription content, log in to check access.
Access options
Buy single article
Instant access to the full article PDF.
US$ 39.95
Price includes VAT for USA
Subscribe to journal
Immediate online access to all issues from 2019. Subscription will auto renew annually.
US$ 199
This is the net price. Taxes to be calculated in checkout.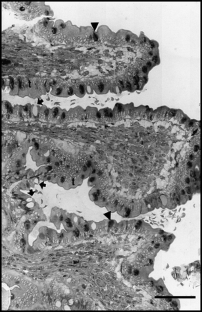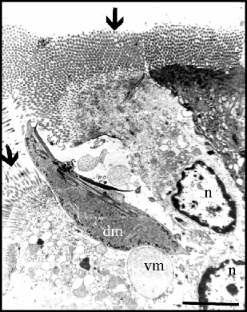 References
Adam RD (2001) Biology of Giardia lamblia. Clin Microbiol Rev 14:447–475

Astiazarán-García H, Espinoza-Cantellano M, Castañon G, Chávez-Mungía B, Martínez-Palomo A (2000) Giardia lamblia: Effect of infection with symptomatic and asymptomatic isolates on the growth of gerbils (Meriones ungiculatus). Exp Parasitol 95:128–135

Belosevic M, Faubert GM, Maclean JD (1989) Disaccharidase activity in the small intestine of gerbils (Meriones ungiculatus) during primary and challenge infections with Giardia lamblia. Gut 30:1213–1219

Buret AG, Mitchell K, Muench DG, Scott KGE (2002) Giardia lamblia disrupts tight junctional ZO-1 and increases permeability in non-transformed human small intestinal epithelial monolayers: effects of epidermal growth factor. Parasitology 125:11–19

Chadee K, Ndarathi C, Keller K (1990) Binding of proteolytically-degraded human colonic mucin glycoproteins to the Gal/Gal/Nac adherence lectin of Entamoeba histolytica. Gut 31:890–895

Chávez B, González-Mariscal L, Cedillo-Rivera R, Martínez-Palomo A (1995) Giardia lamblia: In vitro cytopathic effect of human isolates. Exp Parasitol 80:133–138

Chen N, Upcroft JA, Upcroft P (1995) A Giardia duodenalis gene encoding a protein with multiple repeats of a toxin homologue. Parasitology 111:423–431

Chester AC, MacMurray FG, Restifo MD, Mann O (1985) Giardiasis as a chronic disease. Dig Dis Sci 30:215–218

Chin AC, Teoth DA, Scott KG, Meddings JB, Macnaughton WK, Buret AG (2002) Strain-dependent induction of enterocyte apoptosis by Giardia lamblia disrupts epithelial barrier function in a caspase-3-dependent manner. Infect Immun 70:3673–3680

Ceballos AM, Carnaby S, James M, Farthing JG (1995) Small intestinal injury in a neonatal rat model of giardiasis is strain dependent. Gastroenterology 109:766–773

Eckmann L (2003) Mucosal defences against Giardia. Parasite Immunol 25:259–270

Faubert G (2000) Immune response to Giardia duodenalis. Clin Microbiol Rev 13:35–54

Gilling FD, Reiner DS, Wang CS (1983) Killing of Giardia lamblia trophozoites by normal human milk. J Cell Biochem 23:47–56

Ho SB, Roberton AM, Shekels LL, Lyftogt CT, Niehans GA, Toribara NW (1995) Expression cloning of gastric mucin complementary DNA and localization of mucin gene expression. Gastroenterology 109:735–747

Ishikawa N, Horii Y, Nawa Y (1993) Immune-mediated alteration of the terminal sugars of goblet cell mucins in the small intestine of Nippostrongylus brasiliensis-infected rats. Immunology 78:303–307

Lev BI, Ward HD, Keusch GT, Pereira MEA (1986) Lectin activation in Giardia lamblia by host protease: a novel host-parasite interaction. Science 232:71–73

Luján HD, Mowatt MR, Wu JJ, Lu Y, Lees A, Chance MR, Nash TE (1995) Purification of a variant-specific surface protein of Giardia lamblia and characterization of its metal-binding properties. J Biol Chem 23:13807–13813

Mack DR, Sherman PM (1991) Mucin isolated from rabbit colon inhibits in vitro binding of Escherichia coli RDCI. Infect Immun 59:1105–1123

Michelsen JW, Schmeichel KL, Beckerle MC, Winge DR (1993) The LIM motif defines a specific zinc-binding protein domain. Proc Natl Acad Sci USA 90:4404–4408

Müller N, von Allmen N (2005) Recent insights into the mucosal reactions associated with Giardia lamblia infections. Int J Parasitol 35:1339–1347

Nain BC, Dutt P, Vinayak VK (1991) Alterations in enzymatic activities of the intestinal mucosa during the course of Giardia lamblia infection in mice. Ann Trop Med Parasitol 85:515–522

Parenti DM (1989) Characterization of a thiol proteinase in Giardia lamblia. J Infect Dis 160:1076–1080

Polley L (2005) Navigating parasite webs and parasite flow: Emerging and re-emerging parasitic zoonoses of wildlife origin. Int J Parsitol 35:1279–1294

Ponce-Macotela M, Peralta-Abarca GE, Martínez-Gordillo MN (2005) Giardia intestinalis and other zoonotic parasites: Prevalence in adult dogs from the southern part of Mexico City. Vet Parasitol 131:1–4

Rayan P, Stenzel D, McDonnel A (2005) The effects of saturated fatty acids on Giardia duodenalis trophozoites in vitro. Parasitol Res 97:191–200

Roskens H, Erlandsen SL (2002) Inhibition of in vitro attachment of Giardia trophozoites by mucin. J Parasitol 88:869–873

Singer SM, Elmendorf HG, Conrad JT, Nash TE (2002) Biological selection of variant-specific surface proteins in Giardia lamblia. J Infect Dis 183:119–124

Singer SM, Nash TE (2000) T-cell dependent control of acute Giardia lamblia infections in mice. Infect Immun 68:170–175

Thompson SC (1994) Giardia lamblia in children and the child care setting: a review of the literature. J Pediatr Child Health 30:202–209

Thompson RCA (2000) Giardiasis as a re-emergent infectious disease and its zoonotic potential. Int J Parasitol 30:1259–1269

Troeger H, Epple HJ, Schneider T, Wahnscgaffe U, Ullrich R, Burchard GD, Jelinek T, Zeitz M, Fromm M, Schulzke JD (2007) Effect of chronic Giardia lamblia infection on epithelial transport and barrier function in human duodenum. Gut 56:328–335

Upcroft J, Upcroft P (1998) My favorite cell: Giardia. BioEssays 20:256–263

Williamson AL, O'Donoghue PJ, Upcroft JA, Upcroft P (2000) Immune and pathophysiological responses to different strain of Giardia duodenalis in neonatal mice. Int J Parasitol 30:129–136

Yolken RH, Ojeh C, Khatri IA, Sajjan U, Forstner JF (1994) Intestinal mucins inhibit rotavirus replication in an oligosaccharide-dependent manner. J Infect Dis 169:1002–1006
Acknowledgement
The authors are grateful to Dr. Silvestre Frenk for critical commentary on the manuscript.
About this article
Cite this article
Ponce-Macotela, M., González-Maciel, A., Reynoso-Robles, R. et al. Goblet cells: are they an unspecific barrier against Giardia intestinalis or a gate?. Parasitol Res 102, 509–513 (2008). https://doi.org/10.1007/s00436-007-0790-6
Received:

Accepted:

Published:

Issue Date:
Keywords
Giardia intestinalis

Giardiosis

Goblet cells

Mucins

Histopathology

Giardia-tissue invasion