Abstract
Cryptosporidiosis, caused by Cryptosporidium, causes self-limited diarrhea in normal hosts but may cause life-threatening diarrhea in immunocompromised persons. Cryptosporidium-induced manifestations, including weight-loss and intestinal physiological alterations are not noted in adult immunocompetent mice. So far, studies that have been used to test the therapeutic efficacy of drugs have been performed using various immunocompromised animal models. There is an urgent need of an immunocompetent small animal model that portrays Cryptosporidium-induced manifestations. In the current studies, we have compared two Cryptosporidium parvum pretreatment methods, we have hence used sodium hypochlorite or acidic water to treat Cryptosporidium parvum, followed by infection by oral gavage in adult immunocompetent C57BL6 mice. We demonstrated manifestations such as weight loss, intestinal structural and physiological alterations such as intestinal, villi blunting, and glucose malabsorption (as studied by the Ussing chamber technique) only in response to infection with C. parvum that has been treated with acidic water and not with sodium hypochlorite. These novel studies reveal that acidic water treatment of C. parvum results in manifestations of cryptosporidiosis in otherwise resistant immunocompetent mice. The current studies open up possibilities of using the normal immunocompetent mice model to test therapeutic drugs against cryptosporidiosis.
This is a preview of subscription content, log in to check access.
Access options
Buy single article
Instant access to the full article PDF.
US$ 39.95
Price includes VAT for USA
Subscribe to journal
Immediate online access to all issues from 2019. Subscription will auto renew annually.
US$ 199
This is the net price. Taxes to be calculated in checkout.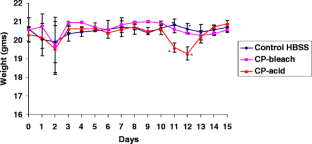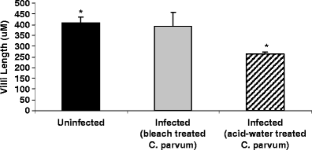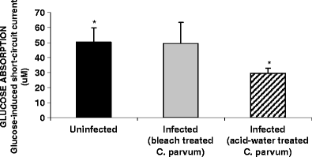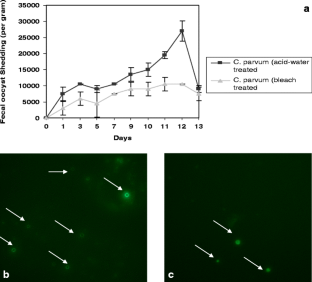 References
Adjei A, Jones JT, Enriquez FJ, Yamamoto S (1999) Dietary nucleosides and nucleotides reduce Cryptosporidium parvum infection in dexamethasone immunosuppressed adult mice. Exp Parasitol 92(3):199–208

Aguirre SA, Mason PH, Perryman LE (1994) Susceptibility of major histocompatibility complex (MHC) class I- and MHC class II-deficient mice to Cryptosporidium parvum infection. Infect Immun 62:697–699

Cosyns M, Tsirkin S, Jones M, Flavell R, Kikutani H, Hayward AR (1998) Requirement for CD40-CD40 ligand interaction for elimination of Cryptosporidium parvum from mice. Infect Immun 66:603–607

French AL, Beaudet LM, Benator DA, Levy CS, Kass M, Orenstein JM (1995) Cholecystectomy in patients with AIDS: clinicopathologic correlations in 107 cases. Clin Infect Dis 21:852–858

Griffiths JK, Theodos C, Paris M, Tzipori S (1998) The gamma interferon gene knockout mouse: a highly sensitive model for evaluation of therapeutic agents against Cryptosporidium parvum. J Clin Microbiol 36:2503–2508

Harp JA, Sacco RE (1996) Development of cellular immune functions in neonatal to weanling mice: relationship to Cryptosporidium parvum infection. J Parasitol 82:245–249

Healey M, Yang S, Rasmussen KR, Jackson MK, Du C (1995) Therapeutic efficacy of paromomycin in immunosuppressed adult mice infected with Cryptosporidium parvum. J Parasitol 81(1):114–116

Hernandez J, Lackner A, Aye P, Mukherjee K, Tweardy DJ, Mastrangelo MA, Weinstock J, Griffiths J, D'Souza M, Dixit S, Robinson P (2007) Substance P is responsible for physiological alterations such as increased chloride ion secretion and glucose malabsorption in cryptosporidiosis. Infect Immun 75:1137–1143

Hou L, Li X, Dunbar L, Moeller R, Palermo B, Atwill ER (2004) Neonatal-mouse infectivity of intact Cryptosporidium parvum oocysts isolated after optimized in vitro excystation. Appl Environ Microbiol 70:642–646

Huang K, Yang SG, Tang JX (2001) Improvement of amplification method for Cryptosporidium parvum oocysts from mice. Zhongguo Ji Sheng Chong Xue Yu Ji Sheng Chong Bing Za Zhi 19(6):360–362

Kato S, Jenkins MB, Ghiorse WC, Bowman DD (2001) Chemical and physical factors affecting the excystation of Cryptosporidium parvum oocysts. J Parasitol 87:575–581

Keusch GT, Hamer D, Joe A, Kelley M, Griffiths J, Ward H (1995) Cryptosporidia—who is at risk? Schweiz Med Wochenschr 125:899–908

Kuhls TL, Mosier DA, Abrams VL, Crawford DL, Greenfield RA (1994) Inability of interferon-gamma and aminoguanidine to alter Cryptosporidium parvum infection in mice with severe combined immunodeficiency. J Parasitol 80:480–485

Maruyama H, Tanaka M, Hashimoto M, Inoue M, Sasahara T (2007) The suppressive effect of Mekabu fucoidan on an attachment of Cryptosporidium parvum oocysts to the intestinal epithelial cells in neonatal mice. Life Sci 80:775–781

McDonald V, Deer R, Uni S, Iseki M, Bancroft GJ (1992) Immune responses to Cryptosporidium muris and Cryptosporidium parvum in adult immunocompetent or immunocompromised (nude and SCID) mice. Infect Immun 60:3325–3331

Mead JR, Arrowood MJ, Sidwell RW, Healey MC (1991) Chronic Cryptosporidium parvum infections in congenitally immunodeficient SCID and nude mice. J Infect Dis 163:1297–1304

Miller TA, Schaefer FW, 3rd (2007) Changes in mouse circulating leukocyte numbers in C57BL/6 mice immunosuppressed with dexamethasone for Cryptosporidium parvum oocyst production. Vet Parasitol 149:147–157

Novak SM, Sterling CR (1991) Susceptibility dynamics in neonatal BALB/c mice infected with Cryptosporidium parvum. J Protozool 38:102S–104S

Rehg JE (1996) Effect of interferon—in experimental Cryptosporidium parvum infection. J Infect Dis 174:229–232

Robertson LJ, Campbell AT, Smith HV (1993) In vitro excystation of Cryptosporidium parvum. Parasitology 106( Pt 1):13–19

Theodos CM, Sullivan KL, Griffiths JK, Tzipori S (1997) Profiles of healing and nonhealing Cryptosporidium parvum infection in C57BL/6 mice with functional B and T lymphocytes: the extent of gamma interferon modulation determines the outcome of infection. Infect Immun 65:4761–4769

Travis WD, Schmidt K, MacLowry JD, Masur H, Condron KS, Fojo AT (1990) Respiratory cryptosporidiosis in a patient with malignant lymphoma. Report of a case and review of the literature. Arch Pathol Lab Med 114:519–522

Ungar BLP, Kao TC, Burris JA, Finkelman FD (1991) Cryptosporidium infection in an adult mouse model: independent roles for IFN- and CD4+ T lymphocytes in protective immunity. J Immunol 147:1014–1022

Urban JF Jr, Fayer R, Chen S, Gause WC, Gately MK, Finkelman FD (1996) IL-12 protects immunocompetent and immunodeficient neonatal mice against infection with Cryptosporidium parvum. J Immunol 156:263–268

Yang S, Benson SK, Du C, Healey MC (2000) Infection of immunosuppressed C57BL/6N adult mice with a single oocyst of Cryptosporidium parvum. J Parasitol 86(4):884–887

You X, Mead JR (1998) Characterization of experimental Cryptosporidium parvum infection in IFN-gamma knockout mice. Parasitology 117(Pt 6):525–531
Acknowledgement
These studies were supported by the National Institutes of Health, 1 R21 AI054205–01 to P. Robinson. We would like to thank John Wright and Dr. Ana Moran for assistance with statistical analysis. The experiments comply with the current laws of the USA where they were performed.
About this article
Cite this article
Garza, A., Castenallos-Gonzalez, A., Griffiths, J. et al. Infection of immunocompetent mice with acid-water-pretreated Cryptosporidium parvum results in weight loss, and intestinal (structural and physiological) alterations. Parasitol Res 102, 457–463 (2008). https://doi.org/10.1007/s00436-007-0785-3
Received:

Accepted:

Published:

Issue Date:
Keywords
Infected Group

Acidic Water

Sodium Hypochlorite

Cryptosporidiosis

Cryptosporidium Parvum