Abstract
More than 30 species of coccidian parasites have been described in Chelonidae (tortoises and turtles). Eimeria spp. are apparently the most common coccidia in chelonians. Findings of Caryospora cheloniae, Isospora sp., and Mantonella sp. have also been published, but reports about systemic coccidiosis are rare. We describe a case of a coccidiosis diagnosed cytologically in a radiated tortoise (Geochelone radiata) which was captive-bred in Germany. Infection was systemic and involved the lymphoid system. Intracytoplasmatic stages of parasite development were identified cytologically, histologically, and ultrastructurally. The systemic coccidiosis was associated with variable degrees of inflammation in the different organs and contributed substantially to the cause of death in this tortoise. Fragments of coccidian 18S- and 28S-rRNA from the tortoise liver were sequenced; the 18S-rRNA sequence had the highest identity to intranuclear coccidia described previously in a travancore tortoise (Intestudo forstenii) and a leopard tortoise (Geochelone pardalis). The analysis of maximum likelihood phylogenetic tree showed relation to species of the order Sarcocystidae. The biology of these coccidia and the route of infection in this case remained unclear.
This is a preview of subscription content, log in to check access.
Access options
Buy single article
Instant access to the full article PDF.
US$ 39.95
Price includes VAT for USA
Subscribe to journal
Immediate online access to all issues from 2019. Subscription will auto renew annually.
US$ 199
This is the net price. Taxes to be calculated in checkout.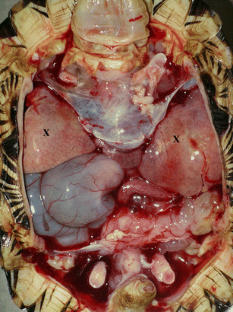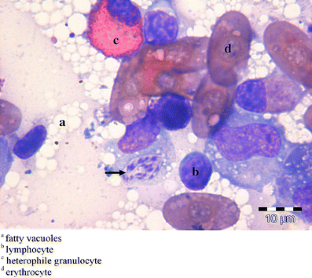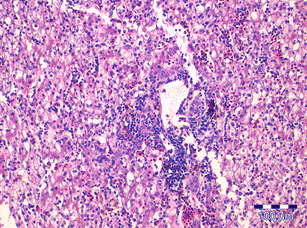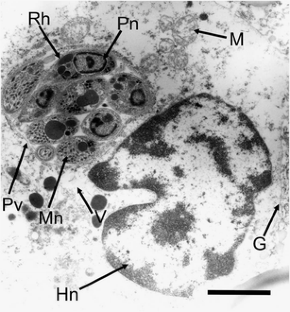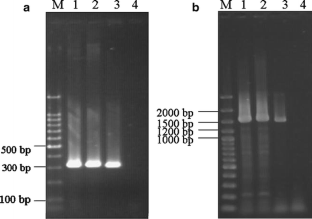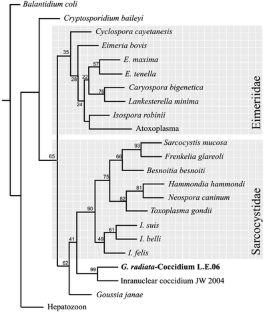 References
Bauer C (2006) Untersuchungsmethoden. In: Schnieder T (ed) Veterinärmedizinische Parasitologie. Parey, Stuttgart, pp 89–90

Box ED (1977) Life cycles of two Isospora species in the canary. J Protozool 24:57–67

Campbell TW (2006) Hemoparasites. In: Mader DR (ed) Reptile medicine and surgery. Saunders, St. Louis, Missouri, pp 801–805

Dorrestein GM (1997) Passerines. In: Altman RB, Clubb SL, Dorrestein GM, Quesenberry K (eds) Avian medicine and surgery. Saunders, Philadelphia, Pennsylvania, p 874

Garner MM (2006) Overview of biopsy and necropsy techniques. In: Mader DR (ed) Reptile medicine and surgery. Saunders, St. Louis, Missouri, pp 568–580

Garner MM, Gardiner CH, Wellehan JF, Johnson AJ, McNamara T, Linn M, Terrell SP, Childress A, Jacobson ER (2006) Intranuclear coccidiosis in tortoises: nine cases. Vet Path 43:311–20

Greiner EC (2003) Coccidiosis in reptiles. Semin Avian Exot Pet 12:49–56

Harr KE, Alleman AR, Dennis PM, Maxwell LK, Lock BA, Bennett RA, Jacobson ER (2001) Morphologic and cytochemical characteristics of blood cells and hematologic and plasma biochemical reference ranges in green iguanas. J Am Vet Med Assoc 218:915–21

Jacobsen ER (2007) Parasites and parasitic diseases of reptiles. In: Infectious diseases and pathology of reptiles. Taylor & Francis, Boca Raton, Florida, pp 579–580

Jacobson ER, Schumacher J, Telford SR Jr, Greiner EC, Buergelt CD, Gardiner CH (1994) Intranuclear coccidiosis in radiated tortoises (Geochelone radiata). J Zoo Wildl Med 25:95–102

Marchuk D, Drumm M, Saulino A, Collins FS (1991) Construction of T-vectors, a rapid and general system for direct cloning of unmodified PCR products. Nucleic Acids Res 19:1154

Marschang RE, Gleiser CB, Papp T, Pfitzner AJ, Bohm R, Roth BN (2006) Comparison of 11 herpesvirus isolates from tortoises using partial sequences from three conserved genes. Vet Microbiol 117:258–266

McArthur S, Barrows M (2006a) Nutrition. In: McArthur S, Wilkinson R, Meyer J (eds) Medicine and surgery of tortoises and turtles. Blackwell, Oxford, pp 73–85

McArthur S, Barrows M (2006b) General care of chelonians. In: McArthur S, Wilkinson R, Meyer J (eds) Medicine and surgery of tortoises and turtles. Blackwell, Oxford, pp 87–107

Modry D, Slapeta JR, Jirku M, Obornik M, Lukes J, Koudela B (2001) Phylogenetic position of a renal coccidium of the European green frogs, 'Isospora' lieberkuehni Labbe, 1894 (Apicomplexa: Sarcocystidae) and its taxonomic implications. Int J Syst Evol Microbiol 51:767–772

Morrison DA, Bornstein S, Thebo P, Wernery U, Kinne J, Mattson JG (2004) The current status of the small subunit rRNA phylogeny of the coccidian (Sporozoa). Int J Parasitol 34:501–514

Sambrook J, Russel D (2001) Preparation and transformation of competent E. coli using calcium chloride. In: molecular cloning: a laboratory manual, 3rd ed., Cold Spring Harbor Laboratory Press, Cold Spring Harbor, New York, pp 1.116–1.118
About this article
Cite this article
Schmidt, V., Dyachenko, V., Aupperle, H. et al. Case report of systemic coccidiosis in a radiated tortoise (Geochelone radiata). Parasitol Res 102, 431–436 (2008). https://doi.org/10.1007/s00436-007-0781-7
Received:

Accepted:

Published:

Issue Date:
Keywords
Coccidiosis

Brilliant Green

Cloacal Swab

Osmium Tetroxide Solution

Defibrinated Sheep Blood