Abstract
In the genus Strongyloides, larval development external to the host is known to be markedly affected by a variety of environmental factors. This investigation focuses on the effect of temperature on Strongyloides ratti. Low temperature (15°C) was shown to favor direct development, producing infective larvae, while high temperature (25°C) favored indirect development, producing free-living females and males. Different courses of development were brought about by either a 16-h temperature stimulus at 15°C or a 6-h temperature stimulus at 25°C. Moreover, eggs were not susceptible to the cold-temperature stimulus of 15°C, while newly hatched larvae were. The results indicate that the developmental course of S. ratti larvae external to the host is determined at a relatively early stage before the first molt.
This is a preview of subscription content, log in to check access.
Access options
Buy single article
Instant access to the full article PDF.
US$ 39.95
Price includes VAT for USA
Subscribe to journal
Immediate online access to all issues from 2019. Subscription will auto renew annually.
US$ 199
This is the net price. Taxes to be calculated in checkout.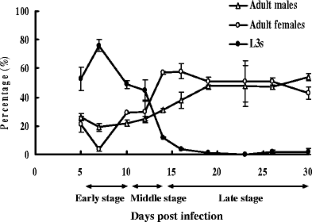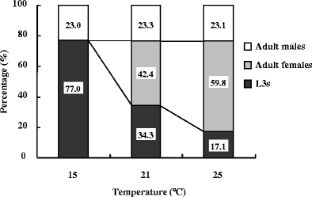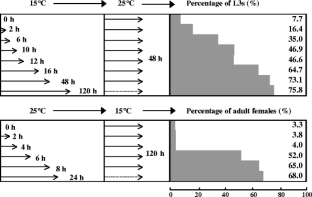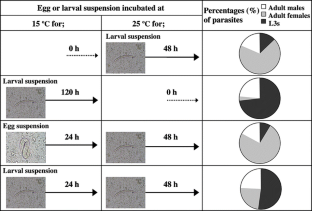 References
Arizono N (1976) Studies on the free-living generations of Strongyloides planiceps Rogers, 1943. II. Effect of temperature on the developmental types. Jap J Parasitol 25:328–335

Barrett J (1968) The effect of temperature on the development and survival of the infective larvae of Strongyloides ratti Sandground, 1925. Parasitology 58:641–651

Fenton A, Paterson S, Viney ME, Gardner MP (2004) Determining the optimal developmental route of Strongyloides ratti: an evolutionarily stable strategy approach. Evolution 58:989–1000

Harvey SG, Gemmill AW, Read AF, Viney ME (2000) The control of morph development in the parasitic nematode Strongyloides ratti. Proc R Soc Lond B 267:2057–2063

Keiser PB, Nutman TB (2004) Strongyloides stercoralis in the immunocompromised population. Clin Microbiol Rev 17:208–217

Kimura E, Shintoku Y, Kadosaka T, Fujiwara M, Kondo S, Itoh M (1999) A second peak of egg excretion in Strongyloides ratti-infected rats: its origin and biological meaning. Parasitology 119:221–226

Minematsu T, Mimori T, Tanaka M, Tada I (1989) The effect of fatty acids on the developmental direction of Strongyloides ratti first-stage larvae. J Helminthol 63:102–106

Nwaorgu OC (1983) The development of the free-living stages of Strongyloides papillosus I. Effect of temperature on the development of the heterogonic and homogonic nematodes in faecal culture. Vet Parasitol 13:213–223

Premvati (1958) Studies on Strongyloides of primates II. Factors determining the "direct" and the "indirect" mode of life. Can J Zool 36:185–195

Shiwaku K, Chigusa Y, Kadosaka T, Kaneko K (1988) Factors influencing development of free-living generations of Storngyloides stercoralis. Parasitology 97:129–138

Taylor KA, Weinstein PP (1990) The effect of oxygen and carbon dioxide on the development of the free-living stages of Strongyloides ratti in axenic culture. J Parasitol 76:545–551

Viney ME (1996) Developmental switching in the parasitic nematode Strongyloides ratti. Proc R Soc Lond B 263:201–208

Viney ME (1999) Exploiting the life cycle of Strongyloides ratti. Parasitol Today 15:231–235
About this article
Cite this article
Minato, K., Kimura, E., Shintoku, Y. et al. Effect of temperature on the development of free-living stages of Strongyloides ratti . Parasitol Res 102, 315–319 (2008). https://doi.org/10.1007/s00436-007-0773-7
Received:

Accepted:

Published:

Issue Date:
Keywords
Adult Female

Larval Development

Direct Development

Kwashiorkor

Temperature Stimulus