Abstract
A new species of sandfly is described from limestone caves in Thailand. The inclusion of this species in the subgenus Euphlebotomus is justified on the basis of characters of the male genitalia (paramere, basal lobe). The male–female gathering in the same taxon is based on ecological (cavernicolous species), morphological (length of male genital filaments and female spermathecal ducts) and molecular (homology of cytochrome b mt DNA sequences) criteria. A differential diagnosis between Phlebotomus mascomai n. sp. and P. argentipes Annandale & Brunetti, the vector of Leishmania donovani (Laveran & Mesnil) in India, is proposed based on several morphological characters like antennal formula and genitalia.
This is a preview of subscription content, log in to check access.
Access options
Buy single article
Instant access to the full article PDF.
US$ 39.95
Price includes VAT for USA
Subscribe to journal
Immediate online access to all issues from 2019. Subscription will auto renew annually.
US$ 199
This is the net price. Taxes to be calculated in checkout.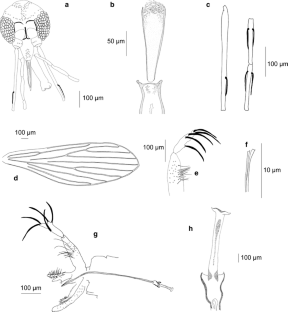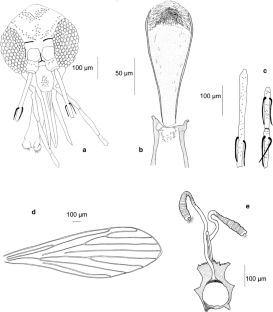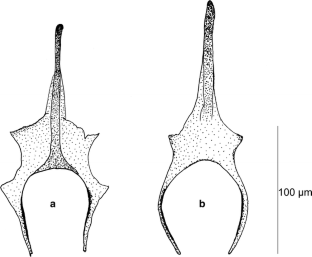 References
Abonnenc E (1972) Les phlébotomes de la région éthiopienne (Diptera, Psychodidae). Mem ORSTOM 55:1–239

Apiwathnasorn C, Sucharit S, Rongsriyam Y, Leemingsawat S, Kerdpibule V, Deesin T, Surathin K, Vutikes S, Punavuthi N (1989) A brief survey of Phlebotomine sandflies in Thailand. Southeast Asian J Trop Med Public Health 20:429–432

Apiwathnasorn C, Sucharit S, Surathin K, Deesin T (1993) Anthropophilic and zoophilic Phlebotomine sand flies (Diptera, Psychodidae) from Thailand. J Am Mosq Control Assoc 9:135–137

Depaquit J, Muller F, Gantier JC, Leger N, Ferte H, Ready P, Niang AA (2005) Phlebotomine sand flies from Ouagadougou, Burkina Faso: first record of Phlebotomus (Larroussius) longicuspis south of the Sahara. Med Vet Entomol 19:322–325

Esseghir S, Ready PD, Killick-Kendrick R, Ben-Ismail R (1997) Mitochondrial haplotypes and phylogeography of Phlebotomus vectors of Leishmania major. Insect Mol Biol 6:211–225

Hodgkinson VH, Birungi J, Quintana M, Dietze R, Munstermann LE (2003) Mitochondrial cytochrome b variation in populations of the visceral leishmaniasis vector Lutzomyia longipalpis across eastern Brazil. Am J Trop Med Hyg 69:386–392

Lewis DJ (1978) The phlebotomine sandflies (Diptera: Psychodidae) of the Oriental Region. Bull Brit Museum Entomol 37:217–343

Lewis DJ (1982) A taxonomic review of the genus Phlebotomus (Diptera: Psychodidae). Bull Br Museum Entomol 45:121–209

Lewis DJ (1987) Phlebotomine sandflies (Diptera: Psychodidae) from the Oriental Region. Syst Entomol 12:163–180

Pesson B, Ready JS, Benabdennbi I, Martin-Sanchez J, Esseghir S, Cadi-Soussi M, Morillas-Marquez F, Ready PD (2004) Sandflies of the Phlebotomus perniciosus complex: mitochondrial introgression and a new sibling species of P. longicuspis in the Moroccan Rif. Med Vet Entomol 18:25–37

Moin-Vaziri V, Depaquit J, Yaghoobi-Ershadi MR, Oshaghi MA, Derakhshandeh-Peykar P, Ferté H, Kaltenbach M, Bargues MD, Léger N, Nadim A (2007) Intraspecific variation within Phlebotomus sergenti (Diptera: Psychodidae) based on mtDNA sequences in Islamic Republic of Iran. Acta Trop 102:29–37

Philippe H (1993) MUST, a computer package of management utilities for sequences and trees. Nucl Acids Res 21:5264–5272

Theodor O (1948) Classification of the Old world species of the Subfamily Phlebotominae (Diptera: Psychodidae). Bull Entomol Res 39:85–115

Thisyakorn U, Jongwutiwes S, Vanichsetakul P, Lerrtsapcharoen P (1999) Visceral leishmaniasis: the first indigenous case report in Thailand. Trans R Soc Trop Med Hyg 93:23–24
Acknowledgements
The authors thank Philippe Barbazan, providing us the specimens and Matthieu Kaltenbach for proof reading the manuscript.
About this article
Cite this article
Muller, F., Depaquit, J. & Léger, N. Phlebotomus (Euphlebotomus) mascomai n. sp. (Diptera–Psychodidae). Parasitol Res 101, 1597–1602 (2007). https://doi.org/10.1007/s00436-007-0682-9
Received:

Accepted:

Published:

Issue Date:
Keywords
Visceral Leishmaniasis

Creosote

Spermathecal Duct

Phlebotomine Sandfly

Pigment Patch