Abstract
Blastocystis hominis has been regarded as an enigmatic parasite as many aspects of its basic biology remain uncertain. Many reproductive processes have been suggested for the organism; however, to date, only the binary fission has been proven. Plasmotomy is one of the modes of reproduction previously suggested to be seen in in vitro cultures. The present study provides trichrome and acridine orange staining evidence for the existence of nucleic acid suggestive of division of nucleus into multinucleate forms with the respective cytoplasm dividing giving rise to two or three progeny B. hominis. Transmission electron micrographs further confirmed that these daughter cells had respective surrounding surface coat, mitochondria, and vacuoles.
This is a preview of subscription content, log in to check access.
Access options
Buy single article
Instant access to the full article PDF.
US$ 39.95
Price includes VAT for USA
Subscribe to journal
Immediate online access to all issues from 2019. Subscription will auto renew annually.
US$ 199
This is the net price. Taxes to be calculated in checkout.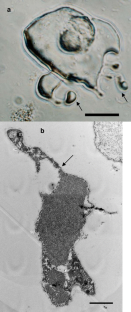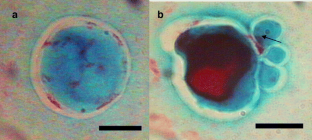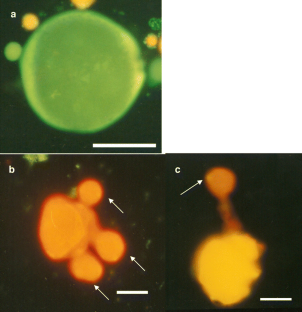 References
Alexeieff A (1911) Sur la nature des formations dites "kystes de Trichomonas intestinalis." C R Soc Biol 71:296–298

Boreham PFL, Stenzel DJ (1993) Blastocystis in humans and animals: morphology, biology, and epizootiology. Adv Parasitol 32:1–70

Frolov AO, Goodkov, AV, Chystjakova LV, Skarlato SO (2006) Structure and development of Pelomyxa gruberi sp. N. (Peloflagellatea, Pelobiontida). Protist 4:227–244

Govind SK, Khairul AA, Smith HV (2002) Multiple reproductive processes in Blastocystis. Trends Parasitol 18:528

Jones WR (1946) The experimental infection of rats with Entamoeba histolytica with a method for evaluating the anti-amoebic properties of new compounds. Ann Trop Med Parasitol 40:130–140

Kormos J, Kormos K (1958) Die Zellteilungstypen der Protozoen. Act Biol Acad Sci Hungaricae 8:127

Kostka M, Hampl V, Cepicka I, Flegr J (2004) Phylogenetic position of Protoopalina intestinalis based on SSU rRNA gene sequence. Mol Phylogenet Evol 33:220–224

Silberman JD, Sogin ML, Leipe DD, Clark CG (1996) Human parasite finds taxonomic home. Nature 380:398

Singh M, Suresh K, Ho LC, Ng GC, Yap EH (1995) Elucidation of the life cycle of the intestinal protozoan Blastocystis hominis. Parasitol Res 81:446–450

Stenzel DJ, Boreham PFL (1996) Blastocystis hominis revisited. Clin Microbiol Rev 9:563–584

Suresh K, Howe J, Chong SY, Ng GC, Ho LC, Loh AK, Ramachandran NP, Yap EH, Singh M (1994a). Ultrastructural changes during in vitro encystment of Blastocystis hominis. Parasitol Res 80:327–335

Suresh K, Ng GC, Ho LC, Yap EH, Singh M (1994b) Differentiation of the various stages of Blastocystis hominis by acridine orange staining. Int J Parasitol 24:605–606

Tan KSW (2004) Blastocystis in humans and animals: new insights using modern methodologies. Vet Parasitol 126:121–144

Tan KSW, Stenzel DJ (2003) Multiple reproductive processes in Blastocystis: proceed with caution. Trends Parasitol 19:290–291

Tan TC, Suresh KG (2006) Predominance of amoeboid forms of Blastocystis hominis in isolates from symptomatic patients. Parasitol Res 98:189–193

Tan KSW, Singh M, Yap EH (2002) Recent advances in Blastocystis hominis research: hot spot in terra incognita. Int J Parasitol 32:789–804

Villar J, Carbajal JA, Lanuza MD, Munoz C, Borras R (1998) In vitro encystation of Blastocystis hominis: a kinetics and cytochemistry study. Parasitol Res 84:54–58

Wheatley WB (1951) A rapid staining procedure for intestinal amoebae and flagellates. Am J Clin Pathol 21:990–991

Zaman V (1997) Phase-contrast microscopy of cell division in Blastocystis hominis. Ann Trop Med Parasitol 91:223–224

Zhang X, Qiao JY, Zhou XJ, Yao FR, Wei ZC (2007) Morphology and reproductive mode of Blastocystis hominis in diarrhea and in vitro. Parasitol Res (in press)

Zierdt CH (1991) Blastocystis hominis—past and future. Clin Microbiol Rev 4:61–79
Acknowledgment
The study was funded by the Intensification of Research in Priority Areas grant R&D 06-02-03-1012 from the Malaysian government.
About this article
Cite this article
Tan, T.C., Suresh, K.G. Evidence of plasmotomy in Blastocystis hominis . Parasitol Res 101, 1521–1525 (2007). https://doi.org/10.1007/s00436-007-0670-0
Received:

Accepted:

Published:

Issue Date:
Keywords
Acridine Orange

Central Body

Reproductive Process

Vacuolar Form

Binary Fission