Abstract
Malaria remains a serious health problem in many parts of the world. It causes high morbidity and claims many lives in developing countries each year. Humans are generally infected by four species of malaria parasites. However, malaria infection caused by Plasmodium malariae or P. falciparum is recognized as an important cause of acute renal failure (ARF) and other renal-related disorders (nephropathy) in infected patients. The increasing incidence of malarial ARF (MARF) and the emergence of clinical malarial infection after renal transplantation represent a serious challenge. Additionally, the impact of immunosuppressive therapies on malarial infection is intricate, complex, and not yet well defined. Pathogenesis of MARF is most likely to be due to immune complex-mediated glomerulonephritis caused by immune-complex deposition and endothelial damage, which may lead to fatal forms of quartan malarial nephropathies. Effects of mechanical, immunologic, cytokine, humoral, acute phase response, and hemodynamics factors in inducing malarial nephropathy have also been postulated. Development of preventive strategies aimed at combating MARF and other renal disorders associated with malaria infection requires (1) prevention of malarial infection, (2) early diagnosis, and (3) early referral to well-equipped centers to provide renal replacement therapy, if necessary, along with antimalarial therapy and support. These measures could significantly reduce mortality and enhance recovery of renal function.
This is a preview of subscription content, log in to check access.
Access options
Buy single article
Instant access to the full article PDF.
US$ 39.95
Price includes VAT for USA
Subscribe to journal
Immediate online access to all issues from 2019. Subscription will auto renew annually.
US$ 199
This is the net price. Taxes to be calculated in checkout.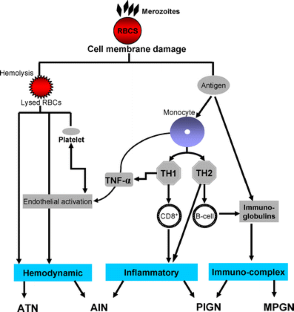 References
Abdurrahman MB, Aikhionbare HA, Babaoye FA, Sathiakumar N, Narayana PT (1990) Clinicopathological features of childhood nephrotic syndrome in northern Nigeria. Q J Med 75:563–576

Aikawa M, Jacobs G, Whiteley HE, Igarashi I, Ristic M (1988) Glomerulopathy in squirrel monkeys with acute Plasmodium falciparum infection. Am J Trop Med Hyg 38:7–14

Anteyi EA, Liman HM, Gbaji A (2003) Malaria prophylaxis in post renal transplant recipients in the tropics: is it necessary? Cent Afr J Med 49:63–66

Barsoum RS (1998) Malarial nephropathies. Nephrol Dial Transplant 13:1588–1597

Barsoum RS (2000) Malarial acute renal failure. J Am Soc Nephrol 11:2147–2154

Barsoum R, Sitprija V (1996) Tropical nephrology. In: Schrier RW, Gottaschalk CW (eds) Diseases of the kidney, 6th edn. Little Brown, Boston, pp 2221–2268

Bell A, Wernli B, Franklin RM (1994) Roles of peptidyl-prolyl cis-trans isomerase and calcineurin in the mechanisms of antimalarial action of cyclosporin A, FK506, and rapamycin. Biochem Pharmacol 48:495–503

Bell A, Roberts HC, Chappell LH (1996) The antiparasite effects of cyclosporin A: possible drug targets and clinical applications. Gen Pharmacol 27:963–971

Bemelman F, De Blok K, De Vries P, Surachno S, Ten Berge I (2004) Falciparum malaria transmitted by a thick blood smear negative kidney donor. Scand J Infect Dis 36:769–771

Bhalla A, Madhavan KT, Jajoo UN (2000) Repeated peripheral smear examination for diagnosis of severe and complicated malaria. Indian J Clin Pract 11:45–46

Bhalla A, Suri V, Singh V (2006) Malarial hepatopathy. J Postgrad Med 52:315–320

Bignami A, Bastianelli A (1889) Observations of estivo-autumnal fever. Reforma Med 6:1334–1335

Boonpucknavig S, Boonpucknavig V, Bhamarapravati N (1972) Immunopathological studies of Plasmodium berghei-infected mice. Arch Pathol 94:322–330

Boonpucknavig V, Boonpucknavig S, Bhamarapravati N (1973) Plasmodium berghei infection in mice. An ultrastructural study of immune complex nephritis. Am J Pathol 70:89–108

Breman JG, White NJ (1994) Malaria and Babesiosis. In: Isselbacher KJ, Eugene B, Wilson JD (eds) Harrison's principles of internal medicine, 13st edn. McGraw-Hill, New York, pp 887–896

Chugh KS, Sakhuja V (1998) Glomerular disease in the tropics. In: Davison AM, Cameron JS, Grunfeld JP, Kerr DNS, Ritz E, Winearls CG (eds) Oxford textbook of clinical nephrology, 2nd edn. Oxford Univ. Press, Oxford, UK, pp 703–719

Ehrich JH, Sterzel RB, Deicher HR, Foellmer HG (1981) Rat malarial glomerulonephritis. An experimental model of post-infectious glomerular injury. Virchows Arch 37:343–356

Eiam-Ong S (2003) Malarial nephropathy. Semin Nephrol 23:21–33

Eiam-Ong S, Sitprija V (1998) Falciparum malaria and the kidney: a model of inflammation. Am J Kidney Dis 32:361–375

El-Shoura SM (1994) Falciparum malaria in naturally infected human patients: X ultrastructural pathological alterations of renal glomeruli. Parasite 1:205–210

Fischer L, Sterneck M, Claus M, Costard-Jackle A, Fleischer B, Herbst H, Rogiers X, Broelsch CE (1999) Transmission of malaria tertiana by multi-organ donation. Clin Transplant 13:491–495

Gavigan CS, Kiely SP, Hirtzlin J, Bell A (2003) Cyclosporin-binding proteins of Plasmodium falciparum. Int J Parasitol 33:987–996

George CR, Parbtani A, Cameron JS (1976) Mouse malaria nephropathy. J Pathol 120:235–249

Giglioli G (1930) Malarial nephritis: epidemiological and clinical notes on malaria. Blackwater fever, albuminuria and nephritis in the interior of British Guiana, based on seven years' continual observation. Churchill, London

Giglioli G (1962) Malaria and renal disease with special reference to British Guiana. Ann Trop Med Parasitol 56:225–241

Giglioli G (1972) Changes in the pattern of mortality following the eradication of hyperendemic malaria from a highly susceptible community. Bull World Health Organ 46:181–202

Gilles HM, Hendrickse RG (1963) Nephrosis in Nigerian children: role of Plasmodium malariae, and effect of anti-malarial treatment. Br Med J 1:27–31

Grau GE, Frei K, Piguet PF, Fontana A, Heremans H, Billiau A, Vassalli P, Lambert PH (1990) Interleukin 6 production in experimental cerebral malaria: modulation by anticytokine antibodies and possible role in hypergammaglobulinemia. J Exp Med 172:1505–1508

Hendrickse RG, Adeniyi A, Edington GM, Glasgow EF, White RH, Houba V (1972) Quartan malarial nephrotic syndrome. Collaborative clinicopathological study in Nigerian children. Lancet 1:1143–1149

Houba V (1979) Quartan malarial nephrotic syndrome in children. Kidney Int 16:64–69

Houba V, Allison AC, Adeniyi A, Houba JE (1971) Immunoglobulin classes and complement in biopsies of Nigerian children with the nephrotic syndrome. Clin Exp Immunol 8:761–774

Hung CC, Chang SC, Chen YC, Yen TS, Hsieh WC (1994) Plasmodium vivax infection in a renal transplant recipient: report of a case. J Formos Med Assoc 93:888–889

Kibukamusoke JW, Hutt MS, Wilks NE (1967) The nephrotic syndrome in Uganda and its association with quartan malaria. Q J Med 36:393–408

Kilian AH, Mughusu EB, Kabagambe G, von Sonnenburg F (1997) Comparison of two rapid, HRP2-based diagnostic tests for Plasmodium falciparum. Trans R Soc Trop Med Hyg 91:666–667

Kocken CH, van der Wel A, Rosenwirth B, Thomas AW (1996) Plasmodium vivax : in vitro antiparasitic effect of cyclosporins. Exp Parasitol 84:439–443

Kumar R, Adams B, Musiyenko A, Shulyayeva O, Barik S (2005a) The FK506-binding protein of the malaria parasite, Plasmodium falciparum, is a FK506-sensitive chaperone with FK506-independent calcineurin-inhibitory activity. Mol Biochem Parasitol 141:163–173

Kumar R, Musiyenko A, Barik S (2005b) Plasmodium falciparum calcineurin and its association with heat shock protein 90: mechanisms for the antimalarial activity of cyclosporin A and synergism with geldanamycin. Mol Biochem Parasitol 141:29–37

Lloyd CM, Wozencraft AO, Williams DG (1993) Cell-mediated pathology during murine malaria-associated nephritis. Clin Exp Immunol 94:398–402

Mahakur AC, Panda SN, Nanda BK, Bose TK, Satpathy SR, Misra Y (1983) Malarial acute renal failure. J Assoc Phys India 31:633–616

Maheshwari A, Singh AK, Sinha DK, Tripathi K, Prakash J (2004) Spectrum of renal disease in malaria. J Indian Med Assoc 102:143–148

McGregor IA, Turner MW, Williams K, Hall P (1968) Soluble antigens in the blood of African patients with severe plasmodium falciparum infection in man. Lancet 1:881–884

Monaghan P, Bell A (2005) A Plasmodium falciparum FK506-binding protein (FKBP) with peptidyl–prolyl cis–trans isomerase and chaperone activities. Mol Biochem Parasitol 139:185–195

Moran E, Collins L, Clayton S, Peto T, Bowler IC (2004) Case of cryptic malaria. Commun Dis Public Health 7:142–144

Nand N, Aggarwal HK, Kumar P et al (1997) Hepatic and renal dysfunction in falciparum malaria. J Assoc Phys India 45:533–534

Nand N, Aggarwal HK, Sharma M, Singh M (2001) Systemic manifestations of malaria. J Indian Acad Clin Med 2(3):189–194 (July–September)

Naqvi R, Ahmad E, Akhtar F, Naqvi A, Rizvi A (2003) Outcome in severe acute renal failure associated with malaria. Nephrol Dial Transplant 18:1820–1823

Newbold C, Craig A, Kyes S, Rowe A, Fernadez RD, Fagan T (1999) Cytoadherance, pathogenesis and the infected red cell surface in Plasmodium falciparum. Int J Parasitol 29:927–937

Nickell SP, Scheibel LW, Cole GA (1982) Inhibition by cyclosporin A of rodent malaria in vivo and human malaria in vitro. Infect Immun 37:1093–1100

Pakasa M, Mangani N, Dikassa L (1993) Focal and segmental glomerulosclerosis in nephrotic syndrome: a new profile of adult nephrotic syndrome in Zaire. Mod Path 6:125–128

Pati SS, Mishra SK, Mohanty S, Pattnaik JK, Das BS (2003) Influence of renal impairment on plasma concentrations of conjugated bilirubin in cases of Plasmodium falciparum malaria. Ann Trop Med Parasitol 97:581–586

Phu NH, Hien TT, Mai NTH, Chau TTH, Chuong LV, Loc PP, Winearls CG, Farrar JJ, White NJ, Day NPJ (2002) Hemofiltration and peritoneal dialysis in infection associated acute renal failure in Vietnam. N Engl J Med 347:895–902

Prakash J, Gupta A, Kumar O, Rout S, Malhotra V, Srivastava P (1996) Acute renal failure in falciparum malaria: increasing prevalence in some areas of India—a need for awareness. Nephrol Dial Transplant 11:2414–2416

Prakash J, Singh AK, Gujrati S, Maheshwari A (2002) Acute renal failure in malaria: changing trends. Indian J Nephrol 12:113–117

Rajapurkar MM (1994) Renal involvement in malaria. Trop Nephrol 40:132–134

Romero Alvira D, Guerrero Navarro L, Gotor Lazaro MA, Roche Collado E (1995) Oxidative stress and infectious pathology. An Med Interna (Madr) 12:139–149

Sachs J, Malaney P (2002) The economic and social burden of malaria. Nature 415:680–685

Seggie JL, Dwomoa A (1988) Nephrotic syndrome in the Tropics. In: Cameron JS, Glassock RJ (eds) The nephrotic syndrome. Marcel Dekker, New York, NY, pp 653–695

Sever MS, Ecder T, Aydin AE, Turkmen A, Kilicaslan I, Uysal V, Eraksoy H, Calangu S, Carin M, Eldegez U (1994) Living unrelated (paid) kidney transplantation in Third-World countries: high risk of complications besides the ethical problem. Nephrol Dial Transplant 9:350–354

Sheehy TW, Reba RC (1967) Complications of falciparum malaria and their treatment. Ann Intern Med 66:807–809

Shortt HE, Fairley NH, Covell G, Shute PG, Garnham PC (1951) The pre-erythrocytic stage of Plasmodium falciparum. Trans R Soc Trop Med Hyg 44:405–419

Sinniah R, Churg J, Sobin LH (1988) Renal disease: classification and atlas of infectious and tropical diseases. ASCP, Chicago, IL

Sinniah R, Rui-Mei L, Kara A (1999) Up-regulation of cytokines in glomerulonephritis associated with murine malaria infection. Int J Exp Pathol 80:87–95

Sitprija V (1988) Nephropathy in falciparum malaria. Kidney Int 34:867–877

Sitprija V, Boonpucknavig V (1994) Renal involvement in parasitic diseases. In: Tisher CC, Brenner BM (eds) Renal pathology with clinical and functional correlations. Lippincott, Philadelphia, PA, pp 626–657

Thommen-Scott K (1981) Antimalarial activity of cyclosporin A. Agents Actions 11:770–773

Trang TT, Phu NH, Vinh H, Hien TT, Cuong BM, Chau TT, Mai NT, Waller DJ, White NJ (1992) Acute renal failure in patients with falciparum malaria. Clin Infect Dis 15:874–880

Turkmen A, Sever MS, Ecder T, Yildiz A, Aydin AE, Erkoc R, Eraksoy H, Eldegez U, Ark E (1996) Posttransplant malaria. Transplantation 62:1521–1523

van Velthuysen MLF, Florquin S (2000) Glomerulopathy associated with parasitic infections. Clin Microbiol Rev 13:55–66

Voller A (1974) Immunopathology of malaria. Bull World Health Organ 50:177–186

Voller A, Draper CC, Shwe T, Hutt MS (1971) Nephrotic syndrome in monkey infected with human quartan malaria. Br Med J 4(781):208–210

Ward PA, Conran PB (1966) Immunopathologic studies of simian malaria. Mil Med 131(9:Suppl):1225–1232

Ward PA, Kibukamusoke JW (1969) Evidence for soluble immune complexes in the pathogenesis of the glomerulonephritis of quartan malaria. Lancet 1(7589):283–285

Wedderburn N, Davies DR, Mitchell GH, Desgranges C, de The G (1988) glomerulonephritis in common marmosets infected with Plasmodium brasilianum and Epstein–Barr virus. J Infect Dis 158:789–794

White NJ (1996) The treatment of malaria. N Engl J Med 335:800–806

World Health Organization, Division of Control of Tropical Diseases (1990) Severe and complicated malaria. Trans R Soc Trop Med Hyg 84:1–65

Wilairatana P, Looareesuwan S, Charoenlarp P (1994) Liver profile changes and complications in jaundiced patients with falciparum malaria. Trop Med Parasitol 45:298–302

Wilairatana P, Westerlund EK, Aursudkij B, Vannaphan S, Krudsood S, Viriyavejakul P, Chokejindachai W, Treeprasertsuk S, Srisuriya P, Gordeuk VR, Brittenham GM, Neild G, Looareesuwan S (1999) Treatment of malarial acute renal failure by hemodialysis. Am J Trop Med Hyg 60:233–237

Wozencraft AO, Lloyd CM, Staines NA, Griffiths VJ (1990) Role of DNA-binding antibodies in kidney pathology associated with murine malaria infections. Infect Immun 58:2156–2164
About this article
Cite this article
Elsheikha, H.M., Sheashaa, H.A. Epidemiology, pathophysiology, management and outcome of renal dysfunction associated with plasmodia infection. Parasitol Res 101, 1183 (2007). https://doi.org/10.1007/s00436-007-0650-4
Received:

Accepted:

Published:
Keywords
Malaria

Nephrotic Syndrome

Acute Renal Failure

Renal Replacement Therapy

Falciparum Malaria