Abstract
Amblyomma triguttatum triguttatum is assumed to be endemic to south-western Western Australia (including Barrow Island), Queensland (excluding Cape York Peninsula), and New South Wales, south to Dubbo and Barham. The species has been recorded on a range of mammalian hosts including macropods and domestic animals. In Queensland, A. triguttatum triguttatum is implicated in the epidemiology of Q fever. In 2000, the species was detected on southern Yorke Peninsula in South Australia. We aimed to identify A. triguttatum triguttatum's hosts through trapping, sampling of carcasses, and opportunistic capture of vertebrates on Yorke Peninsula. A. triguttatum triguttatum was removed from black rats (Rattus rattus), wild rabbits (Oryctolagus cuniculus), western grey kangaroos (Macropus fuliginosus), Tammar wallabies (M. eugenii eugenii), domesticated cats and dogs, and humans. Before this study, A. triguttatum triguttatum had not been found on black rats or rabbits in the wild. This research has implications for the management of wildlife, livestock, and visitors on Yorke Peninsula. The potential for A. triguttatum triguttatum to spread to other areas of Yorke Peninsula and South Australia is considerable, as visitors (tourists) to southern Yorke Peninsula report the presence of ticks both on themselves and among camping equipment on arriving home.
This is a preview of subscription content, log in to check access.
Access options
Buy single article
Instant access to the full article PDF.
US$ 39.95
Price includes VAT for USA
Subscribe to journal
Immediate online access to all issues from 2019. Subscription will auto renew annually.
US$ 199
This is the net price. Taxes to be calculated in checkout.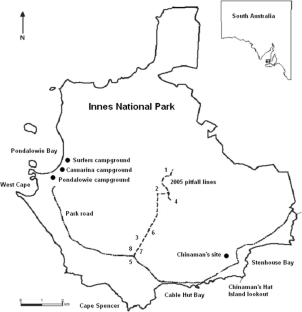 References
Arnold GW, Steven DE, Grassia A, Weeldenburg J (1992) Home-range size and fidelity of western grey kangaroos (Macropus fuliginosus) living in remnants of wandoo woodland and adjacent farmland. Wildl Res 19:137–143

Arricau-Bouvery N, Rodolakis A (2005) Is Q fever an emerging or re-emerging zoonosis? Vet Res 36:327–349

Cowdry EV (1925) Studies on the etiology of heartwater. I. Observations of a rickettsia, Rickettsia ruminatum (N. Sp.), in the tissues of infected animals. J Exp Med 42:231–255

Cumming GS (1999) Host distributions do not limit the species ranges of most African ticks (Acari: Ixodida). Bull Entomol Res 89:303–327

Cumming GS, Van Vuuren DP (2006) Will climate change affect ectoparasite species ranges? Glob Ecol Biogeogr 15:486–497

Cunningham AA (1996) Disease risks of wildlife translocations. Conserv Biol 10:349–353

Department for Environment and Heritage (2003) Innes National Park management plan. Government of South Australia, Adelaide

Department for Environment and Heritage (2004) Translocation proposal: re-introduction of mainland SA Tammar wallaby to Innes National Park, Adelaide, South Australia. Government of South Australia, Adelaide

Ellis LL (1955) A survey of the ectoparasites of certain mammals in Oklahoma. Ecology 36:12–18

Estrada-Peña A (2002) Increasing habitat suitability in the United States for the tick that transmits Lyme disease: a remote sensing approach. Environ Health Perspect 110:635–640

Estrada-Peña A (2003) The relationships between habitat topology, critical scales of connectivity and tick abundance Ixodes ricinus in a heterogeneous landscape in northern Spain. Ecograph 26:661–671

Gilbert L, Jones LD, Hudson PJ, Gould EA, Reid HW (2000) Role of small animals in the persistence of louping-ill virus: field survey and tick co-feeding studies. Med Vet Entomol 14:277–282

Gompper ME, Williams ES (1998) Parasite conservation and the black-footed ferret recovery program. Conserv Biol 12:730–732

Guglielmone AA (1990) Sites of attachment in Amblyomma triguttatum triguttatum Koch (Acari: Ixodidae) on natural hosts. Ann Parasitol Hum Comp 65:145–148

Guglielmone AA, Moorhouse DE (1985) Differences in nymphs of Amblyomma triguttatum triguttatum Koch moulting to males or females. Acarologia 26:7–11

Labruna MB, Souza SLP, Menezes AC, Horta MC, Pinter A, Gennari SM (2002) Life-cycle and host specificity of Amblyomma tigrinum (Acari: Ixodidae) under laboratory conditions. Exp Appl Acarol 24:115–125

Madhav NK, Brownstein JS, Tsao JI, Fish D (2004) A dispersal model for the range expansion of blacklegged tick (Acari: Ixodidae). J Med Entomol 41:842–852

Maurin M, Raoult D (1999) Q fever. Clin Microbiol Rev 12:518–553

McDiarmid L, Petney T, Dixon B, Andrews R (2000) Range expansion of the tick Amblyomma triguttatum triguttatum, an Australian vector of Q fever. Int J Parasitol 30:791–793

Mukhebi AW, Chamboko T, O'Callaghan CJ, Peter TF, Kruska RL, Medley GF, Mahan SM, Perry BD (1999) An assessment of the economic impact of heartwater (Cowdria ruminantium infection) and its control in Zimbabwe. Prev Vet Med 39:173–189

Ogden NH, Nuttall PA, Randolph SE (1997) Natural Lyme disease cycles maintained via sheep by co-feeding ticks. Parasitology 115:591–599

Oliver JH Jr (1989) Biology and systematics of ticks (Acari: Ixodida). Ann Rev Ecol Syst 20:397–430

Pestell AJL (2005) Patterns of capture, genetic structure, and diet of western pygmy possum, Cercartetus concinnus Gould (Marsupialia: Burramyidae), in Innes National Park, South Australia. Unpublished honours thesis, University of South Australia

Pestell AJL, Petit S (2007) Methods and ethical considerations of pitfall trapping for the western pygmy possum (Cercartetus concinnus Gould) (Marsupialia: Burramyidae), with observations on capture patterns and nest sites. Wildl Res 34:296–305

Pietzsch ME, Medlock JM, Jones L, Avenell D, Abbott J, Harding P, Leach S (2005) Distribution of Ixodes ricinus in the British Isles: investigation of historical records. Med Vet Entomol 19:306–314

Pope JH, Scott W, Dwyer R (1960) Coxiella burneti in kangaroos and kangaroo ticks in Western Queensland. Aust Exp Biol 38:17–28

Priddel D, Shepherd N, Wellard G (1988) Home ranges of sympatric red kangaroos Macropus rufus, and western grey kangaroos Macropus fuliginosus, in western New South Wales. Wildl Res 15:405–411

Randolph SE (2000) Ticks and tick-borne disease systems in space and from space. Adv Parasitol 47:217–243

Roberts FHS (1953) The Australian species of Aponomma and Amblyomma (Ixodoidea). Aust J Zool 1:111–161

Roberts FHS (1962) On the status of morphologically divergent tick populations of Amblyomma triguttatum Koch (Acarina: Ixodidae). Aust J Zool 10:367–381

Roberts FHS (1970) Australian ticks. CSIRO, Melbourne

Shaw MT, Keesing F, McGrail R, Ostfeld RS (2003) Factors influencing the distribution of larval blacklegged ticks on rodent hosts. Am J Trop Med 68:447–452

Sutherst RW (2001) The vulnerability of animal and human health to parasites under global change. Int J Parasitol 31:933–948

Turni C, Smales LR (2001) Parasites of the bridled nailtail wallaby (Onychogalea fraenata) (Marsupialia: Macropodidae). Wildl Res 28:403–411

Viggers KL, Lindenmayer DB, Spratt DM (1993) The importance of disease in reintroduction programmes. Wildl Res 20:687–698

Waudby HP, Petit S (2007) Seasonal density fluctuations of the exotic ornate kangaroo tick, Amblyomma triguttatum triguttatum Koch, and its distribution on Yorke Peninsula, South Australia. Parasitol Res (in press)
Acknowledgment
We are indebted to various people including Katherine Brownlie, Sarah Buckley, Peter Close, Alan Dickens, Christopher Havelberg, Michael Jervois, Serina Lattanzio, Larissa Lauder, Anna Llewellyn, Angela Pestell, Philip Roetman, Annette Scanlon, James Tomlinson, Ashley Walker, Hugh Waudby, Pam Waudby, Brian White, and Michael Rosewarne. Thank you to Matthew Gill who spent many days in the field throughout the study's duration. Thanks also to the Northern and Yorke Region Department for Environment and Heritage staff, particularly those at Innes National Park and Andrew Sharp. Sincere thanks to Graeme Coulson for his advice and demonstration of kangaroo catching techniques, Ian Beveridge for his comments on the paper, and also to Robert Sharrad for his advice on reptile capture and suggestions on the initial research. We would also like to acknowledge the continuing support of Olympus Australia. This research was funded by a University of South Australia Competitive Scheme Grant and a Nature Foundation of South Australia Scholarship, and conducted under a National Parks and Wildlife Scientific permit K25073 2 and ethics approval (92/05) from the IMVS Animal Ethics Committee.
About this article
Cite this article
Waudby, H.P., Petit, S., Dixon, B. et al. Hosts of the exotic ornate kangaroo tick, Amblyomma triguttatum triguttatum Koch, on southern Yorke Peninsula, South Australia. Parasitol Res 101, 1323–1330 (2007). https://doi.org/10.1007/s00436-007-0642-4
Received:

Accepted:

Published:

Issue Date:
Keywords
Home Range

Tick Species

Pitfall Trap

Life Cycle Stage

Oryctolagus Cuniculus