Abstract
We conducted this study to describe the serum electrophoretic pattern in dogs associated with the infection of Toxoplasma gondii (T. gondii). The serum protein pattern of 25 dogs with confirmed T. gondii infection and 15 clinically healthy dogs were evaluated using native polyacrylamide gel electrophoresis. Albumin, alpha-1 globulin, alpha-2 globulin, beta globulin, and gamma globulin bands were seen from the serum electrophoresis of infected and healthy dogs. Compared to the control group, significant decreases in the mean percentages of albumin (from 46.1 ± 7.2 to 40.8 ± 4.5%, P < 0.05), alpha-1 globulin (from 3.9 ± 0.4 to 0.8 ± 0.2%, P < 0.001), alpha-2 globulin (from 9.0 ± 0.4 to 8.3 ± 0.8%, P < 0.01), and beta globulin (from 18.4 ± 1.2 to 12.1 ± 0.6%, P < 0.001) in the infected group were determined. In contrast, gamma globulin fraction was significantly higher in infected dogs (38.1 ± 4.6%) than in control dogs (22.7 ± 7.2%; P < 0.001). Moreover, significant correlations were determined between the percentages of the albumin and gamma globulin fractions and liver enzyme tests including aspartate aminotransferase and alanine aminotransferase in infected dogs; however, no correlation was observed for the other protein fractions. In conclusion, marked alterations in serum protein pattern associated with strong modifications of serum protein concentrations are in accordance with the hepatic injury as affirmed by liver enzyme tests that were demonstrated in the canine toxoplasmosis. These findings showed that serum protein electrophoresis can be used in the diagnosis and prognosis of canine toxoplasmosis as a supplementary analysis in combination with serological, clinical, and laboratory findings of this disease.
This is a preview of subscription content, log in to check access.
Access options
Buy single article
Instant access to the full article PDF.
US$ 39.95
Price includes VAT for USA
Subscribe to journal
Immediate online access to all issues from 2019. Subscription will auto renew annually.
US$ 199
This is the net price. Taxes to be calculated in checkout.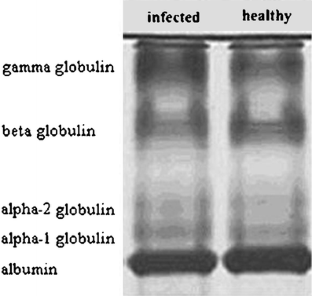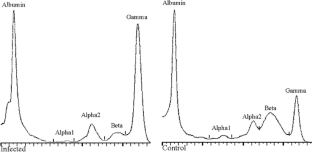 References
Aslantas O, Ozdemir V, Kilic S, Babur C (2005) Seroepidemiology of leptospirosis, toxoplasmosis, and leishmaniosis among dogs in Ankara, Turkey. Vet Parasitol 129:187–191

Babur C, Biyikoglu G, Piskin FC, Erdal N (1997) Istanbul sokak kopeklerinde toxoplasmozisin seroprevalansi. T Parazitol Derg 21:413–416

Bhopale GM (2003) Pathogenesis of toxoplasmosis. Comp Immunol Microbiol Infect Dis 26:213–222

Cakmak A, Karaer Z, Biyikoglu G, Babur C, Piskin FC (1996) Ankara'da sokak köpeklerinde tokzoplazmozisin seroprevalansý. FÜ Sag Bil Derg 10:279–282

Camacho AT, Guitian FJ, Pallas E, Gestal JJ, Olmeda S, Goethert H, Telford S, Spielman A (2005) Serum protein response and renal failure in canine Babesia annae infection. Vet Res 36:713–722

David F (2003) Protein electrophoresis in clinical diagnosis. Oxford University Press, New York

Dubey JP (1985) Toxoplasmosis in dogs. Canine Pract 12:7–28

Dubey JP, Lappin MR (1998) Toxoplasmosis and neosporosis. In: Greene CE (ed) Infectious diseases of the dog and cat. Saunders, Philadelphia, PA, pp 493–509

Duncan JR, Prasse KW (1982) Veterinary laboratory medicine—clinical pathology. Iowa State University, Ames, IA, pp 242

Filisetti D, Candolfi E (2004) Immune response to Toxoplasma gondii. Ann Ist Super Sanita 40:71–80

Georgi JR, Georgi ME (1992) Canine clinical parasitology. Lea & Febiger, Philadelphia, PA, 81:87–88

Hames BD, Rickwood D (1990) An introduction to polyacylamide gel electrophoresis. In: Hames BD, Rickwood D (eds) Gel electrophoresis of proteins: a practical approach. IRL, London, England, pp 23–40

Harrus S, Waner T, Avidar Y, Bogin E, Peh H, Bark H (1996) Serum protein alterations in canine ehrlichiosis. Vet Parasitol 66:241–249

Hauser W, Sharma S, Remington J (1983) Augmentation of NK cell activity by soluble and particulate fractions of Toxoplasma gondii. J Immunol 131:458–463

Inci A, Babur C, Cam Y, Ica A (2002) Kayseri yoresinde kopeklerde Toxoplasma gondii (Nicolle ve Manceaux, 1908) seroprevalansý. T Parazitol Derg 26:221–223

Lindsay DS, Dubey JP, Butler JM, Blagburn BL (1997) Mechanical transmission of Toxoplasma gondii oocysts by dogs. Vet Parasitol 73:27–33

Lobetti RG, Mohr AJ, Dippenaar T, Myburgh E (2000) A preliminary study on the serum protein response in canine babesiosis. J S Afr Vet Assoc 71:38–42

Meseck EK, Njaa BL, Haley NJ, Park EH, Barr SC (2005) Use of a multiplex polymerase chain reaction to rapidly differentiate Neospora caninum from Toxoplasma gondii in an adult dog with necrotizing myocarditis and myocardial infarct. J Vet Diagn Invest 17:565–568

Parish CR, Marchalonis JJ (1970) A simple and rapid acrylamide gel method for estimating the molecular weights of proteins and protein subunits. Anal Biochem 34:436–450

Rao CR (1973) Linear statistical inference and its applications. Wiley, New York

Rhyan J, Dubey JP (1992) Toxoplasmosis in an adult dog with hepatic necrosis and associated tissue cysts and tachyzoites. Can Pract 17:6–10

Ritzman SE, Daniels JC (1982) Serum protein electrophoresis and total serum proteins. In: Ritzman SE, Daniels JC (eds) Serum protein abnormalities: diagnostic and clinical aspects. Alan R. Liss, New York

Schalm OW, Jain NC, Carroll EJ (1975) The plasma proteins. In: Veterinary hematology, third edn. Lea & Febiger, Philadelphia, pp 602–630

Silva DAO, Cabral DD, Bernardina BLD, Souza MA, Mineo JR (1997) Detection of Toxoplasma gondii specific antibodies in dogs. A comparatire study of immunoenzymatic, immunoflurescent and haemagglutination titres. Mem Inst Oswaldo Cruz 92:785–789

Silva NM, Lourenço EV, Silva DAO, Mineo JR (2002) Optimisation of cut-off titres in Toxoplasma gondii specific ELISA and IFAT in dog sera using immunoreactivity to SAG-1 antigen as a molecular marker of infection. Vet J 163:94–98

Tarlow JM, Rudloff E, Lichtenberger M, Kirby R (2005) Emergency presentations of 4 dogs with suspected neurologic toxoplasmosis. J Vet Emerg Crit Care 15:119–127

Zaragoza C, Barrera R, Centeno F, Tapia JA, Duran E, Gonzalez M, Mane MC (2003) SDS-PAGE and Western blot of urinary proteins in dogs with leishmaniasis. Vet Res 34:137–151
Acknowledgment
The authors thank to Dr. Safa Gurcan, Department of Biostatistic, Faculty of Veterinary Medicine, Ankara University, for the statistic analysis. We would also like to thank Dr. Erol Handemir and Dr. Kadir Kamburgil for IFAT test, Veterinary Control and Research Institute, 42080, Konya, Turkey.
About this article
Cite this article
Yarim, G.F., Nisbet, C., Oncel, T. et al. Serum protein alterations in dogs naturally infected with Toxoplasma gondii . Parasitol Res 101, 1197–1202 (2007). https://doi.org/10.1007/s00436-007-0601-0
Received:

Accepted:

Published:

Issue Date:
Keywords
Beta Globulin

Toxoplasmosis

Infected Group

Gamma Globulin

Babesia