Abstract
Genetic variability is often predicted to enhance host fitness in the face of parasitism, yet this idea is rarely tested in an experimental setting, particularly with animal hosts. To assess this question, we used a relatively resistant line of snail hosts (Biomphalaria glabrata) to generate inbred and outcrossed progeny that were then either exposed or sham-exposed to the trematode parasite, Schistosoma mansoni. Results showed no difference in prevalence between the groups; however, large differences appeared in other host life history traits, particularly reproduction. Outcrossed progeny produced large numbers of eggs relative to inbred progeny especially in the face of infection. Furthermore, eggs produced by outcrossed snails took less time to hatch and exhibited greater hatching success compared to their inbred counterparts. Parasite reproduction demonstrated the opposite trend, with fewer parasites emerging from outcrossed snails compared to inbred individuals. This work shows that the introduction of genetic variation into inbred snail populations can have important implications for the viability of host populations and disease transmission.
This is a preview of subscription content, log in to check access.
Access options
Buy single article
Instant access to the full article PDF.
US$ 39.95
Price includes VAT for USA
Subscribe to journal
Immediate online access to all issues from 2019. Subscription will auto renew annually.
US$ 199
This is the net price. Taxes to be calculated in checkout.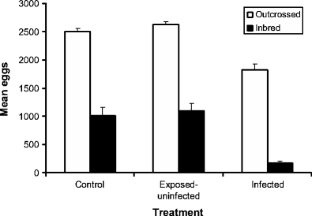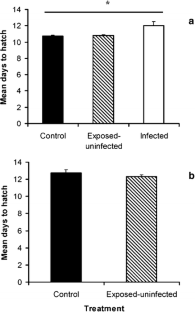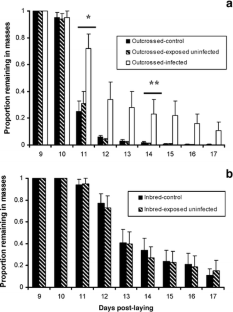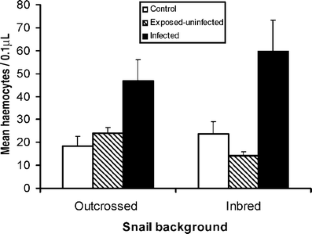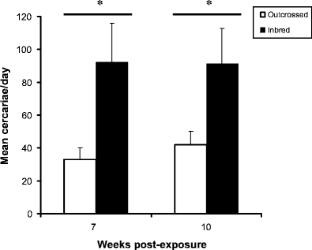 References
Agrawal AF, Lively CM (2001) Parasites and the evolution of self-fertilization. Evolution 55:869–879

Charbonnel N, Angers B, Rasatavonjizay R, Bremond P, Jarne P (2002) Evolutionary aspects of the metapopulation dynamics of Biomphalaria pfeifferi, the intermediate host for Schistosoma mansoni. J Evol Biol 15:248–261

Coltman DW, Pilkington JG, Smith JA, Pemberton JM (1999) Parasite-mediated selection against inbred soay sheep in a free-living island population. Evolution 53:1259–1267

Connors VA (2003) The schistosome–snail interaction: factors involved in host immunodefense activation and parasite killing in susceptible and resistant Biomphalaria glabrata. In: Combes C, Jourdane (eds) Taxonomie, écologie et évolution des métazoaires parasites. Taxonomy, ecology and evolution of metazoan parasites. Livre hommage à Louis Euzet. PUP, Perpignan, France

Ebert D, Haag C, Kirkpatrick M, Riek M, Hottinger JW, Pajunen VI (2002) A selective advantage to immigrant genes in a Daphnia metapopulation. Science 295:485–488

Gandon S, Capowiez Y, Dubois Y, Michalakis Y, Olivieri I (1996) Local adaptation and gene-for-gene coevolution in a metapopulation model. Proc R Soc London B Biol Sci 263:1003–1009

Goudet J (1995) FSTAT (version 1.2): a computer program to calculate F-statistics. J Heredity 86:485–486

Hawley DM, Sydenstricker KV, Kollias GV, Dhondt AA (2005) Genetic diversity predicts pathogen resistance and cell-mediated immunocompetence in house finches. Biol Lett 1:326–329

Hughes WHO, Boomsma JJ (2006) Does genetic diversity hinder parasite evolution in social insect colonies? J Evol Biol 19:132–143

Jarne P, Delay B (1990) Inbreeding depression and self-fertilization in Lymnaea peregra (Gastropoda: Pulmonata). Heredity 64:169–175

Jarne P, Delay B, Thaler L (1991) Self-fertilization versus cross-fertilization in the hermaphroditic freshwater snail Bulinus globosus. Evolution 45:1136–1146

Jones CS, Lockyer AE, Rollinson D, Piertney SB, Noble LR (1999) Isolation and characterization of microsatellite loci in the freshwater gastropod, Biomphalaria glabrata, an intermediate host for Schistosoma mansoni. Mol Ecol 8:2149–2151

Kraaijeveld AR, Limentani EC, Godfray HCJ (2001) Basis of the trade-off between parasitoid resistance and larval competitive ability in Drosophila melanogaster. Proc R Soc London B Biol Sci 268:259–261

Lively CM, Dybdahl ME (2000) Parasite adaptation to locally common host genotypes. Nature 405:679–681

Manning SD, Woolhouse MEJ, Ndamba J (1995) Geographic compatibility of the freshwater snail Bulinus globosus and schistosomes from the Zimbabwe highveld. Int J Parasitol 25:37–42

Mavarez J, Amarista M, Pointier JP, Jarne P (2002) Fine-scale population structure and dispersal in Biomphalaria glabrata, the intermediate snail host of Schistosoma mansoni, in Venezuela. Mol Ecol 11:879–889

Nei M (1987) Molecular evolutionary genetics. Columbia University Press, New York

Prugnolle F, Theron A, Pointier JP, Jabbour-Zahab R, Jarne P, Durand P, De Meeus T (2005) Dispersal in a parasitic worm and its two hosts: consequence for local adaptation. Evolution 59:296–303

Sandland GJ, Carmosini N (2006) Combined effects of a herbicide (atrazine) and predation on the life history of a pond snail, Physa gyrina. Environ Toxicol Chem 25:2216–2220

Sandland GJ, Minchella DJ (2003) Effects of diet and Echinostoma revolutum infection on energy allocation patterns in juvenile Lymnaea elodes snails. Oecologia 134:479–486

Southgate VR, Tchuente LAT, Theron A, Jourdane J, Ly A, Moncrieff CB, Gryseels B (2000) Compatibility of Schistosoma mansoni Cameroon and Biomphalaria pfeifferi Senegal. Parasitology 121:501–505

SPSS (2004) SPSS Base 13.0 User's Guide. SPSS Inc, Chicago

Trouve S, Degen L, Renaud F, Goudet J (2003) Evolutionary implications of a high selfing rate in the freshwater snail Lymnaea truncatula. Evolution 57:2303–2314

Trouve S, Degen L, Goudet J (2005) Ecological components and evolution of selfing in the freshwater snails, Galba truncatula. J Evol Biol 18:358–370

Webster J, Woolhouse MEJ (1999) Costs of resistance: relationship between fertility and increased resistance in a snail–schistosome host–parasite system. Proc R Soc London B Biol Sci 266:391–396

Wethington AR, Dillon RT (1997) Selfing, outcrossing and mixed mating in the freshwater snail Physa heterostropha: lifetime fitness and inbreeding depression. Invertebr Biol 116:192–199

Wethington AR, Zavodna M, Smith MK, Oliveira G, Lewis F, Minchella DJ (2007) Population genetic structure of Biomphalaria glabrata in a schistosomiasis-endemic region in Brazil. J Molluscan Stud 73(1):45–52
Acknowledgements
We would like to thank Jillian Detwiler and Elizabeth Thiele for their constructive comments on the manuscript. We would also like to thank Amy Wethington for helping to establish the snail crossing procedures. All work was performed using protocols approved by the Purdue Animal Care and Use Committee (PACUC). This work was supported by a grant from the National Institutes of Health (R01-AI-42768) to DJM.
About this article
Cite this article
Sandland, G.J., Foster, A.V., Zavodna, M. et al. Interplay between host genetic variation and parasite transmission in the Biomphalaria glabrata–Schistosoma mansoni system. Parasitol Res 101, 1083–1089 (2007). https://doi.org/10.1007/s00436-007-0593-9
Received:

Revised:

Accepted:

Published:

Issue Date:
Keywords
Hemocyte

Infected Snail

Isofemale Line

Snail Intermediate Host

Parasite Reproduction