Abstract
The first schizogony of Eimeria bovis takes place in lymphatic endothelial cells of the ileum, resulting in the formation of macroschizonts within 2–3 weeks. In this study, we analyse early cellular immune responses to infected host cells on the basis of peripheral blood mononuclear cell (PBMC) adhesion on and transmigration through infected bovine umbilical vein endothelial cell (BUVEC) monolayers. Adhesion of PBMC was upregulated by an E. bovis infection. Most marked effects were observed 1 day p.i.; thereafter, PBMC adhesion declined reaching control levels from day 8 p.i. onward. CD8+ T cells adhered more frequently to infected BUVEC (42%) than CD4+ T cells (25%). About one third of attached PBMC were represented by γδ-TCR+ T cells. Adhesion of T cells was not restricted to parasitised host cells, but occurred almost equally on non-infected BUVEC within the same monolayer. Furthermore, we found moderately enhanced levels of PBMC transmigration through infected BUVEC monolayers, in particular on day 2 p.i. The data presented here suggest that E. bovis infection of BUVEC induces endothelial cell-derived proinflammatory reactions, which appear suitable for the initiation of both adaptive and innate immune responses.
This is a preview of subscription content, log in to check access.
Access options
Buy single article
Instant access to the full article PDF.
US$ 39.95
Price includes VAT for USA
Subscribe to journal
Immediate online access to all issues from 2019. Subscription will auto renew annually.
US$ 199
This is the net price. Taxes to be calculated in checkout.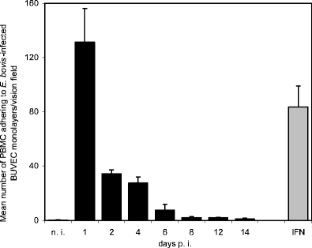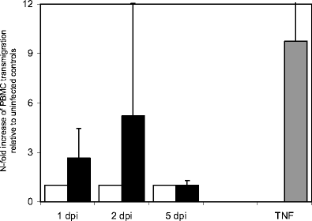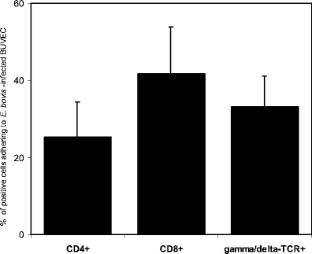 References
Bumstead J, Tomley F (2000) Induction of secretion and surface capping of microneme proteins in Eimeria tenella. Mol Biochem Parasitol 110:311–321

Butcher EC, Picker LJ (1996) Lymphocyte homing and homeostasis. Science 272:60–66

Daugschies A, Bürger HJ, Akimaru M (1998) Apparent digestibility of nutrients and nitrogen balance during experimental infection of calves with Eimeria bovis. Vet Parasitol 77(2–3):93–102

Dengler TJ, Raftery MJ, Werle M, Zimmermann R, Schonrich G (2000) Cytomegalovirus infection of vascular cells induces expression of pro-inflammatory adhesion molecules by paracrine action of secreted interleukin-1beta. Transplantation 69(6):1160–1168

Dixon WJ (1993) BMDP statistical software manual, University of California Press, Berkeley, Los Angeles, Oxford

Ebnet K, Vestweber D (1999) Molecular mechanisms that control leukocyte extravasation: the selectins and the chemokines. Histochem Cell Biol 112(1):1–23

Epperson DE, Pober JS (1994) Antigen-presenting function of human endothelial cells. Direct activation of resting CD8 T cells. J Immunol 153(12):5402–5412

Fabbri M, Bianchi E, Fumagalli L, Pardi R (1999) Regulation of lymphocyte traffic by adhesion molecules. Inflamm Res 48(5):239–246

Fiege N, Klatte D, Kollmann D, Zahner H, Burger HJ (1992) Eimeria bovis in cattle: colostral transfer of antibodies and immune response to experimental infections. Parasitol Res 78(1):32–38

Fitzgerald PR (1980) The economic impact of coccidiosis in domestic animals. Adv Vet Sci Comp Med 24:121–143

Hammond DM, Davis LR, Bowmann L (1964) Experimental infections with Eimeria bovis in calves. Am J Vet Res 5:303–311

Hermosilla C, Bürger HJ, Zahner H (1999) T cell responses in calves to a primary Eimeria bovis infection: phenotypical and functional changes. Vet Parasitol 84(1–2):49–64

Hermosilla C, Barbisch B, Heise A, Kowalik S, Zahner H (2002) Development of Eimeria bovis in vitro: suitability of several bovine, human and porcine endothelial cell lines, bovine fetal gastrointestinal, Madin–Darby bovine kidney (MDBK) and African green monkey kidney (VERO) cells. Parasitol Res 88(4):301–307

Hermosilla C, Zahner H, Taubert A (2006) Eimeria bovis modulates adhesion molecule gene transcription in and PMN adhesion to infected bovine endothelial cells. Int J Parasitol 36(4):423–431

Hughes HP, Thomas KR, Speer CA (1988) Antigen-specific lymphocyte transformation induced by oocyst antigens of Eimeria bovis. Infect Immun 56(6):1518–1525

Hughes HP, Whitmire WM, Speer CA (1989) Immunity patterns during acute infection by Eimeria bovis. J Parasitol 75(1):86–91

Jaffe E, Nachman R, Becker C, Mimnick C (1973) Culture of human endothelial cells derived from umbilical veins: identification by morphologic and immunologic criteria. J Clin Invest 52:2745

Lawrence MB, Springer TA (1991) Leukocytes roll on a selectin at physiologic flow rates: distinction from and prerequisite for adhesion through integrins. Cell 65(5):859–873

Ma W, Pober JS (1998) Human endothelial cells effectively costimulate cytokine production by, but not differentiation of, naive CD4+ T cells. J Immunol 161(5):2158–2167

Maly P, Thall AD, Petryniak B, Rogers CE, Smith PL, Marks RM, Kelly RJ, Gersten KM, Cheng G, Saunders TL, Camper SA, Camphausen RT, Sullivan FX, Isogai Y, Hindsgaul O, von Andrian UH, Lowe JB (1996) The (alpha)(1,3) fucosyltransferase Fuc-TVII controls leukocyte trafficking through an essential role in L-, E- and P-selectin ligand biosynthesis. Cell 87(4):1037–1047

Pober JS, Cotran RS (1991) Immunologic interactions of T lymphocytes with vascular endothelium. Adv Immunol 50:261–302

Radeke HH, Ludwig RJ, Boehncke WH (2005) Experimental approaches to lymphocyte migration in dermatology in vitro and in vivo. Exp Dermatol 14(9):641–666

Rodig N, Ryan T, Allen JA, Pang H, Grabie N, Chernova T, Greenfield EA, Liang SC, Sharpe AH, Lichtman AH, Freeman GJ (2003) Endothelial expression of PD-L1 and PD-L2 down-regulates CD8+ T cell activation and cytolysis. Eur J Immunol 33(11):3117–3126

Rose ME, Hesketh P (1982) Coccidiosis: T-lymphocyte-dependent effects of infection with Eimeria nieschulzi in rats. Vet Immunol Immunopathol 3(5):499–508

Rose ME, Joysey HS, Hesketh P, Grencis RK, Wakelin D (1988a) Mediation of immunity to Eimeria vermiformis in mice by L3T4+ T cells. Infect Immun 56(7):1760–1765

Rose ME, Wakelin D, Joysey HS, Hesketh P (1988b) Immunity to coccidiosis: adoptive transfer in NIH mice challenged with Eimeria vermiformis. Parasite Immunol 10(1):59–69

Rose ME, Wakelin D, Hesketh P (1990) Eimeria vermiformis: differences in the course of primary infection can be correlated with lymphocyte responsiveness in the BALB/c and C57BL/6 mouse, Mus musculus. Exp Parasitol 71(3):276–283

Rose ME, Hesketh P, Wakelin D (1992a) Immune control of murine coccidiosis: CD4+ and CD8+ T lymphocytes contribute differentially in resistance to primary and secondary infections. Parasitology 105(Pt 3):349–354

Rose ME, Millard BJ, Hesketh P (1992b) Intestinal changes associated with expression of immunity to challenge with Eimeria vermiformis. Infect Immun 60(12):5283–5290

Shi M, Huther S, Burkhardt E, Zahner H (2001) Lymphocyte subpopulations in the caecum mucosa of rats after infections with Eimeria separata: early responses in naive and immune animals to primary and challenge infections. Int J Parasitol 31(1):49–55

Speer CA, Reduker DW, Burgess DE, Whitmire WM, Splitter GA (1985) Lymphokine-induced inhibition of growth of Eimeria bovis and Eimeria papillata (Apicomplexa) in cultured bovine monocytes. Infect Immun 50(2):566–571

St Louis JD, Lederer JA, Lichtman AH (1993) Costimulator deficient antigen presentation by an endothelial cell line induces a nonproliferative T cell activation response without anergy. J Exp Med 178(5):1597–1605

Taubert A, Krüll M, Zahner H, Hermosilla C (2006a) Toxoplasma gondii and Neospora caninum infections of bovine endothelial cells induce endothelial adhesion molecule gene transcription and subsequent PMN adhesion. Vet Immunol Immunopathol 112(3–4):272–283

Taubert A, Zahner H, Hermosilla C (2006b) Dynamics of transcription of immunoregulatory genes in endothelial cells infected with different coccidian parasites. Vet Parasitol 142(3–4):214–222

Tedder TF, Steeber DA, Chen A, Engel P (1995) The selectins: vascular adhesion molecules. FASEB J 9(10):866–873

von Andrian UH, Mackay CR (2000) T-cell function and migration. Two sides of the same coin. N Engl J Med 343(14):1020–1034

Wagner JG, Roth RA (2000) Neutrophil migration mechanisms, with an emphasis on the pulmonary vasculature. Pharmacol Rev 52(3):349–374

Yang GX, Hagmann WK (2003) VLA-4 antagonists: potent inhibitors of lymphocyte migration. Med Res Rev 23(3):369–392
Acknowledgements
We are indebted to Prof. Dr. H. Bollwein and Dr. A. Koch (University of Veterinary Medicine, Hannover) for their kind cooperation and constant supply of bovine umbilical cords. Further, we acknowledge Brigitte Hofmann, Christina Scheld and Birgit Reinhardt for their excellent technical assistance in cell culture. We also thank K. Failing (Giessen) for support in statistical analyses of the data.
This work was supported by the German Research Foundation (DFG; project TA 291/1–2).
About this article
Cite this article
Taubert, A., Zahner, H. & Hermosilla, C. Eimeria bovis infection enhances adhesion of peripheral blood mononuclear cells to and their transmigration through an infected bovine endothelial cell monolayer in vitro. Parasitol Res 101, 591–598 (2007). https://doi.org/10.1007/s00436-007-0517-8
Received:

Accepted:

Published:

Issue Date:
Keywords
Peripheral Blood Mononuclear Cell

Roswell Park Memorial Institute

Infected Calf

Bovine Umbilical Vein Endothelial Cell

Eimeria Infection