Abstract
In vitro culture of Cryptosporidium parvum oocysts in HCT-8 cells was combined with immunofluorescent labelling and digital image analysis to quantify the development of the parasite by detecting and measuring the labelled area in the respective cell cultures. The number of inoculated oocysts and the labelled area correlated reliably and significantly (R 2, 0.98–0.99). The effects of various concentrations of halofuginone bromide (0.00039 to 50 μM) and monensin (0.00225 to 0.144 μM) on in vitro parasite development were determined in further trials in cultures inoculated each with 105 oocysts. Monensin reduced the detected area in a dose-dependant manner. In comparison to the untreated controls, the area positive for C. parvum in the cultures treated with 0.144 to 0.009 μM monensin reached a maximum of 17%, and inhibition of 40% was observed at 0.0045 μM. Halofuginone bromide also efficiently inhibited parasite in vitro reproduction, albeit at higher concentrations. At 12.5 μM or more, inhibition was at least 90%; 0.05 μM still yielded 80% inhibition, whereas at concentrations below 0.00625 μM, labelled areas abruptly increased. Both drugs appeared efficient under in vitro conditions; the applied system is suited to screen drugs for their anti-cryptosporidial capacity.
This is a preview of subscription content, log in to check access.
Access options
Buy single article
Instant access to the full article PDF.
US$ 39.95
Price includes VAT for USA
Subscribe to journal
Immediate online access to all issues from 2019. Subscription will auto renew annually.
US$ 199
This is the net price. Taxes to be calculated in checkout.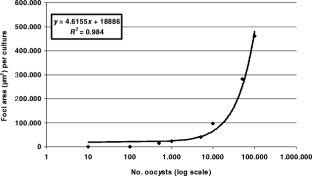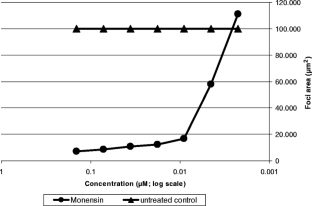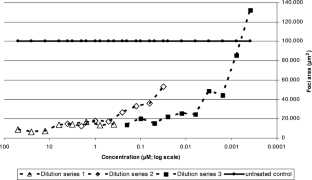 References
Armson A, Meloni BP, Reynoldson JA, Thompson RCA (1999) Assessment of drugs against Cryptosporidium parvum using a simple in vitro screening method. FEMS Microbiol Lett 178:227–233

Arrowood MJ (2002) In vitro cultivation of Cryptosporidium species. Clin Microbiol Rev 15:390–400

Cacciò SM, Pozio E (2006) Advances in the epidemiology, diagnosis and treatment of cryptosporidiosis. Expert Rev Anti Infect Ther 4:429–443

Chalmers RM (2003) Cryptosporidium as a public health challenge. In: Thompson RCA, Armson A, Ryan UM (eds) Cryptosporidium: from molecules to disease. Elsevier, Amsterdam, pp 97–112

Dawson D (2005) Foodborne protozoan parasites. Int J Food Microbiol 103:207–227

Fayer R (2004) Cryptosporidium: a water-borne zoonotic parasite. Vet Parasitol 126:37–56

Fayer R, Speer CA, Dubey JP (1997) The general biology of Cryptosporidium. In: Fayer R (ed) Cryptosporidium and Cryptosporidiosis. CRC, Boca Raton, pp 1–42

Heine J (1982) Eine einfache Nachweismethode für Kryptosporidien im Kot. Zentralbl Veterinärmed B 29:324–327

Heine J, Pohlenz JFL, Moon HW, Woode GN (1984) Enteric lesions and diarrhea in gnotobiotic calves monoinfected with Cryptosporidium species. J Infect Dis 150:768–775

Hijjawi N (2003) In vitro cultivation and development of Cryptosporidium in cell culture. In: Thompson RCA, Armson A, Ryan UM (eds) Cryptosporidium: from molecules to disease. Elsevier, Amsterdam, pp 233–253

Hunter PR, Thompson RCA (2005) The zoonotic transmission of Giardia and Cryptosporidium. Int J Parasitol 35:1181–1190

Jenkins M, Trout JM, Higgins J, Dorsch M, Veal D, Fayer R (2003) Comparison of tests for viable and infectious Cryptosporidium parvum oocysts. Parasitol Res 89:1–5

McDonald V, Stables R, Warhurst DC, Barer MR, Blewett DA, Chapman HD, Connolly GM, Chiodini PL, McAdam KP (1990) In vitro cultivation of Cryptosporidium parvum and screening for anticryptosporidial drugs. Antimicrob Agents Chemother 34:1498–1500

Meloni BP, Thompson RCA (1996) Simplified methods for obtaining purified oocysts from mice and for growing Cryptosporidium parvum in vitro. J Parasitol 82:757–762

Monis PT, Thompson RC (2003) Cryptosporidium and Giardia zoonoses: fact or fiction? Infect Genet Evol 3:233–244

O'Donoghue P (1995) Cryptosporidium and cryptosporidiosis in man and animals. Int J Parasitol 25:139–195

Olson ME, Ralston BJ, O'Handley R, Guselle NJ, Appelbee AJ (2003) What is the clinical and zoonotic significance of cryptosporidiosis in domestic animals and wildlife. In: Thompson RCA, Armson A, Ryan UM (eds) Cryptosporidium: from molecules to disease. Elsevier, Amsterdam, pp 51–68

Pohlenz J (1987) Die Kryptosporidiose bei Menschen und Tieren. Dtsch tierärztl Wochenschr 94:67–70

Ramirez NE, Ward LA, Sreevatsan S (2004) A review of the biology and epidemiology of cryptosporidiosis in humans and animals. Microbes Infect 6:773–785

Rochelle PA, Marshall MM, Mead JR, Johnson AM, Korich DG, Rosen JS, DeLeon R (2002) Comparison of in vitro cell culture and a mouse assay for measuring infectivity of Cryptosporidium parvum. Appl Environ Microbiol 68:3809–3817

Rochelle PA, Mofidi AA, Linden KG, DeLeon R (2003) Measuring inactivation of Cryptosporidium parvum by in vitro cell culture. In: Thompson RCA, Armson A, Ryan UM (eds) Cryptosporidium: from molecules to disease. Elsevier, Amsterdam, pp 225–231

Sears CL, Guerrant RL (1994) Cryptosporidiosis: the complexity of intestinal pathophysiology. Gastroenterology 106:252–254

Shin GA, Linden KG, Arrowood MJ, Sobsey MD (2001) Low-pressure UV inactivation and DNA repair potential of Cryptosporidium parvum oocysts. Appl Environ Microbiol 67:3029–3032

Smith HV, Corcoran GD (2004) New drugs and treatment for cryptosporidiosis. Curr Opin Infect Dis 17:557–564

Zardi EM, Picardi A, Afeltra A (2005) Treatment of cryptosporidiosis in immunocompromised hosts. Chemotherapy 51:193–196
About this article
Cite this article
Najdrowski, M., Heckeroth, A.R., Wackwitz, C. et al. Development and validation of a cell culture based assay for in vitro assessment of anticryptosporidial compounds. Parasitol Res 101, 161–167 (2007). https://doi.org/10.1007/s00436-006-0437-z
Received:

Accepted:

Published:

Issue Date:
Keywords
Cryptosporidium parvum

Halofuginone

Monensin

In vitro cultivation

Growth inhibition