Abstract
An immunochromatographic test (ICT) using recombinant BgSA1 (rBgSA1) for the detection of antibodies against Babesia gibsoni was developed and evaluated. Only the serum samples collected from dogs infected with B. gibsoni were positive in the ICT, but the serum samples from dogs infected with closely related parasites and from healthy dogs were negative. The specific antibodies could be detected in a dog experimentally infected with B. gibsoni at both the acute and chronic infection stages by the ICT. To evaluate the clinical application of the ICT, a total of 94 serum samples collected from domestic dogs in Japan were tested with the ICT and the previously established enzyme-linked immunosorbent assay (ELISA) with rBgSA1. Twenty-one of the tested samples (22.3%) were positive in both the ICT and the ELISA. The concordance between the ELISA and the ICT was found to be 95.8%. These results suggested that the ICT using rBgSA1 is rapid, simple, accurate, and suitable for the diagnosis of B. gibsoni infection of dogs in the field.
This is a preview of subscription content, log in to check access.
Access options
Buy single article
Instant access to the full article PDF.
US$ 39.95
Price includes VAT for USA
Subscribe to journal
Immediate online access to all issues from 2019. Subscription will auto renew annually.
US$ 199
This is the net price. Taxes to be calculated in checkout.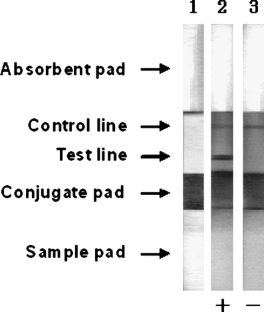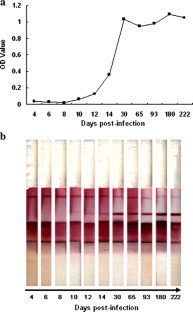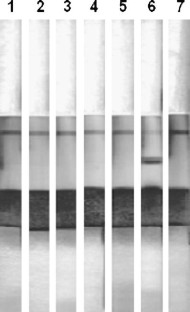 References
Boozer AL, Macintire DK (2003) Canine babesiosis. Vet Clin North Am Small Anim Pract 33:855–904

Fukumoto S, Sekine Y, Xuan X, Igarashi I, Sugimoto C, Nagasawa H, Fujisaki K, Mikami T, Suzuki N (2004) Serodiagnosis of canine Babesia gibsoni infection by enzyme-linked immunosorbent assay with recombinant P50 expressed in Escherichia coli. J Parasitol 90:387–391

Fukumoto S, Xuan X, Igarashi I, Zhang S, Mugisha J, Ogata T, Nagasawa H, Fujisaki K, Suzuki N, Mikami T (2000) Morphological changes of Babesia gibsoni proliferated in canine red blood cell-substituted severe combined immunodeficiency mice. J Parasitol 86:956–959

Garcia AT (2006) Piroplasma infection in dogs in northern Spain. Vet Parasitol 138:97–102

Inokuma H, Yoshizaki Y, Matsumoto K, Okuda M, Onishi T, Nakagome K, Kosugi R, Hirakawa M (2004) Molecular survey of Babesia infection in dogs in Okinawa, Japan. Vet Parasitol 121:341–346

Jia H, zhou J, Ikadai H, Matsuu A, Suzuki H, Igarashi I, Fujisaki K, and Xuan X (2006) Identification of a novel gene encoding a secreted antigen 1 of Babesia gibsoni and evaluation of its use in serodiagnosis. Am J Trop Med Hyg 75:843–850

Kjemtrup AM, Conrad PA (2006) A review of the small canine piroplasms from California: Babesia conradae in the literature. Vet Parasitol 38:112–117

Kjemtrup AM, Kocan AA, Whitworth L, Meinkoth J, Birkenheuer AJ, Cummings J, Boudreaux MK, Stockham SL, Irizarry-Rovira A, Conrad PA (2000) There are at least three genetically distinct small piroplasms from dogs. Int J Parasitol 30:1501–1505

Macintire DK, Boudreaux MK, West GD, Bourne C, Wright JC, Conrad PA (2002) Babesia gibsoni infection among dogs in the southeastern United States. J Am Vet Med Assoc 220:325–329

Miyama T, Sakata Y, Shimada Y, Ogino S, Watanabe M, Itamoto K, Okuda M, Verdida A, Xuan X, Nagasawa H, Inokuma H (2005) Epidemiological survey of Babesia gibsoni infection in dogs in eastern Japan. J Vet Med Sci 67:467–471

Muhlnickel CJ, Jefferies R, Ryan UM, Irwin PJ (2002) Babesia gibsoni infection in three dogs in Victoria. Aust Vet J 8:606–610

Verdida RA, Hara OA, Xuan X, Fukumoto S, Igarashi I, Zhang S, Dong J, Inokuma H, Kabeya H, Sato Y, Moritomo T, Maruyama S, Claveria F, Nagasawa H (2004) Serodiagnosis of Babesia gibsoni infection in dogs by an improved enzyme-linked immunosorbent assay with recombinant truncated P50. J Vet Med Sci 66:1517–1521

Verdida RA, Xuan X, Fukumoto S, Huang X, Zhou J, Igarashi I, Claveria FG, Nagasawa H (2005) Development of a practical immunochromatographic test with recombinant P50 for the diagnosis of Babesia gibsoni infection in dogs. Parasitology 131:769–774

Yamane I, Thomford JW, Gardner IA, Dubey JP, Levy M, Conrad PA (1993) Evaluation of the indirect fluorescent antibody test for diagnosis of Babesia gibsoni infections in dogs. Am J Vet Res 54:1579–1584
Acknowledgment
This work was supported by a grant from the 21st Century COE Program (A-1) and a Grant-in-Aid for Scientific Research, both from the Ministry of Education, Culture, Sports, Science, and Technology of Japan. All of the experiments in this study comply with the current laws of Japan.
About this article
Cite this article
Jia, H., Liao, M., Lee, E. et al. Development of an immunochromatographic test with recombinant BgSA1 for the diagnosis of Babesia gibsoni infection in dogs. Parasitol Res 100, 1381–1384 (2007). https://doi.org/10.1007/s00436-006-0392-8
Received:

Accepted:

Published:

Issue Date:
Keywords
Babesia

Indirect Fluorescent Antibody Test

Leishmania Infantum

Immunochromatographic Test

Related Parasite