Abstract
Adult trematodes of the genus Stegodexamene Macfarlane, 1951 were recorded from the intestines of two species of freshwater eels, the Pacific short-finned eel Anguilla obscura Günther and the speckled longfin eel Anguilla reinhardtii Steindachner from the Pouembout and La Foa Rivers, New Caledonia, South Pacific. They were identified as Stegodexamene anguillae Macfarlane, 1951, a species previously reported only from eels in New Zealand. The morphology of adult S. anguillae seems to be practically identical with that of the later described Stegodexamene callista Watson 1984 from eels in Australia. The finding of S. anguillae in A. obscura and A. reinhardtii in New Caledonia represents new geographical and host records. In addition to this trematode, two larval specimens of a cestode of the order Proteocephalidea were found in the intestine of one A. obscura from the Pouembout River. No monogenean was found in eels of New Caledonia.
This is a preview of subscription content, log in to check access.
Access options
Buy single article
Instant access to the full article PDF.
US$ 39.95
Price includes VAT for USA
Subscribe to journal
Immediate online access to all issues from 2019. Subscription will auto renew annually.
US$ 199
This is the net price. Taxes to be calculated in checkout.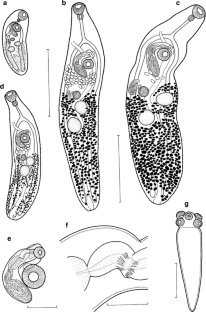 References
Blair D (1984) A checklist and bibliography of parasites of New Zealand freshwater fish. Mauri Ora 11:5–50

Bray RA, Justine JL (2006) Hypocreaduim toombo n. sp. (Digenea: Lepocreadiidae) in the yellow-spotted triggerfish Pseudobalistes fuscus (Perciformes: Balistidae) and additional lepocreadiids parasitizing fishes from the waters off New Caledonia. Zootaxa 1326:37–44

Caira JN, Bogéa T (2005) Family Allocreadiidae Looss, 1902. In: Jones A, Bray RA, Gibson DI (eds) Keys to the Trematoda, vol 2. CABI Publishing, Wallingford, UK

Froese R, Pauly D (eds) (2006) FishBase. http://www.fishbase.org, version 01/07/2006

Graynoth E, Taylor MJ (2000) Influence of different rations and water temperatures on the growth rates of shortfinned eels and longfinned eels. J Fish Biol 57:681–699

Hewitt GC, Hine PM (1972) Checklist of parasites of New Zealand fishes and of their hosts. N Zealand J Mar Freshw Res 6:69–114

Hine PM (1980) Distribution of helminths in the digestive tracts of New Zealand freshwater eels. 1. Distribution of digeneans. N Zealand J Mar Freshw Res 14:329–338

Hine PM, Francis RICC (1980) Distribution of helminths in the digestive tracts of New Zealand freshwater eels. 3. Interspecific associations and conclusions. N Zealand J Mar Freshw Res 14:349–356

Holton AL (1984) Progenesis as a means of abbreviating life histories in two New Zealand trematodes, Coitocaecum parvum Crowcroft, 1945 and Stegodexamene Anguillae Macfarlane, 1951. Mauri Ora 11:63–70

Khalil LF, Jones A, Bray RA (eds) (1994) Keys to the cestode parasites of vertebrates. CAB International, Wallingford, UK

Macfarlane WV (1951) The life cycle of Stegodexamene anguillae n. g., n. sp., an allocreadiid trematode from New Zealand. Parasitology 41:1–10

Macfarlane WV (1952) Bionomics of two trematode parasites of New Zealand eels. J Parasitol 38:391–397

Manter HW (1954) Some digenetic trematodes from fishes of New Zealand. Trans Roy Soc N Z 82:475–568

Moravec F, Justine J-L (2006) Camallanus cotti (Nematoda: Camallanidae), an introduced parasite of fishes in New Caledonia. Folia Parasitol 53:287–296

Moravec F, Justine J-L, Würtz J, Taraschewski H, Sasal P (2006) A new species of Procamallanus (Nematoda: Camallanidae) from Pacific eels (Anguilla spp.). J Parasitol 92:130–137

Poulin R, Lefebvre F (2005) Alternative life-history and transmission strategies in a parasite: first come, first served? Parasitology 132:135–141

Rid LE (1973) Helminth parasites of the long-finned, Anguilla dieffenbachii, and the short-finned eel, A. australis. Mauri Ora 1:99–106

Srivastava CB (1962) A new allocreadiid trematode, Rhynchocreadium aculeatum gen. et sp. nov., from the freshwater eel, Rhanchobdella aculeata Bloch. Indian J Helminthol 14:1–4

Watson RA (1984) The life cycle and morphology of Tetracerasta blepta, gen. et sp. nov., and Stegodexamene callista, sp. nov. (Trematoda: Lepocreadiidae) from the long-finned eel, Anguilla reinhardtii Steindachner. Aust J Zool 32:177–204

Yamaguti S (1971) Synopsis of digenetic trematodes of vertebrates, vol. I, II. Keigaku Publishing Co., Tokyo
Acknowledgements
Yann Pellequer (Direction du Développement Économique et de l'Environnement, Province Nord, Poindimié, New Caledonia) kindly provided the eels from Pouembout and Ponérihouen. Dr. Christine Pöllabauer (Erbio, Nouméa, New Caledonia) kindly organized two electrofishing expeditions to the La Foa and Dumbéa Rivers and is thanked for her collaboration, fish identification, and fruitful discussions. Julie Mounier, Anaïs Guérin, Audrey Guillou, Charles Beaufrère, and Eric Bureau, students, participated in the fishing expeditions and parasitological surveys. Angelo Di Matteo (IRD, Nouméa) is thanked for technical help. Thanks are also due to Irena Husáková from the Institute of Parasitology, Biology Centre, ASCR in České Budějovice for her technical assistance and help with the preparation of illustrations. This study was partly supported by grant no. 524/06/0170 from the Grant Agency of the Czech Republic and by the research projects of the Institute of Parasitology, ASCR (Z60220518 and LC522).
About this article
Cite this article
Moravec, F., Justine, J. Stegodexamene anguillae (Digenea: Lepocreadiidae), an intestinal parasite of eels (Anguilla spp.) in New Caledonia. Parasitol Res 100, 1047–1051 (2007). https://doi.org/10.1007/s00436-006-0386-6
Received:

Accepted:

Published:

Issue Date:
Keywords
Body Length

Ventral Sucker

Vitelline Follicle

Anterior Testis

Intestinal Bifurcation