Abstract
In this study, PCR and thin blood smear-based diagnostic methods were used to assess the frequency of Babesia infection in small ruminants. A total of 300 sheep and 100 goats from 37 randomly selected herds located in eight locations of eastern Turkey were examined for the presence of Babesia infection and any tick species on the body of the animals. Of 400 blood samples examined, 6 (1.5%) were positive for Babesia spp. piroplasms upon microscopic examination, whereas 33 (8.25%) were positive for the presence of B. ovis by PCR. The prevalence of babesiosis in small ruminants detected by PCR was significantly higher than obtained in microscopic examination of thin blood smears (P < 0.05). Thirty-three animals produced the DNA fragment specific for Babesia ovis of which 32 (10.66%) were sheep and 1 (1%) was goat. The difference between the prevalence of Babesia infection in sheep and goats were statistically significant (P < 0.05). The prevalence of Babesia infection in different age groups of sheep were statistically non-significant (P > 0.05). The frequency of B. ovis infection was higher in herds with tick burden than no tick burden (P < 0.05). Seven amplicons (six from sheep and one from goat) were sequenced. The resulting sequences were identical to the recently reported nucleotide sequence of B. ovis. A total of 510 ticks belonging to the Rhipicephalus spp. were collected from sheep. Ticks were identified to be R. bursa and R. turanicus on the basis of morphological features.
This is a preview of subscription content, log in to check access.
Access options
Buy single article
Instant access to the full article PDF.
US$ 39.95
Price includes VAT for USA
Subscribe to journal
Immediate online access to all issues from 2019. Subscription will auto renew annually.
US$ 199
This is the net price. Taxes to be calculated in checkout.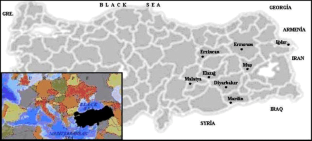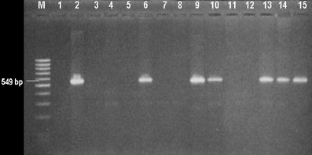 References
Aktas M, Duzgun A, Babür C (2001) Seroprevalence of Babesia ovis in sheep in Malatya. Turkish Journal of Veterinary and Animal Sciences 25:241–243 (in Turkish)

Aktas M, Altay K, Dumanli N (2005) Development of a polymerase chain reaction method for diagnosis of Babesia ovis infection in sheep and goats. Vet Parasitol 133:277–281

Altay K, Dumanli N, Holman PJ, Aktas M (2005) Detection of Theileria ovis in naturally infected sheep by nested PCR. Vet Parasitol 127:99–104

Calder JA, Reddy GR, Chieves L, Courney CH, Littell R, Livengood JR, Norval RA, Smith G, Dame JB (1996) Monitoring Babesia bovis infections in cattle by using PCR-based test. J Clin Microbiol 34:2748–2755

Duzgun A, Wright IG, Waltisbuhlb DJ, Galeb KR, Goodgerb BV, Dargie JD, Alabay M, Cerci H (1991) An ELISA for the diagnosis of Babesia ovis infection utilizing a synthetic, Babesia bovis-derived antigen. Vet Parasitol 39:225–231

Estrada-Peña A, Bouattour A, Camicas JL, Walker AR (2004) Ticks of domestic animals in the Mediterranean region. University of Zaragoza, Spain

Friedhoff KT (1997) Tick-borne diseases of sheep and goats caused by Babesia, Theileria or Anaplasma spp. Parassitologia 39:99–109

Hashemi-Fesharki R (1997) Tick-borne diseases of sheep and goats and their related vectors in Iran. Parassitologia 39:115–117

Levine ND (1985) Apicomplexa: the piroplasms. Veterinary protozoology. Iowa State University Pres, Ames

Mehlhorn H, Schein E (1984) The piroplasms: life cycle and sexual stages. Adv Parasitol 23:37–103

Morel P (1989) Tick-borne diseases of livestock in Africa. In: Fischer S, Say RR (eds) Manual of tropical veterinary parasitology. CAB International, Wallingford

Nagore D, García-Sanmartín J, García-Pérez AL, Juste RA, Hurtado A (2004) Identification, genetic diversity and prevalence of Theileria and Babesia species in sheep population from Northern Spain. Int J Parasitol 34:1059–1067

Papadopoulos B, Brossard M, Perie NM (1996) Piroplasms of domestic animals in Macedonia of Greece. 3. Piroplasms of small ruminants. Vet Parasitol 63:67–74

Passos LM, Bell-Sakyi L, Brown CG (1998) Immunochemical charecterization of in vitro culture-derived antigens of Babesia bovis and Babesia bigemina. Vet Parasitol 76:239–249

Razmi GR, Naghibi A, Aslani MR, Fathivand M, Dastjerdi K (2002) An epidemiological study on ovine babesiosis in the Mashhad suburb area, province of Khorasan, Iran. Vet Parasitol 108:109–115

Razmi GR, Naghibi A, Aslani MR, Dastjerdi K, Hossieni H (2003) An epidemiological study on Babesia infection in small ruminants in Mashhad suburb, Khorasan province, Iran. Small Rumin Res 50:39–44

Sayin F, Dumanli N (1982) Elazig bölgesinde hayvanlarda görülen kene (Ixodidae) türleri ile ilgili epizootiyolojik arastirmalar. Ankara Univ Vet Fak Derg 29:344–362 (in Turkish)

Sayin F, Dyncer S, Karaer Z, Cakmak A, Yukary BA, Eren H, Deger S, Nalbantoglu S (1997) Status of the tick-borne diseases in sheep and goats in Turkey. Parassitologia 39:153–156

Schnittger L, Yin H, Qi B, Gubbels MJ, Beyer D, Niemann S, Jongejan F, Ahmed JS (2004) Simultaneous detection and differentiation of Theileria and Babesia parasites infecting small ruminants by reverse line blotting. Parasitol Res 92:189–196

Theodoropoulos G, Gazouli M, Ikonomopoulos JA, Kantzoura V, Kominakis A (2005) Determination of prevalence and risk factors of infection with Babesia in small ruminants from Greece by polymerase chain reaction amplification. Vet Parasitol 135:99–104

Uilenberg G (2001) Babesiosis. In: Wallingford MW (ed) Encyclopedia of artropod-transmitted infection of man and domesticated animals. CABI Publishing, UK

Yeruham I, Hadani A, Galker F, Rosen S (1995) A study of an enzootic focus of sheep babesiosis (Babesia ovis, Babes, 1892). Vet Parasitol 60:349–354
Acknowledgements
The authors would like to thank all veterinarians and technicians for their kind help during the sample collection for this study. This study was supported by a grant (104 O 393) from the Scientific and Technical Research Council of Turkey (TUBITAK).
Additional information
Nucleotide sequences data reported in this paper are available in EMBL, GenBank and DDJB databases under the accession numbers: DQ409332, DQ409333, DQ409334, DQ409335, DQ409336, DQ409337, DQ409338.
About this article
Cite this article
Aktas, M., Altay, K. & Dumanli, N. Determination of prevalence and risk factors for infection with Babesia ovis in small ruminants from Turkey by polymerase chain reaction. Parasitol Res 100, 797–802 (2007). https://doi.org/10.1007/s00436-006-0345-2
Received:

Accepted:

Published:

Issue Date:
Keywords
Small Ruminant

Babesia

Giemsa Stain

Tick Infestation

Babesiosis