Abstract
Neospora caninum is a tissue cyst-forming coccidium that may cause neuromuscular disorders in dogs. Infected bitches can transmit the parasite to their pups in utero. Vertical transmission may occur after primary infection during pregnancy and in subsequent pregnancies. The reason why only a few pups develop clinical neosporosis is unknown. We obtained sera from a Doberman bitch and its offspring delivered in three litters. The bitch had a titer of 1:640 in an indirect fluorescent antibody test (IFAT). At least three pups of litter A, one pup of litter B, and two pups of litter C were also seropositive for N. caninum. However, clinical neosporosis developed only in one pup of litter C, which had the highest IFAT titer (1:5,120) of all dogs examined. Western blots carried out after one-dimensional and two-dimensional separation of N. caninum tachyzoites revealed that the largest number of antigens was recognized by sera derived from the bitch. The lowest number of antigens was recognized by serum from the pup with clinical neosporosis. However, this pup uniquely recognized a major antigen with a molecular weight of about 17,000. The information collected in this study adds to our knowledge on why some pups develop clinical neosporosis and others do not.
This is a preview of subscription content, log in to check access.
Access options
Buy single article
Instant access to the full article PDF.
US$ 39.95
Price includes VAT for USA
Subscribe to journal
Immediate online access to all issues from 2019. Subscription will auto renew annually.
US$ 199
This is the net price. Taxes to be calculated in checkout.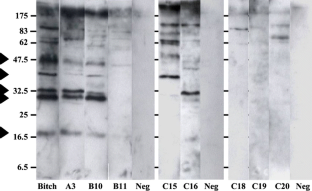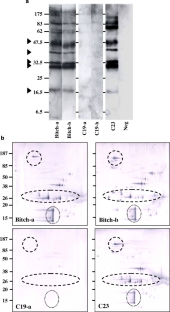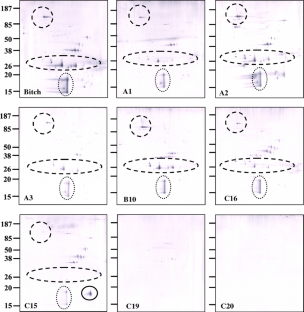 References
Almería S, Ferrer D, Pabón M, Castellà J, Mañas S (2002) Red foxes (Vulpes vulpes) are a natural intermediate host of Neospora caninum. Vet Parasitol 107:287–294

Barber JS, Trees AJ (1996) Clinical aspects of 27 cases of neosporosis in dogs. Vet Rec 139:439–443

Barber JS, Trees AJ (1998) Naturally occurring vertical transmission of Neospora caninum in dogs. Int J Parasitol 28:57–64

Barber JS, Gasser RB, Ellis J, Reichel MP, McMillan D, Trees AJ (1997) Prevalence of antibodies to Neospora caninum in different canid populations. J Parasitol 83:1056–1058

Basso W, Venturini L, Venturini MC, Hill DE, Kwok OCH, Shen SK, Dubey JP (2001) First isolation of Neospora caninum from the feces of a naturally infected dog. J Parasitol 87:612–618

Basso W, Venturini MC, Bacigalupe D, Kienast M, Unzaga JM, Larsen A, Machuca M, Venturini L (2005) Confirmed clinical Neospora caninum infection in a boxer puppy from Argentina. Vet Parasitol 131:299–303

Bjerkås I, Dubey JP (1991) Evidence that Neospora caninum is identical to the Toxoplasma-like parasite of Norwegian dogs. Acta Vet Scand 32:407–410

Bjerkås I, Mohn SF, Presthus J (1984) Unidentified cyst-forming sporozoon causing encephalomyelitis and myositis in dogs. Z Parasitenkd 70:271–274

Bjerkås I, Jenkins M, Dubey JP (1994) Identification and characterization of Neospora caninum tachyzoites antigens useful for diagnosis of neosporosis. Clin Diag Lab Immunol 1:214–221

Burkhardt E, Dubey JP, Korte G, Bauer C (1992) Zwei Erkrankungen infolge einer Infektion mit Neospora caninum bei Hundewelpen in Deutschland. Kleintierpraxis 37:701–706

Buxton D, Maley SW, Pastoret PP, Brochier B, Innes EA (1997) Examination of red foxes (Vulpes vulpes) from Belgium for antibody to Neospora caninum and Toxoplasma gondii. Vet Rec 141:308–309

Cummings JF, de Lahunta A, Suter MM, Jacobson RH (1988) Canine protozoan polyradiculoneuritis. Acta Neuropathol 76:46–54

Dubey JP (1999) Recent advances in Neospora and neosporosis. Vet Parasitol 84:349–367

Dubey JP, Lindsay DS (1996) A review of Neospora caninum and neosporosis. Vet Parasitol 67:1–59

Dubey JP, Carpenter JL, Speer CA, Topper MJ, Uggla A (1988a) Newly recognized fatal protozoan disease of dogs. J Am Vet Med Assoc 192:1269–1285

Dubey JP, Hattel AL, Lindsay DS, Topper MJ (1988b) Neonatal Neospora caninum infection in dogs: isolation of the causative agent and experimental transmission. J Am Vet Med Assoc 193:1259–1263

Dubey JP, Koestner A, Piper RC (1990) Repeated transplacental transmission of Neospora caninum in dogs. J Am Vet Med Assoc 197:857–860

Dubey JP, Dorough KR, Jenkins MC, Liddell S, Speer CA, Kwok OC, Shen SK (1998) Canine neosporosis: clinical signs, diagnosis, treatment and isolation of Neospora caninum in mice and cell culture. Int J Parasitol 28:1293–1304

Flagstad A, Jensen HE, Bjerkas I, Rasmussen K (1995) Neospora caninum infection in a litter of Labrador Retriever dogs in Denmark. Acta Vet Scand 36:387–391

Gondim LFP, McAllister MM, Mateus-Pinilla NE, Pitt WC, Mech LD, Nelson ME (2004) Transmission of Neospora caninum between wild and domestic animals. J Parasitol 90:1361–1365

Heckeroth AR, Leschke-Ramcke B, Peters M, Wohlsein P, Tenter AM (2000) A case of neosporosis in Germany. 19th conference of the German Society of Parasitology, Stuttgart, p 98

Jacobson LS, Jardine JE (1993) Neospora caninum infection in three Labrador littermates. J South Afr Vet Assoc 64:47–51

Jardine JE, Dubey JP (1992) Canine neosporosis in South Africa. Vet Parasitol 44:291–294

Lindsay DS, Dubey JP (2000) Canine neosporosis. J Vet Parasitol 14:1–11

Lindsay DS, Kelly EJ, McKown RD, Stein FJ, Plozer J, Herman J, Blagburn BL, Dubey JP (1996) Prevalence of Neospora caninum and Toxoplasma gondii antibodies in coyotes (Canis latrans) and experimental infections of coyotes with Neospora caninum. J Parasitol 82:657–659

Mayhew IG, Smith KC, Dubey JP, Gatward LK, McGlennon NJ (1991) Treatment of encephalomyelitis due to Neospora caninum in a litter of puppies. J Small Anim Pract 32:609–612

McAllister MM, Dubey JP, Lindsay DS, Jolley WR, Wills RA, McGuire AM (1998) Dogs are definitive hosts of Neospora caninum. Int J Parasitol 28:1473–1478

Munday BL, Dubey JP, Mason RW (1990) Neospora caninum infection in dogs. Aust Vet J 67:76–77

Patitucci AN, Alley MR, Jones BR, Charleston WAG (1997) Protozoal encephalomyelitis of dogs involving Neospora caninum and Toxoplasma gondii in New Zealand. N Z Vet J 45:231–235

Pinheiro AM, Costa MF, Paule B, Vale V, Ribeiro M, Nascimento I, Schaer RE, Almeida MAO, Meyer R, Freire SM (2005) Serologic immunoreactivity to Neospora caninum antigens in dogs determined by indirect immunofluorescence, western blotting and dot-ELISA. Vet Parasitol 130:73–79

Reichel MP, Thornton RN, Morgan PL, Mills RJM, Schares G (1998) Neosporosis in a pup. N Z Vet J 46:106–110

Rühlmann D, Podell M, Oglesbee M, Dubey JP (1995) Canine neosporosis: a case report and literature review. J Am Anim Hosp Assoc 31:174–183

Schares G, Wenzel U, Müller T, Conraths FJ (2001a) Serological evidence for naturally occurring transmission of Neospora caninum among foxes (Vulpes vulpes). Int J Parasitol 31:418–423

Schares G, Heydorn AO, Cüppers A, Conraths FJ, Mehlhorn H (2001b) Cyclic transmission of Neospora caninum: serological findings in dogs shedding oocysts. Parasitol Res 87:873–877

Van Ham LML, Thoonen H, Barber JS, Trees AJ, Polis I, De Cock H, Hoorens JK (1996) Neospora caninum infection in the dog: typical and atypical cases. Vlaams Diergeneeskd Tijdschr 65:326–335

Wouda W, de Jong JK, van Knapen F, Walvoort HC (1993) Neospora caninum as a cause of paralysis in littermate pups. Tijdschr Diergeneeskd 118:397–401
Acknowledgments
We gratefully acknowledge the excellent technical assistance of Angelika Duttmann, Henning Metfies, and Margret Werr. The study was supported by a scholarship of the Karl-Enigk-Stiftung to ARH. We declare that the experiments described in this study comply with current German laws.
About this article
Cite this article
Heckeroth, A.R., Tenter, A.M. Immunoanalysis of three litters born to a Doberman bitch infected with Neospora caninum . Parasitol Res 100, 837–846 (2007). https://doi.org/10.1007/s00436-006-0328-3
Received:

Accepted:

Published:

Issue Date:
Keywords
Amersham Pharmacia Biotech

Leptospirosis

Powdered Skim Milk

Indirect Fluorescent Antibody Test

Unrelated Male