Abstract
In the brackish Baltic Sea, the species richness and diversity of parasite communities of three- (Gasterosteus aculeatus) and nine-spined sticklebacks (Pungitius pungitius) were investigated. The studies regarded four localities at the Schleswig-Holstein and Mecklenburg coasts, northern Germany, where salinities were between 10 and 18‰. Species richness was relatively high, attaining 15 parasite species in G. aculeatus and 16 in P. pungitius, which are only surpassed by former investigations that lasted a year or more. An analysis of parasite species identity revealed clear differences in diverse localities referring to different supracommunities. The infracommunity comprised maximally of eight species in G. aculeatus and seven in P. pungitius, which corresponds to former investigations. The mean value of infracommunity with 5.3 parasites is the highest value ever found in small-sized fish. An infracommunity index revealed that the digenean Podocotyle atomon and Magnibursatus caudofilamentosa and the copepod Thersitina gasterostei were the most abundant parasites. The relationship of component community to mean infracommunity can judge about the threshold level, which allows parasite to settle successfully. An important factor to form parasite communities is the season of their appearance, which depends also on their reproduction and on the presence of intermediate hosts. In addition, the choice of prey (for passive infection) and quality of habitats (for active infection) influences the constitution of the parasite communities. The diversity values of parasites were low in all hosts, which is due to the brackish milieu and by different levels of eutrophication, which both create extreme environments. These do not mirror in every case the biodiversity of the respective habitats. The parasite community was in a level of early heterotrophic succession where low diversity is combined with high population density, which is characteristic for extreme environments. Therefore, intraspecific competition dominates and niches are wide. Under this aspect and regard of the actually valid definition that niches are dynamic systems between organisms and environment, the theory of vacant niches of some authors can be rejected.
This is a preview of subscription content, log in to check access.
Access options
Buy single article
Instant access to the full article PDF.
US$ 39.95
Price includes VAT for USA
Subscribe to journal
Immediate online access to all issues from 2019. Subscription will auto renew annually.
US$ 199
This is the net price. Taxes to be calculated in checkout.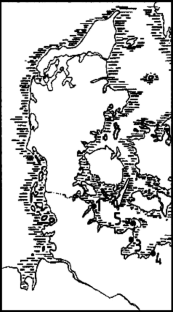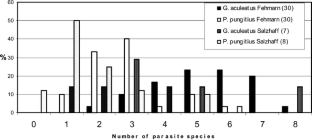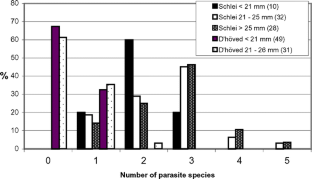 References
Bush AO, Heard RW, Overstreet RM (1993) Intermediate hosts as source communities. Can J Zool 71:1358–1363

Bush AO, Lafferty KD, Lotz JM, Shostak AW (1997) Parasitology meets ecology on its own terms: Margolis et al. revisited. J Parasitol 83:575–583

Bush AO, Fernández JC, Esch GW, Seed JR (2003) Parasitism—the diversity and ecology of animal parasites. Cambridge University Press, Cambridge, UK

Connell JH (1978) Diversity in tropical rain forests and coral reefs. Science 199:1302–1310

Cribb TH (2005) Digenea (endoparasitic flukes). In: Rohde K (ed) Marine parasitology. CSIRO, Collingwood, Australia, pp 76–87

Günther K (1950) Ökologische und funktionelle Anmerkungen zur Frage des Nahrungserwerbs bei Tiefseefischen mit einem Exkurs über die ökologischen Zonen und Nischen. In: Grüneberg H, Ulrich W (eds) Moderne Biologie, Festschrift Nachtsheim. Peters, Berlin, pp 55–93

Holmes JC, Price PW (1986) Communities of parasites. In: Anderson DJ, Kikkawa J (eds) Community biology: pattern and processes. Blackwell, Oxford, UK, pp 187–213

Huston M (1979) A general hypothesis of species diversity. Am Nat 113:81–101

Gollasch S, Zander CD (1995) Population dynamics and parasitation of planktonic and epibenthic crustaceans in the Baltic Schlei fjord. Helgol Meeresunters 49:759–770

Kalbe M, Wegner KM, Reusch TBH (2002) Dispersion patterns of parasites in 0+ year three-spined sticklebacks: a cross population comparison. J Fish Biol 60:1529–1542

Kennedy CR (1990) Helminth communities in freshwater fish: structured communities or stochastic assemblages? In: Esch GW, Bush AO, Aho JM (eds) Parasite communities: pattern and processes. Chapman & Hall, London, UK, pp 131–156

Kesting V, Zander CD (2000) Alteration of the matazoan parasite fuana un the brackish Schlei fjord (northern Germany, Baltic Sea). Int Rev Hydrobiol 85:325–340

Kesting V, Gollasch S, Zander CD (1996) Parasite communities of the Schlei fjord (Baltic coast of northern Germany). Helgol Meeresunters 50:477–496

Koçoglu Ö (1998) Untersuchungen zur Parasitenfauna von verschiedenen Klein- und Jungfischen aus der Orther Bucht (Fehmarn, SW-Ostsee). Thesis, University of Hamburg, p 110

Kosswig C (1963) Ways of speciation in fishes. Copeia 1963:238–244

Leong TS, Holmes JC (1981) Communities of metazoan parasites in open water fishes of Cold Lake, Alberta. J Fish Biol 18:693–713

MacArthur RH, Wilson EO (1967) The theory of island geography. Princeton University Press, Princeton, NJ

Marcogliese DJ (2001) Pursuing parasites up the food chain: implications of food web structure and function on parasite communities in aquatic systems. Acta Parasitol 46:82–93

Marcogliese DJ (2003) Food webs and biodiversity: are parasites the missing link? J Parasitol 89:S106–S113

Margalef R (1963) On certain unifying principles in ecology. Am Nat 92:357–374

Möller-Buchner J (1987) Untersuchungen zur Parasitenfauna drei-und neunstachliger Stichlinge (Gasterosteus aculeatus L. und Pungitius pungitius (L.)) aus Elbe, Eider und Schlei. Thesis, University of Hamburg, p 230

Odum EP (1969) The strategy of ecosystem development. Science 164:262–270

Pianka ER (1994) Evolutionary ecology. Harper Collins, New York

Rohde K (2005a) Parasite populations and communities as non-equilibrium systems. In: Rohde K (ed) Marine parasitology. CSIRO, Collingwood, Australia, pp 315–321

Rohde K (2005b) Eine neue Ökologie—aktuelle Entwicklungen der evolutiionären Ökologie. Naturwiss Rundschau 58:420–426

Simberloff D, Moore J (2002) Community ecology of parasites and free-living animals. In: Clayton DH, Moore J (eds) Host–parasite evolution. Oxford University Press, Oxford, pp 174–197

Skroblies M (1998) Populationsdynamische und ökoparasitologische Untersuchungen an benthischen Crustacea der Orther Bucht (Fehmarn, Südwestliche Ostsee). Thesis, University of Hamburg, p 116

Strohbach U (1999) Vergleichende Untersuchungen zur Populationsdynamik und Parasitenfauna ausgewählter benthischer und planktischer Crustaceen sowie Gastropoden im Bereich der Kieler und Lübecker Bucht (SW-Ostsee). Thesis, University of Hamburg, p 196

Thienemann A (1939) Grundzüge einer allgemeinen Ökologie. Arch Hydrobiol 35:267–285

Zander CD (1997) Parasit-Wirt-Beziehungen—Einführung in die ökologische Parasitologie. Springer, Berlin Heidelberg New York

Zander CD (1998) Ecology of host parasite relationships in the Baltic Sea. Naturwiss 98:426–436

Zander CD (2002) The influence of eutrophication on parasite communities in the Baltic Sea. In: Proceedings of the 10th international congress parasitology ICOPA, vol. 10, pp 247–253

Zander CD (2004) Four-year monitoring of parasite communities in gobiid fishes of the south-western Baltic. II. Infracommunity. Parasitol Res 93:17–29

Zander CD (2005) Four-year monitoring of parasite communities in gobiid fishes of the south-western Baltic. III. Parasite species diversity and applicability of monitoring. Parasitol Res 95:136–144

Zander CD, Kesting V (1996) The indicator properties of parasite communities of gobies from Kiel and Lübeck Bight. Appl Parasitol 37:186–204

Zander CD, Reimer LW (2002) Parasitism at the ecosystem level in the Baltic Sea. Parasitology 124:S119–S135

Zander CD, Kollra G, Antholz B, Meyer W, Westphal D (1984) Small-sized euryhaline fish as intermediate hosts of the digenetic trematode Cryptocotyle concavum. Helgol Meeresunters 37:433–443

Zander CD, Strohbach U, Groenewold S (1993) The importance of gobies (Gobiidae, Teleostei) as hosts and transmitters of parasites in the SW Baltic. Helgol Meeresunters 47:81–111

Zander CD, Reimer LW, Barz K (1999) Parasite communities of the Salzhaff (Northwest Mecklenburg, Baltic Sea) I. Structure and dynamics of communities of littoral fish, especially small-sized fish. Parasitol Res 85:356–372

Zander CD, Reimer LW, Barz K Dietel G, Strohbach U (2000) Parasite communities of the Salzhaff (Northwest Mecklenburg, Baltic Sea) II. Guild communities, with special regard to snails, benthic crustaceans and small-sized fish. Parasitol Res 86:359–372

Zander CD, Koçoglu Ö, Skroblies M, Strohbach U (2002) Parasite populations and communities from the shallow littoral of the Orther Bight (Fehmarn, SW Baltic Sea). Parasitol Res 88:734–744
Acknowledgements
I wish to thank Dr. Uwe Strohbach for help in catching the sticklebacks, and Maria Machola for her assistance in preparing the fish and parasites.
Additional information
Contribution to the International Biodiversity Observation Year (IBOY) 2001, project: Survey of Stickleback Parasites.
About this article
Cite this article
Zander, C.D. Parasite diversity of sticklebacks from the Baltic Sea. Parasitol Res 100, 287 (2007). https://doi.org/10.1007/s00436-006-0282-0
Received:

Accepted:

Published:
Keywords
Species Richness

Intermediate Host

Parasite Species

Host Population

Core Species