Abstract
Investigations were undertaken on Taenia multiceps to determine if genetic variation was present within the parasites of Sardinia (Italy). Forty samples were obtained from various locations of Sardinia and deoxyribonucleic acid (DNA) was extracted. Polymerase chain reaction (PCR) was performed on NADH dehydrogenase I (ND1) and cytochrome c subunit 1 (CO1) mitochondrial genes and amplicons were then sequenced and aligned with Bioedit software. Pairwise comparison between the ND1 sequences of the T. multiceps isolates showed differences ranging from 1.27 to 2.54% using an isolate obtained from Wales as an outgroup, while COI sequences showed within the samples coming from Sardinia a lesser degree of variability, ranging from 0.22 to 0.67%. Considering the two genes, it was possible to define at least three specific genetic variants in Sardinian samples, which we have termed Tm1, Tm2, and Tm3. This is the first description of genetic variability in T. multiceps. Further investigations will be required to understand to what extent the genetic variability described in this paper would be reflected also in phenotypic differences.
This is a preview of subscription content, log in to check access.
Access options
Buy single article
Instant access to the full article PDF.
US$ 39.95
Price includes VAT for USA
Subscribe to journal
Immediate online access to all issues from 2019. Subscription will auto renew annually.
US$ 199
This is the net price. Taxes to be calculated in checkout.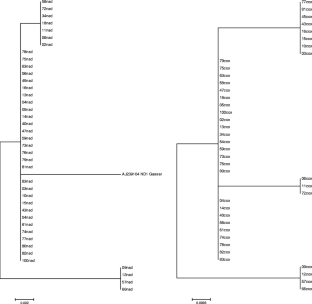 References
Allsopp BA, Jones A, Allsopp MTEP, Newton SD, Macpherson CNL (1987) Interspecific characterization of several taeniid cestodes by isoenzyme analysis using isoelectric focusing in agarose. Parasitology 95:593–601

Backer BJP, Jacobson S (1951) Infestation of the human brain with Coenurus cerebralis: report of forth case. Lancet 11:1202–1204

Bowles J, McManus DP (1993a) NADH dehydrogenase 1 gene sequences compared for species and strains of the genus Echinococcus. Int J Parasitol 23:969–972

Bowles J, McManus DP (1993b) Molecular variation in Echinococcus. Acta Trop 53:291–305

Bowles J, Blair D, McManus DP (1992) Genetic variants within the genus Echinococcus identified by mitochondrial DNA sequencing. Mol Biochem Parasitol 54:165–174

Cancedda MG, Scala A, Chighine C, Piazza C, Sardo D, Varcasia A, Ligios C (2002) Quadri clinici della Cenurosi ovina e diagnosi differenziale con altre neuropatologie. Atti Società Italiana Patologia Allevamento Ovini e Caprini (SIPAOC) 15:16

Cubeddu GM, Pintori G, Coda S, Pinna Parpaglia ML, Cocco R (2002) Cenurosi ovina e bovina in Sardegna: osservazioni su randagismo e sanità pubblica. Atti Federazione Mediterranea Sanità Produzioni Ruminanti (FeMeSPRum) 10:39–40

Deiana S (1971) Current state of the diffusion of cerebral cenuriasis (Coenurus of Taenia multiceps multiceps) in sheep and humans in Sardinia. Parassitologia 13:173–175

Di Marco V, Riili S, Zanghì P, Capucchio MT, Giraldo A, Guarda F (1998) Dati epidemiologici e reperti patologici della Cenurosi negli allevamenti ovi-caprini siciliani. Large Anim Rev 3:79–86

Edwards GT, Hackett F, Herbert IV (1979) Taenia hydatigena and Taenia multiceps infections in Snowdonia, U.K. II. The role of hunting dogs and foxes as definitive hosts, and of sheep as intermediate hosts. Brit Vet J 135: 433–439

Gasser RB, Xingquan Z, McManus DP (1999) NADH dehydrogenase subunit 1 and cytochrome c oxidase subunit I sequences compared for members of the genus Taenia (Cestoda). Int J Parasitol 29:1965–1970

Guarda F, Capucchio MT (2002) Focolai atipici di Cenurosi bovina: ruolo e importanza di questa parassitosi nella diagnosi differenziale delle malattie neurologiche a decorso cronico del bovino. Atti Società Italiana Scienze Veterinarie (SISVet) 14:195–196

Gupta PP, Chowdhury N (1985) Cerebral coenurosis in a buffalo. Ind Vet J 62:613–614

Henke Scott E, Pence DB, Bryant FC (2002) Effect of short-term coyote removal on populations of coyote helminths. J Wildlife Dis 38:54–67

Herbert IV, Edwards GT (1984) Some host factors which influence the epidemiology of Taenia multiceps in sheep. Ann Trop Med Parasitol 78:243–248

Kedra AH, Tkach VV, Swiderski Z, Pawłowski Z (2001) Intraspecific variability among NADH dehydrogenase subunit 1 sequences of Taenia hydatigena. Parasitol Int 50:145–148

Lia R, Puccini A (1998) La Cenurosi nell'allevamento ovino. Obiettivi e Documenti Veterinari 8:43–48

McManus DP (1990) Characterization of taeniid cestodes by DNA analysis. Rev Sci Techn Off Int Epizoot 9:489–510

McManus DP (2005) Molecular discrimination of taeniid cestodes. Parasitol Int 55:31–37

Mishra KC (1977) Coenurus cerebralis in goat. Orissa Vet J 11:495–501

Moro PL, Ballarta J, Gilman RH, Leguia G, Rojas M, Montes G (1998) Intestinal parasites of the grey fox (Pseudalopex culpaeus) in the central Peruvian Andes. J Helminthol 72:87–89

Nakao M, Okamoto M, Sako Y, Yamasaki H, Nakaya K, Ito A (2002) A phylogenetic hypothesis for the distribution of two genotypes of the pig tapeworm Taenia solium worldwide. Parasitology 124:657–666

Petruzzi V, Del Bue M (1988) Cenurosi cerebrale in Ovis Musimon (muflone). Atti Società Italiana Scienze Veterinarie (SISVet) 42:1431–1433

Sabbatani S, Zucchelli M, Calbucci F, Roncaroli F, Chiodo F (2004) A case of cerebral Coenurosis. Infez Med 12:205–210

Samdup T (1993) Study on incidence of gid disease in yaks and drug efficacy trial. Bhutan J Anim Husbandry 51–56

Scala A, Ligios C, Leoni A, Nieddu AM (1992) Cenurosi degli ovini in Sardegna: rilievi epidemiologici, parassitologici ed anatomoistopatologici. Atti Società Italiana Scienze Veterinarie (SISVet) 46:1435–1439

Segovia JM, Guerrero R, Torres J, Miquel J, Feliu C (2003) Ecological analyses of the intestinal helminth communities of the wolf, Canis lupus, in Spain; Folia Parasitologica 50:231–236

Thompson RCA, Lymbery AJ, Constantine CC (1995) Variation in Echinococcus: towards a taxonomic revision of the genus. Adv Parasitol 35:146–176

Troiano P, Scaramozzini P, Iannibelli F, Fasanella A, Puccini V (1990) Sulla fauna elmintica degli ovini in Puglia. Atti Società Italiana Scienze Veterinarie (SISVet) 46:1279–1281

Willis JM, Herbert LV (1984) Some factors affecting the eggs of Taenia multiceps: their transmission onto pasture and their viability. Ann Trop Med Par 78:243–248
Acknowledgements
This research was carried out with the valuable assistance of Mr. Mario S. Nieddu and Mrs. Francesca Bettini. The experiments of this research comply with the current laws of the country in which they were performed (Italy). Research funded with MIUR 2003 ex contributes 60%. Support from the Australian National Health and Medical Research Council is acknowledged.
About this article
Cite this article
Varcasia, A., Lightowlers, M.W., Cattoli, G. et al. Genetic variation within Taenia multiceps in Sardinia, Western Mediterranean (Italy). Parasitol Res 99, 622 (2006). https://doi.org/10.1007/s00436-006-0179-y
Received:

Accepted:

Published:
Keywords
NADH Dehydrogenase

Polymerase Chain Reaction Template

Coenurosis

Sardinian Sample

Genetic Intraspecific Variability