Abstract
In the present study, Rhop-3 polymorphism among Plasmodium falciparum field and laboratory isolates and among rodent Plasmodium species was investigated and identified. The Rhop-3 gene was found in all Plasmodium species so far tested. The overall structure of the Rhop-3 protein was found conserved among P. falciparum, Plasmodium yoelii, and Plasmodium berghei. However, it was more conserved among rodent Plasmodium species than between P. falciparum and Plasmodium vivax. The most conserved regions of Rhop-3 are the second half of exon 6 (amino acid #548 to #665) and the beginning of exon 3 (amino acid #59 to #210). Recombinant C-terminal partial and full-length Rhop-3 proteins of P. yoelii and P. berghei were expressed in Escherichia coli and purified. Immunization-challenge experiments in mice using recombinant Rhop-3 proteins led to a delay in parasite development and protected mice from a homologous lethal challenge infection. In a group of eight outbred Carworth Farm White (CFW) mice immunized with P. yoelii C-terminal recombinant His-Y1412 protein, three mice (37.5%) were protected from a lethal P. yoelii challenge. In BALB/cJ mice one mouse (20%) survived the infection. Immunization of mice with P. berghei recombinant full-length Rhop-3 protein in BALB/cJ mice led to a 40% survival from lethal P. berghei challenge. CFW mice immunized with P. berghei recombinant full-length Rhop-3 protein showed a significant delay in parasite development with a heterologous P. yoelii challenge. The Rhop-3 protein is a promising candidate for an asexual stage malaria vaccine.
This is a preview of subscription content, log in to check access.
Access options
Buy single article
Instant access to the full article PDF.
US$ 39.95
Price includes VAT for USA
Subscribe to journal
Immediate online access to all issues from 2019. Subscription will auto renew annually.
US$ 199
This is the net price. Taxes to be calculated in checkout.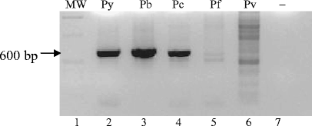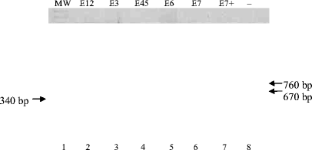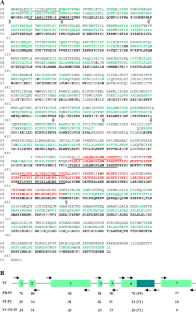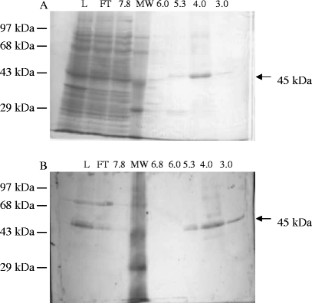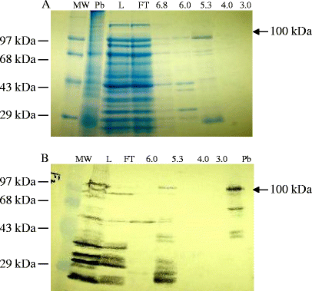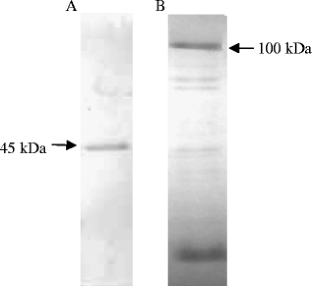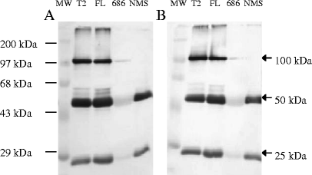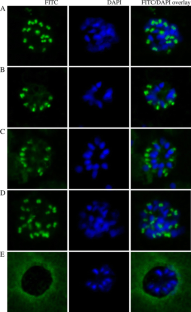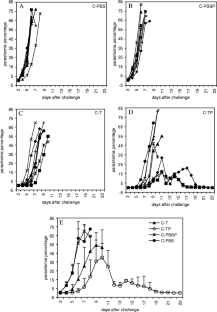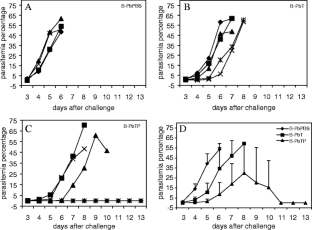 References
Altschul SF, Gish W, Miller W, Myers EW, Lipman DJ (1990) Basic local alignment search tool. J Mol Biol 215:403–410

Anthony RN, Yang J, Krall JA, Sam-Yellowe TY (2000) Sequence analysis of the Rhop-3 gene of Plasmodium yoelii. J Eukaryot Microbiol 47:319–322

Brown HJ, Coppel RL (1991) Primary structure of a Plasmodium falciparum rhoptry antigen. Mol Biochem Parasitol 49:99–110

Cole-Tobian JL, Cortes A, Baisor M, Kastens W, Xainli J, Bockarie M, Adams JH, King CL (2002) Age-acquired immunity to a Plasmodium vivax invasion ligand, the duffy binding protein. J Infect Dis 186(4):531–539

Collins WE, Walduck A, Sullivan JS, Andrews K, Stowers A, Morris CL, Jennings V, Yang C, Kendall J, Lin Q, Martin LB, Diggs C, Saul A (2000) Efficacy of vaccines containing rhoptry-associated proteins RAP-1 and RAP-2 of Plasmodium falciparum in Saimiri boliviensis monkeys. Am J Trop Med Hyg 62:466–479

Cooper JA, Ingram T, Bushell GR, Fardoulys CA, Stenzel D, Schofield L, Saul AJ (1988) The 140/130/105 kilodalton protein complex in rhoptries of Plasmodium falciparum consists of discrete polypeptides. Mol Biochem Parasitol 29:251–260

Escalante AA, Lal AA, Ayala FJ (1998) Genetic polymorphism and natural selection in the malaria parasite Plasmodium falciparum. Genetics 149(1):189–202

Escalante AA, Grebert HM, Chaiyaroj SC, Magris M, Biswas S, Nahlen BL, Lal AA (2001) Polymorphism in the gene encoding the apical membrane antigen-1 (AMA-1) of Plasmodium falciparum. X. Asembo Bay Cohort Project. Mol Biochem Parasitol 113(2):279–287

Facer CA, Tanner M (1997) Clinical trials of malaria vaccines: progress and prospects. Adv Parasitol 39:1–68

Hiller NL, Akompong T, Morrow JS, Holder AA, Haldar K (2003) Identification of a stomatin homologue in vacuoles induced by malaria parasites. A role for microbial raft proteins in apicomplexan vacuole biogenesis. J Biol Chem 278:48413–48421

Hofmann K, Stoffel W (1993) TM base—A data base of membrane spanning protein segments. Biol Chem Hoppe-Seyler 374:166

Holder AA, Freeman RR (1981) Immunization against blood-stage rodent malaria using purified parasite antigens. Nature 294:361–364

Jakobsen PH, Hviid L, Theander TG, Afare EA, Ridley RG, Heegaard PM, Stuber D, Dalsgaard K, Nkrumah FK (1993) Specific T-cell recognition of the merozoite proteins rhoptry-associated protein 1 and erythrocyte-binding antigen 1 of Plasmodium falciparum. Infect Immun 61:268–273

Jakobsen PH, Lemnge MM, Abu-Zeid YA, Msangeni HA, Salum FM, Mhina JI, Akida JA, Ruta AS, Ronn AM, Heegaard PM, Ridley RG, Bygbjerg IC (1996) Immunoglobulin G reactivities to rhoptry-associated protein-1 associated with decreased levels of Plasmodium falciparum parasitemia in Tanzanian children. Am J Trop Med Hyg 55:642–646

Kaneko O, Yim Lim BYS, Iriko H, Ling IT, Otsuki H, Grainger M, Tsuboi T, Adams JH, Mattei D, Holder AA, Torri M (2005) Apical expression of three RhopH1/Clag proteins as components of the Plasmodium falciparum RhopH complex. Mol Biochem Parasitol 143:20–28

Layez C, Nogueira P, Combo V, Costa FT, Juhan-Vague I, da silva LH, Gysin J (2005) Plasmodium falciparum rhoptry protein RSP2 triggers destruction of the erythroid lineage. Blood 106:3632–3638

Liang H, Sim BK (1997) Conservation of structure and function of the erythrocyte-binding domain of Plasmodium falciparum EBA-175. Mol Biochem Parasitol 84:241–245

Ling IT, Florens L, Dluzewski AR, Kaneko O, Grainger M, Yim Lim BY, Tsuboi T, Hopkins JM, Johnson JR, Torii M, Bannister LH, Yates JR 3rd, Holder AA, Mattei D (2004) The Plasmodium falciparum clag9 gene encodes a rhoptry protein that is transferred to the host erythrocyte upon invasion. Mol Microbiol 52(1):107–118

Marshall VM, Zhang L, Anders RF, Coppel RL (1996) Diversity of the vaccine candidate AMA-1 of Plasmodium falciparum. Mol Biochem Parasitol 77:109–113

Mehlotra RK, Lorry K, Kastens W, Miller SM, Alpers MP, Bockarie M, Kazura JW, Zimmerman PA (2000) Random distribution of mixed species malaria infections in Papua New Guinea. Am J Trop Med Hyg 62(2):225–31

Ndengele MM, Messineo DG, Sam-Yellowe T, Harwalkar JA (1995) Plasmodium falciparum: effects of membrane modulating agents on direct binding of rhoptry proteins to human erythrocytes. Exp Parasitol 81:191–201

Nixon CP, Friedman J, Treanor K, Knopf PM, Duffy PE, Kurtis JD (2005) Antibodies to rhoptry associated membrane antigen predict resistance to Plasmodium falciparum. J Infect Dis 192:861–869

Oliveria DA, Udhayakumar V, Bloland P, Shi YP, Nahlen BL, Oloo AJ, Hawley WE, Lal AA (1996) Genetic conservation of the Plasmodium falciparum apical membrane antigen-1 (AMA-1). Mol Biochem Parasitol 76:333–336

Sambrook J, Fritsch EF, Maniatis T (1989) " Molecular cloning: a laboratory mannual," 2nd ed. Cold Spring Harbor Laboratory, Cold Spring Harbor, NY

Sam-Yellowe TY (1993) Plasmodium falciparum: analysis of protein–protein interaction of 140/130/110-kDa rhoptry protein complex using antibody and mouse erythrocyte binding assays. Exp Parasitol 77:179–194

Sam-Yellowe TY, Perkins ME (1991) Interaction of the 140/130/110 kDa rhoptry protein complex of Plasmodium falciparum with the erythrocyte membrane and liposomes. Exp Parasitol 73:161–171

Sam-Yellowe TY, Shio H, Perkins ME (1988a) Secretion of Plasmodium falciparum rhoptry protein into the plasma membrane of host erythrocytes. J Cell Biol 106:1507–1513

Sam-Yellowe TY, Del Rio RA, Fujioka H, Aikawa M, Yang J-C, Yakubu Z (1998b) Isolation of merozoite rhoptries, identification of novel rhoptry associated proteins from Plasmodium yoelii, P.chabaudi, P. berghei and conserved terspecies reactivity of organelles and proteins with P. falciparum rhoptry-specific antibodies. Exp Parasitol 89:271–284

Sam-Yellowe TY, Fujioka H, Aikawa M (1999) Morphological analysis of isolated rhoptries from Plasmodium yoelii, P. berghei, and P. chabaudi merozoites. Exp Parasitol 92:275–278

Sam-Yellowe TY, Wang T, Fujioka H, Drazba JA, Aikawa M, Brochak W (2000) Sequence analysis of the Rhop-3 gene of Plasmodium berghei and P. chabaudi, reactivity of Rhop-3 protein within isolated rhoptries and binding of Rhop-3 to mouse erythrocytes. J Protozool Res 10:71–89

Shirano M, Tsuboi T, Kaneko O, Tachibana M, Adams JH, Torii M (2001) Conserved regions of the Plasmodium yoelii rhoptry protein RhopH3 revealed by comparison with the P. falciparum homologue. Mol Biochem Parasitol 112:297–299

Sim BK (1998) Delineation of functional regions on Plasmodium falciparum EBA-175 by antibodies eluted from immune complexes. Mol Biochem Parasitol 95:183–192

Tobian AA, Mehlotra RK, Malhotra I, Wamachi A, Mungai P, Koech D, Ouma J, Zimmerman P, King CL (2000) Frequent umbilical cord-blood and maternal-blood infections with Plasmodium falciparum, P. malariae, and P. ovale in Kenya. J Infect Dis 182(2):558–563

Toploska AE, Lidgett A, Truman D, Fujioka H, Coppel RL (2003) C Characterization of a membrane-associated rhoptry protein of Plasmodium falciparum. J Biol Chem 279:4648–4656

Toploska AE, Richie TL, Nhan DH, Coppel RL (2004) Associations between responses to the rhoptry-associated membrane antigen of Plasmodium falciparum and immunity to malaria infection. Infect Immun 72:3325–3330

Trager W, Jensen JB (1976) Human malaria parasites in continuous culture. Science 193:673–675

Yang J-C, Blanton RE, King CL, Fujioka H, Aikawa M, Sam-Yellowe TY (1996) Seroprevalence and specificity of human responses to the Plasmodium falciparum rhoptry protein Rhop-3 determined by using a C-terminal recombinant protein. Infect Immun 9:3584–3591
Acknowledgements
This study was supported by funds from NIH grant AI36470, Cleveland State University Established Full-time Faculty Research Development (EFFRD) grant program, and AY03 Doctoral Dissertation Research Expense Award (from the University Research Council, Cleveland State University). TSY is grateful to the New England Biolabs Molecular Biology Summer Workshops 2000 and we thank MR4/ATCC for P. berghei cDNA clones.
Additional information
Nucleotide sequence data reported in this paper have been submitted to GeneBank with the Accession numbers: AY044907-AY044914.
About this article
Cite this article
Wang, T., Fujioka, H., Drazba, J.A. et al. Rhop-3 protein conservation among Plasmodium species and induced protection against lethal P. yoelii and P. berghei challenge. Parasitol Res 99, 238–252 (2006). https://doi.org/10.1007/s00436-006-0136-9
Received:

Accepted:

Published:

Issue Date:
Keywords
Plasmodium

Plasmodium Species

Infected Erythrocyte

Plasmodium Berghei

Asexual Stage