Abstract
Cryptosporidium muris-like oocysts were isolated from large Japanese field mice, Apodemus speciosus. Morphologically, these oocysts resembled those obtained from a C. andersoni Kawatabi isolate but were smaller in size than those from a C.muris isolate. Following oral inoculation of the oocysts into large Japanese field mice and SCID mice, developing stages were found in the stomach epithelium. The infectivity of the isolate to wild and laboratory mice was slightly different from that of C.muris. DNA sequences of the 18S ribosomal RNA (rRNA) gene of the isolate were not identical to those of any known Cryptosporidium spp.; however, phylogenetic analysis indicated that the isolate was a member of the C.muris cluster. Differences between the isolate and C. muris are not significant at this point; therefore, we propose that this isolate is a novel genotype of C.muris and denote it as C. muris Japanese field mouse genotype.
This is a preview of subscription content, log in to check access.
Access options
Buy single article
Instant access to the full article PDF.
US$ 39.95
Price includes VAT for USA
Subscribe to journal
Immediate online access to all issues from 2019. Subscription will auto renew annually.
US$ 199
This is the net price. Taxes to be calculated in checkout.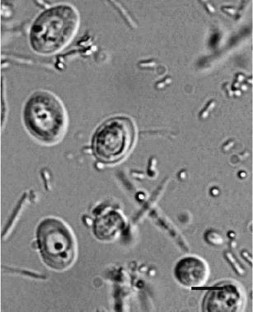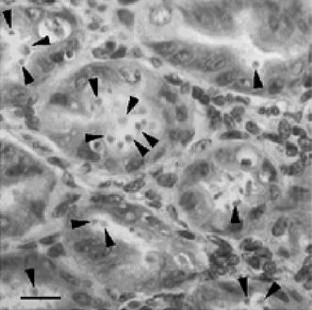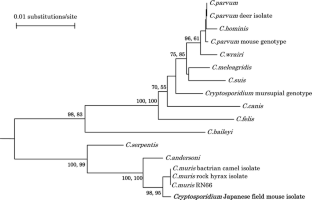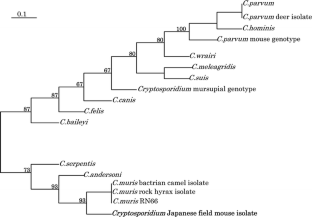 References
Altschul SF, Madden TL, Schäffer AA, Zhang J, Zhang Z, Miller W, Lipman DJ (1997) Gapped BLAST and PSI-BLAST: a new generation of protein database search programs. Nucleic Acids Res 25:3389–3402

Chalmers RM, Sturdee AP, Bull SA, Miller A, Wright SE (1997) The prevalence of Cryptosporidium parvum and C. muris in Mus domesticus, Apodemus sylvaticus and Clethrionomys glareolus in an agricultural system. Parasitol Res 83:478–482

Dubey JP, Speer CA, Fayer R (1990) Cryptosporidiosis of man and animals. CRC Press, Inc., Boca Ration

Fayer R, Morgan U, Upton SJ (2000) Epidemiology of Cryptosporidium: transmission, detection and identification. Int J Parasitol 30:1305–1322

Gatei W, Ashford RW, Beeching NJ, Kamwati SK, Greensill J, Hart CA (2002) Cryptosporidium muris infection in an HIV-infected adult, Kenya. Emerg Infect Dis 8:204–206

de Graaf DC, Vanopdenbosch E, Ortega-Mora LM, Abbassi H, Peeters JE (1999) A review of the importance of cryptosporidiosis in farm animals. Int J Parasitol 29:1269–1287

Hajdušek O, Ditrich O, Šlapeta J (2004) Molecular identification of Cryptosporidium spp. in animal and human hosts from the Czech Republic. Vet Parasitol 122:183–192

Iseki M (1986) Two species of Cryptosporidium naturally infecting house rats, Rattus norvegicus. Jpn J Parasitol 35:521–526

Iseki M (1998) Laboratory diagnosis of protozoan and parasitic infections. 1. Protozoan infections. d. Cryptosporidium infections. Rinsho Byori Suppl 108:191–197

Iseki M, Maekawa T, Moriya K, Uni S, Takada S (1989) Infectivity of Cryptosporidium muris (strain RN 66) in various laboratory animals. Parasitol Res 75:218–222

Kaneta Y, Nakai Y (1998) Survey of Cryptosporidium oocysts from adult cattle in a slaughter house. J Vet Med Sci 60:585–588

Katsumata T, Hosea D, Ranuh IG, Uga S, Yanagi T, Kohno S (2000) Possible Cryptosporidium muris infection in humans. Am J Trop Med Hyg 62:70–72

Koudela B, Modry D, Vitovec J (1998) Infectivity of Cryptosporidium muris isolated from cattle. Vet Parasitol 76:181–188

Koyama Y, Satoh M, Maekawa K, Hikosaka K, Nakai Y (2005) Isolation of Cryptosporidium andersoni Kawatabi type in a slaughterhouse in the northern island of Japan. Vet Parasitol 130:323–326

Kumar S, Tamura K, Jakobsen IB, Nei M (2001) MEGA 2: molecular evolutionary genetics analysis software. Bioinformatics 17:1244–1245

Lindsay DS, Upton SJ, Owens DS, Morgan UM, Mead JR, Blagburn BL (2000) Cryptosporidium andersoni n. sp. (Apicomplexa: Cryptosporiidae) from cattle, Bos taurus. J Eukaryot Microbiol 47:91–95

Masuda G, Negishi M, Ajisa A, Yamaguchi T, Tajima T, Tamagawa S, Maeda Y, Ohtomo H, Kimata I, Uni S (1991) Cryptosporidium diarrhea developing in two Japanese adults-one in AIDS and the other in a normal host. Research Group for Infectious Enteric Diseases, Japan. Kansenshogaku Zasshi 65:1614–1619

Matsubayashi M, Kimata I, Abe N, Tani H, Sasai K (2004a) The detection of a novel type of Cryptosporidium andersoni oocyst in cattle in Japan. Parasitol Res 93:504–506

Matsubayashi M, Abe N, Takami K, Kimata I, Iseki M, Nakanishi T, Tani H, Sasai K, Baba E (2004b) First record of Cryptosporidium infection in a raccoon dog (Nyctereutes procyonoides viverrinus). Vet Parasitol 120:171–175

Morgan UM, Xiao L, Fayer R, Lal AA, Thompson RC (1999) Variation in Cryptosporidium: towards a taxonomic revision of the genus. Int J Parasitol 29:1733–1751

Morgan UM, Fall A, Ward LA, Hijjawi N, Sulaiman I, Fayer R, Thompson RC, Olson M, Lal A, Xiao L (2002) Cryptosporidium hominis n. sp. (Apicomplexa: Cryptosporidiidae) from Homo sapiens. J Eukaryot Microbiol 49:433–440

Nakai Y, Hikosaka K, Satoh M, Sasaki T, Kaneta Y, Okazaki N (2004) Detection of Cryptosporidium muris type oocysts from beef cattle in a farm and from domestic and wild animals in and around the farm. J Vet Med Sci 66:983–984

O'Donoghue PJ (1995) Cryptosporidium and cryptosporidiosis in man and animals. Int J Parasitol 25:139–195

Ryan U, Xiao L, Read C, Zhou L, Lal AA, Pavlasek I (2003) Identification of novel Cryptosporidium genotypes from the Czech Republic. Appl Environ Microbiol 69:4302–4307

Satoh M, Hikosaka K, Sasaki T, Suyama Y, Yanai T, Ohta M, Nakai Y (2003) Characteristics of a novel type of bovine Cryptosporidium andersoni. Appl Environ Microbiol 69:691–692

Sulaiman IM, Morgan UM, Thompson RC, Lal AA, Xiao L (2000) Phylogenetic relationships of Cryptosporidium parasites based on the 70-kilodalton heat shock protein (HSP70) gene. Appl Environ Microbiol 66:2385–2391

Thompson JD, Higgins DG, Gibson TJ (1994) CLUSTAL W: improving the sensitivity of progressive multiple sequence alignment through sequence weighting, positions-specific gap penalties and weight matrix choice. Nucleic Acids Res 22:4673–4680

Xia X, Xie Z (2001) DAMBE: date analysis in molecular biology and evolution. J Heredity 92:371–373

Xiao L, Escalante L, Yang C, Sulaiman I, Escalante AA, Montali RJ, Fayer R, Lal AA (1999) Phylogenic analysis of Cryptosporidium parasites based on the small-subunit rRNA gene locus. Appl Environ Microbiol 65:1578–1583

Xiao L, Limor J, Morgan UM, Sulaiman IM, Thompson RC, Lal AA (2000) Sequence differences in the diagnostic target region of the oocyst wall protein gene of Cryptosporidium parasites. Appl Environ Microbiol 66:5499–5502

Xiao L, Sulaiman IM, Ryan UM, Zhou L, Atwill ER, Tischler ML, Zhang X, Fayer R, Lal AA (2002) Host adaptation and host-parasite co-evolution in Cryptosporidium: implications for taxonomy and public health. Int J Parasitol 32:1773–1785
Acknowledgements
We thank Dr. Tokuma Yanai and Dr. Shigeharu Thujioka for technical assistance at the Gifu University, Dr. Yoshihisa Suyama and Dr. Masaaki Satoh for helpful and stimulating discussions at Tohoku University, and Dr. Motohiro Iseki for providing oocysts of the C. muris RN66 and the C. parvum HNJ-1 strains used in the study at the Medical School of Kanazawa University.
About this article
Cite this article
Hikosaka, K., Nakai, Y. A novel genotype of Cryptosporidium muris from large Japanese field mice, Apodemus speciosus. Parasitol Res 97, 373–379 (2005). https://doi.org/10.1007/s00436-005-1459-7
Received:

Accepted:

Published:

Issue Date:
Keywords
SCID Mouse

Field Isolate

Maximum Likelihood Tree

Cryptosporidium Oocyst

Cryptosporidium Species