Abstract
In two experiments, thirty-six farm foxes of two species were inoculated with various doses of infective Toxocara canis eggs or tissue larvae isolated from mice. In experiment I, six adult arctic foxes (Alopex lagopus; 11-month old) were each inoculated with 20,000 eggs and sacrificed 100, 220, or 300 days post infection (dpi), while ten silver fox cubs (Vulpes vulpes; 6–9-week old) were infected with varying doses of eggs (30–3000) and necropsied 120 dpi. In experiment II, two groups of five cubs and two groups of five adult silver foxes received both a primary inoculation and either one or two challenge inoculations: primary inoculation (day 0) with 400 embryonated eggs were administered to five cubs and five adults and another five cubs and five adults received 400 larvae. At 50 dpi, the first challenge inoculation (400 eggs) was inoculated in all animals. At 100 dpi, three animals from each group were necropsied. The remaining two animals in each group were received a second challenge inoculation of 400 tissue larvae on 100 dpi and were subsequently necropsied at 150 dpi. In both experiments, the highest numbers of larvae per gram (lpg) of tissue was found in the kidneys (100–300 dpi). In adult foxes receiving a high dose (20,000 eggs), increasing larval burdens were found in the kidneys over the course of the experiment (up to 300 dpi). The larval migration from the lungs to other tissues appeared to be dose-dependent with the highest larval burdens found in adult foxes. The faecal egg excretion, larval burden and intestinal worm burdens decreased from the first to the second challenge infection.
This is a preview of subscription content, log in to check access.
Access options
Buy single article
Instant access to the full article PDF.
US$ 39.95
Price includes VAT for USA
Subscribe to journal
Immediate online access to all issues from 2019. Subscription will auto renew annually.
US$ 199
This is the net price. Taxes to be calculated in checkout.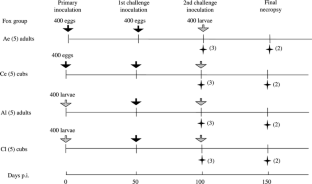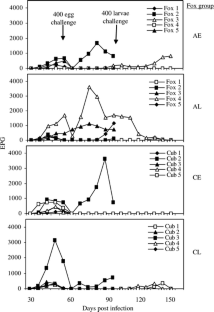 References
Acharya S, Sasmal NK, Jana DN, Roy S (2002) Migratory behaviour of Toxocara canis larvae in piglets. J Vet Parasitol 16:157–161

Barron CN, Saunders LZ (1966) Visceral larva migrans in the dog. Pathol Vet 3:315–330

Beaver PC (1966) Zoonoses, with particular reference to parasite of veterinary importance. In: Soulsby EJL (ed) Biology of parasites. Emphasis on veterinary parasites. Academic press Inc., New York, pp 215–227

Borgsteede FHM (1984) Helminth parasites of wild foxes (Vulpes vulpes L.) in The Netherlands. Z Parasitenkd 70:281–285

Burke TM, Robertson EL (1978) Critical studies of fenbendazole suspension (10%) against naturally occurring helminth infections in dogs. Am J Vet Res 39:1799–1801

Douglas JR, Baker NF (1959) The chronology of experimental intrauterine infection with Toxocara canis (Werner 1782) in the dog. J Parasitol 45:43–44

Dubey JP (1978) Patent Toxocara canis infection in ascarid-naive dogs. J Parasitol 64:1021–1023

Epe C, Meuwissen M, Stoye M., Schnieder T (1999) Transmission trials, ITS2-PCR and RAPD-PCR show identity of Toxocara canis isolates from red fox and dog. Vet Parasitol 84:101–112

Glickman LT, Shofer FS (1987) Zoonotic visceral and ocular larva migrans. Vet Clin North Am Small Anim Pract 17:39–53

Glickman LT, Dubey JP, Winslow LJ (1981) Serological response of ascarid-free dogs to Toxocara canis. Parasitology 82:383–387

Greve JH (1971) Age resistance to Toxocara canis in ascarid-free dogs. Am J Vet Res 32:1185–1192

Hayden DW, Kruiningen HV, Van Kruiningen HJ (1975) Experimentally induced canine toxocariasis: laboratory examinations and pathologic changes, with emphasis on the gastrointestinal tract. Am J Vet Res 36:1605–1614

Jacobs DE, Pegg EJ, Stevenson P (1977) Helminths of British dogs: Toxocara canis a veterinary perspective. J Small Anim Pract 18:79–92

Kapel C, Gamble HR (2000) Infectivity, persistence, and antibody response of domestic and sylvatic Trichinella spp. in experimentally infected pigs. Int J Parasitol 30:215–221

Maizels RM, Meghji M (1984) Repeated patent infection of adult dogs with Toxocara canis. J Helminthol 58:327–333

Manhardt J, Stoye M (1981) The behaviour of larvae of Toxocara canis (Anisakidae) during and after pulmonary migration in the final host (Beagle). Z Vet Med B 28:386–406

Nichols RL (1956) The etiology of visceral larva migrans 1. Diagnostic morphology of infective second-stage T oxocara larvae. J Parasitol 42:349–363

Noda R (1957) Experimental studies on Toxocara canis infection in puppies. Bull Univ Osaka Prefect Ser B 7:47–55

O'Lorcain P (1994) Epidemiology of Toxocara spp. in stray dogs and cats in Dublin, Ireland. J Helminthol 68:331–336

Oshima T (1976) Observations of the age resistance, eosinophilia, and larval behaviour in the helminth-free beagles infected with Toxocara canis. Jpn J Parasitol 25:447–455

Ramisz A, Zwierzchowski J (1966) The course and treatment of Toxocara canis infection in young arctic foxes (Alopex lagopus) under fox-farm conditions. Med Wet 22:204–208

Richards DT, Harris S, Lewis JW (1993) Epidemiology of Toxocara canis in red foxes (Vulpes vulpes) from urban areas of Bristol. Parasitology 107:167–173

Roepstorff A, Nansen P (1998) The epidemiology. Diagnosis and control of helminth parasites of swine. FAO Animal Health Manual, Rome Italy

Sprent JFA (1952) On the migratory behaviour of the larvae of various Ascaris species in white mice. J Infect Dis 90:165–176

Sprent JFA (1958) Observations on the development of Toxocara canis (Werner 1782) in the dog. Parasitology 48:184–209

Taira K, Saeed I, Kapel CMO (2002) Dose-dependent egg excretion in foxes (Vulpes vulpes) after a single infection with Toxocara canis eggs. Parasitol Res 88:941–943

Warren EG (1969) Infections of Toxocara canis in dogs fed infected mouse tissues. Parasitology 59:837–841

Webster GA (1956) A preliminary report on the biology of Toxocara canis (Werner 1782). Can J Zool 34:725–726

Willingham AL, Ockens NW, Kapel CMO, Monrad J (1996) A helminthological survey of wild red foxes (Vulpes vulpes) from the metropolitan area of Copenhagen. J Helminthol 70:259–263

Zimmermann VU, Stoye MDL (1985) Studies on the migration and distribution of larvae of Toxocara canis Werner 1782 (Anisakidae) in the definitive host (Beagle) after primary and reinfection. Z Vet Med B 32:1–28
Acknowledgements
The Naestved Municipal is acknowledged for a PhD scholarship and the Danish National Research Foundation for financial support to experimentation. The animals were kept under the Danish experimental animal permission number 2000-561-321 and treated according to the animal ethics law of EU.
About this article
Cite this article
Saeed, I., Taira, K. & Kapel, C.M.O. Toxocara canis in experimentally infected silver and arctic foxes. Parasitol Res 97, 160–166 (2005). https://doi.org/10.1007/s00436-005-1414-7
Received:

Accepted:

Published:

Issue Date:
Keywords
Worm Burden

Paratenic Host

Challenge Infection

Tissue Larva

Challenge Inoculation