Abstract
Dihydrofolate reductase (DHFR; EC1.5.1.3) is a known target enzyme for antifolate agents, which are used as alternative chemotherapeutics for chloroquine-resistant malaria. Mutations in the dhfr gene of Plasmodium vivax are thought to be associated with resistance to the antifolate drugs. In this study, we have analyzed genetic variations in the dhfr genes of clinical isolates of P. vivax (n=21) in Myanmar, to monitor antifolate resistance in this country. Sequence variations within the entire dhfr gene were highly restricted to codons from 57 to 117, and the GGDN tandem repeat region. Double (S58R and S117N/T) or quadruple mutations (F57L/I, S58R, T61M, and S117N/T), which may be closely related to the drug resistance, were recognized in most of the isolates (20/21 cases). Our results suggest that antifolate-resistant P. vivax is becoming widespread in Myanmar, as it also is in the neighboring countries in Southeast Asia. It appears that the drug resistance situation may be worsening in the country.
This is a preview of subscription content, log in to check access.
Access options
Buy single article
Instant access to the full article PDF.
US$ 39.95
Price includes VAT for USA
Subscribe to journal
Immediate online access to all issues from 2019. Subscription will auto renew annually.
US$ 199
This is the net price. Taxes to be calculated in checkout.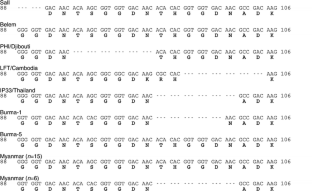 References
Berens N, Schwoebel B, Jordan S, Vanisaveth V, Phetsouvanh R, Christophel EM, Phompida S, Jelinek T (2003) Plasmodium falciparum: correlation of in vivo resistance to chloroquine and antifolates with genetic polymorphisms in isolates from the south of Lao PDR. Trop Med Int Health 8:775–782

Cowman AF (1997) The mechanisms of drug action and resistance in malaria. In: Hayes JD, Wolf CR (eds) Molecular Genetics of Drug Resistance. Harwood Academic Publishers, Amsterdam, pp 221–246

de Pécoulas PE, Tahar R, Ouatas T, Mazabraud A, Basco LK (1998) Sequence variation in the Plasmodium vivax dihydrofolate reductase–thymylate synthase gene and their relationship with pyrimethamine resistance. Mol Biochem Parasitol 92:265–273

de Pécoulas PE, Rachida T, Poravuth Y, Thai KH, Basco LK (2004) Genetic variation of the dihydrofolate reductase gene in Plasmodium vivax in Snoul, northeastern Cambodia. Acta Trop 92:1–6

Figtree M, Pasay CJ, Slade R, Cheng Q, Cloonan N, Walker J, Saul A (2000) Plasmodium vivax synonymous substitution frequencies, evolution and population structure deduced from diversity in AMA1 and MSP1 genes. Mol Biochem Parasitol 108:53–66

Fryauff DJ, Tuti S, Mardi A, Masbar S, Patipelohi R, Leksana B, Kain KC, Bangs MJ, Richie TL, Baird JK (1998) Chloroquine-resistant Plasmodium vivax in transmigration settlements of West Kalimantan, Indonesia. Am J Trop Med Hyg 59:513–518

Hastings MD, Porter KM, Maguire JD, Susanti I, Kania W, Bangs MJ, Sibley CH, Baird JK (2004) Dihydrofolate reductase mutations in Plasmodium vivax from Indonesia and therapeutic response to sulfadoxine plus pyrimethamine. J Infect Dis 189:744–750

Imwong M, Pukrittakayamee S, Looareesuwan S, Pasvol G, Poirreiz J, White NJ, Snounou G (2001) Association of genetic mutations in Plasmodium vivax dhfr with resistance to sulfadoxine-pyrimethamine: geographical and clinical correlates. Antimicrob Agents Chemother 45:3122–3127

Imwong M, Pukrittayakamee S, Renia L, Letourneur F, Charlieu JP, Leartsakulpanich U, Looareesuwan S, White NJ, Snounou G (2003) Novel point mutations in the dihydrofolate reductase gene of Plasmodium vivax: evidence for sequential selection by drug pressure. Antimicrob Agents Chemother 47:1514–1521

Kyabayinze D, Cattamanchi A, Kamya MR, Rosenthal PJ, Dorsey G (2003) Validation of a simplified method for using molecular markers to predict sulfadoxine-pyrimethamine treatment failure in African children with falciparum malaria. Am J Trop Med Hyg 69:247–252

Leartsakulpanich U, Imwong M, Pukrittayakamee S, White NJ, Snounou G, Sirawaraporn W, Yuthavong Y (2002) Molecular characterization of dihydrofolate reductase in relation to antifolate resistance in Plasmodium vivax. Mol Biochem Parasitol 119:63–73

Luzzi GA, Warrell DA, Barnes AJ, Dunbar EM (1992) Treatment of primaquine-resistant Plasmodium vivax malaria. Lancet 340:310

Mendis K, Sina BJ, Marchesini P, Carter R (2001) The neglected burden of Plasmodium vivax malaria. Am J Trop Med Hyg 64:97–106

Myat-Phone-Kyaw, Myint-Oo, Myint-Lwin, Thaw-Zin, Kyin-Hla-Aye, Nwe-Nwe-Yin (1993) Emergence of chloroquine-resistant Plasmodium vivax in Myanmar (Burma). Trans R Soc Trop Med Hyg 87:687

Na BK, Kim TS, Rosenthal PJ, Lee JK, Kong Y (2004) Evaluation of cysteine proteases of Plasmodium vivax as antimalarial drug targets: sequence analysis and sensitivity to cysteine protease inhibitors. Parasitol Res 94:312–317

Patsoula E, Spanakos G, Sofianatou D, Parara M, Vakalis NC (2003) A single-step, PCR-based method for the detection and differentiation of Plasmodium vivax and P. falciparum. Ann Trop Med Parasitol 97:15–21

Peterson DS, Walliker D, Wellems TE (1988) Evidence that a point mutation in dihydrofolate reductase-thymidylate synthase confers resistance to pyrimethamine in falciparum malaria. Proc Natl Acad Sci USA 85:9114–9118

Pukrittayakamee S, Chantra A, Simpson JA, Vanijanonta S, Clemens R, Looareesuwan S, White NJ (2000) Therapeutic responses to different antimalarial drugs in vivax malaria. Antimicrob Agents Chemother 44:1680–1685

Ruebush TK 2nd, Zegarra J, Cairo J, Andersen EM, Green M, Pillai DR, Marquino W, Huilca M, Arevalo E, Garcia C, Solary L, Kain KC (2003) Chloroquine-resistant Plasmodium vivax malaria in Peru. Am J Trop Med Hyg 69:548–552

Schwartz IK, Lackrtiz EM, Patchen LC (1991) Choroquine resistance Plasmodium vivax from Indonesia. N Engl J Med 324:927

Sirawaraporn W, Sirawaraporn R, Yongkiettrakul S, Anuwatwora A, Rastelli G, Kamchonwongpaisan S, Yuthavong Y (2002) Mutational analysis of Plasmodium falciparum dihydrofolate reductase: the role of aspartate 54 and phenylalanine 223 on catalytic activity and antifolate binding. Mol Biochem Parasitol 121:185–193

Smithuis FM, Monti F, Grundl M, Oo AZ, Kyaw TT, Phe O, White NJ (1997) Plasmodium falciparum: sensitivity in vivo to chloroquine, pyrimethamine/sulfadoxine and mefloquine in western Myanmar. Trans R Soc Trop Med Hyg 91:468–472

Smithuis F, Shahmanesh M, Kyaw MK, Savran O, Lwin S, White NJ (2004) Comparison of chloroquine, sulfadoxine/pyrimethamine, mefloquine and mefloquine-artesunate for the treatment of falciparum malaria in Kachin State, North Myanmar. Trop Med Int Health. 9:1184–1190

White NJ (1997) Assessment of the pharmacodynamic properties of antimalarial drugs in vivo. Antimicrob Agents Chemother 41:1413–1422

Wongsrichanalai C, Lin K, Pang LW, Faiz MA, Noedl H, Wimonwattrawatee T, Laoboonchai A, Kawamoto F (2001) In vitro susceptibility of Plasmodium falciparum isolates from Myanmar to antimalarial drugs. Am J Trop Med Hyg 65:450–455
Acknowledgements
This work was supported by a grant from the Korea Health 21 R&D Project, Ministry of Health and Welfare, the Republic of Korea (03-PJ1-PG1-CH01-0001). The authors are grateful to health personnel of Department of Health (Vector Borne Diseases Control Project and Basic Health in the respected townships) and Department of Medical Research (Upper Myanmar), for their active cooperation in this study.
Additional information
Byoung-Kuk Na and Hyeong-Woo Lee have contributed equally to the work.
About this article
Cite this article
Na, B., Lee, H., Moon, S. et al. Genetic variations of the dihydrofolate reductase gene of Plasmodium vivax in Mandalay Division, Myanmar. Parasitol Res 96, 321–325 (2005). https://doi.org/10.1007/s00436-005-1364-0
Received:

Accepted:

Published:

Issue Date:
Keywords
Plasmodium vivax

Dihydrofolate reductase

Point mutations

Myanmar