Abstract
Recent data have suggested that P-glycoprotein (Pgp), working as membrane efflux "pumps", plays a major role in the transport of anthelmintic drugs in parasitic nematodes of ruminants. Flow cytometry analyses has shown that active Pgp is probably present in the external layers of Haemonchus contortus eggshells, following staining with the mouse monoclonal anti-human MDR1 antibody UIC2, which binds to Pgp in its active conformation. We evaluated the presence and distribution of this protein in the envelopes (eggshells and cuticles) of H. contortus and compared the various stages (eggs, L1–L2 larvae, L3 larvae, adult male and female worms). Electrophoresis revealed a 170-kDa band, corresponding to the molecular weight of Pgp in all stages. Indirect immunofluorescence staining with UIC2 showed Pgp to be located in the external layer of eggshells or cuticles. Transmission electron microscopy was used to localise Pgp more accurately in the three layers of the eggshells and cuticles. The conformation and biological functions of this protein, which we did not expect to find in such structures, remain to be determined.
This is a preview of subscription content, log in to check access.
Access options
Buy single article
Instant access to the full article PDF.
US$ 39.95
Price includes VAT for USA
Subscribe to journal
Immediate online access to all issues from 2019. Subscription will auto renew annually.
US$ 199
This is the net price. Taxes to be calculated in checkout.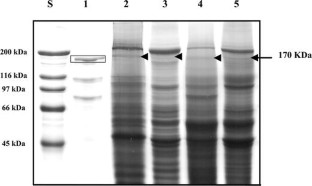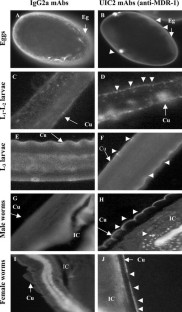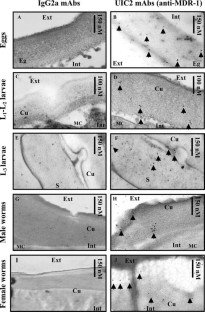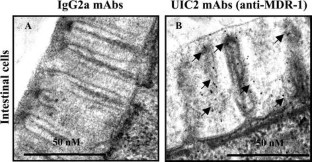 References
Alvarez LI, Mottier ML, Sanchez SF, Lanusse CE (2001) Ex vivo diffusion of albendazole and its sulfoxide metabolite into Ascaris suum and Fasciola hepatica. Parasitol Res 87:929–934

Anya AO (1966) The structure and chemical composition of the nematode cuticle. Observations on some oxyurids and Ascaris. Parasitology 56:179–198

Baermann G (1917) Eine einfache Methode zur auffindung von Ankylostomum (Nematoden) larven in Erdproben. Tijdschr Diergeneeskd 57:131–137

Beaumont-Schwartz C, Kerboeuf D, Hubert J (1987) Méthodes de mise en évidence de souche de strongles gastro-intestinaux résistantes aux anthelminthiques. Rec Med Vet 163:683–688

Broeks A, Janssen HW, Calafat J, Plasterk RH (1995) A P-glycoprotein protects Caenorhabditis elegans against natural toxins. EMBO J 14:1858–1866

Broeks A, Gerrard B, Allikmets R, Dean M, Plasterk RH (1996) Homologues of the human multidrug resistance genes MRP and MDR contribute to heavy metal resistance in the soil nematode Caenorhabditis elegans. EMBO J 15:6132–6143

Georges E, Bradley G, Gariepy J, Ling V (1990) Detection of P-glycoprotein isoforms by gene-specific monoclonal antibodies. Proc Natl Acad Sci USA 87:152–156

Gibbons LM (1979) Revision of the genus Haemonchus Cobb, 1898 (Nematoda, Trichostrongylidae). Syst Parasitol 1:3–24

Kelley DJ, Pavelic ZP, Gapany M, Stambrook P, Pavelic L, Gapany S, Gluckman JL (1993) Detection of P-glycoprotein in squamous cell carcinomas of the head and neck. Arch Otolaryngol Head Neck Surg 119:411–414

Kerboeuf D, Aycardi J (1999) Unexpected increased thiabendazole tolerance in Haemonchus contortus resistant to anthelmintics by modulation of glutathione activity. Parasitol Res 85:713–718

Kerboeuf D, Chambrier P, Le Vern Y, Aycardi J (1999) Flow cytometry analysis of drug transport mechanisms in Haemonchus contortus susceptible or resistant to anthelmintics. Parasitol Res 85:118–123

Kerboeuf D, Guégnard F, Le Vern Y (2002) Analysis and partial reversal of multidrug resistance to anthelmintics due to P-glycoprotein in Haemonchus contortus eggs using Lens culinaris lectin. Parasitol Res 88:816–821

Kerboeuf D, Guégnard F, Vern YL (2003) Detection of P-glycoprotein-mediated multidrug resistance against anthelmintics in Haemonchus contortus using anti-human mdr1 monoclonal antibodies. Parasitol Res 91:79–85

Lincke CR, The I, van Groenigen M, Borst P (1992) The P-glycoprotein gene family of Caenorhabditis elegans. Cloning and characterization of genomic and complementary DNA sequences. J Mol Biol 228:701–711

Lincke CR, Broeks A, The I, Plasterk RH, Borst P (1993) The expression of two P-glycoprotein (pgp) genes in transgenic Caenorhabditis elegans is confined to intestinal cells. EMBO J 12:1615–1620

Lu P, Liu R, Sharom FJ (2001) Drug transport by reconstituted P-glycoprotein in proteoliposomes. Effect of substrates and modulators, and dependence on bilayer phase state. Eur J Biochem 268:1687–1697

Mansfield LS, Gamble HR, Fetterer RH (1992) Characterization of the eggshell of Haemonchus contortus—I. Structural components. Comp Biochem Physiol B Biochem Mol Biol 103:681–686

Mechetner EB, Roninson IB (1992) Efficient inhibition of P-glycoprotein-mediated multidrug resistance with a monoclonal antibody. Proc Natl Acad Sci USA 89:5824–5828

Mehlhorn H (2001) Encyclopedic reference of Parasitology, Biology-Structure-Function. Vol 1. Springer, Berlin, Heidelberg, New York, pp 672

Panchuk-Voloshina N, Haugland RP, Bishop-Stewart J, Bhalgat MK, Millard PJ, Mao F, Leung WY (1999) Alexa dyes, a series of new fluorescent dyes that yield exceptionally bright, photostable conjugates. J Histochem Cytochem 47:1179–1188

Riou M, Guégnard F, Le Vern Y, Kerboeuf D (2003) Modulation of the multidrug resistance (MDR) system in the nematode Haemonchus contortus by changing cholesterol content: effects on resistance to anthelmintics. J Antimicrob Chemother 52:180–187

Rosenberg MF, Velarde G, Ford RC, Martin C, Berridge G, Kerr ID, Callaghan R, Schmidlin A, Wooding C, Linton KJ, Higgins CF (2001) Repacking of the transmembrane domains of P-glycoprotein during the transport ATPase cycle. EMBO J 20:5615–5625

Sangster NC (1994) P-glycoproteins in nematodes. Parasitol Today 10:319–322

Schinkel AH, Arceci RJ, Smit JJ, Wagenaar E, Baas F, Dolle M, Tsuruo T, Mechetner EB, Roninson IB, Borst P (1993) Binding properties of monoclonal antibodies recognizing external epitopes of the human MDR1 P-glycoprotein. Int J Cancer 55:478–484

Sharom FJ (1997) The P-glycoprotein efflux pump: how does it transport drugs? J Membr Biol 160:161–175

Wharton DA (1979) The structure of the egg-shell of Aspiculuris tetraptera Schulz (Nematoda: Oxyuroidea). Parasitology 78:145–154

Wharton DA (1986) The structure of the cuticle and sheath of the infective juvenile of Trichostrongylus colubriformis. Z Parasitenkd 72:779–787

Wharton DA, Sommerville RI (1984) The structure of excretory system of the infective larvae of Haemonchus contortus. Int J Parasitol 14:591–600
Acknowledgements
We thank Dr Yan Van Wyk, Dr Gilles Aumont and Professor Roger Prichard for kindly providing H. contortus isolates, Dr Laurence Guilloteau for helping with immunological staining experiments, Mr. Limouzin and his team for the careful maintenance of animals and Marie-Colette Fauré and her team for their invaluable help in tracking down references. We also thank the "Region Centre" for financing this research.
About this article
Cite this article
Riou, M., Koch, C., Delaleu, B. et al. Immunolocalisation of an ABC transporter, P-glycoprotein, in the eggshells and cuticles of free-living and parasitic stages of Haemonchus contortus. Parasitol Res 96, 142–148 (2005). https://doi.org/10.1007/s00436-005-1345-3
Received:

Accepted:

Published:

Issue Date:
Keywords
Adult Worm

Ivermectin

Intestinal Cell

Parasitic Stage

Female Worm