Abstract
The fixing of CO2 is an important metabolic process for many organisms. In the anisakid nematodes, CO2 has been shown to be necessary for their development, at least in vitro. The presence of CO2 stimulates the moulting (M3) of the larvae from the third (L3) to the fourth (L4) stage and prolongs the survival, at least, in vitro. We determined the activity of CO2-fixing enzymes, common to many organisms, in two anisakids: Anisakis simplex, a parasite of cetaceans, and Hysterothylacium aduncum, a parasite of fish. Although no activity was detected for pyruvate carboxylase or carboxylating-malic enzyme, we detected phosphoenolpyruvate carboxykinase (PEPCK) and phosphoenolpyruvate carboxylase (PEPC) activity. In A. simplex, PEPCK was clearly higher than that of PEPC throughout the moulting process studied. In H. aduncum, although the activity of both enzymes was of similar magnitude, they showed different behaviour; PEPCK activity decreased after the moulting to L4, PEPC activity increased so that the ratio PEPCK/PEPC activity decreased from 1.90 before moulting to 0.59 after.
This is a preview of subscription content, log in to check access.
Access options
Buy single article
Instant access to the full article PDF.
US$ 39.95
Price includes VAT for USA
Subscribe to journal
Immediate online access to all issues from 2019. Subscription will auto renew annually.
US$ 199
This is the net price. Taxes to be calculated in checkout.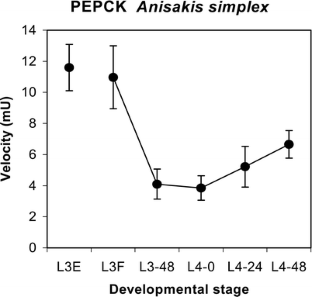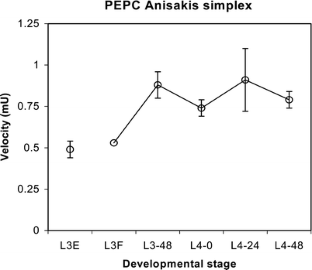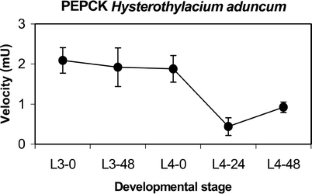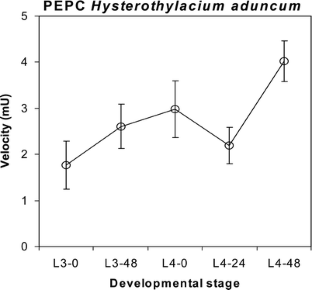 References
Barrett J (1981) Biochemistry of parasitic helminths. Macmillan, London, pp 92–94

Cataldi de Flombaum MA, Cannata JJB, Cazzulo JJ (1977) CO2-fixing enzymes in Trypanosoma cruzi. Comp Biochem Physiol 58B:67–69

Iglesias L, Valero A, Adroher FJ (1997) Some factors which influence the in vitro maintenance of Anisakis simplex (Nematoda). Folia Parasitol 44:297–301

Iglesias L, Valero A, Benítez R, Adroher FJ (2001) In vitro cultivation of Anisakis simplex: pepsin increases survival and moulting from fourth larval to adult stage. Parasitology 123:285–291

Iglesias L, Valero A, Gálvez L, Benítez R, Adroher FJ (2002) In vitro cultivation of Hysterothylacium aduncum (Nematoda: Anisakidae) from 3rd-stage larvae to egg-laying adults. Parasitology 125:467–475

Landsperger WJ, Harris BG (1976) NAD+ -Malic enzyme. Regulatory properties of the enzyme from Ascaris suum. J Biol Chem 251: 3599–3602

Loisseau PM, Gayral P, Peter F (1993) Purification and properties of phosphoenolpyruvate carboxylase from Molinema dessetae (Nematoda: Filaroidea). Parasitology 106:55–61

Lowry OH, Rosebrough NJ, Farr AL, Randall RJ (1951) Protein measurement with the Folin phenol reagent. J Biol Chem 193:265–275

Mallick S, Harris BG, Cook PF (1991) Kinetic mechanism of NAD:malic enzyme from Ascaris suum in the direction of reductive carboxylation. J Biol Chem 266:2732–2738

Park SH, Kiick DM, Harris BG, Cook PF (1984) Kinetic mechanism in the direction of oxidative decarboxylation for NAD-malic enzyme from Ascaris suum. Biochemistry 23:5446–5453

Rohrer SP, Saz HJ, Nowak T (1986) Purification and characterization of phosphoenolpyruvate carboxykinase from the parasitic helminth Ascaris suum. J Biol Chem 261:13049–13055

Sommerville RI, Davey KG (1976) Stimuli for cuticle formation and ecdysis in vitro of the infective larva of Anisakis sp. Int J Parasitol 6:433–439

Van den Bossche H, Borgers M (1973) Subcellular distribution of digestive enzymes in Ascaris suum intestine. Int J Parasitol 3:59–65

Vanover–Dettling L, Komuniecki PR (1989). Effect of gas phase on carbohydrate metabolism in Ascaris suum larvae. Mol Biochem Parasitol 36:29–40

Wilkes J, Cornish RA, Mettrick DF (1982) Purification and properties of phosphoenolpyruvate carboxykinase from Ascaris suum. Int J Parasitol 12:163–171
Acknowledgements
This work has been funded by the Spanish grants PB98-1312 from the DGESIC and ACU01-027 from the INIA. D.M. is recipient of a predoctoral fellowship from Consejería de Agricultura y Pesca, Junta de Andalucía (Spain). Translation into English was by Mr Robert Abrahams. All the experiments described comply with the current laws of the country in which the experiments were performed.
About this article
Cite this article
Iglesias, L., Malagón, D., Valero, A. et al. CO2-fixing enzymes during moulting from third larval to fourth larval stage of Anisakis simplex and Hysterothylacium aduncum (Nematoda: Anisakidae). Parasitol Res 96, 212–215 (2005). https://doi.org/10.1007/s00436-005-1342-6
Received:

Accepted:

Published:

Issue Date:
Keywords
Ascaris

Disodium Salt

Pyruvate Carboxylase

Phosphoenolpyruvate Carboxylase

Phosphoenolpyruvate Carboxykinase