Abstract
Risedronate, a bisphosphonate, was used to treat CD-1 mice infected with the Brazil strain of Trypanosoma cruzi. When given by subcutaneous injection 3 times/week, there was a significant reduction in mortality, however, the myocardial pathology and right ventricular dilation was unchanged in these mice compared to control animals. In C57BL/6 mice infected with the Tulahuen strain, there was no change in mortality in response to risedronate treatment. These data suggest that this class of compounds has activity against T. cruzi in vivo and illustrate the utility of imaging and pathologic studies as adjuncts in the evaluation of therapeutic compounds as treatments for experimental Chagas' disease. In addition, it underscores the need to use different strains of T. cruzi.
This is a preview of subscription content, log in to check access.
Access options
Buy single article
Instant access to the full article PDF.
US$ 39.95
Price includes VAT for USA
Subscribe to journal
Immediate online access to all issues from 2019. Subscription will auto renew annually.
US$ 199
This is the net price. Taxes to be calculated in checkout.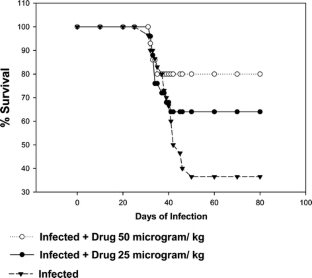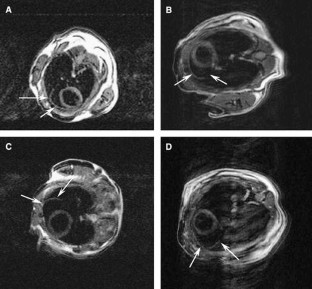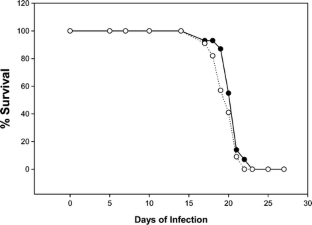 References
Chandra M, Shirani J, Shtutin V, Weiss LM, Factor SM, Petkova SB, Rojkind M, Dominguez-Rosales JA, Jelicks LA, Wittner M, Tanowitz HB (2002) Cardioprotective effects of Verapamil on myocardial structure and function in a murine model of chronic Trypanosoma cruzi infection (Brazil strain): an echocardiographic study. Int J Parasitol 32:207–215

Fernandez D, Wenck MA, Craig SP 3rd, Delfino JM (2004) The purine transferase from Trypanosoma cruzi as a potential target for bisphosphonate-based chemotherapeutic compounds. Bioorg Med Chem Lett 14:4501–4504

Garzoni LR, Caldera A, Meirelles Mde N, de Castro SL, Docampo R, Meints GA, Oldfield E, Urbina JA (2004a) Selective in vitro effects of the farnesyl pyrophosphate synthase inhibitor risedronate on Trypanosoma cruzi. Int J Antimicrob Agents 23:273–285

Garzoni LR, Waghabi MC, Baptista MM, de Castro SL, Meirelles Mde N, Britto CC, Docampo R, Oldfield E, Urbina JA (2004b) Antiparasitic activity of risedronate in a murine model of acute Chagas' disease. Int J Antimicrob Agents 23:286–290

Huang H, Chan J, Wittner M, Jelicks LA, Morris SA, Factor SM, Weiss LM, Braunstein VL, Bacchi CJ, Yarlett N, Chandra M, Shirani J, Tanowitz HB (1999) Expression of cardiac cytokines and inducible form of nitric oxide synthase (NOS2) in Trypanosoma cruzi-infected mice. J Mol Cell Cardiol 31:75–88

Huang H, Petkova SB, Cohen AW, Bouzahzah B, Chan J, Zhou J-N, Factor SM, Weiss LM, Krishnamachary M, Mukherjee S, Wittner S, Kitsis RN, Pestell RG, Lisanti MP, Albanese C, Tanowitz HB (2003) Activation of transcription factors (AP-1 and NF-κB) in murine Chagasic myocarditis activation of transcription factors AP-1 and NF-kappa B in murine Chagasic myocarditis. Infect Immun 71:2859–2567

Jelicks LA, Shirani J, Wittner M, Chandra M, Weiss LM, Factor SM, Bekirov I, Braunstein VB, Chan J, Huang H, Tanowitz HB(1999) Application of cardiac gated magnetic resonance imaging in murine Chagas' disease. Am J Trop Med Hyg 61:207–214

Kirchhoff LV, Weiss LM, Wittner M, Tanowitz HB (2004) Parasitic diseases of the heart. Front Biosci 9:706–723

Martin MB, Grimley JS, Lewis JC, Heath HT 3rd, Bailey BN, Kendrick H, Yardley V, Caldera A, Lira R, Urbina JA, Moreno SN, Docampo R, Croft SL, Oldfield E (2001) Bisphosphonates inhibit the growth of Trypanosoma brucei, Trypanosoma cruzi, Leishmania donovani, Toxoplasma gondii, and Plasmodium falciparum: a potential route to chemotherapy. J Med Chem 44:909–916

Montalvetti A, Bailey BN, Martin MB, Severin GW, Oldfield E, Docampo R (2001) Bisphosphonates are potent inhibitors of Trypanosoma cruzi farnesyl pyrophosphate synthase. J Biol Chem 276:33930–33937

Petkova SB, Tanowitz HB, Magazine HI, Factor SM, Chan J, Pestell RG, Bouzahzah B, Douglas SA, Shtutin V, Morris SA, Tsang E, Weiss LM, Christ GJ, Wittner M, Huang H (2000) Myocardial expression of endothelin-1 in murine Trypanosoma cruzi infection. Cardiovasc Pathol 9:257–265

Rodan GA, Martin TJ (2000) Therapeutic approaches to bone diseases. Science 289:1508–1514

Rodriguez N, Bailey BN, Martin MB, Oldfield E, Urbina JA, Docampo R (2002) Radical cure of experimental cutaneous leishmaniasis by the bisphosphonate pamidronate. J Infect Dis 186:138–140

Teixeira MM, Gazzinelli RT, Silva JS (2002) Chemokines, inflammation and Trypanosoma cruzi infection. Trends Parasitol 18:262–265
Acknowledgements
Supported in part by grants from Proctor & Gamble and from the National Institutes of Health AI-062730 (LAJ), AI-12770, AI-052739 and HL-073732 (HBT). We wish to thank Dazhi Zhao and Vitalyi Shtutin for their technical assistance.
About this article
Cite this article
Bouzahzah, B., Jelicks, L.A., Morris, S.A. et al. Risedronate in the treatment of Murine Chagas' disease. Parasitol Res 96, 184–187 (2005). https://doi.org/10.1007/s00436-005-1331-9
Received:

Accepted:

Published:

Issue Date:
Keywords
Bisphosphonates

Risedronate

Post Infection

Cardiac Magnetic Resonance Imaging

Trypanosoma Cruzi