Abstract
Heat shock proteins (HSPs) are highly conserved among different organisms. A mycobacterial HSP65 DNA vaccine was previously shown to have prophylactic and immunotherapeutic effects against Mycobacterium tuberculosis infection in mice. Here, BALB/c mice were immunized with mycobacterial DNA-hsp65 or with DNA-hsp65 and trehalose dymicolate (TDM), both carried by biodegradable microspheres (MHSP/TDM), and challenged with Leishmania (Leishmania) major. MHSP/TDM conferred protection against L. major infection, as indicated by a significant reduction of edema and parasite loads in infected tissues. Although high levels of interferon-γ and low levels of interleukin (IL)-4 and IL-10 were detected in mice immunized with DNA-hsp65 or MHSP/TDM, only animals immunized with MHSP/TDM displayed a consistent Th1 immune response, i.e., significantly higher levels of anti-soluble Leishmania antigen (SLA) immunoglobulin G (IgG)2a and low anti-SLA IgG1 antibodies. These findings indicate that encapsulated MHSP/TDM is more immunogenic than naked hsp65 DNA, and has great potential to improve vaccine effectiveness against leishmaniasis and tuberculosis.
This is a preview of subscription content, log in to check access.
Access options
Buy single article
Instant access to the full article PDF.
US$ 39.95
Price includes VAT for USA
Subscribe to journal
Immediate online access to all issues from 2019. Subscription will auto renew annually.
US$ 199
This is the net price. Taxes to be calculated in checkout.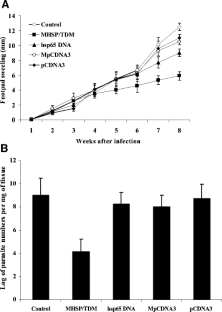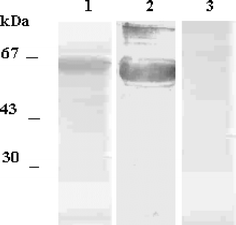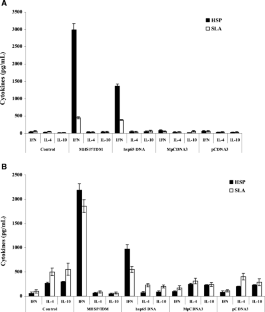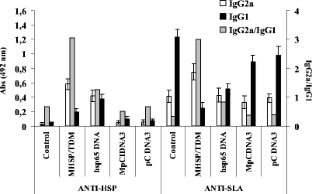 References
Afonso LC, Scott P (1993) Immune responses associated with susceptibility of C57BL/10 mice to Leishmania amazonensis. Infect Immun 61:2952–2959

Ahmed SB, Bahloul C, Robbana C, Askri S, Dellagi K (2004) A comparative evaluation of different DNA vaccine candidates against experimental murine leishmaniasis due to L. major. Vaccine 22:1631–1639

Alimoharrunadian MH, Khamesipour A, Darabi H, Firooz A, Malekzadeh S, Bahonar A, Dowlati Y, Moddaber F (2002) The role of BCG in human immune responses induced by multiple injections of autoclaved Leishmania major as a candidate vaccine against leishmaniasis. Vaccine 21:174–180

Barrios C, Lussow AR, Van Embden J, Van Der Zee R, Rappuoli R, Costantino P, Louis JA, Lambert PH, Del Giudice G (1992) Mycobacterial heat-shock proteins as carrier molecules. II: The use of the 70-kDa mycobacterial heat-shock protein as carrier for conjugated vaccines can circumvent the need for adjuvants and Bacillus Calmette Guérin priming. Eur J Immunol 22:1365–1372

Becker T, Hartl FU, Wieland F (2002) CD40, an extracellular receptor for binding and uptake of hsp70-peptide complexes. J Cell Biol 158:1277–1285

Bradford MM (1976) A rapid and sensitive method for the quantification of microgram quantities of protein utilizing the principle of protein–dye binding. Anal Biochem 72:248–254

Cabrera M, Blackwell JM, Castes M, Trujillo D, Convit J, Shaw MA (2000) Immunotherapy with live BCG plus heat killed Leishmania induces a T helper 1-like response in American cutaneous leishmaniasis patients. Parasite Immunol 22:73–79

Campbell K, Diao H, Ji J, Soong L (2003) DNA immunization with the gene encoding P4 nuclease of Leishmania amazonensis protects mice against cutaneous leishmaniasis. Infect Immun 71:6270–6278

Coelho EA, Tavares CA, Carvalho FA, Chaves KF, Teixeira KN, Rodrigues RC, Charest H, Matlashewski G, Gazzinelli RT, Fernandes AP (2003) Immune response induced by the Leishmania (Leishmania) donovani A2 antigen, but not by the LACK antigen, are protective against experimental Leishmania (Leishmania) amazonensis infection. Infect Immun 71:3988–3994

Coler RN, Reed SG (2005) Second-generation vaccines against leishmaniasis. Trends Parasitol 21:244–249

DeNagel DC, Pierce SK (1993) Heat shock proteins in immune responses. Crit Rev Immunol 13:71–81

Desjeux P (1996) Leishmaniasis. Public health aspects and control. Clin Dermatol 14:417–423

Fernandes AP, Herrera EC, Mayrink W, Gazzinelli RT, Liu WY, Costa CA, Tavares CAP, Melo MN, Michalick MSM, Gentz R, Nascimento E (1997) Immune responses induced by a Leishmania (Leishmania) amazonensis recombinant antigen in mice and lymphocytes from vaccinated subjects. Rev Inst Med Trop São Paulo 39:70–78

Ghosh A, Labrecque S, Matlashewski G (2001) Protection against Leishmania donovani infection by DNA vaccination: increased DNA vaccination efficiency through inhibiting the cellular p53 response. Vaccine 19:3169–3178

Grimaldi G Jr, Tesh RB (1993) Leishmaniasis of the New World: current concepts and implications for future research. Clin Microbiol Rev 6:230–250

Gurunathan S, Prussin C, Sacks DL, Seder RA (1998) Vaccine requirements for sustained cellular immunity to an intracellular parasitic infection. Nat Med 4:1409–1415

Gurunathan S, Wu C, Freidag BL, Seder RA (2000) DNA vaccines: a key for inducing long-term cellular immunity. Curr Opin Immunol 12:442–447

Jones DE, Ackermann MR, Wille U, Hunter CA, Scott P (2002) Early enhanced Th1 response after Leishmania amazonensis infection of C57BL/6 interleukin-IL-10-deficient mice does not lead to resolution of infection. Infect Immun 70:2151–2158

Kaye PM, Curry AJ, Blackwell JM (1991) Differential production of Th1- and Th2-derived cytokines does not determine genetically controlled vaccine-induced rate of cure in murine visceral leishmaniasis. J Immunol 146:2763–2770

Kaufmann SH (1990) Heat shock proteins and the immune response. Immunol Today 11:129–136

Khalil EA, Elhassam AM, Zijlstra EE, Osman OF, Eljack IA, Ibrahim ME, Mukhtar MM, Ghalib HW, Moddaber F (2000) Safety and immunogenicity of an autoclaved Leishmania major vaccine. East Afr Med J 77:468–470

Krieg AM (2002) CpG motifs in bacterial DNA and their immune effects. Annu Rev Immunol 20:709–760

Launois P, Maillard I, Pingel S, Swihart KG, Xénarios I, Acha-Orbea H, Diggelmann H, Locksley RM, Mac-Donald HR, Louis JA (1997) IL-4 rapidly produced by Vβ4+ Vα8+ CD4+ T cells instructs Th2 development and susceptibility to Leishmania major in BALB/c mice. Immunity 6:541–549

Lima KM, Dos Santos AS, Lima VM, Coelho-Castelo AA, Rodrigues JM Jr, Silva CL (2003a) Single dose of a vaccine based on DNA encoding mycobacterial hsp65 protein plus TDM-loaded PLGA microspheres protects mice against a virulent strain of Mycobacterium tuberculosis. Gene Ther 10:678–685

Lima KM, Dos Santos AS, Santos RR, Brandão IT, Rodrigues JM Jr, Silva CL (2003b) Efficacy of DNA-hsp65 vaccination for tuberculosis varies with method of DNA introduction in vivo. Vaccine 22:49–56

Lussow AR, Barrios C, Van Ebden J, Van Der Zee R, Verdini AS, Pessi A, Louis JA, Lambert PH, Del Giudice G (1991) Mycobacterial heat-shock protein as carrier molecules. Eur J Immunol 21:2297–2302

Mayrink W, Da Costa CA, Magalhães PA, Melo MN, Dias M, Lima AO, Michalick MS, Williams P (1979) A field triad of a vaccine against American dermal leishmaniasis. Trans R Soc Trop Med Hyg 73:385–387

McMahon-Pratt D, Alexander J (2004) Does the Leishmania major paradigm of pathogenesis and protection hold for New World cutaneous leishmaniasis or the visceral disease? Immunol Rev 201:206–224

Minowada G, Welch WJ (1995) Clinical implications of the stress response. J Clin Invest 95:3–12

Misra A, Dube A, Srivastava B, Sharma P, Srivastava JK, Katiyar JC, Naik S (2001) Successful vaccination against Leishmania donovani infection in Indian langur using alum-precipitated autoclaved Leishmania major with BCG. Vaccine 19:3485–3492

Nagata T, Aoshi T, Uchijima M, Suzuki M, Koide Y (2004) Cytotoxic T-lymphocyte and helper T-lymphocyte-oriented DNA vaccination. DNA Cell Biol 23:93–106

Piedrafita D, Xu D, Hunter D, Harrison RA, Liew FY (1999) Protective immune responses induced by vaccination with an expression genomic library of Leishmania major. J Immunol 163:1467–1472

Pierce SK, DeNagel DC, Vanbuskirk AM (1991) A role for heat shock proteins in antigen processing and presentation. Curr Top Microbiol Immunol 167:83–92

Reed SG, Campos-Neto A (2003) Vaccines for parasitic and bacterial infections. Curr Opin Immunol 15:456–460

Rey-Ladino JA, Joshi PB, Sing B, Gupta R, Reiner RE (1997) Leishmania major: molecular cloning, sequencing, and expression of the heat shock protein 60 gene reveals unique carboxyl terminal peptide sequences. Exp Parasitol 85:249–263

Rico AI, Del Real G, Soto M, Quijada L, Martinez AC, Alonso C, Requena JM (1998) Characterization of the immunostimulatory properties of Leishmania infantum HSP70 by fusion to the Escherichia coli maltose-binding protein in normal and nu/nu BALB/c mice. Infect Immun 66:347–352

Rico AI, Angel SO, Alonso C, Requena JM (1999) Immunostimulatory properties of the Leishmania infantum heat shock protein HSP70 and HSP83. Mol Immunol 36:1131–1139

Robert J, Gantress J, Rau L, Bell A, Cohen N (2002) Minor histocompatibility antigen-specific MHC-restricted CD8 T cell responses elicited by heat shock proteins. J Immunol 168:1697–1703

Russell DG (1995) Mycobacterium and Leishmania: stowaways in the endosomal network. Trends Cell Biol 5:125–128

Ryll R, Watanabe K, Fujiwara N, Takimoto H, Hasunuma R, Kumazawa Y, Okada M, Yano I (2001) Mycobacterial cord factor, but not sulfolipid, causes depletion of NKT cells and upregulation of CD1d1 on murine macrophages. Microbes Infect 3:611–619

Santos WR, De Lima VM, De Souza EP, Bernardo RR, Palatnik M, Palatnik De Souza CB (2002) Saponins, IL-12 and BCG adjuvant in the FML-vaccine formulation against murine visceral leishmaniasis. Vaccine 21:30–43

Satti IN, Osman HY, Daifalla NS, Younis SA, Khalil EAG, Zijstra EE, Hassan E, Ghalib HW (2001) Immunogenicity and safety of autoclaved Leishmania major plus BCG vaccine in healthy Sudanese volunteers. Vaccine 19:2100–2106

Scott P, Artis D, Uzonna J, Zaph C (2004) The development of effector and memory T cells in cutaneous leishmaniasis: the implications for vaccine development. Immunol Rev 201:318–338

Seder RA, Gurunathan S (1999) DNA vaccines—designer vaccines for the 21st century. N Engl J Med 341:277–278

Srivastava JK, Misra A, Sharma P, Srivastava B, Naik S, Dube A (2003) Prophylactic potential of autoclaved Leishmania donovani with BCG against experimental visceral leishmaniasis. Parasitology 127:107–114

Streit JA, Recker TJ, Filho FG, Beverley SM, Wilson ME (2001) Protective immunity against the protozoan Leishmania chagasi is induced by subclinical cutaneous infection with virulent but not avirulent organisms. J Immunol 166:1921–1929

Suzue K, Young RA (1996) Adjuvant-free hsp70 fusion protein system elicits humoral and cellular immune responses to HIV-1 p24. J Immunol 156:873–879

Towbin H, Staehelin T, Bordon J (1979) Electrophoretic transfer of proteins from polyacrylamide gels to nitrocellulose sheets: procedure and some applications. Proc Natl Acad Sci USA 76:4350–4354

Webb JR, Campos-Neto A, Ovendale PJ, Martin TI, Stromberg EJ, Badaro R, Reed SG (1998) Human and murine immune responses to a novel Leishmania major recombinant protein encoded by members of a multicopy gene family. Infect Immun 66:3279–3289

World Health Organization (2005) Program for surveillance and control of leishmaniaisis. http://who.int/emc/diseases/leish/index.html.2005 (generic)
Acknowledgements
This work received financial support from FAPEMIG, FAPESP, CNPq, and Institutes of Millennium REDE-TB (MCT).
About this article
Cite this article
Coelho, E.A.F., Tavares, C.A.P., de Melo Lima, K. et al. Mycobacterium hsp65 DNA entrapped into TDM-loaded PLGA microspheres induces protection in mice against Leishmania (Leishmania) major infection. Parasitol Res 98, 568–575 (2006). https://doi.org/10.1007/s00436-005-0088-5
Received:

Accepted:

Published:

Issue Date:
Keywords
Leishmaniasis

PLGA Microsphere

Major Infection

Challenge Infection

IgG2a Antibody