This is a preview of subscription content, log in to check access.
Access options
Buy single article
Instant access to the full article PDF.
US$ 39.95
Price includes VAT for USA
Subscribe to journal
Immediate online access to all issues from 2019. Subscription will auto renew annually.
US$ 199
This is the net price. Taxes to be calculated in checkout.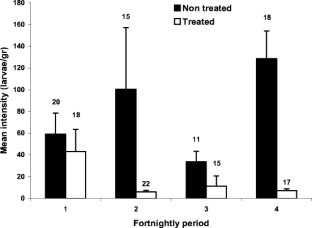 References
Demiaszkiewicz A (1986) Laboratory diagnosis of protostrongylid infection in Cervidae. Med Wet 41:660–663

Demiaszkiewicz A (1987) Epizootiology of Elaphostrongylus cervi infection of red deer in the Bialowieza forest. Med Wet 43:208–211

Ekkel ED, Kuypers AH, Counotte GHM, Tielen MJM (1995) The phytohemagglutinin skin-test as an indicator of stress-induced changes in immune reactivity in pigs. Vet Q 17:143–146

Fernandez de Mera IG, Vicente J, Gortázar C, Hofle U, Fierro Y (2004) Efficacy of an in-feed preparation of ivermectin against helminths in the European wild boar. Parasitol Res 92:133–136

Forrester SG, Lankester MW (1997) Extracting protostrongylid nematodes from ungulate feces. J Wildl Dis 33:511–516

Gajadhar AA, Tessaro SV (1995) Susceptibility of mule deer (Odocoileus hemionus) and two species of North American molluscs to Elaphostrongylus cervi (Nematoda: Metastrongyloidea). J Parasitol 81:593–596

Gaudernack G, Halvorsen O, Skorping A, Stokkan KA (1984) Humoral immunity and output of first-stage larvae of Elaphostrongylus rangiferi (Nematoda, Metastrongyloidea) by infected reindeer, Rangifer tarandus tarandus. J Helminthol 58:13–18

Hanlon AJ, Rhind SM, Reid HW, Burrells C, Lawrence AB, Milne JA, McMillen SR (1994) Relationship between immune-response, liveweight gain, behavior and adrenal-function in red deer (Cervus elaphus) calves derived from wild and farmed stock, maintained at 2 housing densities. Appl Anim Behav Sci 41:243–255

Kelley KW, Greenfield RE, Evermann JF, Parish SM, Perryman LE (1982) Delayed-type hypersensitivity, contact sensitivity, and phytohemagglutinin skin-test responses of heat- and cold-stressed calves. Am J Vet Res 43:775–779

Kocan A (1985) The use of ivermectin in the treatment and prevention of infection with Parelaphostrongylus tenius (Nematoda: Metastrongyloidea) in white tailed deer (Odocoileus virginianus Zimmermann). J Wildl Dis 21:454–455

Lankester MW (2001) Extrapulmonary lungworms of cervids. In: Samuel WM, Pybus MJ, Kocan AA (eds) Parasitic diseases of wild mammals, 2nd edn. Iowa State University, Ames, pp 228–278

Margolis L, Esch GW, Holmes JC, Kuris AM, Schad GA (1982) The use of ecological terms in parasitology. Report of an ad hoc committee of the American Society of Parasitologists. J Parasitol 68:131–133

Mason P (1989) Elaphostrongylus cervi. A review. Surveillance 16:3–10

Mason PC (1995) Elaphostrongylus cervi and its close relatives: a review of protostrongylids (Nematoda, Metastrongyloidea) with spiny-tailed larvae. Surveillance 22:19–24

Peterson MJ (1991) Wildlife parasitism, science, and management policy. J Wildl Manage 55:782–789

Prosl H, Kutzer E (1982) Seasonal rhythm of the discharge of Dictyocaulus viviparus, Varestrongylus sagittatus and Elaphostrongylus cervi larvae from the red deer. Angew Parasitol 23:9–14

Pusterla N (1998) The occurrence of lumbar paralysis in goats and the appearance of Elaphostrongylus cervi in red deer in the canton Ticino. Schweiz Arch Tierh 140:76–82

Rajkovic-Janje R, Manojlovic L, Gojmerac T (2004) In feed 0.6% ivermectin formulation for treatment of wild boar in the Moslavina hunting ground in Croatia. Eur J Wildl Res 50:41–43

Rezac P (1990) Diferenciální larev. 1. Stadia hlístic Varestrongylus sagittatus a Elaphostrongylus cervi. Veterinárstvi 40:311–313

Siegel S (1990) Estadística no paramétrica. Trillas, Mexico

Todd KS, Lavine ND, Andersen FL (1970) An evaluation of the Baermann technique using infective larvae of Haemonchus contortus. Proc Helminthol Soc Wash 37:57–63

Vicente J, Gortázar C (2001) High prevalence of large spiny-tailed protostrongylid larvae in Iberian red deer. Vet Parasitol 96:165–170

Vicente J, Fierro Y, Gortázar C (2005) Seasonal dynamics of the fecal excretion of Elaphostrongylus cervi (Nematoda, Metastrongyloidea) first-stage larvae in Iberian red deer (Cervus elaphus hispanicus) from southern Spain. Parasitol Res 95:60–64

Watson TG (1984) Tissue worm in red deer: symptoms and control. Media Services, MAF, Wellington, New Zealand

Woodford MH (2001) Quarantine and health screening protocols for wildlife prior to translocationand release into the wild. Office International des Epizooties, Veterinary Specialist Group/Species Survival Commission of the World Conservation Union (IUCN), Care for the Wild International and the European Association of Zoo and Wildlife Veterinarians. Gland, Switzerland
Acknowledgements
This study was supported by project AGL2001-3947, Ministerio de Ciencia y Tecnología and FEDER-EU project IFD97-0164. O. Rodriguez had a Torres Quevedo grant from MCYT. J. Vicente had a grant from JCCM. This is a result of the agreement between Yolanda Fierro and UCLM.
About this article
Cite this article
Rodriguez, O., Fernandez de Mera, I.G., Vicente, J. et al. Efficacy of in-feed-administered ivermectin on Elaphostrongylus cervi first-stage excretion in red deer (Cervus elaphus). Parasitol Res 98, 176–178 (2006). https://doi.org/10.1007/s00436-005-0053-3
Received:

Accepted:

Published:

Issue Date:
Keywords
Ivermectin

Pellet Group

Fecal Pellet Group

Ivomec

Premix Formulation