Abstract
Acute visceral leishmaniasis is a progressive disease caused by Leishmania chagasi in South America. The acquisition of immunity following infection suggests that vaccination is a feasible approach to protect against this disease. Since Leishmania homologue of receptors for activated C kinase (LACK) antigen is of particular interest as a vaccine candidate because of the prominent role it plays in the pathogenesis of experimental Leishmania major infection, we evaluated the potential of a p36(LACK) DNA vaccine in protecting BALB/c mice challenged with L. chagasi. In this study, mice received intramuscular (i.m.) or subcutaneous (s.c.) doses of LACK DNA vaccine. We evaluated the production of vaccine-induced cytokines and whether this immunization was able to reduce parasite load in liver and spleen. We detected a significant production of interferon gamma by splenocytes from i.m. vaccinated mice in response to L. chagasi antigen and to rLACK protein. However, we did not observe a reduction in parasite load neither in liver nor in the spleen of vaccinated animals. The lack of protection observed may be explained by a significant production of IL-10 induced by the vaccine.
This is a preview of subscription content, log in to check access.
Access options
Buy single article
Instant access to the full article PDF.
US$ 39.95
Price includes VAT for USA
Subscribe to journal
Immediate online access to all issues from 2019. Subscription will auto renew annually.
US$ 199
This is the net price. Taxes to be calculated in checkout.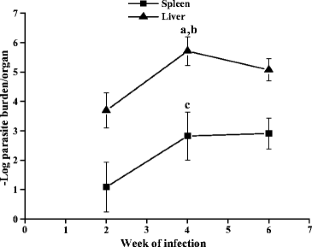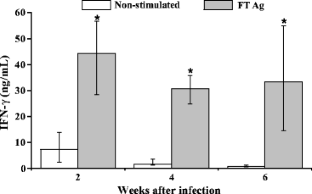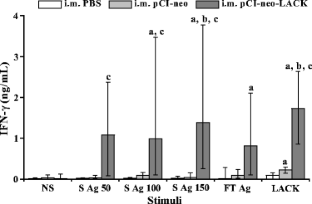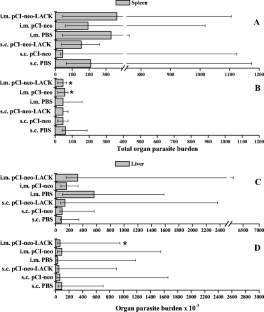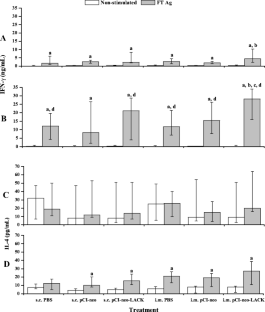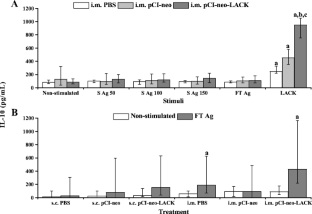 References
Afonso LC, Scott P (1993) I. Immune responses associated with susceptibility of C57BL/10 mice to Leishmania amazonensis. Infect Immun 61:2952–2959

Ahmed S, Colmenares M, Soong L, Goldsmith-Pestana K, Munstermann L, Molina R, McMahon-Pratt D (2003) Intradermal infection model for pathogenesis and vaccine studies of murine visceral leishmaniasis. Infect Immun 71:401–410

Belkaid YS, Kamhawi G, Modi G, Valenzuela N, Noben-Trauth E, Rowton J, Sacks DL (1998) Development of a natural model of cutaneous leishmaniasis: powerful effects of vector saliva and saliva preexposure on the long-term outcome of Leishmania major infection in the mouse ear dermis. J Exp Med 188:1941–1946

Bogdan C, Vodovotz Y, Nathan CF (1991) Macrophage deactivation by interleukin-10. J Exp Med 174:1549–1555

Carvalho LH, Sano G, Hafalla JC, Morrot A, Curotto de Lafaille MA, Zavala F (2002) IL-4-secreting CD4+ T cells are crucial to the development of CD8+ T-cell responses against malaria liver stages. Nat Med 8(2):166–170

Coelho EAF, Tavares CAP, Carvalho FAA, Chaves KF, Teixeira KN, Rodrigues RC, Charest H, Matlashewski G, Gazzinelli RT, Fernandes AP (2003) Immune responses induced by the Leishmania (Leishmania) donovani A2 antigen, but not by the LACK antigen, are protective against experimental Leishmania (Leishmania) amazonensis infection. Infect Immun 71:3988–3994

Ghosh A, Zhang WW, Matlashewski G (2002) Immunization with A2 protein results in a mixed Th1/Th2 and a humoral response which protects mice against Leishmania donovani infections. Vaccine 12 20(1–2):59–66

Gurunathan S, Sacks DL, Brown DR, Reiner SL, Charest H, Glaichenhaus N, Seder RA (1997) Vaccination with DNA encoding the immunodominant LACK parasite antigen confers protective immunity to mice infected with Leishmania major. J Exp Med 186(7):1137–1147

Gurunathan S, Stobie L, Prussin C, Sacks DL, Glaichenhaus N, Fowell DJ, Locksley RM, Chang JT, Wu C, Seder RA (2000) Requirements for the maintenance of Th1 immunity in vivo following DNA vaccination: a potential immunoregulatory role for CD8+ T cells. J Immunol 165:915–924

Heinzel FP, Sadick MD, Holaday BJ, Coffman RL, Locksley RM (1989) Reciprocal expression of IFN-γ or IL-4 during the resolution or progression of murine leishmaniasis. Evidence of expansion of distinct helper T cell subsets. J Exp Med 169:59–72

Humphreys NE, Grencis RK (2002) Effects of ageing on the immunoregulation of parasitic infection. Infect Immun 70(9):5148–5157

Kaye PM, Curry AJ, Blackwell JM (1991) Differential production of Th1 and Th2-derived cytokines does not determine the genetically controlled or vaccine-induced rate of cure in murine visceral leishmaniasis. J Immunol 146:2763–2770

Lowry OH, Rosebrough NF, Farr AL, Randal RJ (1995) Protein measurement with Folin-phenol reagent. J Biol Chem 193–265

Melby PC, Yang J, Zhao W, Perez LE, Cheng J (2001) Leishmania donovani p36(LACK) DNA vaccine is highly immunogenic but not protective against experimental visceral leishmaniasis. Infect Immun 69:4719–4725

Mougneau E, Altare F, Wakil AE, Zheng S, Coppola T, Wang AZE, Waldmann R, Locksley RM, Glaichenhaus N (1995) Expression cloning of a protective Leishmania antigen. Science 268:563–566

Pearson RD, Sousa AQ (1996) Clinical spectrum of leishmaniasis. Clin Infect Dis 22:1–13

Ramiro MJ, Zarate JJ, Hanke T, Rodrigues D, Rodriguez JR, Esteban M, Lucientes J, Castillo JÁ, Larraga V (2003) Protection in dogs against visceral leishmaniasis caused by L. infantum is achieved by immunization with a heterologous prime-boost regime using DNA and vaccinia recombinant vectors expressing LACK. Vaccine 21:2474–2484

Stager S, Alexander J, Carter KC, Brombacher F, Kaye PM (2003) Both interleukin-4 (IL-4) and IL-4 receptor alpha signaling contribute to the development of hepatic granulomas with optimal antileishmanial activity. Infect Immun 71(8):4804–4807

Titus RG, Marchand M, Boon T, Louis JA (1985) A limiting dilution assay for quantifying Leishmania infectivity. Parasite Immunol 7:545–555

Uzonna JE, Spath GF, Beverley SM, Scott P (2004) Vaccination with phosphoglycan-deficient Leishmania major protects highly susceptible mice from virulent challenge without inducing a strong Th1 response. J Immunol 172:3793–3797

Vilela MC, Afonso LCC, Rezende SA (2002) Heterologous protection by Leishvacin® in Leishmania chagasi infection of BALB/c mice. Rev Inst Med Trop Sao Paulo 44:133

Wilson ME (1993) Leishmaniasis. Curr Opin Infect Dis 6:331–340
Acknowledgements
We thank Dr. Elio Hideo Babá for his helpful assistance and Dr. George Luís Lins Machado Coelho for helping with the statistical analysis. This study was performed in accordance with Brazilian law and was financially supported by Fundação de Amparo à Pesquisa do Estado de Minas Gerais (FAPEMIG) and Universidade Federal de Ouro Preto.
About this article
Cite this article
Marques-da-Silva, E.A., Coelho, E.A.F., Gomes, D.C.O. et al. Intramuscular immunization with p36(LACK) DNA vaccine induces IFN-γ production but does not protect BALB/c mice against Leishmania chagasi intravenous challenge. Parasitol Res 98, 67–74 (2005). https://doi.org/10.1007/s00436-005-0008-8
Received:

Accepted:

Published:

Issue Date:
Keywords
Leishmania chagasi

Lack

Vaccine

IFN-γ

IL-4

IL-10