Abstract
The parasite infrapopulations of five goby species (Pomatoschistus minutus, P. pictus, P.microps, Gobiusculus flavescens and Gobius niger) were investigated during spring, summer and autumn of the years 1997–2000. In total, 34 parasite species were found: 17 Digenea, 6 Nematoda, 5 Cestoda, 3 Acanthocephala, 2 Protozoa, and 1 Monogenea. The dominant parasites were the digeneans Podocotyle atomon and Cryptocotyle concavum, which represent different ecological groups in terms of their modes of transmission, either indirectly by prey or directly by larvae. The relationship between the parasite Cryptocotyle concavum and the host P. microps is a special one which results in a mean intensity of several hundred cysts (max. 1,329) which settle in the kidney. The diversity of the parasite component community was highest in autumn, but low in spring and summer, with the exception of P. microps for which high values were already found in spring when direct parasites were disregarded. These results depend on the respective seasonal variation in species, some of which occur in huge numbers in some hosts. The diversity of the prey parasite assemblage is higher in Pomatoschistus microps and Gobius niger than in the whole parasite spectrum; the other hosts present the opposite trend. A combination of the island theory of biogeography as modified for parasite infection with the theory of screens and filters leads to a model which considers three handicaps or distances for parasite colonisation: genetic, phylogenetic and ecological. Long-term investigations, as performed here over a time-span of 4 years, can detect more than 80% of parasite species in single hosts after 3 years, and in the whole goby guild after 2 years. Long-term investigations can be useful for finding rare parasites, in analysing parasite diversity, and for determining the seasonality of parasites.
This is a preview of subscription content, log in to check access.
Access options
Buy single article
Instant access to the full article PDF.
US$ 39.95
Price includes VAT for USA
Subscribe to journal
Immediate online access to all issues from 2019. Subscription will auto renew annually.
US$ 199
This is the net price. Taxes to be calculated in checkout.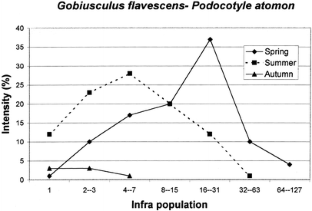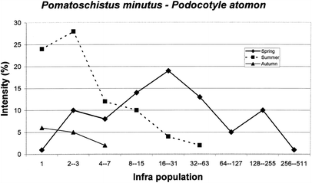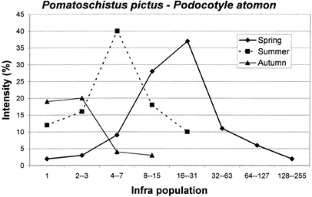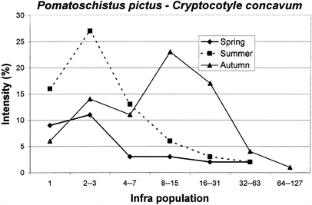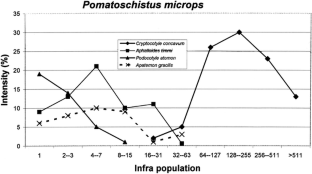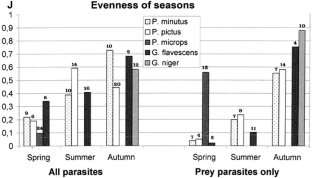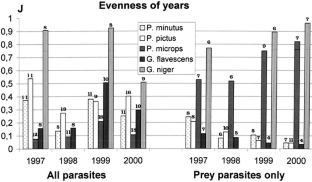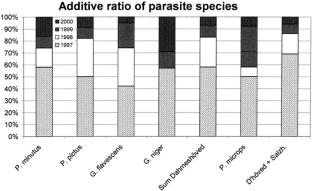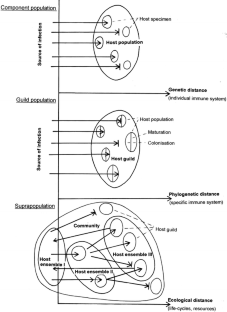 References
Bush AO, Lafferty KD, Lotz JM, Shostak AW (1997) Parasitology meets ecology on its own terms: Margolis et al. revisited. J Parasitol 83:575–583

Bush AO, Fernández JC, Esch GW, Seed JR (2003) Parasitism—the diversity and ecology of animal parasites. Cambridge University Press, Cambridge

Fauth JE, Bernado J, Camara M, Resetarits WJ, van Buskirk J, McCollum SA (1996) Simplifying the jargon of community ecology: a conceptual approach. Am Nat 147:282–286

Holmes JC (1990) Helminth communities in marine fishes. In: Esch GW, Bush AO, Aho JM (eds) Parasite communities: pattern and processes. Chapman and Hall, London, pp 101–130

Holmes JC, Price PW (1986) Communities of parasites. In: Anderson DJ, Kikkawa J (eds) Community biology: pattern and processes. Blackwell, Oxford, pp 187–213

Huston M (1979) A general hypothesis of species diversity. Am Nat 113:81–101

Kesting V, Gollasch S, Zander CD (1996) Parasite communities of the Schlei Fjord (Baltic coast of northern Germany). Helgol Meeresunters 50:477–496

MacArthur RH, Wilson EO (1967) The theory of island geography. Princeton University Press, Princeton

Margalef R (1963) On certain unifying principles in ecology. Am Nat 92:357–374

Odum EP (1969) The strategy of ecosystem development. Science 164:262–270

Poulin R (1997) Species richness of parasite assemblages: evolution and patterns. Annu Rev Ecol Syst 28:341–358

Zander CD (1994) Einnischung von fünf Grundeln (Teleostei, Gobiidae) der Ostsee und ihre Deutung mit Hilfe der Präadaptationstheorie. J Zool Syst Evol Res 32:220–234

Zander CD (1997) Parasit-Wirt-Beziehungen—Einführung in die ökologische Parasitologie. Springer, Berlin Heidelberg New York

Zander CD (2003) Four-year monitoring of parasite communities in gobiid fishes of the south-western Baltic. I. Guild and component community. Parasitol Res 90:502–511

Zander CD (2004) Four-year monitoring of parasite communities in gobiid fishes of the south-western Baltic. II. Infracommunity. Parasitol Res 93:17–29

Zander CD, Hagemann T (1986) Fluctuations of prey, abundance and biomass of gobies (Gobiidae, Pisces) in a shallow habitat of the western Baltic Sea. Zool Anz 216:289–304

Zander CD, Kesting V (1996) The indicator properties of parasite communities of gobies from Kiel and Lübeck Bight. Appl Parasitol 37:186–204

Zander CD, Reimer LW (2002) Parasitism at the ecosystem level in the Baltic Sea. Parasitology 124:S119–S135

Zander CD, Strohbach U, Groenewold S (1993) The importance of gobies (Gobiidae, Teleostei) as hosts and transmitters of parasites in the SW Baltic. Helgol Meeresunters 47:81–111

Zander CD, Reimer LW, Barz K (1999) Parasite communities of the Salzhaff (northwest Mecklenburg, Baltic Sea). I. Structure and dynamics of communities of littoral fish, especially small-sized fish. Parasitol Res 85:356–372

Zander CD, Koçoglu Ö, Skroblies M, Strohbach U (2002) Parasite populations and communities from the shallow littoral of the Orther Bight (Fehmarn, SW Baltic Sea). Parasitol Res 88:734–744
Acknowledgements
I wish to thank Kristina Barz for pre-preparing with great accuracy the fish material from 1997 and 1998, and Maria Machola for doing this for the years 1999 and 2000. For accompanying and support under water I am thankful to Kristina Barz, Inga Nordhaus, Judith Voce and, especially, to Dr. Uwe Strohbach who caught a greater part of the fish investigated, and for drawing Fig. 9 Monika Hänel.
About this article
Cite this article
Zander, C.D. Four-year monitoring of parasite communities in gobiid fishes of the southwest Baltic. Parasitol Res 95, 136–144 (2005). https://doi.org/10.1007/s00436-004-1252-z
Received:

Accepted:

Published:

Issue Date:
Keywords
Parasite Species

Parasite Community

Final Host

Parasite Number

Gobiid Fish