Abstract
Tungiasis is a parasitic skin disease caused by the sand flea Tunga penetrans. This ectoparasitosis is endemic in South America, the Caribbean and sub-Saharan Africa, where it is an important but neglected health problem in resource-poor communities. As part of a study on tungiasis-related morbidity in a typical slum in Fortaleza, Brazil, we identified 86 individuals with tungiasis. Lesions were counted, classified according to the stage of development, and clinical pathology was documented. One hundred and nine lesions were biopsied and examined by histological sectioning. The patients had between 1 and 145 lesions (median 14.5), the majority occurring in clusters. In all, 77% of patients reported severe pain at the site of the lesion, and 52% had one or more nails lost or severely deformed. Intense inflammation and/or fissures hindered 45% of the patients from walking normally. Signs of superinfection were observed in 29%, and signs of generalised inflammation in 2% of patients. Clinical pathology was significantly related to the number of lesions, and the total number of parasites present correlated with the number of fleas occurring in clusters. Clinical pathology was frequently accompanied by a pathological alteration of the epidermis (predominantly hyperplasia, parakeratosis, hyperkeratosis, and spongiosis) and the dermis. Tungiasis causes a broad spectrum of clinical and histopathological alterations, and is a serious health threat in a typical, impoverished community in northeast Brazil. The clinical pathology is closely related to the parasite burden of an individual and the clustering of embedded fleas at certain predilection sites.
This is a preview of subscription content, log in to check access.
Access options
Buy single article
Instant access to the full article PDF.
US$ 39.95
Price includes VAT for USA
Subscribe to journal
Immediate online access to all issues from 2019. Subscription will auto renew annually.
US$ 199
This is the net price. Taxes to be calculated in checkout.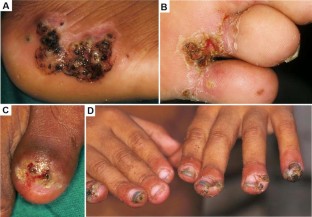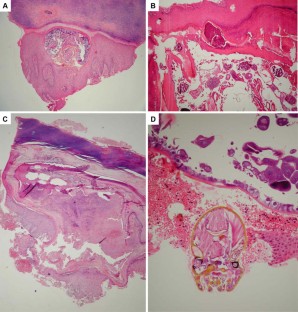 References
Andrade RN (1952) Tungiasis. Gac Med Mex 82:11–15

Arene FO (1984) The prevalence of sand flea (Tunga penetrans) among primary and postprimary school pupils in Choba area of the Niger Delta. Public Health 98:282–283

Balfour A (1928) Health lessons from Bermuda. Br Med J 1:447–448

Bezerra SM (1994) Tungiasis—an unusual case of severe infestation. Int J Dermatol 33:725

Bruce CO, Knigin TD, Yolles SF (1942) A discussion of the chigoe (Tunga penetrans) based on experiences in British Guiana. Milit Surg 82:446–452

Cardoso A (1981) Generalized tungiasis treated with thiabendazole. Arch Dermatol 117:127

Carvalho RW, Almeida AB, Barbosa-Silva SC, Amorim M, Ribeiro PC, Serra-Freire NM (2003) The patterns of tungiasis in Araruama township, state of Rio de Janeiro, Brazil. Mem Inst Oswaldo Cruz 98:31–36

Connor DH (1976) Diseases caused by arthropods—tungiasis. In: Binford CH, Connor DH (eds) Pathology of tropical and extraordinary diseases. Armed Forces Institute of Pathology, Washington, DC, pp 610–614

Decle L (1900) Three years in savage Africa, new edn. Methuen, London

Eisele M, Heukelbach J, van Marck E, Mehlhorn H, Meckes O, Franck S et al. (2003) Investigations on the biology, epidemiology, pathology and control of Tunga penetrans in Brazil: I. Natural history of tungiasis in man. Parasitol Res 90:87–99

Family Health Program (1999) UBASF Aída Santos e Silva. Relatório de territorialização. Municipal Health Council of Fortaleza, Fortaleza

Feldmeier H, Heukelbach J, Eisele M, Sousa AQ, Barbosa LM, Carvalho CB (2002) Bacterial superinfection in human tungiasis. Trop Med Int Health 7:559–564

Feldmeier H, Eisele M, Sabóia Moura RC, Heukelbach J (2003) Severe tungiasis in underprivileged communities: case series from Brazil. Emerg Infect Dis 9:949–955

Franck S, Feldmeier H, Heukelbach J (2003) Tungiasis: more than an exotic nuisance. Travel Med Infect Dis 1:159–166

Geigy R, Suter P (1960) Zur Copulation der Flöhe. Rev Suisse Zool 67:206–210

Gordon RM (1941) The jigger flea. Lancet 2:47–49

Henning G (1904) Zur Geschichte des Sandflohs (Sarcopsylla penetrans L.) in Afrika. Naturwiss Wochenschr 20:310–312

Heukelbach J, de Oliveira FA, Hesse G, Feldmeier H (2001) Tungiasis: a neglected health problem of poor communities. Trop Med Int Health 6:267–272

Heukelbach J, Mencke N, Feldmeier H (2002a) Cutaneous larva migrans and tungiasis: the challenge to control zoonotic ectoparasitoses associated with poverty. Trop Med Int Health 7:907–910

Heukelbach J, Wilcke T, Eisele M, Feldmeier H (2002b) Ectopic localization of tungiasis. Am J Trop Med Hyg 67:214–216

Heukelbach J, Franck S, Feldmeier H (2004) High attack rate of Tunga penetrans infestation in an impoverished Brazilian community. Trans R Soc Trop Med Hyg 98:431–434

Hoeppli R (1963) Early references to the occurrence of Tunga penetrans in tropical Africa. Acta Trop 20:143–152

Ibanez-Bernal S, Velasco-Castrejon O (1996) New records of human tungiasis in Mexico (Siphonaptera: Tungidae). J Med Entomol 33:988–989

Joyeux C, Sicé A (1937) Précis de médecine coloniale, 2nd edn. Masson, Paris

Macias PC, Sashida PM (2000) Cutaneous infestation by Tunga penetrans. Int J Dermatol 39:296–298

Muehlen M, Heukelbach J, Wilcke T, Winter B, Mehlhorn H, Feldmeier H (2003) Investigations on the biology, epidemiology, pathology and control of Tunga penetrans in Brazil II. Prevalence, parasite load and topographic distribution of lesions in the population of a traditional fishing village. Parasitol Res 90:449–455

Nte AR, Eke FU (1995) Jigger infestation in children in a rural area of Rivers State of Nigeria. West Afr J Med 14:56–58

Smith MD, Procop GW (2002) Typical histologic features of Tunga penetrans in skin biopsies. Arch Pathol Lab Med 126:714–716

Valença ZO, Cardoso AEC, Cardoso AS (1972) Tunguiase generalizada: relato de dois casos tratados com thiabendazol. Dermatol Ibero-Latino-Am 3:375–378

Waterton C (1973) Wanderings in South America, the north-west of the United States and the Antilles, in the years 1812, 1816, 1820 and 1824 with original instruction for the perfect preservation of birds and for cabinets of natural history. Oxford University Press, Oxford, pp 108–109

Wilcke T, Heukelbach J, Cesar Saboia MR, Regina SK-P, Feldmeier H (2002) High prevalence of tungiasis in a poor neighbourhood in Fortaleza, Northeast Brazil. Acta Trop 83:255–258
Acknowledgments
This study was supported in part by the Ärztekomittee für die Dritte Welt, Frankfurt (Germany), the World Health Organization, Geneva (Switzerland), the DAAD/CAPES PROBRAL program (Germany/Brazil), and donations from the following individuals: Michael Peitz, Hamburg, Gitta and Christian Hertz, Reinbek, and Kimio Powils-Okano, Wiesbaden, all Germany. We are indebted to the "Associação dos Moradores do Morroda Sandra's" for supporting the study, and we are grateful to Vania Santos de Andrade and Walter Antônio da Silva for skilful assistance. The data are part of a medical thesis by M.E. The secretarial assistance of Michi Feldmeier is gratefully acknowledged.
About this article
Cite this article
Feldmeier, H., Eisele, M., Van Marck, E. et al. Investigations on the biology, epidemiology, pathology and control of Tunga penetrans in Brazil: IV. Clinical and histopathology. Parasitol Res 94, 275–282 (2004). https://doi.org/10.1007/s00436-004-1197-2
Received:

Accepted:

Published:

Issue Date:
Keywords
Clinical Pathology

Parasite Burden

Primary Health Care Centre

Pathology Score

Flea Species