Abstract
Induction of gelatinase in eosinophilic meningitis of BALB/c-strain mice was caused by Angiostrongylus cantonensis. Time-course studies showed that the molecular weight of 94-kDa gelatinase was detected at day 10 post-inoculation (PI), and reached a high intensity from days 15 to 25 PI. The 94-kDa gelatinase activity was clearly inhibited by EDTA and 1,10-phenanthroline, but not by leupeptin and phenylmethanesulphonyl fluoride. When immunoblots were performed using specific antiserums against the 94-kDa gelatinase B (matrix metalloproteinase-9; MMP-9) with cerebrospinal fluid (CSF), the 94-kDa immunopositive band was MMP-9. Immunohistochemistry studies demonstrated MMP-9 localisation within eosinophils and macrophages. The increased MMP-9 activity was closely associated with the rapid rise of CSF eosinophils, and the inflammatory reaction of the subarachnoid space. In contrast to changes in MMP-9, MMP-2 activity was constitutive and unaffected in this parasitic meningitis. These results show that MMP-9 was associated with eosinophilic meningitis, and that the enzyme may be a useful marker for angiostrongyliasis meningitis.
This is a preview of subscription content, log in to check access.
Access options
Buy single article
Instant access to the full article PDF.
US$ 39.95
Price includes VAT for USA
Subscribe to journal
Immediate online access to all issues from 2019. Subscription will auto renew annually.
US$ 199
This is the net price. Taxes to be calculated in checkout.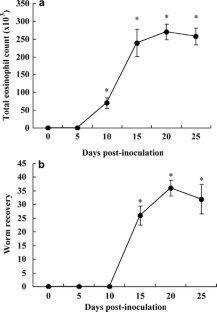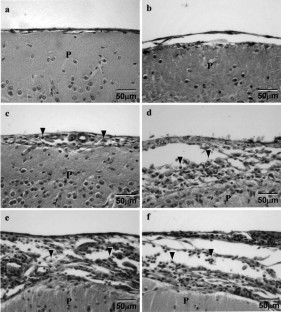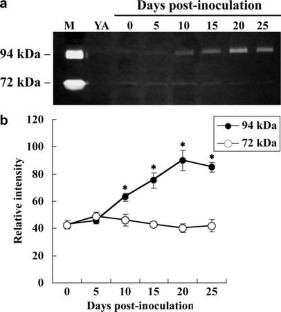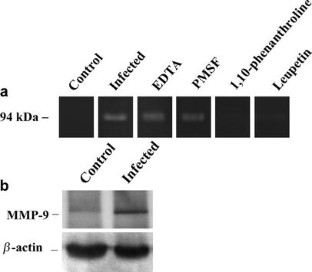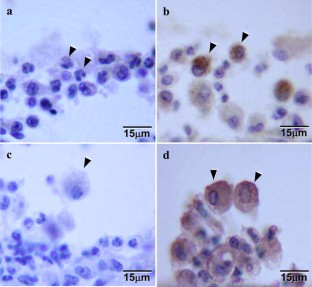 References
Alicata JE (1965) Biology and distribution of the rat lungworm, Angiostrongylus cantonensis, and its relationship to eosinophilic meningoencephalitis and other neurological disorders of man and animals. In: Dawes B (ed) Advances in parasitology. Academic Press, London, pp 223–248

Ash LR (1970) Diagnostic morphology of the third-stage larvae of Angiostrongylus cantonensis, Angiostrongylus vasorum, Aelurostrongylus abstrusus, and Anafilaroides rostratus (Nematoda: Metastrongyloidea). J Parasitol 56:249–253

Beuche W, Yushchenko M, Mäder M, Maliszewska M, Felgenhauer K, Weber F (2000) Matrix metalloproteinase-9 is elevated in serum of patients with amyotrophic lateral sclerosis. Neuroreport 11:3419–3422

Birkedal-Hansen H, Moore WG, Bodden MK, Windsor LJ, Birkedal-Hansen B, DeCarlo A, Engler JA (1993) Matrix metalloproteinases: a review. Crit Rev Oral Biol Med 4:197–250

Damjanov I, McCue PA, Chansky M (1996) Nervous system. In: Velker J (ed) Histopathology—a color atlas and textbook. Williams & Wilkins, New York, pp 459–489

Dubois B, Masure S, Hurtenbach U, Paemen L, Heremans H, van den Oord J, Sciot R, Meinhardt T, Hammerling G, Opdenakker G, Arnold B (1999) Resistance of young gelatinase B-deficient mice to experimental autoimmune encephalomyelitis and necrotizing tail lesions. J Clin Invest 104:1507–1515

Gijbels K, Masure S, Carton H, Opdenakker G (1992) Gelatinase in the cerebrospinal fluid of patients with multiple sclerosis and other inflammatory neurological disorders. J Neuroimmunol 41:29–34

Gottschall PE, Yu X (1995) Cytokines regulate gelatinase A and B (matrix metalloproteinase 2 and 9) activity in cultured rat astrocytes. J Neurochem 64:1513–1520

Herron GS, Werb Z, Dwyer K, Banda MJ (1986) Secretion of metalloproteinases by stimulated capillary endothelial cells. I. Production of procollagenase and prostromelysin exceeds expression of proteolytic activity. J Biol Chem 261:2810–2813

Hsu WY, Chen JY, Chien CT, Chi CS, Han NT (1990) Eosinophilic meningitis caused by Angiostrongylus cantonensis. Pediatr Infect Dis J 9:443–445

Ismail Y, Arsura EL (1993) Eosinophilic meningitis. Western J Med 159:623

Kieseier BC, Paul R, Koedel U, Seifert T, Clements JM, Gearing AJH, Pfister HW, Hartung HP (1999) Differential expression of matrix metalloproteinases in bacterial meningitis. Brain 122:1579–1587

Kolb SA, Lahrtz F, Paul R, Leppert D, Nadal D, Pfister HW, Fontana A (1998) Matrix metalloproteinases and tissue inhibitors of metalloproteinases in viral meningitis: upregulation of MMP-9 and TIMP-1 in cerebrospinal fluid. J Neuroimmunol 84:143–150

Leib SJ, Leppert D, Clements J, Täuber MG (2000) Matrix metalloproteinases contribute to brain damage in experimental pneumococcal meningitis. Infect Immunol 68:615–620

Leppert D, Waubant E, Galardy R, Bunnett NW, Hauser SL (1995) T cell gelatinases mediate basement membrane transmigration in vitro. J Immunol 154:4379–4389

Leppert D, Leib SL, Grygar C, Miller KM, Schaad UB, Holländer GA (2000) Matrix metalloproteinase (MMP)-8 and MMP-9 in cerebrospinal fluid during bacterial meningitis: association with blood-brain barrier damage and neurological sequelae. Clin Infect Dis 31:80–84

Liuzzi GM, Mastroianni CM, Santacroce MP, Fanelli M, D'Agostino C, Vullo V, Riccio P (2000) Increased activity of matrix metalloproteinases in the cerebrospinal fluid of patients with HIV-associated neurological disease. J Neurovirol 6:156–163

Masure S, Proost P, van Damme J, Opdenakker G (1991) Purification and identification of 91-kDa neutrophil gelatinase: release by the activating peptide interleukin-8. Eur J Biochem 198:391–398

Matrisian LM (1992) The matrix-degrading metalloproteinases. Bioessays 14:455–463

Matsuura E, Umehara F, Hashiguchi T, Fujimoto N, Okada Y, Osame M (2000) Marked increase of matrix metalloproteinase 9 in cerebrospinal fluid of patients with fungal or tuberculous meningoencephalitis. J Neurol Sci 173:45–52

Muller R (1975) Worms and disease. William Heinemann, London

Nielsen BS, Timshel S, Kjeldsen L, Sehested M, Pyke C, Borregaard N, Dano K (1996) 92 kDa type IV collagenase (MMP-9) is expressed in neutrophils and macrophages but not in malignant epithelial cells in human colon cancer. Int J Cancer 65:57–62

Okada S, Kita H, George TJ, Gleich GJ, Leiferman KM (1997) Migration of eosinophils through basement membrane components in vitro: role of matrix metalloproteinase-9. Am J Respir Cell Mol Biol 17:519–528

Parsons JC, Grieve RB (1990) Effect of egg dosage and host genotype on liver trapping in murine larval toxocariasis. J Parasitol 76:53–58

Paul R, Lorenzl S, Koedel U, Sporer B, Vogel U, Frosch M, Pfister HW (1998) Matrix metalloproteinases contribute to the blood-brain barrier disruption during bacterial meningitis. Ann Neurol 44: 592–600

Quagliarello VJ, Scheld WM (1992) Bacterial meningitis: pathogenesis, pathophysiology, and progress. N Engl J Med 327:864–872

Quagliarello VJ, Long WJ, Scheld WM (1986) Morphologic alterations of the blood-brain barrier with experimental meningitis in the rat: temporal sequence and role of encapsulation. J Clin Invest 77:1084–1095

Sasaki O, Sugaya H, Ishida K, Yoshimura K (1993) Ablation of eosinophils with anti-IL-5 antibody enhances the survival of intracranial worms of Angiostrongylus cantonensis in the mouse. Parasite Immunol 15:349–354

Sporer B, Paul R, Koedel U, Grimm R, Wick M, Goebel FD, Pfister HW (1998) Presence of matrix metalloproteinase-9 activity in the cerebrospinal fluid of human immunodeficiency virus-infected patients. J Infect Dis 178:854–857

Sugaya H, Yoshimura K (1988) T-cell-dependent eosinophilia in the cerebrospinal fluid of the mouse infected with Angiostrongylus cantonensis. Parasite Immunol 10:127–138

Welgus HG, Campbell EJ, Cury JD, Eisen AZ, Senior RM, Wilhelm SM, Goldberg GI (1990) Neutral metalloproteinases produced by human mononuclear phagocytes. Enzyme profile, regulation, and expression during cellular development. J Clin Invest 86:1496–1502

Wells GM, Catlin G, Cossins JA, Mangan M, Ward GA, Miller KM, Clements JM (1996) Quantitation of matrix metalloproteinases in cultured rat astrocytes using the polymerase chain reaction with a multi-competitor cDNA standard. Glia 18:332–340

Williams PL, Leib SL, Kamberi P, Leppert D, Sobel RA, Bifrare YD, Clemons KV, Stevens DA (2002) Levels of matrix metalloproteinase-9 within cerebrospinal fluid in a rabbit model of coccidioidal meningitis and vasculitis. J Infect Dis 186:1692–1695

Yii CY (1976) Clinical observations on eosinophilic meningitis and meningoencephalitis caused by Angiostrongylus cantonensis on Taiwan. Am J Trop Med Hyg 25:233-249
Acknowledgement
This study was supported in part by a grant (NSC-90–2320-B040–015) from the National Science Council, Republic of China.
About this article
Cite this article
Lee, H.H., Chou, H.L., Chen, K.M. et al. Association of matrix metalloproteinase-9 in eosinophilic meningitis of BALB/c mice caused by Angiostrongylus cantonensis. Parasitol Res 94, 321–328 (2004). https://doi.org/10.1007/s00436-004-1196-3
Received:

Accepted:

Published:

Issue Date:
Keywords
Meningitis

Subarachnoid Space

Gelatin Zymography

Gelatinase Activity

Chronic Meningitis