Abstract
Ingestion of raw or undercooked fish can lead to infection with Anisakis simplex. Sensitized patients show specific IgE to proteins from this parasite. The aim of this study was to assess the frequency of specific IgE recognition directed to heat and/or pepsin-resistant allergens from A. simplex among sensitized patients. Twenty-seven patients with positive specific IgE and immunoblotting with a crude parasite extract were included in the study. Specific IgE detection against allergens resistant to boiling for 30 min and/or a pepsin digestion of an A. simplex extract was performed by immunoblotting. A total of 81% of the patients showed specific IgE to pepsin-resistant allergens and 67% had specific IgE to heat-resistant allergens. Thirty percent of patients recognized allergens after both treatments, one being the allergen detected by 75% of the patients of this group. Heat- and/or pepsin-resistant allergens from A. simplex could explain reactions and symptoms after the ingestion of well-cooked or canned fish.
This is a preview of subscription content, log in to check access.
Access options
Buy single article
Instant access to the full article PDF.
US$ 39.95
Price includes VAT for USA
Subscribe to journal
Immediate online access to all issues from 2019. Subscription will auto renew annually.
US$ 199
This is the net price. Taxes to be calculated in checkout.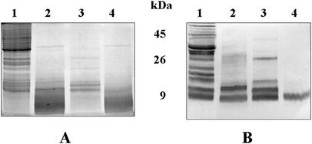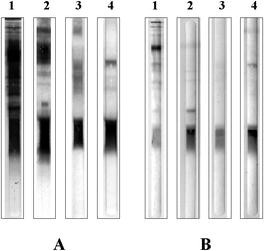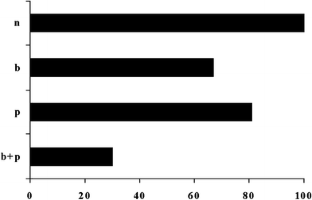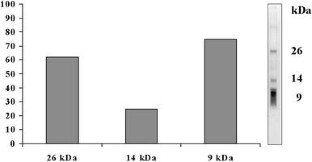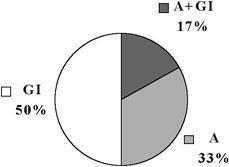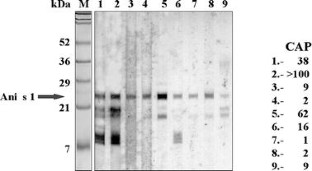 References
Alonso A, Moreno-Ancillo A, Daschner A, López-Serrano MC (1999) Dietary assessment in five cases of allergic reactions due to gastroallergic anisakiasis. Allergy 54:517–20

Astwood JD, Leach JN, Fuchs RL (1996) Stability of food allergens to digestion in vitro. Nat Biotechnol 14:1269–73

Audicana L, Audicana MT, Fernández de Corres L, Kennedy MW (1997) Cooking and freezing may not protect against allergenic reactions to ingested Anisakis simplex antigens in humans. Vet Rec 140:235

Bouree P, Paugam A, Petithory JC (1995) Anisakidosis: report of 25 cases and review of the literature. Comp Immunol Microbiol Infect Dis 18:75–84

Caballero ML, Moneo I (2002) Specific IgE determination to Ani s 1, a major allergen from Anisakis simplex, is a useful tool for diagnosis. Ann Allergy Asthma Immunol 89:74–77

García F, Blanco JG, Garcés M, Juste S, Fuentes M, Herrero D (2001) Freezing protects against allergy to Anisakis simplex. J Investig Allergol Clin Immunol 11:49–52

Ishikura H, Kikuchi K, Nagasawa K, Ooiwa T, Takamiya H, Sato N et al. (1993) Anisakidae and anisakidosis. Prog Clin Parasitol 3:43–102

Jensen-Jarolim E, Wiedermann U, Ganglberger E, Zurcher A, Stadler BM, Boltz-Nitulescu G et al. (1999) Allergen mimotopes in food enhance type I allergic reactions in mice. FASEB J 13:1586–92

Kennedy MW, Tierney J, Ye P, McMonagle FA, McIntosh A, McLaughlin D, et al (1988) The secreted and somatic antigens of the third stage larva of Anisakis simplex, and antigenic relationship with Ascaris suum, Ascaris lumbricoides, and Toxocara canis. Mol Biochem Parasitol 31:35–46

Moneo I, Caballero ML (2002) Anisakis simplex larvae release allergens during a short incubation in diluted acid which can be used for clinical diagnosis. Alergol Inmunol Clin 17:201–07

Moneo I, Caballero ML, Jiménez S (2000a) Inmunodetección de IgE específica (immunoblotting) en el estudio de prevalencia de sensibilización a Anisakis simplex en España. Alergol Inmunol Clin 15:255–61

Moneo I, Caballero ML, Gómez F, Ortega E, Alonso MJ (2000b) Isolation and characterization of a major allergen from the fish parasite Anisakis simplex. J Allergy Clin Immunol 106:177–82

Sanchez-Monge R, Blanco C, Diaz A, Collada C, Carrillo T, Aragoncillo C (2000) Class I chitinases, the panallergens responsible for the latex-fruit syndrome, are induced by ethylene treatment and inactivated by heating. J Allergy Clin Immunol 106:190–95

Trujillo MJ, Rodriguez A, Gracia Bara MT, Matheu V, Herrero T, Rubio M et al. (2002) Dietary recommendations for patients allergic to Anisakis simplex. Allergol Immunopathol 30:311–14
Acknowledgement
This work was supported by a grant from the Spanish Society of Allergology and Clinical Immunology Foundation.
About this article
Cite this article
Caballero, M.L., Moneo, I. Several allergens from Anisakis simplex are highly resistant to heat and pepsin treatments. Parasitol Res 93, 248–251 (2004). https://doi.org/10.1007/s00436-004-1099-3
Received:

Accepted:

Published:

Issue Date:
Keywords
Pepsin Digestion

Anisakiasis

Anisakis Simplex

Severe Anaphylactic Reaction

Food Allergic Patient