Abstract
We report here on the development of an in vitro system for the long-term cultivation of Echinococcus multilocularis larvae under axenic conditions. In the absence of feeder cells from the host, long-term survival of the parasite depended strictly on low oxygen conditions and the presence of reducing agents in the medium. Host serum supported survival of the parasite but the growth of metacestode vesicles and differentiation towards the protoscolex stage only occurred in the presence of culture medium that was preconditioned by hepatoma cells or several other immortal cell lines. On the basis of this in vitro system, future analyses on the identification of host-derived growth factors for E. multilocularis will be greatly facilitated.
This is a preview of subscription content, log in to check access.
Access options
Buy single article
Instant access to the full article PDF.
US$ 39.95
Price includes VAT for USA
Subscribe to journal
Immediate online access to all issues from 2019. Subscription will auto renew annually.
US$ 199
This is the net price. Taxes to be calculated in checkout.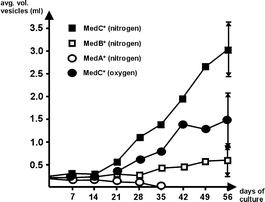 References
Bender RC, Bixler LM, Lerner JP, Bayne CJ (2002) Schistosoma mansoni sporocysts in culture: host plasma hemoglobin contributes to in vitro oxidative stress. J Parasitol 88:14–18

Bixler LM, Lerner JP, Ivanchenko M, McCormick RS, Barnes DW, Bayne CJ (2001) Axenic culture of Schistosoma mansoni sporocysts in low O2 environments. J Parasitol 87:1167–1168

Brehm K, Wolf M, Beland H, Kroner A, Frosch M (2003) Analysis of differential gene expression in Echinococcus multilocularis larval stages by means of spliced leader differential display. Int J Parasitol 33:1145–1159

Hemphill A, Gottstein B (1995) Immunology and morphology studies on the proliferation of in vitro cultivated Echinococcus multilocularis metacestodes. Parasitol Res 81:605–614

Hemphill A, Stettler M, Walker M, Siles-Lucas M, Fink R, Gottstein B (2002) Culture of Echinococcus multilocularis metacestodes: an alternative to animal use. Trends Parasitol 18:445–451

Ivanchenko MG, Lerner JP, McCormick RS, Toumadje A, Allen B, Fischer K, Hedstrom O, Helmrich A, Barnes DW, Bayne CJ (1999) Continuous in vitro propagation and differentiation of cultures of the intramolluscan stages of the human parasite Schistosoma mansoni. Proc Natl Acad Sci U S A 96:4965–4970

Jura H, Bader A, Hartmann M, Maschek H, Frosch M (1996) Hepatic tissue culture model for study of host-parasite interaction in alveolar echinococcosis. Infect Immun 64:3484–3490

Konrad C, Kroner A, Spiliotis M, Zavala-Gongora R, Brehm K (2003) Identification and molecular characterization of a gene encoding a member of the insulin receptor family in Echinococcus multilocularis. Int J Parasitol 33:301–312

Spiliotis M, Kroner A, Brehm K (2003) Identification, molecular characterization and expression of the gene encoding the epidermal growth factor receptor orthologue from the fox-tapeworm Echinococcus multilocularis. Gene 323(C):57-65

Wagner S, Beil W, Mai UE, Bokemeyer C, Meyer HJ, Manns MP (1994) Interaction between Helicobacter pylori and human gastric epithelial cells in culture: effect of antiulcer drugs. Pharmacology 49:226–237

Zavala-Gongora R, Kroner A, Wittek B, Knaus P, Brehm K (2003) Identification and characterization of two distinct Smad proteins from the fox-tapeworm Echinococcus multilocularis. Int J Parasitol 33:1665–1677
Acknowledgements
This work was supported by grant BR2045/1-1 (to K.B.) from the Deutsche Forschungsgemeinschaft. We are indebted to Matthias Frosch for continuous support and to Sebastian Suerbaum for providing us with the HMN02 cell line. We wish to thank Dominik Quest and Katja Klöpper for excellent technical assistance.
About this article
Cite this article
Spiliotis, M., Tappe, D., Sesterhenn, L. et al. Long-term in vitro cultivation of Echinococcus multilocularis metacestodes under axenic conditions. Parasitol Res 92, 430–432 (2004). https://doi.org/10.1007/s00436-003-1046-8
Received:

Accepted:

Published:

Issue Date:
Keywords
Feeder Cell

Echinococcus

Reactive Oxygen Intermediate

Echinococcus Multilocularis

Alveolar Echinococcosis