Abstract
Scanning electron microscopy was used to study the surface ultrastructure of adult worms of Spirocerca lupi. At the anterior end of both sexes, the mouth is hexagonal, without definite lips. Around the mouth, two pairs of submedian cephalic papillae and two lateral amphids are present. There is a pair of lateral cervical papillae. At the anterior end of the body, on the ventral side, an excretory pore is seen. In the female, the vulva is located anteriorly and the tail is blunt, with a pair of subterminal phasmids. The male tail is spiral, with four pairs of preanal papillae, a single large median preanal papilla on the anterior lip of the cloacal aperture, two pairs of postanal papillae, four pairs of tiny papillae near the tip of the tail and two subterminal phasmids. The cuticle shows an abnormal tumour-like mass in two cases.
This is a preview of subscription content, log in to check access.
Access options
Buy single article
Instant access to the full article PDF.
US$ 39.95
Price includes VAT for USA
Subscribe to journal
Immediate online access to all issues from 2019. Subscription will auto renew annually.
US$ 199
This is the net price. Taxes to be calculated in checkout.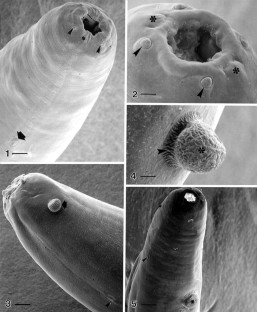 References
Anderson RC (2000) Nematode parasites of vertebrates, their development and transmission. CABI, UK

Ashour AA, Lewis JW (1986) Gongylonema aegypti n. sp. (Nematoda: Thelaziidae) from Egyptian rodents. Syst Parasitol 8:199–206

Bailey WS (1972) Spirocerca lupi: a continuing inquiry. J Parasitol 58:3–22

Beelitz P, Dongus H, Schol H, Gerhards H (1997) Thelazia lacrymalis (Nematoda, Spirurida, Thelaziidae): report in a horse in Germany and contribution to the morphology of adult worms. Parasitol Res 83:627–631

Berry WL (2000) Spirocerca lupi esophageal granulomas in 7 dogs: resolution after treatment with doramectin. J Vet Intern Med 14:609–612

Bowmann DD, Lynn RC (1999) Georgis' parasitology for veterinarians, 7th edn. Saunders, Philadelphia, Pa., USA

Chabaud AG (1975) Keys to the genera of the order Spirurida. Part 2. Spiruroidea, Habronematoidea and Acuarioidea. In: Anderson RC, Chabaud AG, Willmott S (eds) CIH Keys to the nematode parasites of vertebrates, vol 3. Commonwealth Agricultural Bureaux, England

Chakraborty A (1994) Occurrence and pathology of Gongylonema infection in captive wild herbivores. Vet Parasitol 52:163–167

Choi WY, Youn JH, Nam HW, Kim SW, Kim WK, Park SY, Oh YW (1989) Scanning electron microscopic observations of Thelazia callipaeda from human. Kisaengch'unghak Chapchi. (Korean J Parasitol) 27:217–223

Chowdhury N, Pande BP (1969) The development of the infective larva of the canine oesophageal tumor worm Spirocerca lupi in rabbits and its histophathology. Z Parasitenkd 32:1–10

Giannetto S, Trotti GC (1995) Light and scanning electron microscopy of Spirura rytipleurites seurati Chabaud, 1954 (Nematoda: Spiruridae) from Erinaceus europaeus in Sicily. J Helminthol 69:305–311

Gibbons LM (1986) SEM Guide to the morphology of nematode parasites of vertebrates. CABI, UK

Guttekova A (1987) Ultrastructure of the surface sculpture of the nematodes Thelazia gulosa and Thelazia rhodesi. Vet Med 32:113–120

Hamir AN (1984) Perforation of thoracic aorta in a dog associated with Spirocerca lupi infection. Aust Vet J 61:64

Hamir AN ( 1986) Oesophageal perforation and pyothorax associated with Spirocerca lupi infestation in a dog. Vet Rec 119:276

Kutzer E, Burtscher H (1967) Rarely occurring endoparasites of domestic dogs and cats. I. Spirocerca lupi. Wien Tierarztl Monatsschr 54:542–546

Levine ND (1968) Nematode parasites of domestic animals and man. Burgess, USA

McLaren DJ (1974) The anterior glands of Necator americanus (Nematoda: Strongyloides). Ultrastructural studies. Int J Parasitol 4:25–34

McLaren DJ (1976) Nematode sense organs. Adv Parasitol 14:105–265

Murray M (1968) Incidence and pathology of Spirocerca lupi in Kenya. J Comp Pathol 78:401–405

Naem S, Seifi H, Simon GT (2000) Scanning electron microscopy of adult Gongylonema pulchrum (Nematoda: Spirurida). J Vet Med B 47:249–255

Oshmarin PG, Oshmarin AP, Ryzhikov KM, Khrustalev AV (1983) Structure and nutritional characteristics of the female Simondsia paradoxa (Nematoda, Spirurata) a gastric parasite of swine. Parazitologiia 17:448–458

Pence DB, Stone JE (1978) Visceral lesions in wild carnivores naturally infected with Spirocerca lupi. Vet Pathol 15:322–331

Schroeder H, Berry WL (1998) Salivary gland necrosis in dogs: a retrospective study of 19 cases. J Small Anim Pract 39:121–125

Skrjabin KI (1969) Key to parasitic nematodes, vol 1. Spirurata and Filariata. Academy of Sciences USSR, Moscow

Soulsby EJL (1965) Textbook of veterinary clinical parasitology, vol 1. Helminths. Blackwell, Oxford, UK

Soulsby EJL (1986) Helminths, arthropods and protozoa of domesticated animals. Baillier Tindall, London, UK

Stephens LC, Gleiser CA, Jardine JH (1983) Primary pulmonary fibrosarcoma associated with Spirocerca lupi infection in a dog with hypertrophic pulmonary osteoarthropathy. J Am Vet Med Assoc 182:496–498

Talbot NT (1971) Incidence of Spirocerca lupi in dogs in the Port Moresby area of Papua and New Guinea. Aust Vet J 47:189–191

Uni S, Abe M, Harada K, Kanedak K, Kimata I, Abdelmaksoud NH, Takahashi K, Miyashita H, Iseki H (1992) New record of Gongylonema pulchrum Molin, 1857 from a new host, Macaca fuscata, in Japan. Ann Parasitol Hum Comp 67:221–223

Wandera JG (1976) Further observations on canine spirocercosis in Kenya. Vet Rec 99:348–351

Yamaguti S (1961) Systema helminthum, vol 3. The nematodes of vertebrates, parts 1 and 2. Interscience, New York, USA
Acknowledgements
The author wish to express her appreciation to Professor Larry A. Arsenault, Head of the Electron Microscope Facility, Department of Pathology and Molecular Medicine, McMaster University, Canada for his assistance in providing all facilities during the study. Also, the author is grateful to Mr. Ernie Spitzer, Chief Technician, and to all technicians in the Electron Microscope Facility for their help. Meanwhile, thanks are due to Dr. Hamed Seifi and Dr. H. A. Seifi for critical review of the manuscript.
About this article
Cite this article
Naem, S. Scanning electron microscopic observations on adult Spirocerca lupi (Nematoda: Spirurida, Thelaziidae). Parasitol Res 92, 265–269 (2004). https://doi.org/10.1007/s00436-003-1037-9
Received:

Accepted:

Published:

Issue Date:
Keywords
Excretory Pore

Cephalic Papilla

Male Tail

Cervical Papilla

Present Scanning Electron Microscopy