Abstract
The cDNA and two partial genomic sequences of β-tubulin genes have been isolated from the monogenean parasite Gyrodactylus salaris. The cDNA sequence is not represented by either of the genomic sequences, implying that at least three isotypes of the gene exist in G. salaris. The sequences show regions of high homology with other helminth β-tubulin genes. This represents the first isolation of a β-tubulin gene from a monogenean and contributes to the overall characterisation of these genes within the helminths. This is an important area, as anthelmintic resistance is increasing against benzimidazole drugs that target the β-tubulin gene. Benzimidazole drugs have been tested successfully against Gyrodactylus parasites, but their use is not widespread. Should it increase, analysis of the β-tubulin gene may provide a tool for monitoring resistance development and improving management practises. Use of the β-tubulin gene in the identification of Gyrodactylus species may prove complex due to the presence of different isotypes.
This is a preview of subscription content, log in to check access.
Access options
Buy single article
Instant access to the full article PDF.
US$ 39.95
Price includes VAT for USA
Subscribe to journal
Immediate online access to all issues from 2019. Subscription will auto renew annually.
US$ 199
This is the net price. Taxes to be calculated in checkout.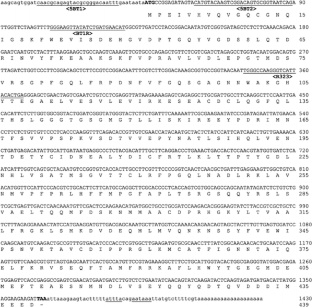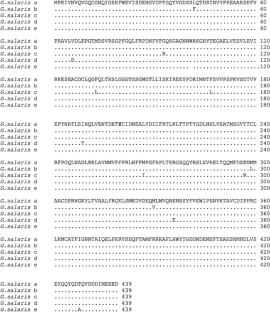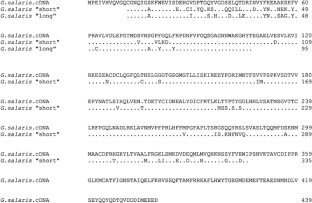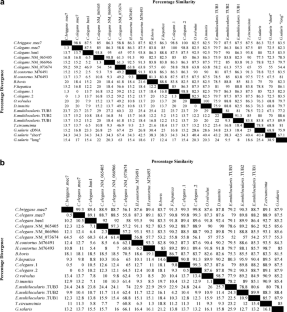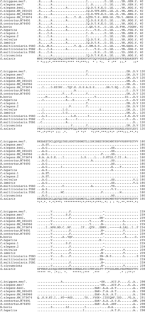 References
Brehm K, Kronthaler K, Jura H, Frosch M (2000) Cloning and characterisation of β-tubulin genes from Echinococcus multilocularis. Mol Biochem Parasitol 107:297–302

Buchmann K, Bjerregaard J (1990) Mebendazole treatment of Pseudodactylogyrosis in an intensive eel-culture system. Aquaculture 86:139–153

Cacciò S, Cammà C, Onuma M, Severini C (2000) The β-tubulin gene of Babesia and Theileria parasites is an informative marker for species discrimination. Int J Parasitol 30:1181–1185

Chomczynski P, Sacchi N (1987) Single-step method of RNA isolation by acid guanidium thiocyanate-phenol-chloroform extraction. Anal Biochem 62:156–159

Cunningham C (1997) Species variation within the internal transcribed spacer (ITS) region of Gyrodactylus (Monogenea: Gyrodactylidae) ribosomal RNA genes. J Parasitol 83:215–219

Cunningham CO, McGillivray DM, MacKenzie K, Melvin WT (1995) Discrimination between Gyrodactylus salaris, G. derjavini and G. truttae (Platyhelminthes: Monogenea) using restriction fragment length polymorphisms and an oligonucleotide probe within the small subunit ribosomal RNA gene. Parasitology 111:87–84

Cunningham CO, Mo TA, Collins CM, Buchmann K, Thiery R, Blanc G, Lautraite A (2001) Redescription of Gyrodactylus teuchis Lautraite, Blanc, Thiery, Daniel and Vigneulle, 1999 (Monogenea: Gyrodactylidae), a species identified by ribosomal RNA sequence. Syst Parasitol 4:141–150

Driscoll M, Dean E, Reilly E, Bergholz E, Chalfie M (1989) Genetic and molecular analysis of Caenorhabditis elegans β-tubulin that conveys benzimidazole sensitivity. J Cell Biol 109:2993–3003

Elard L, Comes AM, Humbert JF (1996) Sequences of β-tubulin cDNA from benzimidazole-susceptible and -resistant strains of Teladorsagia circumcincta, a nematode parasite of small ruminants. Mol Biochem Parasitol 79:249–253

Geary TG, Nulf SC, Favreau MA, Tang L, Pritchard RK, Hatzenbuhler NT, Shea MH, Alexander-Bowman SJ, Klein RD (1991) Three β-tubulin cDNAs from the parasitic nematode Haemonchus contortus. Mol Biochem Parasitol 62:281–292

Geary TG, Nulf SC, Alexander-Bowman SJ, Mahmoud BM, Prichard RK, Klein RD (1998) Cloning and characterisation of cDNAs encoding β-tubulin from Dirofilaria immitis and Onchocerca volvulus. J Parasitol 84:356–360

Goven BA, Amend DF (1982) Mebendazole/trichlorfon combination: a new anthelmintic for removing monogenetic trematodes from fish. J Fish Biol 20:373–378

Hennig L (1999) WinGene/WinPep: user-friendly software for the analysis of aminoacid sequences. Biotechniques 26:1170–1172

Johnsen BO, Jensen AJ (1991) The Gyrodactylus story in Norway. Aquaculture 98:289–302

Johnsen BO, Møkkelgjerd PI, Jensen AJ (1999) The parasite Gyrodactylus salaris on salmon parr in Norwegian rivers: status report at the beginning of the year 2000. Nor Inst Naturforsk Oppdragsmeld 617:129

Jung MK, Wilder IB, Oakley BR (1992) Aminoacid alterations in the benA (β-tubulin) gene of Aspergillus nidulans that confer benomyl resistance. Cell Motil Cytoskeleton 22:170–174

Kwa MS, Kooyman FNJ, Boersema JH, Roos MH (1993a) Effect of selection for benzimidazole resistance in Haemonchus contortus in β-tubulin isotype 1 and isotype 2 genes. Biochem Biophys Res Commun 191:413–419

Kwa MSG, Veenstra JG, Roos MH (1993b) Molecular characterisation of β-tubulin genes present in benzimadazole-resistant populations of Haemonchus contortus. Mol Biochem Parasitol 60:133–144

Kwa MSG, Veenstra JG, Roos MH (1994) Benzimidazole resistance in Haemonchus contortus is correlated with a conserved mutation at aminoacid 200 in β-tubulin isotype 1. Mol Biochem Parasitol 63:299–303

Kwa MS, Veenstra JG, Dijk MD, Roos MH (1995) β-tubulin genes from the parasitic nematode Haemonchus contortus modulate drug resistance in Caenorhabditis elegans. J Mol Biol 246:500–510

Koenraadt H, Somerville SC, Jones AL (1992) Characterisation of mutations in the β-tubulin gene of benomyl-resistant field strains of Venturia inaequalis and other plant pathogenic fungi. Mol Plant Pathol 11:1348–1354

Lacey E (1988) The role of the cytoskeletal protein, tubulin, in the mode of action and mechanism of drug resistance to benzimidazoles. Int J Parasitol 18:885–936

Lubega GW, Klein RD, Geary TG, Prichard RK (1994) Haemonchus contortus: the role of two beta-tubulin gene sub-families in the resistance to benzimidazole anthelmintics. Biochem Pharmacol 29:1705–1715

Malmberg G (1970) The excretory systems and the marginal hooks as a basis for the systematics of Gyrodactylus (Trematoda, Monogenea). Ark Zool 23:235

Matejusová I, Gelnar M, McBeath AJA, Collins CM, Cunningham CO (2001) Molecular markers for gyrodactylids (Gyrodactylidae: Monogenea) from five fish families (Teleostei). Int J Parasitol 31:738–745

Robinson MW, Hoey EM, Fairweather I, Dalton JP, McGonigle S, Trudgett A (2001) Characterisation of a β-tubulin gene from the liver fluke, Fasciola hepatica. Int J Parasitol 31:1264–1268

Roos MH, Boersema JH, Borgsteede FHM, Cornelissen J, Taylor M, Ruttenberg EJ (1990) Molecular analysis of selection for benzimidazole resistance in the sheep parasite Haemonchus contortus. Mol Biochem Parasitol 43:77–88

Roos MH, Kwa MSG, Grant WN (1995) New genetic and practical implications of selection for anthelminthic resistance in parasitic nematodes. Parasitol Today 11:48–150

Roux KH (1995) Optimisation and troubleshooting in PCR. PCR Methods Appl 4:5185–5194

Sangster N, Batterham P, Chapman HD, Duraisingh M, Le Jambre L, Shirley M, Upcroft J, Upcroft P (2002) Resistance to antiparasitic drugs: the role of molecular diagnosis. Int J Parasitol 32:637–653

Savage C, Hamelin M, Culotti JG, Coulson A, Albertson DG Chalfie M (1989) mec-7 is a β-tubulin gene required for the production of 15-protofilament microtubules in Caenorhabditis elegans. Genes Dev 3:870–881

Schäperclaus W (1979) Fischkrankheiten, 4th edn. Akademie-Verlag, Berlin

Sterud E, Mo TA, Collins CM, Cunningham CO (2002) The use of host specificity, pathogenicity, and molecular markers to differentiate between Gyrodactylus salaris Malmberg, 1957 and G. thymalli Zitnan, 1960 (Monogenea: Gyrodactylidae). Parasitology 124:203–213

Thompson JD, Gibson TJ, Plewniak F, Jeanmougin F, Higgins DG (1997) The CLUSTAL-X windows interface: flexible strategies for multiple sequence alignment aided by quality analysis tools. Nucleic Acids Res 25:4876–4882

Tojo JL, Santamarina MT (1998) Oral pharmacological treatments for parasitic diseases of rainbow trout Oncorhynchus mykiss. II. Gyrodactylus sp. Dis Aquat Org 33:187–193

Waller PJ, Buchmann K (2001) Anthelmintic resistance and parasite control in commercial eel farms: consequences for producers. Vet Rec 148:783–784
Acknowledgements
The authors would like to thank Dr. Tor Atle Mo and Kjetil Olstad of the National Veterinary Institute, Oslo, for provision of parasites and thank the EU FAIR programme (FAIR CT97-3406) for partial funding of this work.
About this article
Cite this article
Collins, C.M., Miller, K.A. & Cunningham, C.O. Characterisation of a β-tubulin gene from the monogenean parasite, Gyrodactylus salaris Malmberg, 1957. Parasitol Res 92, 390–399 (2004). https://doi.org/10.1007/s00436-003-1028-x
Received:

Accepted:

Published:

Issue Date:
Keywords
Babesia

Mebendazole

Adapter Primer

Echinococcus Multilocularis

Triclabendazole