Abstract
To improve transfection efficiency in Trypanosoma cruzi, we developed a new electroporation protocol and expression vectors which use luciferase and green and red fluorescent proteins as reporter genes. In transient transfections, the electroporation conditions reported here resulted in luciferase expression 100 times higher than the levels obtained with previously described protocols. To verify whether sequences containing different trans-splicing signals influence reporter gene expression, we compared DNA fragments corresponding to 5′ untranslated plus intergenic (5′ UTR plus Ig) regions from GAPDH, TcP2β, α- and β-tubulin and amastin genes. Vectors containing sequences derived from the first four genes presented similar efficiencies and resulted in luciferase expression in transiently transfected epimastigotes that was up to 10 times higher than that for a control vector. In contrast, the amastin 5′ UTR plus Ig resulted in lower levels of reporter gene expression. We also constructed a vector containing an expression cassette designed to be targeted to the tubulin locus of the parasite.
This is a preview of subscription content, log in to check access.
Access options
Buy single article
Instant access to the full article PDF.
US$ 39.95
Price includes VAT for USA
Subscribe to journal
Immediate online access to all issues from 2019. Subscription will auto renew annually.
US$ 199
This is the net price. Taxes to be calculated in checkout.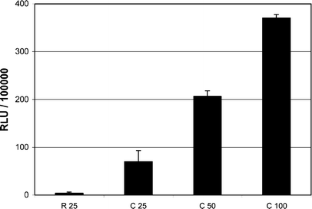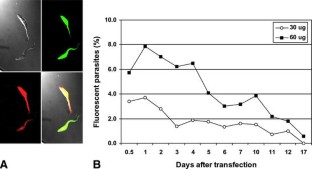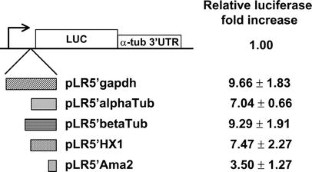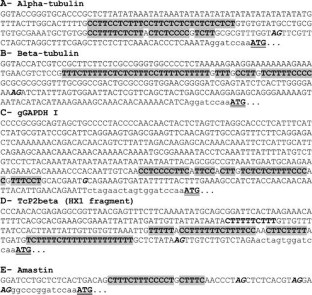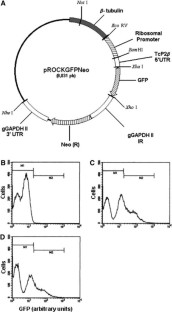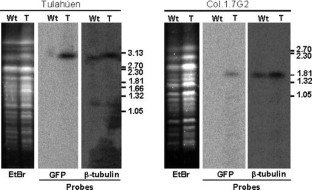 References
Bartholomeu DC, Silva RA, Galvão LMC, El-Sayed N, Donelson JE, Teixeira SMR (2003) Trypanosoma cruzi: RNA structure and post-transcriptional control of tubulin gene expression. Exp Parasitol (in press)

Camargo EP (1964) Growth and differentiation in Trypanosoma cruzi: origin of trypanosomes in liquid medium. Rev Inst Med Trop São Paulo 6:93

Cano MI, Gruber A, Vazquez M, Cortés A, Levin MJ, González A, Degrave W, Rondinelli E, Zingales B, Ramirez JL, Alonso C, Requena JM, Silveira JF (1995) Molecular karyotype of clone CL Brener chosen for the Trypanosoma cruzi genome project. Mol Biochem Parasitol 71:273–278

Clayton CE (2002) Life without transcriptional control? From fly to man and back again. EMBO J 21:1881–1888

Coughlin BC, Teixeira SM, Kirchhoff LV, Donelson JE (2000) Amastin mRNA abundance in Trypanosoma cruzi is controlled by a 3′-untranslated region position-dependent cis-element and an untranslated region-binding protein. J Biol Chem 275:12051–12060

Dietrich P, Soares MB, Affonso MH, Floeter-Winter LM (1993) The Trypanosoma cruzi ribosomal RNA-encoding gene: analysis of promoter and upstream intergenic spacer sequences. Gene 125:103–107

Engman DM, Reddy LV, Donelson JE, Kirchhoff LV (1987) Trypanosoma cruzi exhibits inter- and intra-strain heterogeneity in karyotype and chromosomal gene location. Mol Biochem Parasitol 22:115–123

Kelly JM, Ward HM, Miles MA, Kendall G (1992) A shuttle vector which facilitates the expression of transfected genes in Trypanosoma cruzi and Leishmania. Nucleic Acids Res 20:3963–3969

LaCount DJ, Barrett B, Donelson JE (2002) Trypanosoma brucei FLA1 is required for flagellum attachment and cytokinesis. J Biol Chem 277:17580–17588

LeBowitz JH, Smith HQ, Rusche L, Beverley SM (1993) Coupling of poly(A) site selection and trans-splicing in Leishmania. Genes Dev 7:996

Lu HY, Buck GA (1991) Expression of an exogenous gene in Trypanosoma cruzi epimastigotes. Mol Biochem Parasitol 44:109–114

Mahmood R, Hines JC, Ray DS (1999) Identification of cis and trans elements involved in the cell cycle regulation of multiple genes in Crithidia fasciculata. Mol Cell Biol 19:6174–6182

Martinez-Calvillo S, Lopez I, Hernandez R (1997) pRIBOTEX expression vector: a pTEX derivative for a rapid selection of Trypanosoma cruzi transfectants. Gene 199:71–76

Matthews KR, Tschudi C, Ullu E (1994) A common pyrimidine-rich motif governs trans-splicing and polyadenylation of tubulin polycistronic pre-mRNA in trypanosomes. Genes Dev 8:491

Nozaki T, Cross GA (1995) Effects of 3′ untranslated and intergenic regions on gene expression in Trypanosoma cruzi. Mol Biochem Parasitol 75:55–67

Nunes LR, Carvalho MR, Shakarian AM, Buck GA (1997) The transcription promoter of the spliced leader gene from Trypanosoma cruzi. Gene 188:157–168

Ramirez MI, Yamauchi LM, de Freitas LH Jr, Uemura H, Schenkman S (2000) The use of the green fluorescent protein to monitor and improve transfection in Trypanosoma cruzi. Mol Biochem Parasitol 111:235–240

Sambrook J, Fritsch EF, Maniatis T (1989) Molecular cloning: a laboratory manual. Cold Spring Harbor Laboratory Press, Cold Spring Harbor, New York

Schurch N, Hehl A, Vassella E, Braun R, Roditi I (1994) Accurate polyadenylation of procyclin mRNAs in Trypanosoma brucei is determined by pyrimidine-rich elements in the intergenic regions. Mol Cell Biol 14:3668–3675

Teixeira SMR, Russell DG, Kirchhoff LV, Donelson JE (1994) A differentially expressed gene family encoding "amastin", a surface glycoprotein of Trypanosoma cruzi amastigotes. J Biol Chem 269:20509

Teixeira SM, Kirchhoff LV, Donelson JE (1995) Post-transcriptional elements regulating expression of mRNAs from the amastin/tuzin gene cluster of Trypanosoma cruzi. J Biol Chem 270:22586–22594

Teixeira SMR, Otsu K, Hill KL, Kirchhoff LV, Donelson JE (1999a) Expression of a marker for intracellular Trypanosoma cruzi amastigotes in extracellular spheromastigotes. Mol Biochem Parasitol 98:265–270

Teixeira SM, Kirchhoff LV, Donelson JE (1999b) Trypanosoma cruzi: suppression of tuzin gene expression by its 5′-UTR and spliced leader addition site. Exp Parasitol 93:143–151

Tyler-Cross RE, Short SL, Floeter-Winter LM, Buck GA (1995) Transient expression mediated by the Trypanosoma cruzi rRNA promoter. Mol Biochem Parasitol 72:23–31

Vanhamme L, Pays E (1995) Control of gene expression in trypanosomes. Microbiol Rev 59:223–240

Vazquez MP, Levin MJ (1999) Functional analysis of the intergenic regions of TcP2β gene loci allowed the construction of an improved Trypanosoma cruzi expression vector. Gene 239:217–225

Weston D, La Flamme AC, Van Voorhis WC (1999) Expression of Trypanosoma cruzi surface antigen FL-160 is controlled by elements in the 3′ untranslated, the 3′ intergenic, and the coding regions. Mol Biochem Parasitol 102:53–66

Wet JR de, Wood KV, DeLuca M, Helinski DR, Subramani S (1987) Firefly luciferase gene: structure and expression in mammalian cells. Mol Cell Biol 7:725–737

World Health Organization (1999) The World Health Report. http://www.who.ch. Cited 9 May 2003
Acknowledgements
The authors are grateful to Dr. John E. Donelson from the University of Iowa, Iowa, USA for providing a training opportunity for WDR and valuable suggestions, Etel R. Vieira for FACS analyses, and to Alice Machado-Silva for critical reading of the manuscript. We are also thankful to Dr. Egler Chiari for providing some of the T. cruzi strains. This work was supported by funds from the World Health Organization/Special Program for Research and Training in Tropical Diseases (WHO/TDR) and the NIH Fogarty International Research Collaborative Award (FIRCA). The work of WDR, RAS, DCB, SFP and SMRT received further support from Conselho Nacional de Desenvolvimento Científico e Tecnológico (CNPq), Brazil. The work of MV and MJL was supported by grants from FONCYT-PICTs 01-05225 and 01-06803 TWAS research grants 00–311 RG/BIO/LA. In addition, MJL was supported by an International Research Scholar grant from the Howard Hughes Medical Institute, Chevy Chase, Md., USA. The experiments described here were performed in Brazil and comply with the current laws of the country.
About this article
Cite this article
DaRocha, W.D., Silva, R.A., Bartholomeu, D.C. et al. Expression of exogenous genes in Trypanosoma cruzi: improving vectors and electroporation protocols. Parasitol Res 92, 113–120 (2004). https://doi.org/10.1007/s00436-003-1004-5
Received:

Accepted:

Published:

Issue Date:
Keywords
Luciferase Activity

Trypanosoma Cruzi

Chloramphenicol Acetyl Transferase

Polypyrimidine Tract

Splice Leader