Abstract
Cerebral malaria (CM) is a devastating form of Plasmodium falciparum malaria, in which adherence and sequestration of infected red blood cells in cerebral blood vessels play a major role. In order to determine whether a distinct parasite phenotype favours the development of this severe complication, P. falciparum isolates from Gabonese children suffering from CM or uncomplicated malaria (UM) were analysed for their binding phenotypes and their recognition in flow cytometry. CM isolates exhibited the ability to form rosettes and to bind ICAM-1, in line with previous studies correlating these phenotypes with CM disease pathology. CM isolates were more reactive with plasma from our cohort than UM parasites. This observation, together with the finding that some CM isolates were highly correlated with each other in their immunoreactivities, confirms that common parasites bearing conserved epitopes, which are capable of inducing cross-reactive antibodies, can cause CM in children.
This is a preview of subscription content, log in to check access.
Access options
Buy single article
Instant access to the full article PDF.
US$ 39.95
Price includes VAT for USA
Subscribe to journal
Immediate online access to all issues from 2019. Subscription will auto renew annually.
US$ 199
This is the net price. Taxes to be calculated in checkout.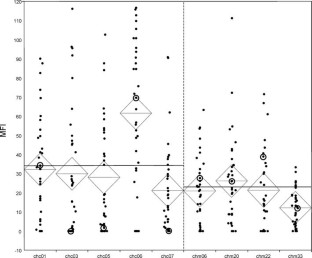 References
Adams S, Brown H, Turner G (2002) Breaking down the blood–brain barrier: signaling a path to cerebral malaria? Trends Parasitol 18:360–366

Ariey F, Hommel D, Le Scanf C, Duchemin JB, Peneau C, Hulin A, Sarthou JL, Reynes JM, Fandeur T, Mercereau-Puijalon O (2001) Association of severe malaria with a specific Plasmodium falciparum genotype in French Guiana. J Infect Dis 184:237–241

Brewster DR, Kwiatkowski D, White NJ (1990) Neurological sequelae of cerebral malaria in children. Lancet 336:1039–1043

Bull PC, Lowe BS, Kortok M, Marsh K (1999) Antibody recognition of Plasmodium falciparum erythrocyte surface antigens in Kenya: evidence for rare and prevalent variants. Infect Immun 67:733–739

Bull PC, Kortok M, Kai O, Ndungu F, Ross A, Lowe BS, Newbold CI, Marsh K (2000) Plasmodium falciparum-infected erythrocytes: agglutination by diverse Kenyan plasma is associated with severe disease and young host age. J Infect Dis 182:252–259

Carlson J, Helmby H, Hill AV, Brewster D, Greenwood BM, Wahlgren M (1990) Human cerebral malaria: association with erythrocyte rosetting and lack of anti-rosetting antibodies. Lancet 336:1457–1460

Fried M, Duffy PE (1996) Adherence of Plasmodium falciparum to chondroitin sulfate A in the human placenta. Science 272:1502–1504

Greenwood B (1999) Malaria mortality and morbidity in Africa. Bull WHO 77:617–618

Guevara Patino JA, Holder AA, McBride JS, Blackman MJ (1997) Antibodies that inhibit malaria merozoite surface protein-1 processing and erythrocyte invasion are blocked by naturally acquired human antibodies. J Exp Med 186:1689–1699

Hill AV (2001) The genomics and genetics of human infectious disease susceptibility. Annu Rev Genomics Hum Genet 2:373–400

Kassberger F, Birkenmaier A, Khattab A, Kremsner PG, Klinkert MQ (2002) PCR typing of Plasmodium falciparum in matched peripheral, placental and umbilical cord blood. Parasitol Res 88:1073–1079

Khattab A, Kun J, Deloron P, Kremsner PG, Klinkert MQ (2001) Variants of Plasmodium falciparum erythrocyte membrane protein 1 expressed by different placental parasites are closely related and adhere to chondroitin sulfate A. J Infect Dis 183:1165–1169

Khattab A, Kremsner PG, Klinkert MQ (2003) Common surface-antigen var genes of limited diversity expressed by Plasmodium falciparum placental isolates separated by time and space. J Infect Dis 187:477–483

Marsh K, Snow RW (1997) Host–parasite interaction and morbidity in malaria endemic areas. Philos Trans R Soc Lond B Biol Sci 352:1385–1394

Newbold C, Warn P, Black G, Berendt A, Craig A, Snow B, Msobo M, Peshu N, Marsh K (1997) Receptor-specific adhesion and clinical disease in Plasmodium falciparum. Am J Trop Med Hyg 57:389–398

Nielsen MA, Staalsoe T, Kurtzhals JA, Goka BQ, Dodoo D, Alifrangis M, Theander TG, Akanmori BD, Hviid L (2002) Plasmodium falciparum variant surface antigen expression varies between isolates causing severe and nonsevere malaria and is modified by acquired immunity. J Immunol 168:3444–3450

Schlichtherle M, Wahlgren M, Perlmann H, Scherf A (2000) Methods in malaria research. (MR4/ATCC) American Type Culture Collection, Washington, D.C.

Snow RW, Trape JF, Marsh K (2001) The past, present and future of childhood malaria mortality in Africa. Trends Parasitol 17:593–597

Staalsoe T, Giha HA, Dodoo D, Theander TG, Hviid L (1999) Detection of antibodies to variant antigens on Plasmodium falciparum-infected erythrocytes by flow cytometry. Cytometry 35:329–336

Urban BC, Ferguson DJ, Pain A, Willcox N, Plebanski M, Austyn JM, Roberts DJ (1999) Plasmodium falciparum-infected erythrocytes modulate the maturation of dendritic cells. Nature 400:73–77

Urban BC, Willcox N, Roberts DJ (2001) A role for CD36 in the regulation of dendritic cell function. Proc Natl Acad Sci USA 98:8750–8755

World Health Organisation (2000) Severe falciparum malaria. Trans R Soc Trop Med Hyg 94 [Suppl 1]:S1–S90
Acknowledgements
The experiments performed here comply with the current laws of the country. This work received financial support from the European Commission (QLK2-CT-1999-01293, QLK2-CT-2002-01197). We thank the staff at the Medical Research Unit and the Paediatrics Ward of the Albert Schweitzer Hospital in Lambaréné for their help and co-operation. We are also grateful to Dr. Philippe Deloron for comments.
About this article
Cite this article
Lindenthal, C., Kremsner, P.G. & Klinkert, M. Commonly recognised Plasmodium falciparum parasites cause cerebral malaria. Parasitol Res 91, 363–368 (2003). https://doi.org/10.1007/s00436-003-0975-6
Received:

Accepted:

Published:

Issue Date:
Keywords
Malaria

Severe Malaria

Cerebral Malaria

Mean Fluorescent Intensity

Uncomplicated Malaria