Abstract
The effect of endogenous ammonia produced in dead fish or ammonia in ammonium bicarbonate solutions was evaluated on the viability of Clonorchis sinensis metacercariae. Viability was determined by worm recovery in rats infected with metacercariae exposed to ammonia in decaying fish or in vitro solutions. The recovery rates were 58%, 48%, 44% and 2% in fish that had been allowed to decay for 5, 10, 20 and 30 days at 4°C, respectively, and this rate (Y) was inversely correlated with the ammonia concentration (X) in fish muscle extract (Y=80.62–0.0667X, r 2=0.905, P=0.049). C. sinensis metacercariae barely survived in ammonia solutions with concentrations exceeding 1 g N/l. Our results indicate that the ammonia produced in dead fish is lethal to the viability of C. sinensis metacercariae.
This is a preview of subscription content, log in to check access.
Access options
Buy single article
Instant access to the full article PDF.
US$ 39.95
Price includes VAT for USA
Subscribe to journal
Immediate online access to all issues from 2019. Subscription will auto renew annually.
US$ 199
This is the net price. Taxes to be calculated in checkout.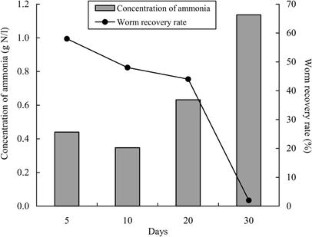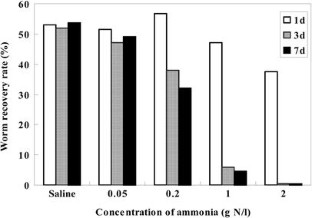 References
Hermenegildo C, Marcaida G, Montoliu C, Grisolia S, Minana MD, Felipo V (1996) NMDA receptor antagonists prevent acute ammonia toxicity in mice. Neurochem Res 21:1237–1244

Hong ST, Kho WG, Kim WH, Chai JY, Lee SH (1993) Turnover of biliary epithelial cells in Clonorchis sinensis infected rats. Korean J Parasitol 31:83–89

Huizenga JR, Gips CH (1982) Determination of ammonia in saliva using indophenol, an ammonium electrode and an enzymatic method: a comparative investigation. J Clin Chem Clin Biochem 20:571–574

Randall DJ, Tsui TK (2002) Ammonia toxicity in fish. Mar Pollut Bull 45:17–23

Wykoff DE (1958) Studies on Clonorchis sinensis. III. The host-parasite relations in the rabbit and observations on the relative susceptibility of certain laboratory hosts. J Parasitol 44:461–466
About this article
Cite this article
Zhang, H., Lee, C., Li, S. et al. Lethal effect of ammonia on metacercariae of Clonorchis sinensis . Parasitol Res 90, 421–422 (2003). https://doi.org/10.1007/s00436-003-0878-6
Received:

Accepted:

Published:

Issue Date:
Keywords
Recovery Rate

Ammonia Concentration

Ammonia Solution

Adult Worm

Ammonium Bicarbonate