Abstract
Parasites of the genus Cryptosporidium are intracellular parasites that occur throughout the animal kingdom and have been reported in many species of mammals, including human. Most infections in humans are caused by two C. parvum genotypes, genotype I and genotype II; these are the human and the bovine (zoonotic) genotypes, respectively.
Successful experimental infection of Cryptosporidium parvum genotype I "human genotype" is described in four conventionally reared piglets and in a lamb. The inoculum was originally obtained from two diarrheic children, and the Cryptosporidium genotypes were determined by PCR and rDNA sequencing. The infective dose was between 106 and 2×106 oocysts. No clinical signs were observed in the infected animals, except in a piglet that showed watery diarrhea. The oocyst shedding period in positive animals ranged between 4 and 10 days. Histopathologic examination of the gastrointestinal tract of two positive piglets revealed shortening of the villi and denudation of the villous tips of the jejunum. In one piglet, the colon mucosa revealed numerous Cryptosporidium oocysts. The storage time of the inocula (≤3 weeks in PBS at 4°C) and the age of the animal (newborn) were important for the successful induction of infection.
This is a preview of subscription content, log in to check access.
Access options
Buy single article
Instant access to the full article PDF.
US$ 39.95
Price includes VAT for USA
Subscribe to journal
Immediate online access to all issues from 2019. Subscription will auto renew annually.
US$ 199
This is the net price. Taxes to be calculated in checkout.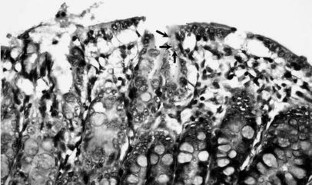 References
Argenzio RA, Liacos JA, Levy ML, Meuten DJ, Lecce JG, Powell DW (1990) Villous atrophy, crypt hyperplasia, cellular infiltration, and impaired glucose-Na absorption in enteric cryptosporidiosis of pigs. Gastroenterology 98:1129–1140

Arnault I, Reperant JM, Naciri M (1994) Humoral antibody response and oocyst shedding after experimental infection of histocompatible newborn and weaned piglets with Cryptosporidium parvum. Vet Res 25:371–383

Casemore DP (1991) Laboratory methods for diagnosing cryptosporidiosis. J Clin Pathol 44:445–451

Giles M, Webster KA, Marshall JA, Catchpole J, Goddard TM (2001) Experimental infection of a lamb with Cryptosporidium parvum genotype 1. Vet Rec 149:523–525

Hijjawi NS, Meloni BP, Morgan UM, Thompson RC (2001) Complete development and long-term maintenance of Cryptosporidium parvum human and cattle genotypes in cell culture. Int J Parasitol 31:1048–1055

Jokipii L, Pohjola S, Jokipii AM (1983) Cryptosporidium: A frequent finding in patients with gastrointestinal symptoms. Lancet II: 358–361

MacKenzie W (1994) A massive outbreak in Milwaukee of Cryptosporidium infection transmitted through the public water supply. N Engl J Med 331:161–167

Moon HW, Bemrick WJ (1981) Fecal transmission of calf cryptosporidia between calves and pigs. Vet Pathol 18:248–255

Moon HW, Schwartz A, Welch MJ, McCann PP, Runnels PL (1982) Experimental fecal transmission of human cryptosporidia to pigs, and attempted treatment with an ornithine decarboxylase inhibitor. Vet Pathol 19:700–707

Morgan UM, Xiao L, Hill BD, O'Donoghue P, Limor J, Lal A, Thompson RC (2000) Detection of the Cryptosporidium parvum "human" genotype in a dugong (Dugong dugon). J Parasitol 86:1352–1354

O'Donoghue PJ (1995) Cryptosporidium and cryptosporidiosis in man and animals. Int J Parasitol 25:139–195

Peng MM, Xiao L, Freeman AR, Arrowood MJ, Escalante AA, Weltman AC, Ong CS, Mac Kenzie WR, Lal AA, Beard CB (1997) Genetic polymorphism among Cryptosporidium parvum isolates: evidence of two distinct human transmission cycles. Emerging Infect Dis 3:567–573

Petry F, Robinson HA, McDonald V (1995) Murine infection model for maintenance and amplification of Cryptosporidium parvum oocysts. J Clin Microbiol 33:1922–1924

Spano F, Putignani L, Crisanti A, Sallicandro P, Morgan UM, Le Blancq SM, Tchack L, Tzipori S, Widmer G (1998) Multilocus genotypic analysis of Cryptosporidium parvum isolates from different hosts and geographical origins. J Clin Microbiol 36:3255–3259

Tzipori S (1981) Experimental infection of piglets with Cryptosporidium . Res Vet Sci 31:358–368

Tzipori S, Angus KW, Campbell I, Gray EW (1982) Experimental infection of lambs with Cryptosporidium isolated from a human patient with diarrhoea. Gut 23:71–74

Vitovec J, Koudela B (1992) Pathogenesis of intestinal cryptosporidiosis in conventional and gnotobiotic piglets. Vet Parasitol 43:25–36

Ward PI, Deplazes P, Regli W, Rinder H, Mathis A (2002) Detection of eight Cryptosporidium genotypes in surface and waste waters in Europe. Parasitology 124:359–368

Weber R, Bryan RT, Bishop HS, Wahlquist SP, Sullivan JJ, Juranek DD (1991) Threshold of detection of Cryptosporidium oocysts in human stool specimens: evidence for low sensitivity of current diagnostic methods. J Clin Microbiol 29:1323–1327

Widmer G, Akiyoshi D, Buckholt MA, Feng X, Rich SM, Deary KM, Bowman CA, Xu P, Wang Y, Wang X, Buck GA, Tzipori S (2000) Animal propagation and genomic survey of a genotype 1 isolate of Cryptosporidium parvum. Mol Biochem Parasitol 108:187–197

Yang S, Healey MC, Du C (1996) Infectivity of preserved Cryptosporidium parvum oocysts for immunosuppressed adult mice. FEMS Immun Med Microbiol 13:141–145
Acknowledgements
Thanks are due to Dr. Naomi Oliel and Dr. Esther Bürgi for provision of the piglets, Mr. Hanspeter Müller for the care of the experimental animals, and to the laboratory technicians at the Institute of Parasitology for their unfailing help during the experiment.
About this article
Cite this article
Ebeid, M., Mathis, A., Pospischil, A. et al. Infectivity of Cryptosporidium parvum genotype I in conventionally reared piglets and lambs. Parasitol Res 90, 232–235 (2003). https://doi.org/10.1007/s00436-003-0839-0
Received:

Accepted:

Published:

Issue Date:
Keywords
Cryptosporidiosis

Cryptosporidia Oocyst

Newborn Lamb

Fecal Homogenate

Large White Breed