Abstract
In the Cryptosporidium parvum-infected intestinal epithelial cell, the parasite occupies an unusual extracytoplasmic location at the luminal surface, but how the invading zoites interact with the host cell to achieve this niche is poorly understood. This study examined the role of secretory phospholipase A2 (sPLA2), a known virulence factor for several pathogenic microorganisms, in establishing C. parvum intracellularly. Initially, it was established that there was sPLA2 activity in homogenates of C. parvum oocysts. C. parvum reproduction in two human enterocyte cell lines was significantly reduced by a specific PLA inhibitor, p-bromophenacylbromide, and by sheep anti-sPLA2 antibodies developed against PLA2 of bee (Apis mellifera) venom. Treatment of either C. parvum sporozoites or enterocytes with sPLA2 derived from cobra (Naja naja) venom before initiation of infection increased the numbers of intracellular parasites. Thus, C. parvum PLA2 may play an important part in establishing the parasite within the enterocyte.
This is a preview of subscription content, log in to check access.
Access options
Buy single article
Instant access to the full article PDF.
US$ 39.95
Price includes VAT for USA
Subscribe to journal
Immediate online access to all issues from 2019. Subscription will auto renew annually.
US$ 199
This is the net price. Taxes to be calculated in checkout.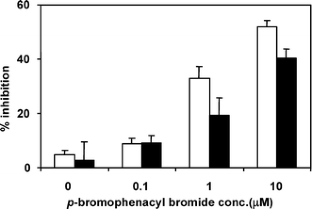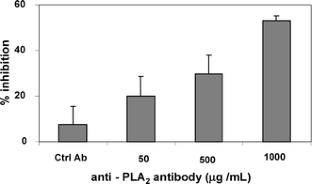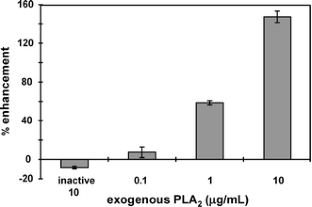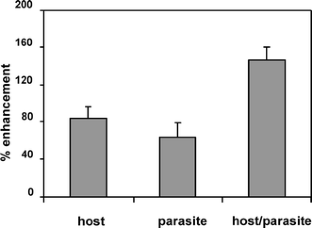 References
Bonnin A, Gut J, Dubremetz JF, Nelson RG, Camerlynck P (1995) Monoclonal antibodies identify a subset of dense granules in Cryptosporidium parvum zoites and gamonts. J Eukaryot Microbiol 42:395–401

Bryant AE, Stevens DL (1996) Phospholipase C and perfringolysin O from Clostridium perfringens upregulate endothelial cell-leukocyte adherence molecule 1 and intercellular leukocyte adherence molecule 1 expression and induce interleukin-8 synthesis in cultured human umbilical vein endothelial cells. Infect Immun 64:358–362

Connelly MC, Kierszenbaum F (1984) Modulation of macrophage interaction with Trypanosoma cruzi by phospholipase A2-sensitive components of the parasite membrane. Biochem Biophys Res Commun 121:931–939

Dorrell N, Martino MC, Stabler RA, Ward SJ, Zhang ZW, McColm AA, Farthing MJ, Wren BW (1999) Characterization of Helicobacter pylori PldA, a phospholipase with a role in colonization of the gastric mucosa. Gastroenterology 117:1098–1104

Fenard D, Lambeau G, Valentin E, Lefebvre JC, Lazdunski M, Doglio A (1999) Secreted phospholipases A(2), a new class of HIV inhibitors that block virus entry into host cells. J Clin Invest 104:611–618

Joe A, Verdon R, Tzipori S, Keusch GT, Ward HD (1998) Attachment of Cryptosporidium parvum sporozoites to human intestinal epithelial cells. Infect Immun 66:3429–3432

Jones RG, Corteling RL, Bhogal G, Landon J (1999) A novel Fab-based antivenom for the treatment of mass bee attacks. Am J Trop Med Hyg 61:361–366

Lumb R, Smith K, O'Donoghue PJ, Lanser JA (1988) Ultrastructure of the attachment of Cryptosporidium sporozoites to tissue culture cells. Parasitol Res 74:531–536

McDonald V, McCrossan MV, Petry F (1995) Localization of parasite antigens in Cryptosporidium parvum- infected epithelial cells using monoclonal antibodies. Parasitology 110:259–268

Pollok RC, Farthing MJ, Bajaj-Elliott M, Sanderson IR, McDonald V (2001) Interferon gamma induces enterocyte resistance against infection by the intracellular pathogen Cryptosporidium parvum. Gastroenterology 120:99–107

Poole AR, Howell JI, Lucy JA (1970) Lysolecithin and cell fusion. Nature 227:810–814

Ravdin JI, Murphy CF, Guerrant RL, Long-Krug SA (1985) Effect of antagonists of calcium and phospholipase A on the cytopathogenicity of Entamoeba histolytica. J Infect Dis 152:542–549

Saffer LD, Schwartzman JD (1991) A soluble phospholipase of Toxoplasma gondii associated with host cell penetration. J Protozool 38:454–460

Saffer LD, Long Krug SA, Schwartzman JD (1989) The role of phospholipase in host cell penetration by Toxoplasma gondii. Am J Trop Med Hyg 40:145–149

Saffer LD, Mercereau-Puijalon O, Dubremetz JF, Schwartzman JD (1992) Localization of a Toxoplasma gondii rhoptry protein by immunoelectron microscopy during and after host cell penetration. J Protozool 39:526–530

Schmiel DH, Wagar E, Karamanou L, Weeks D, Miller VL (1998) Phospholipase A of Yersinia enterocolitica contributes to pathogenesis in a mouse model. Infect Immun 66:3941–3951

Steele MI, Kuhls TL, Nida K, Meka CS, Halabi IM, Mosier DA, Elliott W, Crawford DL, Greenfield RA (1995) A Cryptosporidium parvum genomic region encoding hemolytic activity. Infect Immun 63:3840–3845.

Thardin JF, M'Rini C, Beraud M, Vandaele J, Frisach MF, Bessieres MH, Seguela JP, Pipy B (1993) Eicosanoid production by mouse peritoneal macrophages during Toxoplasma gondii penetration: role of parasite and host cell phospholipases. Infect Immun 61:1432–1441

Tzipori S, Griffiths JK (1998) Natural history and biology of Cryptosporidium parvum. Adv Parasitol 40:5–36

Walker DH, Firth WT, Ballard JG, Hegarty BC (1983) Role of phospholipase-associated penetration mechanism in cell injury by Rickettsia rickettsii. Infect Immun 40:840–842
Acknowledgements
R.C.G.P. is supported by a Wellcome Trust Clinical Training Fellowship and V.M. by a Wellcome Trust project grant. We wish to thank our colleague Dr. L. Mayer for providing the isolate of H. pylori.
About this article
Cite this article
Pollok, R.C.G., McDonald, V., Kelly, P. et al. The role of Cryptosporidium parvum-derived phospholipase in intestinal epithelial cell invasion. Parasitol Res 90, 181–186 (2003). https://doi.org/10.1007/s00436-003-0831-8
Received:

Accepted:

Published:

Issue Date:
Keywords
Host Cell

Parasite Development

Parasitophorous Vacuole

Host Cell Membrane

Important Virulence Factor