Abstract
Twenty-six axenic isolates of Giardia intestinalis, established in Mexico City over an 11-year period from symptomatic and asymptomatic individuals with acute or chronic infections, were typed genetically. A segment of the glutamate dehydrogenase gene was amplified by PCR and examined by restriction analysis using BspH1 and ApaI to determine the major genetic assemblages to which the isolates belonged. This was coupled with the amplification and analysis of segments of variant-specific surface protein genes to determine genetic subgroupings. Despite their heterogeneous clinical backgrounds, the isolates were found to be genetically homogeneous—all belonging to genetic group I of assemblage A. The results show that type A-I G. intestinalis is ubiquitous in Mexico City and that host factors play an important, if not dominant, role in determining the clinical outcome of Giardia infections in humans.
This is a preview of subscription content, log in to check access.
Access options
Buy single article
Instant access to the full article PDF.
US$ 39.95
Price includes VAT for USA
Subscribe to journal
Immediate online access to all issues from 2019. Subscription will auto renew annually.
US$ 199
This is the net price. Taxes to be calculated in checkout.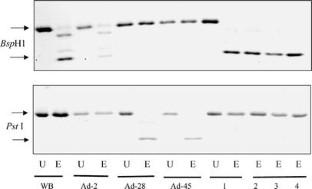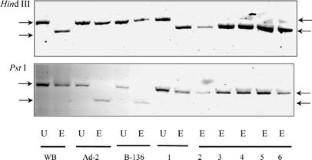 References
Adam RD (2001) Biology of Giardia lamblia. Clin Microbiol Rev 14: 447–475

Andrews RH, Adams M, Boreham PFL, Mayrhofer G, Meloni BP (1989) Giardia intestinalis: electrophoretic evidence for a species complex. Int J Parasitol 19: 183–190

Andrews RH, Chilton NB, Mayrhofer G (1992) Selection of specific genotypes of Giardia intestinalis by growth in vitro and in vivo. Parasitology 105: 375–389

Astiazarán-Garcίa H, Espinosa-Cantellano M, Castaňón G, Chávez B, Martίnez-Palomo A (2000) Giardia lamblia: effect of infection with symptomatic and asymptomatic isolates on the growth of gerbils (Meriones unguiculatus). Exp Parasitol 95: 128–135

Baruch AC, Isaac-Renton J, Adam RD (1996) The molecular epidemiology of Giardia lamblia: a sequence-based approach. J Infect Dis 174: 233–236

Binz N, Thompson RCA, Lymbery AJ, Hobbs RP (1992) Comparative studies on the growth dynamics of two genetically distinct isolates of Giardia duodenalis in vitro. Int J Parasitol 22: 195–202

Cedillo-Rivera R, Enciso-Moreno JA, Martínez-Palomo A, Ortega-Pierres G (1989) Giardia lamblia: isoenzyme analysis of 19 axenic strains isolated from symptomatic and asymptomatic patients in Mexico. Trans R Soc Trop Med Hyg 83: 644–646

Cedillo-Rivera R, Enciso-Moreno JA, Martínez-Palomo A, Ortega-Pierres G (1991) Isolation and axenization of Giardia lamblia isolates from symptomatic and asymptomatic patients in Mexico. Arch Invest Med 22: 79–85

Chávez B, González-Mariscal L, Cedillo-Rivera R, Martínez-Palomo A (1995) Giardia lamblia: in vitro cytopathic effect of human isolates. Exp Parasitol 80: 133–138

Ey PL, Bruderer T, Wehrli C, Köhler P (1996) Comparison of genetic groups determined by molecular and immunological analyses of Giardia isolated from animals and humans in Switzerland and Australia. Parasitol Res 82: 52–60

Ey PL, Mansouri M, Kulda J, Nohýnková E, Monis PT, Andrews RH, Mayrhofer G (1997) Genetic analysis of Giardia from hoofed farm animals reveals artiodactyl-specific and potentially zoonotic genotypes. J Eukar Microbiol 44: 626–635

Filice FP (1952) Studies on the cytology and life history of a Giardia from the laboratory rat. Univ Calif Publ Zool 57: 53–143

González-Robles A, Argüello C, Chávez B, Cedillo-Rivera R, Ortega-Pierres G, Martínez-Palomo A (1989) Giardia lamblia: surface charge of human isolates in culture. Trans R Soc Trop Med Hyg 83: 642–643

Homan WL, Mank TG (2001) Human giardiasis: genotype-linked differences in clinical symptomatology. Int J Parasitol 31: 822–826

Homan WL, van Enckevort FHJ, Limper L, van Eys GJJM, Schoone GJ, Kasprzak W, Majewska AC, van Knapen F (1992) Comparison of Giardia isolates from different laboratories by isoenzyme analysis and recombinant DNA probes. Parasitol Res 78: 316–323

Homan WL, Gilsing M, Bentala H, Limper L, van Knapen F (1998) Characterization of Giardia duodenalis by polymerase-chain-reaction fingerprinting. Parasitol Res 84: 707–714

Hopkins RM, Meloni BP, Groth DM, Wetherall JD, Reynoldson JD, Thompson RCA (1997) Ribosomal RNA sequencing reveals differences between the genotypes of Giardia isolates recovered from humans and dogs living in the same locality. J Parasitol 83: 44–51

Hopkins RM, Constantine CC, Groth DA, Whetherall JD, Reynoldson JA, Thompson RC (1999) PCR-based DNA fingerprinting of Giardia duodenalis isolates using intergenic rDNA spacer. Parasitology 118: 531–539

Karanis P, Ey PL (1998) Characterization of axenic isolates of Giardia intestinalis established from human and animals in Germany. Parasitol Res 84: 442–449

Mayrhofer G, Andrews RH, Ey PL, Chilton NB (1995) Division of Giardia isolates from human into two genetically distinct assemblages by electrophoretic analysis of enzymes encoded at 27 loci and comparison with Giardia muris. Parasitology 111: 11–17

Monis PT, Andrews RH, Homan WL, Limper L, Ey PL (1996) Molecular genetic analysis of Giardia intestinalis isolates at the glutamate dehydrogenase locus. Parasitology 112: 1–12

Monis PT, Andrews RH, Mayrhofer G, Mackrill J, Kulda J, Isaac-Renton JL, Ey PL (1998) Novel lineages of Giardia intestinalis identified by genetic analysis of organisms isolated from dogs in Australia. Parasitology 116: 7–19

Monis PT, Andrews RH, Mayrhofer G, Ey PL (1999) Molecular systematics of the parasitic protozoan Giardia intestinalis. Mol Biol Evol 16: 1135–1144

Nash TE, Mowatt MR (1992) Identification and characterization of a Giardia lamblia group-specific gene. Exp Parasitol 75: 369–378

Nash TE, McCutchan T, Keister D, Dame JB, Conrad JD, Gillin FD (1985) Restriction-endonuclease analysis of DNA from 15 Giardia isolates obtained from human and animals. J Infect Dis 152: 64–73

Nash TE, Herrington DA, Losonsky GA, Levine MM (1987) Experimental human infections with Giardia lamblia. J Infect Dis 156: 974–984

Ponce-Macotela M, Martínez-Gordillo M, Bermúdez-CruzRM, Salazar-Schettino P-Z, Ortega-Pierres G, Ey PL (2002) Unusual prevalence of the Giardia intestinalis A-II subtype amongst isolates from humans and domestic animals in Mexico. Int J Parasitol 32: 1201–1202

Read C, Walters J, Robertson ID, Thompson RCA (2002) Correlation between genotype of Giardia duodenalis and diarrhoea. Int J Parasitol 32: 229–231

Thompson RCA, Lymbery AJ, Meloni BP (1990) Genetic variation in Giardia kunstler 1882: taxonomic and epidemiological significance. Protozool Abstr 14: 1–28

Thompson RCA, Hopkins RM, Homan WL (2000) Nomenclature and genetic groupings of Giardia infecting mammals. Parasitol Today 16: 210–213

Van Keulen H, Homan WL, Erlandsen SL, Jarroll EL (1995) A three nucleotide signature sequence in small subunit rDNA divides human Giardia in two different genotypes. J Eukaryot Microbiol 42: 392–394

Van Keulen H, Macechko PT, Wade S, Schaaf S, Wallis PM, Erlandsen SL (2002) Presence of human Giardia in domestic, farm and wild animals, and environmental samples suggests a zoonotic potential for giardiasis. Vet Parasitol 108: 97–107

Weiss J, van Keulen H, Nash TE (1992) Classification of subgroups of Giardia lamblia based upon ribosomal RNA gene sequence using the polymerase chain reaction. Mol Biochem Parasitol 54: 73–86
Acknowledgements
This work was supported by grants from Programa de Apoyo a la Investigación Médica, IMSS, México and the National Health and Medical Research Council of Australia. The experiments described herein comply with the current laws of Australia and Mexico.
About this article
Cite this article
Cedillo-Rivera, R., Darby, J.M., Enciso-Moreno, J.A. et al. Genetic homogeneity of axenic isolates of Giardia intestinalis derived from acute and chronically infected individuals in Mexico. Parasitol Res 90, 119–123 (2003). https://doi.org/10.1007/s00436-002-0807-0
Received:

Accepted:

Published:

Issue Date:
Keywords
Mexico City

Glutamate Dehydrogenase

ApaI

Axenic Culture

Asymptomatic Infection