Abstract
Coccidiosis of domestic fowl is a protozoan disease, caused by seven distinct species of the genus Eimeria, which is responsible for important economic losses in poultry production. In order to select RAPD primers for the discrimination of these seven Eimeria species, we carried out an initial screening using samples of E. acervulina, E. tenella and E. maxima. Out of 150 primers tested, 110 generated band profiles specific for each one of these species. A subset of 14 oligonucleotides were also tested for the simultaneous differentiation of the seven species, resulting in 11 discriminative primers. The intraspecific discrimination was assessed for five different species, using samples from different geographic regions including three continents. Numerous primers exhibited highly discriminative band profiles containing strain-specific markers, with a higher variability being observed among strains of E. acervulina than among E. tenella and E. maxima strains. However, no major differences were observed in the band patterns from strains collected in locations near to one another compared to strains originating from distantly located regions. Because RAPD is a technique performed under low stringency conditions, it suffers from poor reproducibility. Aiming at obtaining more reliable markers that might be universally used, we started an effort to convert species-specific RAPD fragments into SCAR markers. An initial conversion of 25 RAPD markers into SCARs, followed by validation of their specificity, resulted in 14 totally new Eimeria species-specific markers that can be used for the molecular diagnosis of the seven species that infect domestic fowl. This work represents a first step in the development of a set of species-specific SCARs that will be useful as tools for molecular diagnosis, genome mapping, and genetic diversity studies.
This is a preview of subscription content, log in to check access.
Access options
Buy single article
Instant access to the full article PDF.
US$ 39.95
Price includes VAT for USA
Subscribe to journal
Immediate online access to all issues from 2019. Subscription will auto renew annually.
US$ 199
This is the net price. Taxes to be calculated in checkout.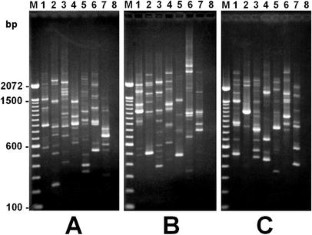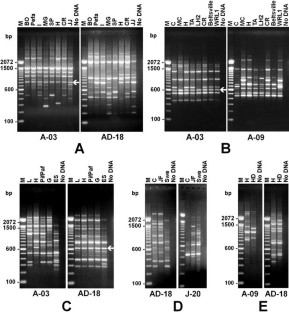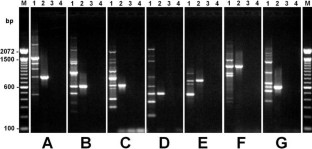 References
Allen PC, Fetterer RH (2002) Recent advances in biology and immunobiology of Eimeria species and diagnosis and control of infection with these coccidian parasites of poultry. Clin Microbiol Rev 15:58–65

Brisse S, Dujardin J-C, Tibayrenc M (2000) Identification of six Trypanosoma cruzi lineages by sequence-characterised amplified region markers. Mol Biochem Parasitol 111:95–105

Cere N, Licois D, Humbert JF (1995) Study of the inter- and intraspecific variation of Eimeria spp. from the rabbit using random amplified polymorphic DNA. Parasitol Res 81:324–328

Costa CAF, Gomes RF, Melo MN, Ribeiro MFB (2001) Eimeria parasites of domestic fowl: genetic relationships of different isolates estimated from random amplified polymorphic DNA. Parasitol Res 87:459–466

Guo Z-G, Johnson AM (1995) Genetic characterization of Toxoplasma gondii strains by random amplified polymorphic DNA polymerase chain reaction. Parasitology 111:127–132

Jeffers TK (1975) Attenuation of Eimeria tenella through selection for precociousness. J Parasitol 61:1083–1090

Johnston DA, Fernando MA (1995) Eimeria spp. of the domestic fowl: analysis of genetic variability between species and strains using DNA polymorphisms amplified by arbitrary primers and denaturing gradient-gel electrophoresis. Parasitol Res 81:91–97

Johnston DA, Fernando MA (1997) Isoenzymes of Eimeria from the domestic fowl: electrophoretic variants among species, strains and clones. Parasitol Res 83:464–470

Joyner LP, Long PL (1974) The specific characters of the Eimeria, with special reference to the Coccidia of the fowl. Avian Pathol 3:145–157

Long PL (1972) Eimeria tenella: reproduction, pathogenicity and immunogenicity of a strain maintained in chick embryos by serial passage. J Comp Pathol 82:429–437

Long PL, Joyner LP (1984) Problems in the identification of species of Eimeria. J Protozool 31:535–541

Long PL, Millard BJ, Joyner LP, Norton CC (1976) A guide to laboratory techniques used in the study and diagnosis of avian coccidiosis. Folia Vet Lat 6:201–217

MacPherson JM, Gajadhar AA (1993) Differentiation of seven Eimeria species by random amplified polymorphic DNA. Vet Parasitol 45:257–266

MacPherson JM, Eckstein PE, Scoles GJ, Gajadhar AA (1993) Variability of the random amplified polymorphic DNA assay among thermal cyclers, and effects of primer and DNA concentration. Mol Cell Probes 7:293–299

McDougald LR, Jeffers TK (1976) Eimeria tenella (Sporozoa; Coccidia): gametogony following a single asexual generation. Science 192:258–259

McDougald LR, Reid WM (1997) Coccidiosis. In: Calnek BW, Barnes HJ, Beard CW, McDougald LR, Saif YM (eds) Diseases of poultry, 10th edn. Iowa State University Press, Ames, pp 865–883

Paran I, Michelmore RW (1993) Development of reliable PCR-based markers linked to downy mildew resistance genes in lettuce. Theor Appl Genet 85:985–993

Procunier JD, Fernando MA, Barta JR (1993) Species and strain differentiation of Eimeria spp. of the domestic fowl using DNA polymorphisms amplified by arbitrary primers. Parasitol Res 79:98–102

Sambrook J, Russell DW (2001) Molecular cloning: a laboratory manual, 3rd edn. Cold Spring Harbor Laboratory Press, Cold Spring Harbor

Schierwater B, Ender A (1993) Different thermostable DNA polymerases may amplify different RAPD products. Nucleic Acids Res 21:4647–4648

Schnitzler BE, Thebo PL, Mattsson JG, Tomley FM, Shirley MW (1998) Development of a diagnostic PCR assay for the detection and discrimination of four pathogenic Eimeria species of the chicken. Avian Pathol 27:490–497

Schnitzler BE, Thebo PL, Tomley FM, Uggla A, Shirley MW (1999) PCR identification of chicken Eimeria: a simplified read-out. Avian Pathol 28:89–93

Shirley MW (1975) Enzyme variation in Eimeria species of the chicken. Parasitology 71:369–376

Shirley MW (1995) Eimeria species and strains of chickens. In: Eckert J, Braun R, Shirley MW, Coudert P (eds) COST 89/820. Biotechnology guidelines on techniques in coccidiosis research. European Commission, Luxembourg, pp 1–24

Shirley MW, Bumstead N (1994) Intra-specific variation within Eimeria tenella detected by the random amplification of polymorphic DNA. Parasitol Res 80:346–351

Shirley MW, Harvey DA (1996) Eimeria tenella: infection with a single sporocyst gives a clonal population. Parasitology 112:523–528

Shirley MW, McDonald V, Chapman HD, Millard BJ (1984) Eimeria praecox: selection and characteristics of precocious lines. Avian Pathol 13:669–682

Tibayrenc M, Neubauer K, Barnabé C, Guerrini F, Skarecky D, Ayala FJ (1993) Genetic characterization of six parasitic protozoa: parity between random-primer DNA typing and multilocus enzyme electrophoresis. Proc Natl Acad Sci U S A 90:1335–1339

Welsh J, McClelland M (1990) Fingerprinting genomes using PCR with arbitrary primers. Nucleic Acids Res 18:7213–7218

Williams JGK, Kubelik AR, Livak KJ, Rafalski JA, Tingey SV (1990) DNA polymorphisms amplified by arbitrary primers are useful as genetic markers. Nucleic Acids Res 18:6531–6535
Acknowledgements
The generous technical support and helpful suggestions of Dr. Urara Kawazoe are gratefully acknowledged by the authors. The authors wish to thank all of the people cited in the Materials and methods for the Eimeria strains and/or DNA samples provided for this work. We are also grateful to Granja Kunitomo (Mogi das Cruzes, Brazil) and Braswey (Campinas, Brazil) for providing one-day old chicks and the specially formulated feed used in this work, respectively. The authors thank Dr. Hernando del Portillo (USP, Brazil) for the critical review of the manuscript. The technical assistance of Ms. Lívia Rodrigues da Silva and Ms. Lucimária da Silva Souza is also acknowledged. This work was supported by FAPESP and CNPq. S.F. received a fellowship from FAPESP and the work presented herein formed part of her thesis submitted to the University of São Paulo in partial fulfillment of an M.Sc. degree.
About this article
Cite this article
Fernandez, S., Costa, A.C., Katsuyama, Â.M. et al. A survey of the inter- and intraspecific RAPD markers of Eimeria spp. of the domestic fowl and the development of reliable diagnostic tools. Parasitol Res 89, 437–445 (2003). https://doi.org/10.1007/s00436-002-0785-2
Received:

Accepted:

Published:

Issue Date:
Keywords
Scar Marker

Coccidiosis

Domestic Fowl

Eimeria Species

Discriminative Primer