Abstract
Urodelan amphibian larvae develop three pairs of branching external gills on both sides of the pharyngeal region, and this study focuses on motile cilia on the gill surface. High-speed camera was used to observe ciliary strokes on the surface of the external gills of Pleurodeles waltl larvae. We found that the directionality of ciliary beating is position-dependent on the gill surface, and this rule is applicable to all the samples examined. For visualizing water flow around the external gills, we used bead suspensions. We revealed continuous anterior-to-posterior water flow generated by coordinated ciliary beating. Around the frontal surface of the gill stem (gill rachis), water flows countercurrent to the bloodstream beneath the gill epidermis. These results suggest that ciliary beating in each ciliated cell is coordinated, which cooperatively generates continuous and directional ciliary flow. We next visualized the overall distribution of ciliated cells on the gill surface by immunostaining of acetylated alpha-tubulin. Our results showed that the fine branches of external gills (fimbriae) have a circumferential distribution of cilia aligned orthogonal to the longitudinal axes of fimbriae, which facilitates water flow from proximal to the distal part of the fimbriae through the gills. This ciliary distribution pattern and directionality of cilia-driven flow are shared among five urodelan and two anuran species. Taken together, our findings suggest that the distribution and motility of ciliated cells on the surface of external gills is finely controlled, and this might support efficient respiration by the gills in urodeles.
This is a preview of subscription content, log in to check access.
Access options
Buy single article
Instant access to the full article PDF.
US$ 39.95
Price includes VAT for USA
Subscribe to journal
Immediate online access to all issues from 2019. Subscription will auto renew annually.
US$ 199
This is the net price. Taxes to be calculated in checkout.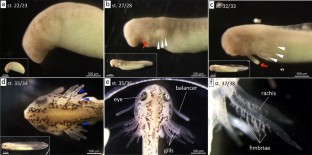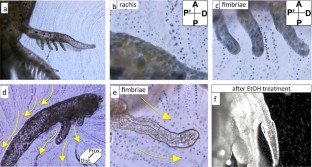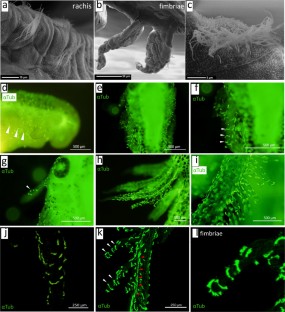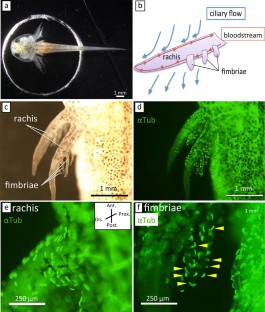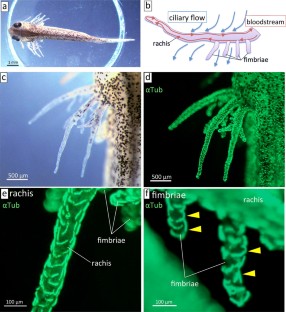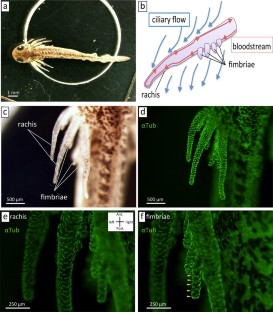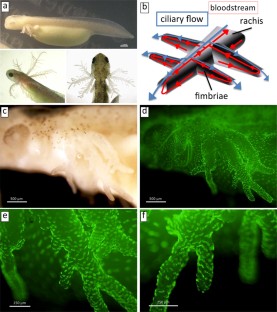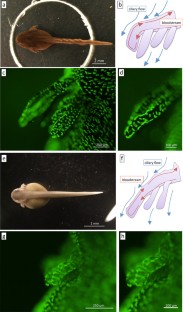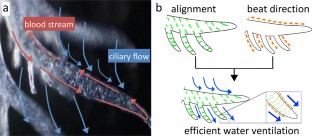 References
Aiello E, Sleigh MA (1972) The metachronal wave of lateral cilia of Mytilus edulis. J Cell Biol 54(3):493–506. https://doi.org/10.1083/jcb.54.3.493

Antic D, Stubbs JL, Suyama K, Kintner C, Scott MP, Axelrod JD (2010) Planar cell polarity enables posterior localization of nodal cilia and left-right axis determination during mouse and Xenopus embryogenesis. PLoS ONE 5(2):e8999. https://doi.org/10.1371/journal.pone.0008999

Arenas-Mena C, Wong KS, Arandi-Forosani N (2007) Ciliary band gene expression patterns in the embryo and trochophore larva of an indirectly developing polychaete. Gene Expr Patterns 7(5):544–549. https://doi.org/10.1016/j.modgep.2007.01.007

Bagnara JT, Malacinski GM, Armstrong JB (1989) Developmental biology of the axolotl. Oxford Univ Press, Oxford

Belova PA, Zhadan AE (2014) Comparative morphology and ultrastructure of the respiratory system in four species of the Opheliidae family. Biol Bull. https://doi.org/10.1134/S1062359014090040

Brunelli E, Tripepi S (2005) Effects of low pH acute exposure on survival and gill morphology in Triturus italicus Larvae. J Exp Zool A Comput Exp Biol 303(11):946–957. https://doi.org/10.1002/jez.a.221

Brunelli E, Maisano M, Sperone E, Tripepi S (2009) Morphology and ultrastructure of the gills in two Urodela species: Salamandrina terdigitata and Triturus carnifex. Ital J Zool 76(2):158–164. https://doi.org/10.1080/11250000802484869

Byrne M, Nakajima Y, Chee FC, Burke RD (2007) Apical organs in echinoderm larvae: insights into larval evolution in the Ambulacraria. Evol Dev 9(5):432–445. https://doi.org/10.1111/j.1525-142X.2007.00189.x

Cameron CB (2002) Particle retention and flow in the pharynx of the Enteropneust Worm Harrimania planktophilus: the filter-feeding pharynx may have evolved before the chordates. Biol Bull 202(2):192–200. https://doi.org/10.2307/1543655

Chu CW, Ossipova O, Ioannou A, Sokol SY (2016) Prickle3 synergizes with Wtip to regulate basal body organization and cilia growth. Sci Rep 11(6):24104. https://doi.org/10.1038/srep24104

Cruz J, Sarmento P, Carretero MA, White PC (2015) Exotic fish in exotic plantations: a multi-scale approach to understand amphibian occurrence in the mediterranean region. PLoS ONE 10(6):e0129891. https://doi.org/10.1371/journal.pone.0129891

Damen P, Dictus WJ (1994) Cell lineage of the prototroch of Patella vulgata (Gastropoda, Mollusca). Dev Biol 162(2):364–383. https://doi.org/10.1006/dbio.1994.1094

Doi A, Hatase O, Shimada M, Murakami TH, Okaichi T (1981) Ultrastructural changes in gill epithelia of a yellowtail, Seriola quinqueradiata, exposed to sea bloom. Cell Struct Funct 6:375–383. https://doi.org/10.1247/csf.6.375

Elgeti J, Gompper G (2013) Emergence of metachronal waves in cilia arrays. Proc Natl Acad Sci USA 110(12):4470–4475. https://doi.org/10.1073/pnas.1218869110

Ellinger MS, Murphy JA (1980) Cellular morphology in haploid amphibian embryos. J Embryol Exp Morphol 59:249–261

Eshel D, Priel Z (1987) Characterization of metachronal wave of beating cilia on frog's palate epithelium in tissue culture. J Physiol 388:1–8. https://doi.org/10.1113/jphysiol.1987.sp016597

Francis RJ, Chatterjee B, Loges NT, Zentgraf H, Omran H, Lo CW (2009) Initiation and maturation of cilia-generated flow in newborn and postnatal mouse airway. Am J Physiol Lung Cell Mol Physiol 296(6):L1067–L1075. https://doi.org/10.1152/ajplung.00001.2009

Gamal AB (2016) New aspects of ultrastructural studies on gill filaments and spiracle development of Rana ridibunda tadpoles. Int J Plant Animd Environ Sci 6(2):188–197

Giacomo Z, Eugenia RL, Gioele C (2018) Michał Kuciel air- breathing in fish: air- breathing organs and control of respiration: nerves and neurotransmitters in the air-breathing organs and the skin. Acta Histochem 120(7):630–641. https://doi.org/10.1016/j.acthis.2018.08.009

Gonzalez P, Cameron CB (2009) The gill slits and pre-oral ciliary organ of Protoglossus (Hemichordata: Enteropneusta) are filter-feeding structures. Biol J Linnean Soc 98(4):898–906. https://doi.org/10.1111/j.1095-8312.2009.01332.x

Graham JB (1997) Air-breathing fishes: evolution, diversity, and adaptation. Academic Press, San Diego, pp 65–133

Grant NJ (1981) A scanning electron microscopic study of larval development in the marine polychaete, Galeolaria caespitosa Lamarck (Serpulidae). Cell Tissue Res 215(1):171–179

Guirao B, Meunier A, Mortaud S, Aguilar A, Corsi JM, Strehl L, Hirota Y, Desoeuvre A, Boutin C, Han YG, Mirzadeh CH, Montcouquiol M, Sawamoto K, Spassky N (2010) Coupling between hydrodynamic forces and planar cell polarity orients mammalian motile cilia. Nat Cell Biol 12(4):341–350. https://doi.org/10.1038/ncb2040

Gutiérrez-Rodríguez J, Gonçalves J, Civantos E, Martínez-Solano I (2017) Comparative landscape genetics of pond-breeding amphibians in Mediterranean temporal wetlands: the positive role of structural heterogeneity in promoting gene flow. Mol Ecol 26(20):5407–5420. https://doi.org/10.1111/mec.14272

Hagenlocher C, Walentek P, M Ller C, Thumberger T, Feistel K (2013) Ciliogenesis and cerebrospinal fluid flow in the developing Xenopus brain are regulated by foxj1 Cilia. 2(1):12. https://doi.org/10.1186/2046-2530-2-12

Hazelhoff EH, Evenhuis HH (1952) Importance of the counter current principle for the oxygen uptake in fishes. Nature 169(4289):77

Hirokawa T, Komatsu M, Nakajima Y (2008) Development of the nervous system in the brittle star Amphipholis kochii. Dev Genes Evol 218(1):15–21. https://doi.org/10.1007/s00427-007-0196-6

Hirota Y, Meunier A, Huang S, Shimozawa T, Yamada O, Kida YS, Inoue M, Ito T, Kato H, Sakaguchi M, Sunabori T, Nakaya MA, Nonaka S, Ogura T, Higuchi H, Okano H, Spassky N, Sawamoto K (2010) Planar polarity of multiciliated ependymal cells involves the anterior migration of basal bodies regulated by non-muscle myosin II. Development 137(18):3037–3046. https://doi.org/10.1242/dev.050120

Iwasawa H, Morita Y (1980) Nomal stage of development in the frog, Rana brevipoda porosa (Cope). Zool Mag 89:65–75

Iwasawa H, Yamashita K (1991) Normal stages of development of a Hynobiid salamander, Hynobius nigrescens Stejneger Japanese. J Herpetol 14(2):39–62. https://doi.org/10.5358/hsj1972.14.2_39

Kaneko N, Sawamoto K (2018) Go with the flow: cerebrospinal fluid flow regulates neural stem cell proliferation. Cell Stem Cell 22(6):783–784. https://doi.org/10.1016/j.stem.2018.05.015

Kato S, Kurihara K (1988) Electron microscopic studies of the external gill epithelium of the salamander, Hynobius dunni Tago, followed throughout larval life. Okajimas Folia Anat Jpn 65(4):177–201. https://doi.org/10.2535/ofaj1936.65.4_177

Katow H, Elia L, Byrne M (2009) Development of nervous systems to metamorphosis in feeding and non-feeding echinoid larvae, the transition from bilateral to radial symmetry. Dev Genes Evol 219(2):67–77. https://doi.org/10.1007/s00427-008-0266-4

Katow H, Katow T, Yoshida H, Kiyomoto M, Uemura I (2016) Immunohistochemical and ultrastructural properties of the larval ciliary band-associated strand in the sea urchin Hemicentrotus pulcherrimus. Front Zool 16(13):27. https://doi.org/10.1186/s12983-016-0159-8

Kishimoto N, Sawamoto K (2012) Planar polarity of ependymal cilia. Differentiation 83(2):S86–S90. https://doi.org/10.1016/j.diff.2011.10.007

Liem KF (1988) Form and function of lungs: the evolution of air breathing mechanisms. Am Zool 28(2):739–759. https://doi.org/10.1093/icb/28.2.739

Mallatt J (1979) Surface morphology and functions of pharyngeal structures in the larval lamprey Petromyzon marinus. J Morphol 162(2):249–273. https://doi.org/10.1002/jmor.1051620206

Mirzadeh Z, Doetsch F, Sawamoto K, Wichterle H, Alvarez-Buylla A (2010) The subventricular zone en-face: wholemount staining and ependymal flow. J Vis Exp. https://doi.org/10.3791/1938

Mitchell B, Stubbs JL, Huisman F, Taborek P, Yu C, Kintner C (2009) The PCP pathway instructs the planar orientation of ciliated cells in the Xenopus larval skin. Curr Biol 19(11):924–929. https://doi.org/10.1016/j.cub.2009.04.018

Mogi K, Adachi T, Izumi S, Toyoizumi R (2012) Visualisation of cerebrospinal fluid flow patterns in albino Xenopus larvae in vivo. Fluids Barriers CNS 25(9):9. https://doi.org/10.1186/2045-8118-9-9

Nakano H, Nakajima Y, Amemiya S (2009) Nervous system development of two crinoid species, the sea lily Metacrinus rotundus and the feather star Oxycomanthus japonicus. Dev Genes Evol 219(11–12):565–576. https://doi.org/10.1007/s00427-010-0317-5

Nielsen C (2005) Trochophora larvae: cell-lineages, ciliary bands and body regions 2 Other groups and general discussion. J Exp Zool B Mol Dev Evol 304(5):401–447. https://doi.org/10.1002/jez.b.21050

Nieuwkoop PD, Faber J (1967) Normal table of Xenopus laevis (Daudin). Routledge, Abingdon

Nokhbatolfoghahai M, Downie JR (2008) The external gills of anuran amphibians: comparative morphology and ultrastructure. J Morphol 269(10):1197–1213. https://doi.org/10.1002/jmor.10655

Nye HL, Cameron JA, Chernoff EA, Stocum DL (2003) Extending the table of stages of normal development of the axolotl: limb development. Dev Dyn 226(3):555–560. https://doi.org/10.1002/dvdy.10237

Piiper J, Scheid P (1975) Gas transport efficacy of gills, lungs and skin: theory and experimental data. Respir Physiol 23(2):209–221. https://doi.org/10.1016/0034-5687(75)90061-4

Reiß C, Olsson L, Hoßfeld U (2015) The history of the oldest self-sustaining laboratory animal: 150 years of axolotl research. J Exp Zool B Mol Dev Evol 324(5):393–404. https://doi.org/10.1002/jez.b.22617

Rieder CL, Hard R (1990) Newt lung epithelial cells: cultivation, use, and advantages for biomedical research. Int Rev Cytol 122:153–220

Sawamoto K, Wichterle H, Gonzalez-Perez O, Cholfin JA, Yamada M, Spassky N, Murcia NS, Garcia-Verdugo JM, Marin O, Rubenstein JL, Tessier-Lavigne M, Okano H, Alvarez-Buylla A (2006) New neurons follow the flow of cerebrospinal fluid in the adult brain. Science 311(5761):629–632. https://doi.org/10.1126/science.1119133

Shi DL, Boucaut JC (1995) The chronological development of the urodele amphibian Pleurodeles waltl (Michah). Int J Dev Biol 39(3):427–441

Suzuki S, Ohami K (2016) ゾウリムシの繊毛再生とそれに伴う行動反応の変化 (regeneration of Paramecium cilia and corresponding behavioral changes; in Japanese). Tsukuba J Biol 15:27

Takagishi M, Sawada M, Ohata S, Asai N, Enomoto A, Takahashi K, Weng L, Ushida K, Ara H, Matsui S, Kaibuchi K, Sawamoto K, Takahashi M (2017) Daple coordinates planar polarized microtubule dynamics in ependymal cells and contributes to hydrocephalus. Cell Rep 20(4):960–972. https://doi.org/10.1016/j.celrep.2017.06.089

Tingler M, Kurz S, Maerker M, Ott T, Fuhl F, Schweickert A, LeBlanc-Straceski JM, Noselli S, Blum M (2018) A conserved role of the unconventional myosin 1d in laterality determination. Curr Biol 28(5):810.e3–816.e3. https://doi.org/10.1016/j.cub.2018.01.075

Uchiyama M, Yoshizawa H (1992) Salinity tolerance and structure of external and internal gills in tadpoles of the crab-eating frog Rana cancrivora. Cell Tissue Res 267(1):35–44. https://doi.org/10.1007/BF00318689

Uchiyama M, Kumano T, Komiyama M, Yoshizawa H, Matsuda K (2011) Immunohistological classification of ionocytes in the external gills of larval Japanese black salamander. Hynobius nigrescens Stejneger. J Morphol 272(8):1017–1024. https://doi.org/10.1002/jmor.10977

Warburg MR, Rosenberg M (1997) Structure of gill epithelium in Triturus vittatus larvae. Ann Anat 179(1):57–64. https://doi.org/10.1016/S0940-9602(97)80137-9

Wilson JM, Laurent P (2002) Fish gill morphology: inside out. J Exp Zool 293(3):192–213. https://doi.org/10.1002/jez.10124

Wong LB, Miller IF, Yeates DB (1985) Nature of the mammalian ciliary metachronal wave. J Appl Physiol 75(1):458–467. https://doi.org/10.1152/jappl.1993.75.1.458

Yaguchi S, Yaguchi J, Angerer RC, Angerer LM, Burke RD (2010) TGFβ signaling positions the ciliary band and patterns neurons in the sea urchin embryo. Dev Biol 347(1):71–81. https://doi.org/10.1016/j.ydbio.2010.08.009
Acknowledgements
We thank Prof. Ken'ichi Kanazawa and Prof. Susumu Izumi from Kanagawa University for fruitful advice and many discussions. We are thankful to Dr. Masato Owada (Kanagawa University) for technical advice on scanning electron microscopy. We also thank Prof. Hideho Uchiyama (Yokohama City University) for providing a protocol for Xenopus immunostaining.
Ethics declarations
Conflict of interest
The authors declare that they have no conflict of interest.
Ethical approval
All applicable national and institutional guidelines for the care and use of animals were followed. This work did not involve human participants.
Additional information
Publisher's Note
Springer Nature remains neutral with regard to jurisdictional claims in published maps and institutional affiliations.
Electronic supplementary material
Below is the link to the electronic supplementary material.
Smovie 3: Ciliary flow around an external gill of a Pleurodeles larva. To visualize water flow around a gill, red polystyrene beads were suspended in artificial freshwater. Overall, ciliary flow occurs from an anterior-to-posterior direction, along the cranio-caudal axis. Additionally, adjacent to the frontal surface of the gill rachis, part of the water flow runs in a proximal-to-distal direction along the longitudinal axis of the rachis. Note also that, in the anterior front of the rachis, bloodstream flow is from the distal tip to the proximal stem, resulting in countercurrent flow between the ciliary water flow and the bloodstream. (MOV 2971 kb)
Smovie 5: Ciliary flow around the external gill of an Ambystoma mexicanum (Mexican salamander) larva. In Ambystoma larvae, in front of the gill rachis, beads flow from an anterior-proximal to a posterior-distal direction, along the surface of the rachis. This water flow pattern is essentially similar to that of the Pleurodeles larvae shown in Smovie 3. Note also that in Ambystoma larvae the bloodstream in the rachis runs countercurrent to the ciliary flow (see Fig. 5b). (MOV 1391 kb)
Smovie 6: Ciliary flow around the external gill of a Hynobius nebulosus (Kasumi salamander) larva. In H. nebulosus larvae, the ciliary flow in front of the frontal surface of the rachis runs from an anterior-proximal to a posterior-distal direction. This flow pattern resembles those of Pleurodeles and Ambystoma larvae. Also in H. nebulosus larvae, ciliary flow and bloodstream flow are countercurrent (see Fig. 6b). (MOV 1409 kb)
Smovie 7: Ciliary flow around the external gill of a Hynobius nigrescens (Black salamander) larva. In H. nigrescens salamander larvae, ciliary flow in front of the rachis runs from an anterior-proximal to a posterior-distal direction, as in Pleurodeles and Ambystoma larvae. Also in H. nigrescens larvae, the bloodstream and ciliary flow are countercurrent (see Fig. 7b). (MOV 1911 kb)
Smovie 8: Ciliary flow around the external gill of a Hynobius kimurae (Hida salamander) larva. H. kimurae larvae have large external gills relative to overall body size, and the morphology of the external gills is quite different from that of typical urodelan external gills. The anterior-to-posterior water flow pattern was not observed around the gills of H. kimurae larvae. However, water flow still occurred in a proximal-to-distal direction, along the gill branch. In addition, ciliary flow and bloodstream flow are countercurrent (see Fig. 8b). (MOV 1672 kb)
Smovie 9: Ciliary flow around the external gill of a Bufo japonicus formosus (Azuma toad) larva. In B. japonicus larvae, ciliary flow in front of the rachis runs from an anterior-proximal to a posterior-distal direction, as observed in Pleurodeles and other urodelan larvae. (MOV 1440 kb)
Smovie 10: Ciliary flow around the external gill of a Buergeria buergeri (Kajika frog) larva. Also in B. buergeri larvae, the ciliary flow pattern is essentially similar to that of Pleurodeles and other urodelan larvae. (MOV 1369 kb)
About this article
Cite this article
Ichikawa, R., Toyoizumi, R. Finely tuned ciliary alignment and coordinated beating generate continuous water flow across the external gills in Pleurodeles waltl larvae. Zoomorphology (2020). https://doi.org/10.1007/s00435-020-00479-0
Received:

Revised:

Accepted:

Published:
Keywords
Ciliated cells

Gill rachis

Gill fimbria

Ciliary beat

Ciliary flow

Urodela